The Roll of Southwest Greens

The company elevates the golf experience at each of the Front Range facilities now in its portfolio.

By Jon Rizzi
---
Fifteen years ago, The Golf Club at Bear Dance (pictured above) opened in Larkspur and irrevocably altered the Colorado golf landscape. Built and managed by Arizona-based Southwest Greens—a consortium of PGA professionals with expertise in golf course architecture, development and management—the exhilarating, 7,721-yard rollick through the pines 35 miles south of Denver became known for its reliably superb conditioning, distinct and challenging holes, panoramic views and high-touch personal service.
The course quickly earned "must-play" status, and having a plush clubhouse that served as home to the Colorado PGA Section added even more cachet.
As Bear Dance's reputation grew, so did the ambitions of Southwest Greens and other companies formed by its principals and investors. Among numerous initiatives—including the buying, rebranding and selling of Black Bear Golf Club in Parker—Southwest Greens acquired the management contract for Brighton's Riverdale Golf Courses in 2007. In January of 2015, it bought Castle Rock's Plum Creek Golf Club, and last September it entered into an ownership agreement with Colorado National Golf Club in Erie.
These four facilities—two north of Denver and two south—comprise the Southwest Greens Colorado portfolio. Together, they reflect what SW Greens Co-Owner Stuart Bruening calls "the Bear Dance Way."
"Our whole philosophy, even though these courses are in different price ranges, is to have them reflect consistently high quality," he explains. "I stress consistency to all of our management. A golf course is like a restaurant. If you're good and consistent—if people can count on the kind of experience they're going to get—you're going to be fine."
So what kind of experiences are people getting at each course? Let's take a look.
---
GOLF CLUB AT BEAR DANCE, Larkspur


Winner of four consecutive CAGGY Awards from our readers as the "Best Denver-Area Course," this jewel continues to sparkle. The holes thread elegantly through mountainous terrain, framed by mature Ponderosa Pines, oak-lined ridges, draws and native grass valleys. Each hole hides from the next, leading to a final string that delivers views of Pikes Peak, Devil's Head and Raspberry, Dawson and Larkspur buttes. A clear day reveals the Continental Divide and Longs Peak.
The course long ago tempered the severity of the greens that initially vexed even PGA members. They remain large, receptive, true and quick. Years of heavy rains and flooding have eroded the edges of about 50 bunkers, according to Bruening, so renovations are ongoing. "We've redone about 20 and have another 30 to go." None of the work affects play.
The "bear paw" bunkers on the par-4 6th remain a signature, but the par-5 finishers on both nines are indeed the bears. Operational excellence by PGA Professional Mark Pfingston, coupled with Head Superintendent Dave Cahalane's meticulous course maintenance and Executive Chef Michael Hendricks' dynamite new menu combine to set new standards.
And speaking of high standards, don't miss the exhibit of PGA memorabilia (including Dow Finsterwald's 1957 Ryder Cup bag) in the atrium.
---
PLUM CREEK GOLF CLUB, Castle Rock
Less than 10 miles separate Bear Dance and Plum Creek, but a world of difference divided the conditions of the two facilities. That is, until 2015, when Southwest Greens bought the Castle Rock course out of bankruptcy. Its management team, headed by Stuart's son, GM Brock Bruening and PGA Professional Bo Heidrick and Superintendent Justin Fischer, immediately started giving the former TPC some much-needed TLC.
"We set about an entire upgrade of the golf experience: the pro shop, customer relations, dining and the condition of the course," says Heidrick. Reversing years of neglect and deferred maintenance, they repaired the parking lot and cart paths, improved the functionality of the clubhouse and have worked wonders on a Pete Dye Signature layout beset by an anachronistic irrigation system and limited water supply.

This June they popped a new well and will put in new irrigation. Plans also call for redoing the desiccated driving range and downsizing the 33,000-square foot clubhouse to make it more feasible. A new restaurant concept will open later this year. Meanwhile, the grill serves great burgers, wraps and beers. "It's a work in progress," says Stuart Bruening. "We've had a great response to what we're putting back into the facility."
The course, which annually hosted Champions Tour event in the 1980s, has had an appreciable uptick in rounds and tournament bookings. It plays between 4,828 and 7,044 yards. The railroad ties, pot bunkers and club-twisting rough that characterized "Penal Pete" Dye's style remain but the course no longer beats you up. While still a challenge, especially on its final three holes, Plum Creek is eminently more enjoyable than it has been in years.
---
RIVERDALE GOLF COURSES, Brighton
Owned by Adams County and managed for the last 10 years by Southwest Greens GM Steve Bruening, Riverdale Golf Courses deserves its reputation as one of Colorado's foremost public facilities and its greatest values. Nonresident walking rates max out at $49 for the Dye-designed Dunes course and $30 for the older, Henry Hughes-designed Knolls.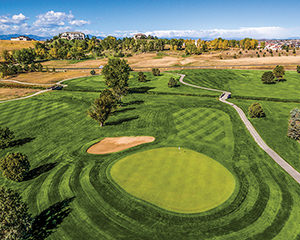 The Dunes, which opened in 1985, has hosted the 1993 U.S. Public Links Championship and two Nike Colorado Classics, receives the majority of play and applause. Although nowhere near an ocean, the layout evokes the rugged, naturally occurring quality of links golf, with ubiquitous mounds, swales, pot bunkers, wispy native and water hazards all brilliantly sculpted by Pete and Perry Dye. The Dunes can play from 4,884 to 7,067 yards, the toughest 426 of which come on the signature par-4 15th, where water runs the entire length of a narrow fairway.
A recent upgrade in irrigation may have made the parkland-style Knolls more challenging than its celebrated sibling. "We've really improved it," Stuart Bruening says. "The fairways are unbelievable. There's rough now. You used to be able to hit it anywhere. It's harder to score on the Knolls than it is on the Dunes."
Credit for Riverdale's superlative course conditions goes to its Director of Maintenance D'Ann Kimbrel, a 33-year veteran of the course whom the Bruening brothers call "a star" and the Colorado Golf Hall of Fame—which happens to be located at Riverdale's impressive clubhouse—honored in 2014 with its Lifetime Achievement Award. In addition to the stunning collection, Riverdale also houses a solid casual dining restaurant, golf shop and banquet facility.
---
COLORADO NATIONAL GOLF CLUB, Erie
Thirteen miles west of Riverdale, the latest addition to the Southwest Greens portfolio started life in 2003 as Vista Ridge Golf Club. Six years later, University of Colorado golfer Steve Kerr bought the club, renamed it and licensed it to his alma mater to serve as the home course for both its men's and women's golf teams. Buffs memorabilia tastefully appears throughout the stately clubhouse. Team members and Colorado National annual members can practice in a stand-alone year-round indoor practice facility.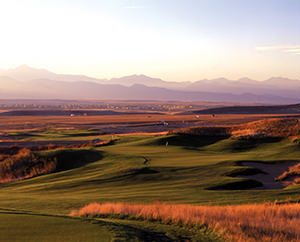 While consistency has been a hallmark in the clubhouse operation—the club's Masters Restaurant rates among Colorado's top golf-courseexperiences—you couldn't always say the same for the turf on the 7,676-yard Jay Morrish-designed course, which sprawls across 232 acres of prairie and hosted the Men's NCAA Regionals in 2011.
"It's a great layout that needed attention," says Bruening, who last September entered Southwest Greens into a "50-50 deal" with Kerr's daughters. "Now it gets all the financial attention it needs. You always know the course is going to be in good shape."
With more resources—including input from Riverdale's D'Ann Kimbrel—Course Superintendent Jeremiah Stumpff has the course looking and playing better than ever. "On the fairways and especially the greens, It's the best I've seen it in the ten years I've been here," says GM Matt Schalk. And you can see Long's Peak and Mount Meeker from most holes.
"Colorado National is a spectacular facility," Bruening says, "and it's truly representative of our first-class brand."
---
This article appears in the July 2017 issue of Colorado AvidGolfer. Subscribe today!
Colorado AvidGolfer is the state's leading resource for golf and the lifestyle that surrounds it, publishing eight issues annually and proudly delivering daily content via coloradoavidgolfer.com.Follow us on Twitter, Facebook and Instagram.