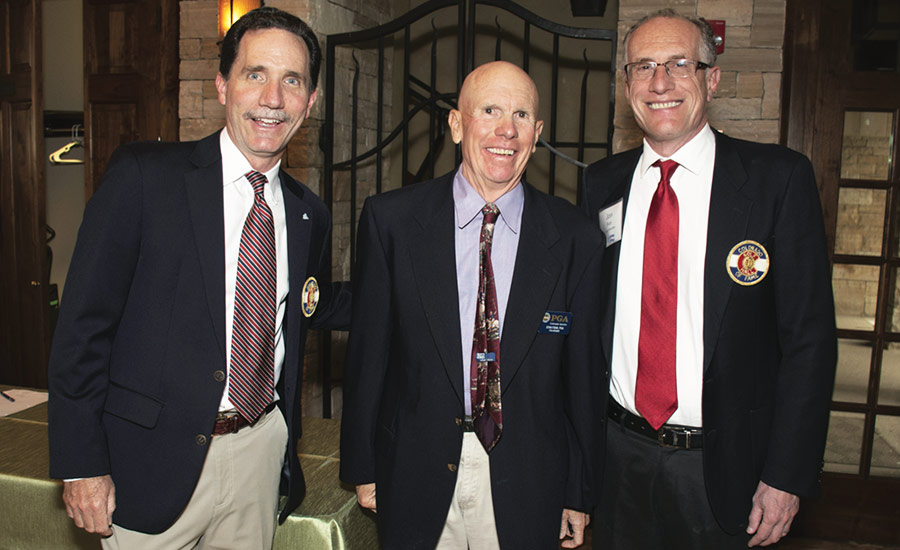 A familiar face has found a new workplace. Jon Rizzi, who edited this magazine for its first 18 years before hanging up his Footjoys in May, has taken on the role as executive director of the Colorado Golf Hall of Fame.
"I've served on the Hall's board of directors for a decade—including two years as its president," Rizzi says. "It's an amazing organization, dating back to 1973, that not only honors the men and women who have defined Colorado golf, but also preserves the game's history and promotes participation by future generations."
For the 58-year-old Denver resident, it's also a way to maintain the strong relationships he has forged in the Colorado golf community.
"Plus, if you think about it," he says, "the Hall's mission dovetails with that of Colorado AvidGolfer. Both organizations extol Colorado golf, but whereas the magazine, a commercial enterprise, taps into an all-embracing passion for the game, the Hall is a nonprofit celebrating the transcendent few whose passion has propelled them to achieve greatness. Those include PGA Tour stars such as Dow Finsterwald, Hale Irwin and Craig Stadler; amateur champs like Janet and Kent Moore; machers like Jack Vickers, Judy Bell and Will Nicholson; a course architect like Dick Phelps; a PGA professional such as Class of 2020 inductee Russ Miller; or one of the many stellar instructors and course superintendents we've enshrined."
Miller, the longtime director of golf at The Broadmoor who has brought four USGA major championships to Colorado Springs, is the 140th member of the exclusive pantheon located in the east wing of the clubhouse at the Riverdale Golf Courses in Brighton. Visitors to the free space will also find a trove of memorabilia from Colorado's rich golf history, as well as plaques listing annual award winners in the categories of life- time achievement, distinguished service, person of the year and future famer. Coming soon: an interactive touchscreen kiosk.
"We believe in celebrating excellence— past, present and future," Rizzi says. "This applies to the inductees and honorees and also to the philanthropic contributions the Hall of Fame has made to organizations such as the Junior Golf Alliance of Colorado."
Funding for those contributions largely comes from donations and sponsorships associated with the annual high-profile Hall of Fame induction dinner and golf tournament (this year's events were to have been at Colorado Golf Club). But with the pandemic causing the postponement of the 2020 edition of these events until 2021, Rizzi and the 35-member board will fill the void through some creative initiatives designed both to raise money and public awareness of the Hall.
"We're exploring merchandising, memberships, corporate and individual underwriting and other fundraising opportunities," Rizzi says. "Whatever we pursue has to uphold the standards to which we hold those we honor."
Kevin Hood, Columbine Country Club's general manager and the current president of the Colorado Golf Hall of Fame, believes the board has the right person for the job. "In selecting Jon Rizzi, I believe the Hall has ensured its long-term viability," Hood says. "Jon has a broad and deep understanding of the people and institutions in Colorado that form the key pillars of the local golf environment—both currently and historically. His integrity is beyond reproach, and he has the energy and creativity to address the most challenging issues."
Beyond the pandemic-related challenges, Rizzi is also focused on 2023. "That will mark the Colorado Golf Hall of Fame's 50th anniversary," he notes, "and we're planning a celebration that will be every bit as momentous as that milestone event."