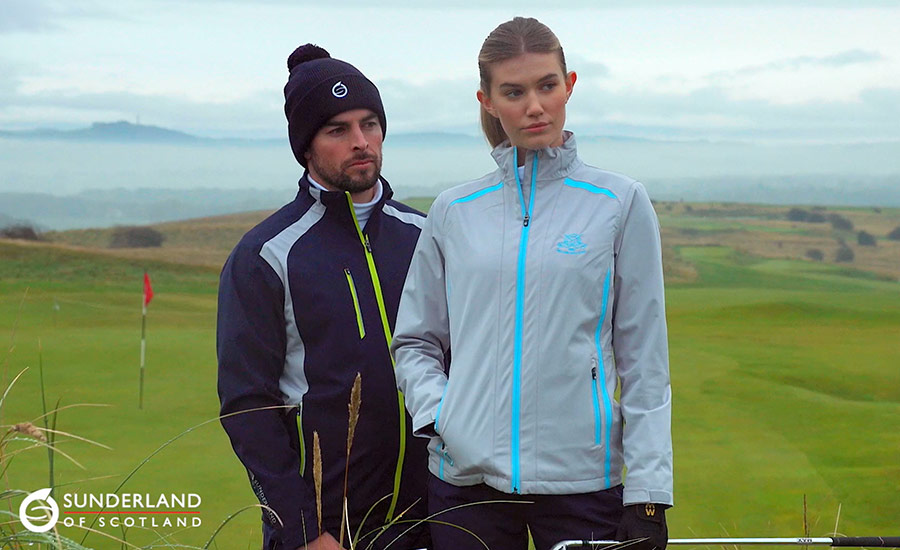 All the pieces are in place for Sunderland of Scotland to make a successful return to the US.
By Tony Dear
It began raining on the golf course the other day, and I instinctively reached for my old Sunderland of Scotland waterproof jacket, the natural reflex of a golfer raised in the UK. It wasn't there, of course, because it hasn't been there for 15 years. Having become something of a fair-weather golfer, I never replaced that old jacket. So although it's long gone, it's still the last rainproof outerwear I owned.
You remember Sunderland? Big in the '80s and '90s when Greg Norman was a brand ambassador, and Seve Ballesteros, Nick Faldo, Ian Woosnam, and other European greats put their Sunderland on when the heavens opened during Ryder Cup matches (Woosnam is still a brand ambassador).
Those were the glory days for the brand that rose from the Sunderland family's clothing empire, founded in Glasgow in 1911. It produced its first golf attire in 1932, but it wasn't until 1964 that Toby Sunderland, and his wife Ida, established Sunderland Sportwear Ltd which soon became Sunderland of Scotland. Its first Ryder Cup rain gear was produced for the 1965 GB & Ireland team – lightweight suits made from Italian nylon—and in 1970, it became the first outerwear manufacturer from Britain to exhibit at the PGA Merchandise Show in Orlando. Then came the hugely successful run through the latter stages of the 20th Century highlighted by its association with some of the world's best players and built on a string of highly-acclaimed products – the 'Professional' suit in 1980, the 'Sharkskin' in 1982, and the groundbreaking 'Classic' – the first suit to use Gore-Tex – in 1985. Business was so good, in fact, the company even established a US subsidiary, based in Caroga Park, CA in 1989.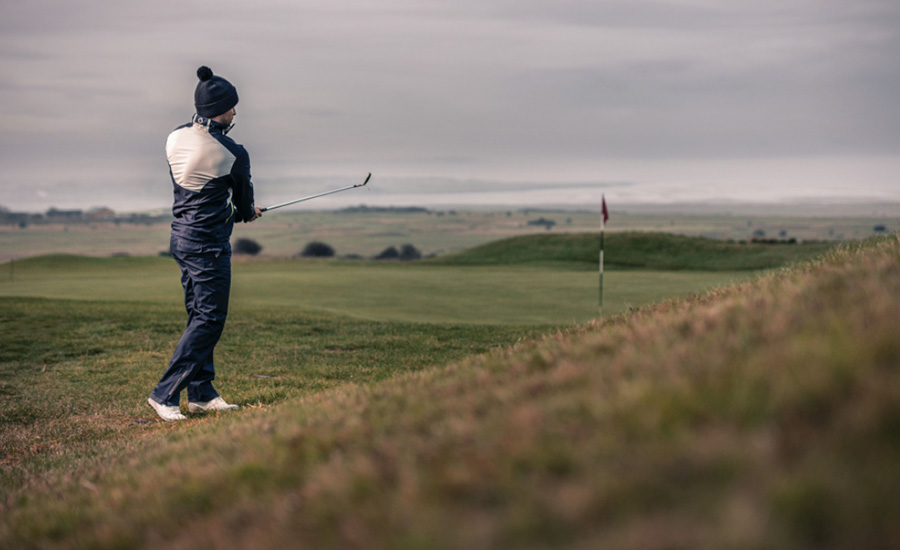 Sunderland never fell on hard times exactly, but the by the start of the new century it wasn't attracting nearly as much attention, and it was no great surprise perhaps, that a period of relative instability ensued. In 2003, the Sunderland family sold to Harris Watson PLC, a holding company based in Birmingham, England. Four years later, five investors including Warren Sunderland, the great grandson of the company's founder, completed a management buyout, and in 2010 fellow Scottish golf clothier Glenmuir took over as the company's distributor in Europe with both firms headquartered in Lanark, Scotland.
Glenmuir had been acquired in 2002 by the Ruia Group, a multi-faceted company specializing in textiles and headquartered in Manchester, England. Thankfully, its partnership with Sunderland was an effective move that helped Sunderland regain its footing in the marketplace.
And though it may take a while to return to the extraordinary heights it reached in the 1980s/90s, its long-term future was more or less secured in January of this year when Glenmuir purchased Sunderland outright creating a partnership with a combined 230 years of history.
Sunderland's Autumn/Winter 2020 Collection, created by a five-strong in-house design team, was announced last week and will be available starting in August. It combines all the technology and style elements you'd expect from the company regarded globally as golf's first bad-weather outfitter. "It epitomizes Sunderland's 'Never Weather Beaten' mission," says Mikhel Ruia, Managing Director of both Glenmuir and Sunderland of Scotland.
"Sunderland has always been known for waterproofs that are lightweight and breathable, and which repel the wind, stretch naturally with the golfer's movements, and come with a lifetime waterproof guarantee," Ruia continues. "We're proud to be known as the original weatherwear golf brand, and we've seen very encouraging growth over the last few years. Our products are now distributed to over 30 countries."
One of which is the US where Sunderland is slowly regaining traction. "The US was once a major part of our business" says Ruia. "It was actually the company's largest market. We are starting back steadily with many people recognizing the brand from its early days in the US nearly 30 years ago."
The AW 2020 Collection highlights include the s.Whisperdry Pro-Lite jacket—a featherlight, breathable, fully waterproof garment, the s.Valberg, a highly technical jacket with four-way stretch panels in high-impact zones to promote freedom of movement, and the popular Vancouver Pro Jacket sporting a new Citrus colorway in the zips and piping which is striking against the Navy body. Four-way stretch fabric wind shirts and a range of highly effective thermal wear including the s.Anton Padded Gilet, s.Zermatt padded jacket and s.Aspen mid-layer all help you retain heat protecting you from the winter chill.
The Ladies' Collection highlights include the waterproof s.Killy jacket, engineered with a lightweight polyester technical fabric, and the luxuriously soft touch and totally waterproof s.Whisperdry. In the Coldwear Collection, the s.Arosa stretch lined-sweater, and s.Zonda stretch lined sweater are perhaps the standouts.
Though the time may well be coming when Sunderland will have a strong presence at US golf retailers – both green grass and big-box, for now US golfers need to visit the company's website to shop. "There, we offer US customers free delivery on all orders over $150 as well as a free gift and free personalization on all products," says Ruia. That's a pretty sweet deal for Americans planning on hopping the Atlantic when international travel becomes possible again.
Men's Whisperdry – $210
All Styles: glenmuir.com/sunderland
---
For more on the latest and greatest gear in golf, visit our GEAR PAGE.
Colorado AvidGolfer Magazine is the state's leading resource for golf and the lifestyle that surrounds it, publishing eight issues annually and proudly delivering daily content via coloradoavidgolfer.com.