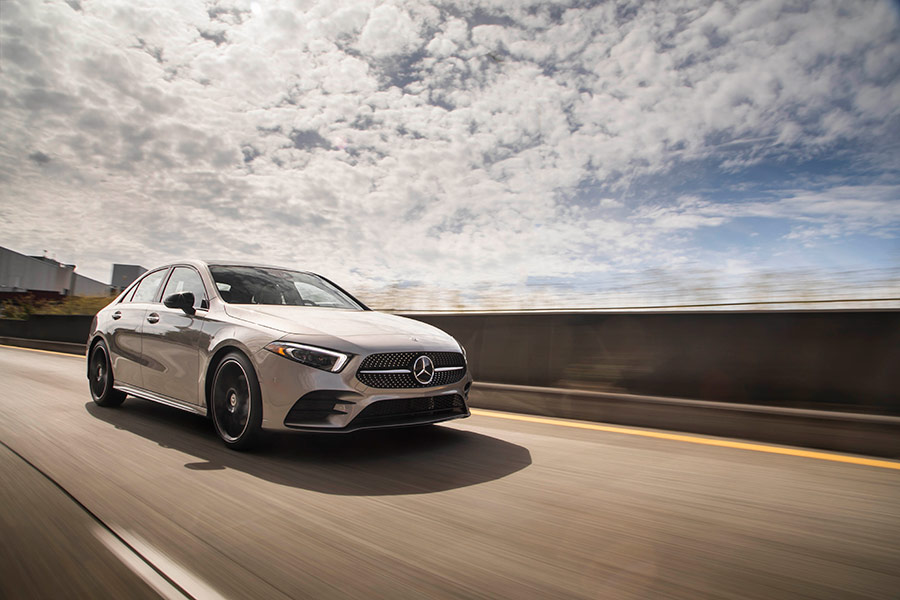 By Isaac Bouchard
There was a time when neither Mercedes nor BMW would contemplate importing their smaller, front wheel drive-based vehicles to these shores. But the surging popularity of crossovers and SUVs, combined with drastically sliding sedan sales, has induced them both to do so, if only in an effort to better scale production costs globally. The new Benz A220 (and BMW 228i tested earlier, here) tries to illustrate that beloved brand characteristics can be had no matter which set of wheels is doing most of the work.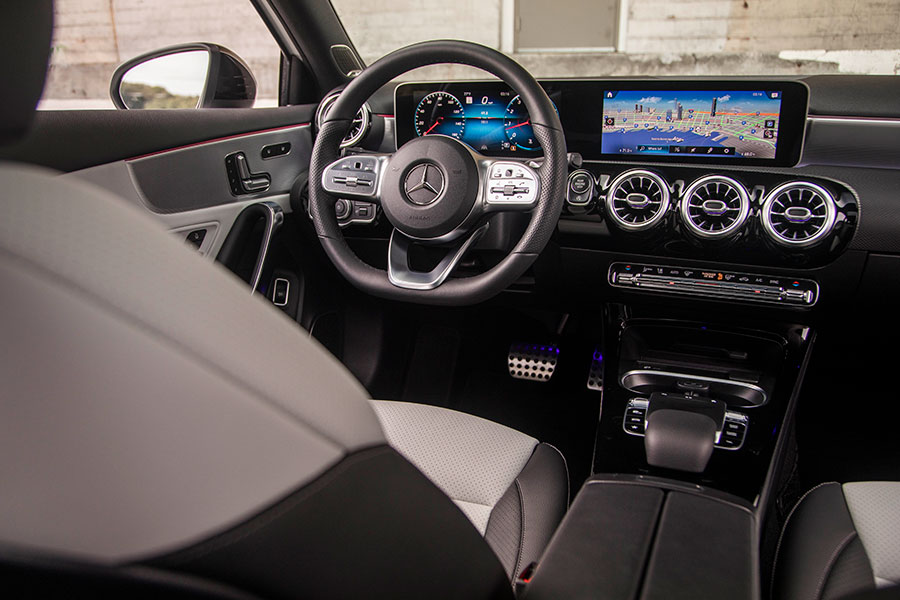 While styling is by nature a subjective affair, these eyes found the proportions, stance, bold but not obnoxious nose and pert tail of the Mercedes to be more appealing. The Bimmer is the more daring perhaps, with its large, meshed kidney grill, fastback roof and slim rear LED lights, but something about its long front overhang and flanks leaves it wanting. Inside, both are very avant-garde in form and material, but it is the A220 that seems best resolved, with big, bright circular vents and the sleek, horizontal slab of glass that fronts the twin, 10.25in screens for instruments and infotainment. Both 228i and A220 have plenty of room in front and good rear legroom, but small trunks and truncated rear door apertures can be a bit challenging for those less limber among us. The standard panoramic roof of the Mercedes lets in a lot of light, helping relieve any sense of claustrophobia. Mercedes latest tech, labeled MBUX, has received a mixed reception. Its AI-based voice assistance feature is by turns annoying, inconsistent in response, or really helpful, and the tiny touch pads on its steering wheel spokes that control the two screens really frustrate some reviewers though this reviewer thinks they are great. Also, there is always the option of touching the left hand screen to select or change functions, if the other interfaces aren't to one's liking.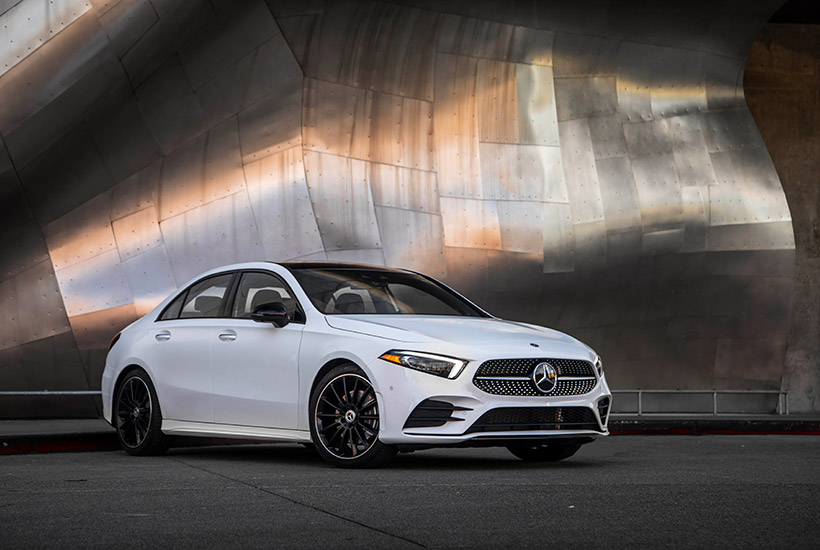 To drive, the BMW is the more overtly sporting, with stiff ride motions and fast-reaction steering. It tries really hard to give you a sense that nothing has been lost in the switch to a more nose-heavy platform and away from the classic 50:50 weight distribution Bimmers once boasted. The Mercedes seems better balanced, with a much more refined ride quality that rivals machines. It is well insulated from impacts and wind noise, which give it a true sense of German luxury. Its helm isn't geared as fast as the BMW, nor does it need to be. It is linear and progressive, and the softer set up of the Benz's springs, dampers and suspension bushings harmonize much better with it. While the A220 pushes wide into an understeering stance when driven, its limits are still high and its better ride quality is more useful, more of the time. If one wants really sporty handing and over 300hp, its AMG A35 sibling fills the bill for a modest cost increase—once both are loaded with options. Though the A220's 2-liter, turbocharged four only pumps out 188 horses and 221lb-ft of torque, its 0-60mph of 6.1 seconds makes it fleet enough, and its real world fuel economy is excellent. Overall the A Class is significantly improved in most every respect from the outgoing model, and it is a worthy entry level model for the storied company. 
EPA Ratings: 24/34/28mpg 
0-60mph: 6.1sec (indep test) 
Price as tested: $48,295 
Here is what Mercedes has to say. 
4 Stars 
Automotive Editor Isaac Bouchard owns Denver-based Bespoke Autos ([email protected]; 303-475-1462). Read his latest address on how COVID-19 is affecting the automotive industry: Click Here
---
For more auto reviews, visit our LIFESTYLE PAGE.
Colorado AvidGolfer Magazine is the state's leading resource for golf and the lifestyle that surrounds it, publishing eight issues annually and proudly delivering daily content via coloradoavidgolfer.com.