Secluded, magnificent and delightful to play, The Golf Club at Fox Acres rewards a journey to Northern Colorado's remote rooftop.
By Andy Bigford | Photos courtesy of The Golf Club at Fox Acres
THE GOLF CLUB at Fox Acres in Red Feather Lakes arguably combines the twin traits of "remote" and "spectacular" better than any other destination in this golf-rich state.
The solitude sets in on the drive up State Highway 287 northwest of Fort Collins toward Laramie, where after 25 miles you take a left at "The Forks," the Livermore roadhouse that dates back to 1875, when it was a frontier hotel and stage stop. The climb begins on County Road 74E, slowly rising almost 3,000 feet in elevation through the Roosevelt National Forest and past the North Fork of the Cache la Poudre River. Forty minutes later, you arrive in Red Feather Lakes, elevation 8,300 feet, a dozen miles from the Wyoming border as the crow flies.
The lake-fronted "downtown" features a general store, an Ace Hardware, a library, the volunteer fire department and a Post Office. There are scattered homes in the vicinity, mostly of the vacation variety, and all loosely grouped around a half-dozen lakes connected by a confusing array of mostly narrow dirt roads. The primary lodging option is a sturdy tent (or Airbnb/Vrbo), and you can fish, hike and boat.
Or you can play and stay at Fox Acres, which has offered some type of golf since 1965, and which Golf Digest in 2013 named among the country's top 20 "most fun golf courses you can play." "We are the attraction around here," says Matt Renick, the Fox Acres GM.
Once you pass through the security gate (Byron "Whizzer" White, the University of Colorado Heisman Trophy winner and Supreme Court justice, was once turned away), the grounds are a revelation. The clubhouse perches on expansive Lake Arapahoe, and the first two visible holes look … impossible. The opening hole appears to require a monster carry over the water before a strip of distant fairway rises to the well-guarded, elevated green, but in reality this 307-yard par 4 can be covered by a well-struck long iron. The tee on the 214-yard par 3 18th—if you can spot it—returns from the opposite side of the lake, leading to a green tucked just below the clubhouse windows.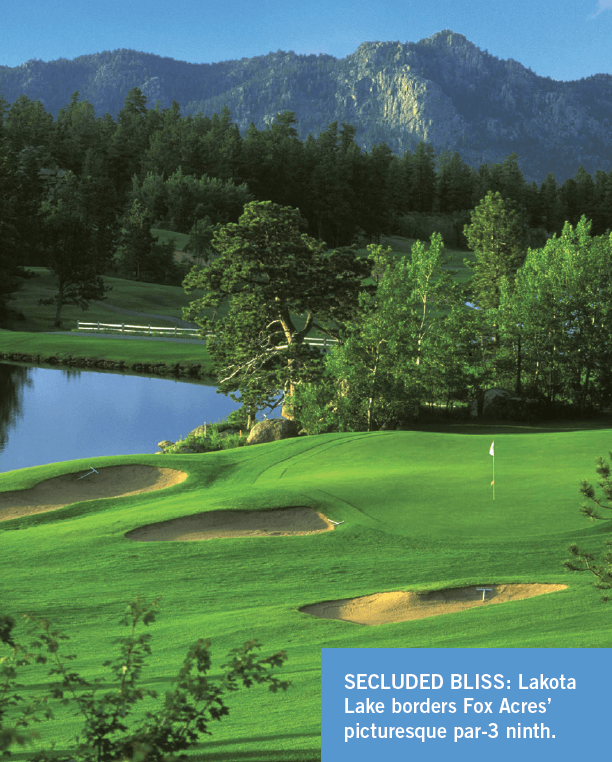 This golfer's Shangri-la lies just two hours northwest of Denver, a hidden links carved out of pristine wilderness and ponderosa pine, surrounded by the Rawah and Medicine Bow ranges. The world slows down, and you'll share the tees and fairways with moose, elk, deer and, of course, fox. An out-and-back layout in the Scottish style, Fox Acres brings water into play on 10 holes, carrying a sporty slope of 141 from the back tees. There are several doglegs, some severe. The greens have undulations aplenty, and if you are on the wrong tier be prepared to three- or four-putt.
The shotmaking bar is high on the lake-fronted par-3 second, which Phil Mickelson failed to par in three rounds here in 1991, when he visited with his Arizona State teammates for a collegiate event hosted by the University of Colorado (he described the experience as "wonderful"). The narrow, ponderosa-lined alley-like tee shot on the third, called "The Chute," seems laughably tight, with a lake on the left, a bunker and OB right. The dogleg fifth ("Blind Draw") requires a precisely placed 225-yard tee shot to open the tight window to an elevated, wrinkled green that will require at least three putts if you are in the wrong place. Make no mistake, this is target golf.
There are meandering par 5s, like the scenic, drive-from-the-sky 595-yard No. 7, and the twisty, 529-yard 17th. The fourth, 10th, 11th, and 451-yard 14th, the No. 1 handicap, are muscular, straight-away par 4s. The elevated tee for the latter sits just below the second home that former CU head football coach Gary Barnett owned for a couple of decades; he still raves about the course, and now I know why.
Founder Ray Stenzel, who dutifully built Fox Acres and all of the infrastructure for its residential neighborhoods from scratch, first came to the rooftop of Larimer County at the behest of his Windsor High School girlfriend and eventual wife, Mary (née Galloup). Her family had long summered in Estes Park, gateway to Rocky Mountain National Park, but they had decided—by the 1920s—that it was just too "civilized," and built a cabin in Red Feather Lakes. The two honeymooned nearby, and Ray eventually bought property, starting with the 38-acre Silver Fox Ranch. Then he acquired more and more land; Fox Acres now encompasses 459 acres. Ray was a liquor and then pharmaceutical titan, living and working out of Kansas City, but stayed true to his CU roots as a major booster of the school's football and golf programs, and the state (despite forgetting to put Whizzer's name on the security guest list when he invited him up to play).
Retiring in Red Feather Lakes, he began with the idea of roughing out a few par-3 holes, then the aspirations grew, and he ended up commissioning John Cochran to build a championship course. A Georgia native, Cochran was a prime mover and shaker in Colorado golf circles back in the 1950s through '70s, as the head pro at Denver Country Club and Columbine, developer of Boulder Country Club, and an accomplished player who competed against Sam Snead and Byron Nelson on the post-World War II PGA Tour (an Air Force pilot, he also gave Ben Hogan flying lessons). Cochran became just as personally invested in the project as the founder, referring to it as the crown jewel of his career, and dedicating some 15 years onsite to sculpt the now 6,481-yard course, which was completed in the early 1980s. "This is one of the finest golf courses in the world, not just the U.S.," he declared at the time. Both Stenzel and Cochran are in the Colorado Golf Hall of Fame.
Stenzel died in 2002, and there was trouble in paradise afterwards, in particular the challenge of running a viable private golf club with a short season in a remote corner of the state, with a small residential membership. When the financial crisis of 2007-09 hit, it went bankrupt, and property values for a hundred-some homeowners plummeted to a fraction of their worth. The club was rescued in 2014 by a consortium of 27 members, who bought it back from the bank, hired Touchstone Golf to oversee operations, and re-opened it as semi-private.
Austin-based Touchstone, which manages 40 courses in 12 states, including Applewood Golf Course in Golden and Deer Creek Golf Club in Littleton, immediately went to work. They hired Colorado native Renick to oversee the turnaround, and restored the course to playability for summer 2014 (the greens had not been aerated for at least five years). But the bad luck continued: the clubhouse pipes froze on New Year's Eve, flooding the clubhouse and leaving $900,000 in damage.
After cleaning up the mess and seeing several years of progress, the main water line for the front-nine irrigation broke in early June 2018, following months of extremely dry, windy weather. The grass died, and the conditions were substandard for much of last season. Touchstone put in a new main water line, lured away Adam Neft, the 25-year-veteran assistant superintendent from Denver Country Club, and opened for 2019 by mid-May with quickly improving playing conditions. One major project is to cut the 108 bunkers almost in half; they are a maintenance nightmare. Stenzel, who was something of an amateur water expert, built all 15 lakes on the property, but also crushed the excavated granite to use as sand in the bunkers, far from ideal for playability.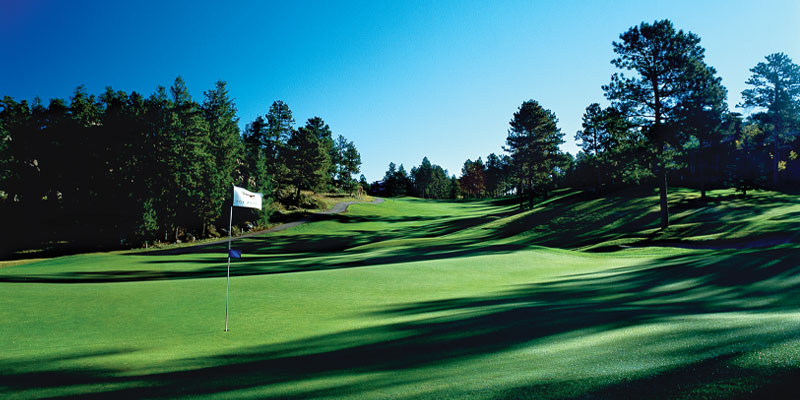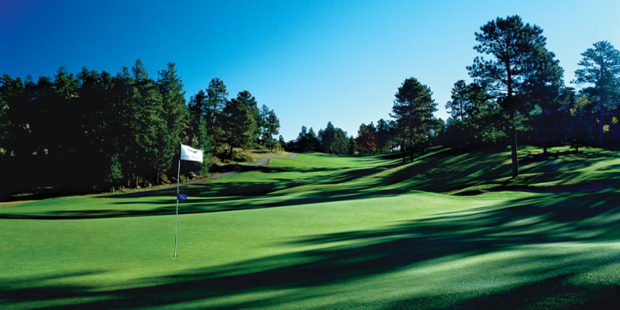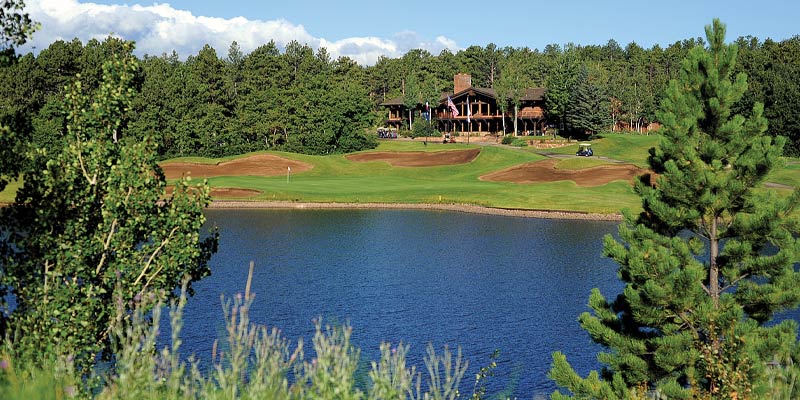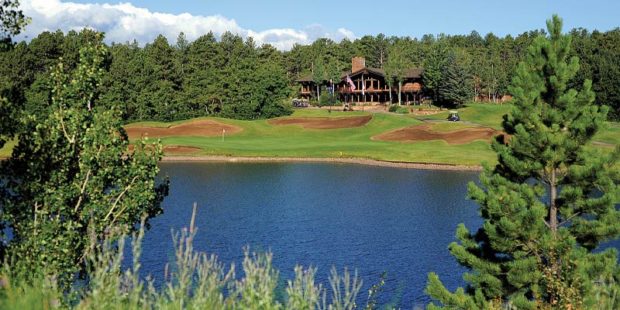 The member owners are represented by Bill Butin, who spent 35 years with Shell Oil, most recently as its CEO in Tokyo, and came to live at Fox Acres in 1997. Touchstone and the membership are continuing their efforts to make Fox Acres sustainable. The second-floor dining room, which once required coat-and-tie for seven-nights-a-week service, is now open only for a member's Friday night league and for special occasions, including weddings (Fox Acres will host a dozen such events in 2019). The ground-floor Fox Grille, and the F&B efforts, are led by the very capable chef Donna Kennedy, offering lunch and some dinner items plus breakfast on weekends to members and the public.
For most of its four-plus decades, Fox Acres has been exclusively private, but it now welcomes outside play to balance the budget, and the rates are reasonable. Greens fees, including range and cart (the course is not really walk-able), are $75 on weekdays and $95 on weekends. Better yet are the Stay & Play packages, utilizing the 16 "club rooms" (upgraded in 2017): guests pay $150 per person for weekdays (Sunday-Thursday) and $199 on Friday and Saturday nights, and get unlimited play from arrival, plus 24-hour use of the cart (rates based on double occupancy). And better yet for those lucky guests is the high-quality catch-and-release trout fly-fishing available on the stocked lakes.
Members, virtually all of whom are retirees and property-owners who stay just for summer, number about 90; they pay annual dues the club sets each year depending on its budget. For 2019, the fee is $12,000. That includes an unusual perk: Members can bring up to three guests a day, and those visitors will play for free. So, theoretically, a Fort Collins drive-in foursome could pay $3,000 each for unlimited playing privileges, or they could rent a spectacular home on the course through Airbnb or Vrbo for the summer. Touchstone wants the exposure for Fox Acres, because those visitors are likely to return as paying guests, bringing their own friends.
Real-estate sales are now brisk and property values rebounded, with several new homes under construction and prices that are still quite a bargain for Colorado golf-course living. There is a fitness center, hiking, biking and kayaking, as well as the stalking of large browns, rainbows and brookies. A homeowners association organizes a slew of member social events; there is cross-country skiing, but most owners scatter for winter. This past season, that meant they missed the hugely popular men's and women's pond-hockey tournaments on Lake Arapahoe in front of the clubhouse, creating an idyllic winter scene.
Outside the gates, it's a pleasant respite to drive the solitary, circuitous dirt roads of the multi-lake region, and there are three restaurants to supplement the Fox Grille: Dalonna Mae's Cafe, next to the Red Feather Super on Dowdy Drive; the Potbelly Restaurant and Lounge on 74E, and the Trout Tavern on Lake Ramona.
While it doesn't get much golfer interest, one of North America's most significant Buddhist temples, the 108-foot-high Great Stupa of Dharmakaya at the Shambhala Mountain Center, once visited by the Dalai Lama, is a 20-minute drive to the west.
After tallying your strokes on Fox Acres' sloping greens, it might be worth a visit to appeal to the putter gods.
Colorado AvidGolfer contributor Andy Bigford is the editor and collaborator on Chris Diamond's Ski Inc. 2020, which goes on sale Oct. 1, 2019.
---
This article appeared in the 2019 July Issue of Colorado AvidGolfer.
Colorado AvidGolfer Magazine is the state's leading resource for golf and the lifestyle that surrounds it, publishing eight issues annually and proudly delivering daily content via coloradoavidgolfer.com.