This season you can play Raccoon Creek up to FOUR TIMES for as low as $39 (cart always included) on your 2018 Golf Passport!
---
[easyazon_infoblock align="right" identifier="B00CFGUL2E" locale="US" tag="coloradoavidg-20″]Raccoon Creek, located just east of Wadsworth and Bowles across the street from Clement Park, offers an affordable and enjoyable golf experience for every golfer. Measuring as short as 5,130 yards and as long as 7,045 yards from the tips, the course winds around the Grant Ranch B and C Reservoirs with water trouble on more than half the holes.
A true Dick Phelps design (Perry Park, Mariana Butte, Saddle Rock, Rifle Creek) plays best to the golfer that can place their tee shots for optimal approaches. Inaccurate tee shots— both long and short— are penalized severely here by the aforementioned water hazards and tree-lined fairways. Longer players can be tempted to take driver off most par-4 and par-5 tees, but can fall victim to in-between wedge and short iron shots when not played carefully. The teeing grounds and greens are kept in wonderful shape year-round here by A.J. Meyer's team— an impressive feat in itself considering how many charity tournaments are held at Raccoon Creek every spring and summer.
---
Looking for a few tips on how to play some of Raccoon Creek's best holes? You're in the right spot…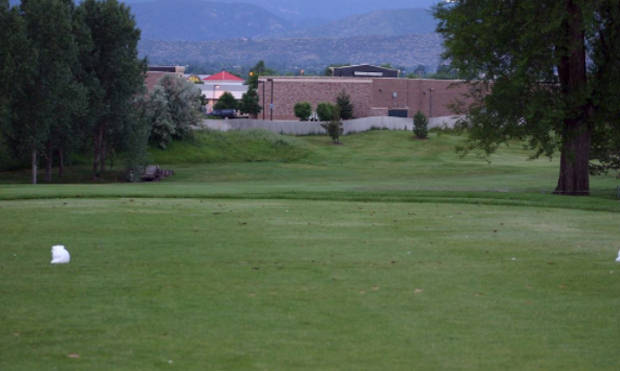 No. 1 – Par 4 – 373 yards
Set your round up by taking less-than-driver off the first tee as the right side of the fairway is immediately blocked by towering cottonwoods, and a straight shot leads into tree-infested rough and a narrow creek. A nice, safe hybrid or long iron should leave an easy wedge to a scoring opportunity here.

No. 6 – Par 4 – 415 yards
The 415-yard par-4 6th is the toughest hole on the scorecard, requiring a perfectly struck driver to carry the water along the right. Players seeking a less-than-100-yard wedge shot can try to take on the water, but if you have any breeze coming back at the teeing area take 3-wood or less out to the left of the hazard. A downhill mid iron shot is left for your GIR. Take your smart four and run!

No. 9 – Par 5 – 528 yards
The par-5 9th is where you can unleash driver. Deeper hitters take dead aim over the right fairway bunker for a long iron into the elevated green while shorter players can aim directly at the left bunker, leaving fairway metal or hybrid for your approach-to-eagle. Your ideal landing area is the left side of the fairway, regardless of your route. Take one extra club and let her rip to give yourself a look at three to close the front side.

No. 11 – Par 5 – 531 yards
After you try and drive the green on the 10th, the difficult par-5 11th is next. A narrow teeing area leads to a blocked-out second shot if you don't take it deep down the left side of the fairway. Large cottonwoods along the banks of Raccoon Creek guard the right side of the fairway, so if you're blocked out, lay up with a gap wedge to give yourself a 100-yard third. If you're in position-A, choose to wrap a low-flighted ball around the trees or take a towering approach up and over— just don't be short!
No. 17 – Par 3 – 226 yards
The deep 226-yard par-3 17th (pictured atop) is Raccoon Creek's signature hole, cut along the south side of Grant Reservoir B. Righties if you slice the ball, this hole can be daunting so aim a little farther left to compensate (or go see your GOLFTEC coach). Our advice? If you can't find the green, don't be afraid to plan your miss in the greenside bunkers— it's tough to short-side yourself when you're in the sand on No. 17 so don't shy away.
---