The private golf enclave of Querencia has undergone a Colorado-led $60 million, family-friendly reinvention
By Jon Rizzi
Ryan Elston's "ultimate dream day" at Querencia consists of rising at 6 a.m. to mountain bike, then swapping the wheels for a surfboard to ride the breakers at Acapulquito Beach. Afterwards, he meets his wife, Lauren, and their three daughters for lunch at the Q Beach club. They spend the afternoon frolicking in the sand, atop stand-up paddleboards or at the golf course. For dinner, they savor one of Executive Chef Armando Montaño's culinary inventions, then "go strong to the pillow."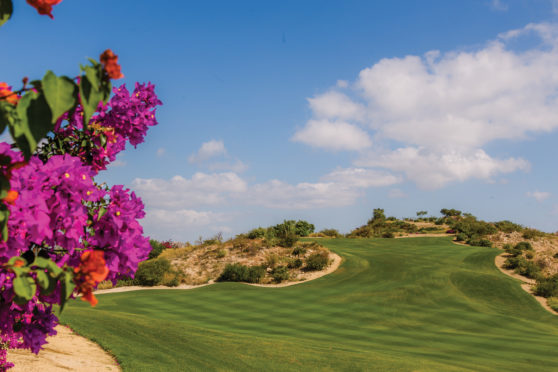 A 38-year-old Aspen native, Elston often begins some variation of this scenario from his primary residence at Querencia, the exquisite, 19-year-old 1,800-acre private golf enclave in San José del Cabo. As Querencia's co-owner and president of real estate, he has also helped make this dream a reality.
Elston, an MBA with 16 years of professional real-estate experience, has held this position since August of 2017, when an investment group led by his in-laws, Bonnie and Tom McCloskey of Cornerstone Holdings, purchased the development in which they'd owned a home since 2010.
With personal knowledge of the area, the new owners immediately embarked on a $60 million renovation project. They invested liberally in the maintenance and reconditioning of Querencia's chief amenity —a stunning Tom Fazio layout GolfDigest rated as one of the "World's 100 Greatest Golf Courses"—and committed major capital to evolving Querencia "into an even more vibrant family-oriented property while preserving…its exclusivity and attention to refinement," according to Tom McCloskey.
The acquisition realized a vision Elston had nurtured ever since coming to Querencia while he and wife, Lauren McCloskey Elston, were in business school at the University of Notre Dame. "We went with her family and stayed with a family friend," he remembers. "We felt we'd stumbled into a diamond in the rough. We'd always talked about living abroad, so we bought a cabaña, furnished it and developed a passion for the place."
Ryan adds he "saw there was a play as a family real-estate holding, but Bear Stearns collapsed and the world changed."
A decade later, the Elstons are changing the world of Querencia along a more active, multigenerational model. "The demographics are evolving towards more youth and vitality," he explains.
Paramount to this evolution is Querencia's Q Beach Club set on a bluff above Playa Aculpuquito, a beautiful strand in an enclosed bay that invites swimming, snorkeling, standup paddling and, from May to October, surfing.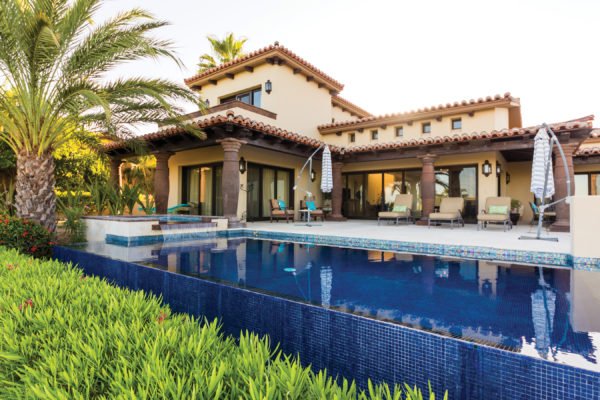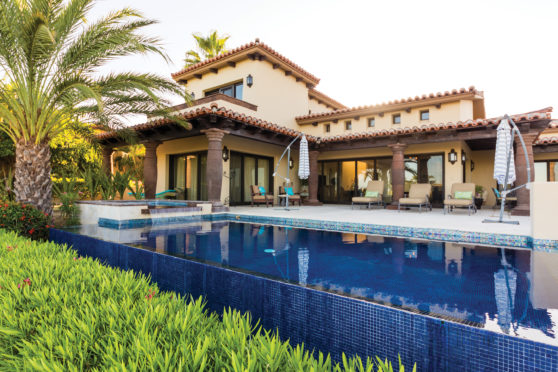 "We're the only private property in Cabo on a surf break," Ryan says, referring to the world-class waves of Old Man's and The Rock, which present ideal conditions for all levels of surfers. The Q Beach Club provides lessons and gear for all activities.
It also provides an outdoor bar and dining area, private beach cabanas, shady hammocks and a raft of amenities—including yachting, deep-sea fishing and SCUBA in the Sea of Cortez—through local partners.
Lauren has been intimately involved in updating the development's hacienda aesthetic to a more "tropical modern" one. Working with Utah's Denton House Design Studio, she brightened up and refurnished Querencia's 58,000-square-foot Q Club Village. Comparable upgrades in appearance and programming reveal themselves throughout its three restaurants, state-of-the-art fitness center and yoga pavilion, full-service spa, dedicated children's space and multiple swimming areas—including a rock-lined lap pool and infinity-edge pool with a kid-friendly water slide.
Ryan's passion project was the professionally constructed, six-mile mountain-bike flow trail system. The well-maintained, well armored network—which also accommodates hikers, runners and walkers—consists of two trail types: The Blue-Black "dirt surfer" features jumps, berms and climbs; the intermediate Q-Club Loop, which Ryan says "uses gravity to knock the grunt out of the uphill," runs partially through the golf course.
Speaking of golf, Ryan notes that residents are not required to join the golf club (for $160,000, plus $1,800 in monthly dues), nor does residency come with a membership. However, he notes, "We offer a vertical golf membership that includes a primary member, their parents, their kids and their kids' kids. People want a house where the kids and grandkids want to visit. That second generation user usually becomes the buyer."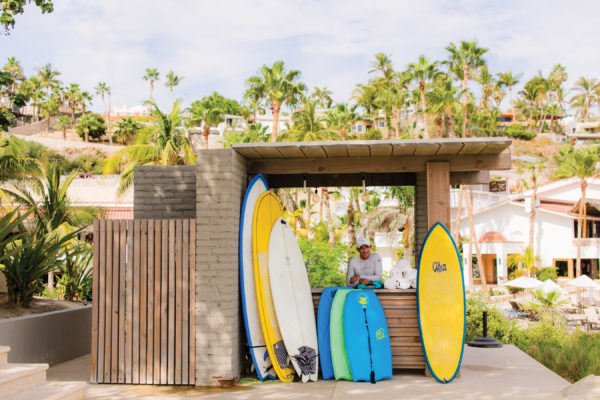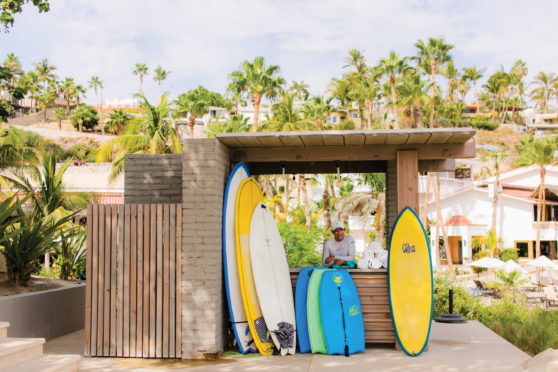 On the real estate side, the gated community has increased its sellable inventory. With Lauren's design input, Querencia now offers floor plans and architectural guidelines that reflect a more streamlined, eco-friendly aesthetic than the existing structures did, but without appearing incongruous. An average of two homes come online monthly, and prospective residents can test-drive the property through the Q Living program. Custom home sites are also available.
Ryan says they're only a quarter of the way to the ultimate low-density build-out of "500 to 600," and, he promises, no residences will ever blemish Fazio's fairways.
"The environment is important to me," he says. So is the Mexican culture. He and Lauren send their girls to school in San José del Cabo, and the new Q Travel Club provides members with tours of such Mexican locations as Puebla, San Miguel de Allende and Las Barrancas del Cobre.
He also says he'd like to double the current Mexican membership base of 25 percent. "We're not building a wall here," he says.
"We are proud to be the new stewards of this remarkable community," Lauren adds, "and plan to take it to the next level."
For more information on Querencia, visit qcabo.com or call 888-236-2229.
---
Colorado AvidGolfer Magazine is the state's leading resource for golf and the lifestyle that surrounds it, publishing eight issues annually and proudly delivering daily content via coloradoavidgolfer.com.