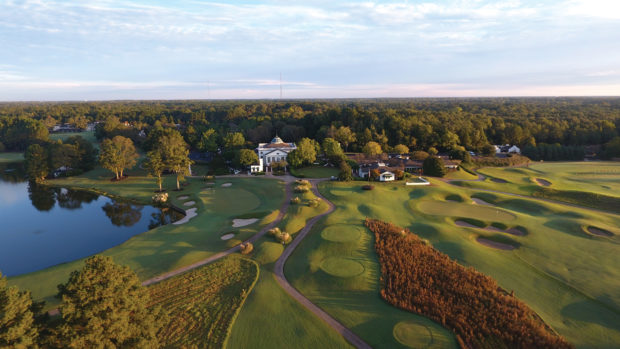 After taking a while to germinate, public golf in the Magnolia State is now in full, glorious bloom
By Tony Dear
Before George Bryan's Old Waverly Golf Club opened in West Point, Mississippi, in 1988, the Magnolia State possessed a handful of modest private courses but little in the way of top-notch public golf. Located in West Point, in the state's east-central Golden Triangle Region, the Jerry Pate-Bob Cupp design at Old Waverly was conceived primarily as a private club, but Bryan—a former senior VP at the Sara Lee Corporation—knew that to fill the clubhouse he would also need to offer some outside play.
He built nine cottages across the lake from the 18th fairway, each of which had a communal area and four adjoining bedrooms making them perfect for golf groups, couples and buddy trips. The stay-and-play option is still in operation today, and the cottage floor plan has become the model used by numerous golf resorts around the country.
Even with this discreet nod to the public golfer, however, one course could only do so much to influence an entire state's reputation. For Mississippi to become a legitimate golf destination it would need a little help, not just from the addition of other quality public-access layouts but also the state tourism department.
Mississippi began ramping up its golf marketing efforts in the late 1990s, no doubt in response to the success of the Robert Trent Jones Golf Trail, which had opened in neighboring Alabama in 1992.
Other courses did eventually begin to appear. Forty-five minutes west of Waverly, Tom Fazio and Pate's fantastic Azaleas Course at Dancing Rabbit Golf Club opened in 1997, followed two years later by the Oaks, completing one of the finest 36-hole facilities in the country. Downstate, near the gulf coast, Jack Nicklaus's Grand Bear also opened in '99, and Davis Love's Shell Landing arrived in 2000.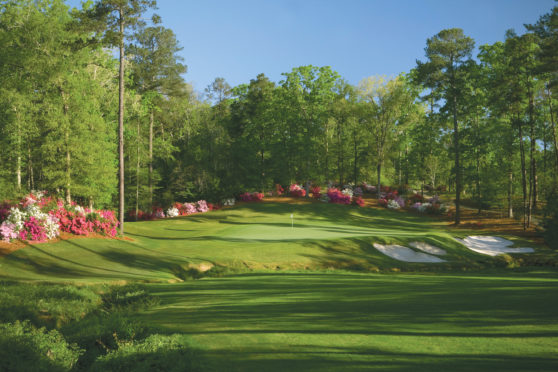 So, by the turn of the century, the marketing people really had something to market.
At Old Waverly, Cupp and Pate created a graceful course typical of the Deep South on 360 acres of pasture, woodland and lakes. In 1999, it hosted the US Women's Open, won by Juli Inkster and attended by nearly 102,000— at the time, the third-highest number in the championship's history.
Dancing Rabbit Golf Club is an amenity of the Pearl River Resort, which is owned by the Mississippi Band of Choctaw Indians and located 90 minutes northeast of Jackson, the state capital. When the plant for which it is named is in full bloom—from the middle of April to the middle of July—the Azaleas Course is an absolute picture. Lofty pines, creeks, elevation changes, manicured TifWay II fairways and TifEagle greens, yellow flags/pins, and the vividly pink flowers, give the course a familiar look. No wonder one publication dubbed it the "Augusta you can play" shortly after it opened.
"We discovered some very interesting landforms and natural streams when we first walked that property," Fazio says. "Those features gave each hole its own unique setting and made it easy to design challenging and exciting holes full of variety. The course meanders around and through a densely forested area with numerous water features bordering many of the fairways and greens."
The Oaks Course, also the work of Fazio and Pate, isn't quite as visually arresting but it is every bit as enjoyable. Eight rooms are available to guests in the handsome antebellum clubhouse, and there's also a 140- room inn adjacent to the courses for those that don't want to stay at the resort.
An inland course, Dancing Rabbit withstood the worst effects of the hurricane that devastated the coastline in August, 2005. Katrina laid waste to numerous golf courses, with some unable to survive the destruction and ensuing economic hardship; others shut for months, even years, after the storm.
Shell Landing, in Gautier, got battered but miraculously opened before the end of the year, but revenues dropped while the course's debt and insurance premiums rose.
Then, in September 2012, Biloxi native and long-standing PGA member Kenny Hughes and three other investors purchased the course and have nursed it back to health (they also bought Mississippi National, now Hickory Hill, in the same town).
"Today I can honestly say the course is in its best condition ever," Hughes says. "And our plans are to continue improving the property by removing trees, opening up more vistas by under-brushing and filling in bunkers that only effect high handicappers."
Hughes sees this all happening within the next five to 10 years, but Shell Landing is in cracking shape now and most definitely worthy of a spot on your itinerary. If you go, stay in nearby Biloxi at the impressive, 29-story MGM Resorts-owned Beau Rivage, which spent $550 million on post-Katrina repair work.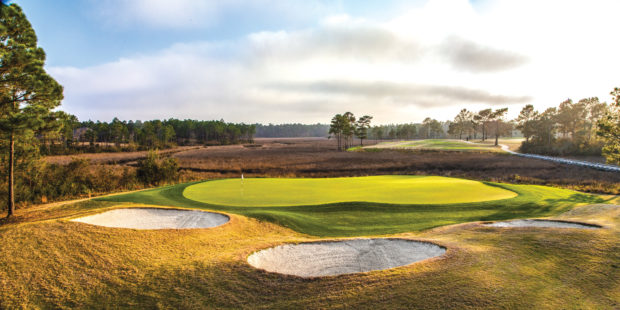 Beau Rivage residency gives you access to Fazio's other Mississippi masterpiece— Fallen Oak, which has hosted a PGA Tour Champions event since 2010. "Steve Wynn, founder of Mirage Resorts, originally owned it and wanted a bold, dramatic layout like Shadow Creek within a 20- to 30-minute drive of the hotel.," says Fazio.
They found a 510-acre parcel on the edge of the DeSoto National Forest with 30 to 40 feet of elevation change. "A good combination of open fields, dense forest, interesting streams and open wetlands," Fazio says. "We carved holes out of the forest and created elevated contours in the fields, relocating many grand oaks across the property."
The result, as you might expect of a Tour venue and course with a $200+ green fee open only to hotel guests, is maintained immaculately and the service is exceptional.
Good design, conditioning, and service are all very well, but your lasting memory of Fallen Oak might well come from the 12,000-square-foot Arcadian clubhouse where the dessert menu includes a rather special root beer float. The difference between this float and one you might get in your typical family-friendly restaurant is the measure of Woodford Reserve that its creator, bartender Meredith Carr, thought golfers would appreciate.
"Meredith really knows her bourbons," says Fallen Oak's F&B Manager Gunter Adkins. "She's been with us about a year, and her root beer float has been incredibly popular since the day she arrived. We make 30 on a typical day during the summer."
Half an hour southeast of Fallen Oak is The Preserve designed by Fazio's Dancing Rabbit collaborator, Jerry Pate and opened in 2006. Owned by the Palace Casino Resort, the Preserve is 18 miles northeast of Biloxi on the road to tiny Vancleave.
In 2006, Fazio's Dancing Rabbit collaborator, Jerry Pate, designed the much admired Preserve Golf Club, a Palace Casino Resort property 18 miles northeast of Biloxi. But Mississippi's newest headline-making golf course is the Gil Hanse-designed Mossy Oak, which George Bryan built in conjunction with Toxey Haas, founder of the camouflage and outdoor lifestyle brand of the same name.
Bryan's second gift to Mississippi public golf, Mossy Oak shot straight to the top of most of the state's golf course rankings and, without any hyperbole, might very well have taken Mississippi golf to the next level.
Opened in 2016, Mossy Oak lies half a mile down the road from Old Waverly and was skillfully squeezed onto just 180 acres by Hanse and his design associate Jim Wagner.
Mossy Oak is already one of America's great playing fields—a throwback to some of golf 's earliest courses in Scotland where you can see noiseless four balls putting out on a distant green. This quirk would mean nothing were the holes flat, straight and bland. But there's not a weak hole out there, each one a glorious challenge requiring imagination and skill to navigate successfully.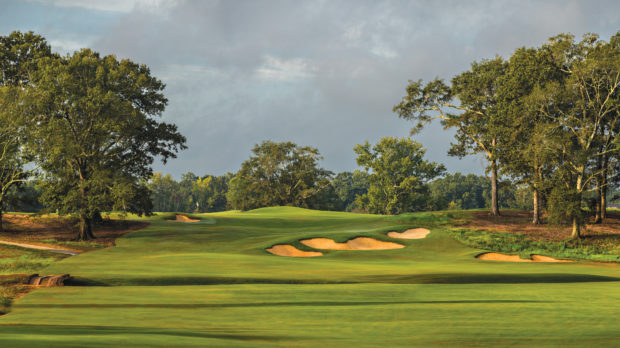 Bryan, a member at Royal Troon for 25 years, is a huge fan of how the game is played across the pond and wanted to replicate that on Mississippi's Black Prairie. "We refer to the course as 'Nature's Golf ' and Gil does the minimalist thing so well," he says. "I wanted this to be very different than Old Waverly, and we think the two contrasting courses make a wonderful destination."
Mossy Oak offers guests on-site cottages to the left of the 10th fairway, and the clubhouse, currently under construction, is scheduled to open next May.
Mississippi may not rank terribly high in many important statistical categories (healthcare availability and affordability, economic growth and stability, education, etc.), but according to McKinsey & Company, a global management consulting firm, it comes in sixth for quality of life, taking into account such factors as community engagement, quality of drinking water, voter participation, and urban air quality.
And, perhaps, the quality of its public golf courses.
Washington-based contributor Tony Dear regularly covers gear on coloradoavidgolfer.com.
---
Colorado AvidGolfer Magazine is the state's leading resource for golf and the lifestyle that surrounds it, publishing eight issues annually and proudly delivering daily content via coloradoavidgolfer.com.