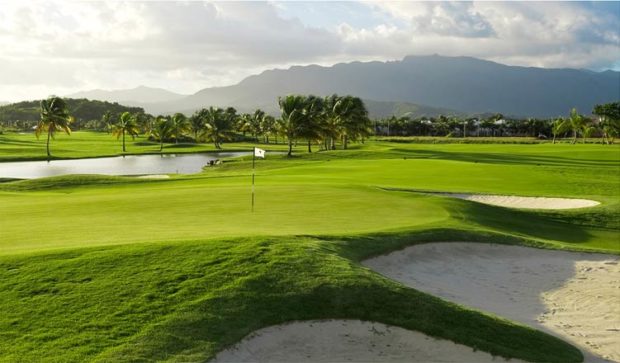 Return of the PGA TOUR event Feb 21-24 signifies the island's resiliency following Hurricane Maria
By Suzanne S. Brown
The PGA TOUR's Puerto Rico Open returns to Coco Beach Golf Resort in Rio Grande Feb. 21-24. Now in its 11th year, the  tournament attracts 132 golfers and an estimated 40,000 fans to the beachside resort on the island's northeastern edge.
First played in 2008, the event was replaced by a charity pro-am in 2018 as Coco Beach's two courses—as well as others throughout the island—recovered from the devastating effects of Hurricane Maria that hit Puerto Rico in September, 2017.
While the storm caused major damage to natural habitats and structures throughout the island, it also gave golf course planners the opportunity to reshape and improve layouts and facilities, and two dozen courses are again hosting golfers for great rounds of Caribbean-style golf.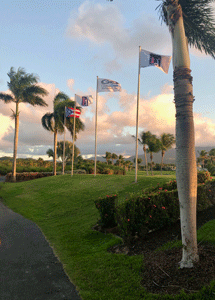 The Open is celebrated as a major event in Puerto Rico because it features not only great golf, but food and entertainment as well, making it an ideal activity for families, said Sidney Wolf, head of the Puerto Rico Golf Association. It was named the most fan-friendly event on the PGA TOUR in 2012.
Previous winners include Tony Finau, George McNeill and Jeff Bradley (twice). Locals are excited to watch such players as native son Rafa Campos, who plays on the Web.com tour, compete for $3 million in winnings, Wolf says.
Coco Beach has two courses designed by Tom Kite, with the Open being played on the Championship course. "It's a good layout for players," Wolf says, adding, "if wind blows around, it makes the course a lot harder." He's a fan of the 630-yard, par-5 18th hole, which, depending on how it is set up, can be an eagle opportunity and has produced playoffs in two of the last three Puerto Rico Opens.
The property, Wolf says, has "everything you need to host a big event, including a great clubhouse, parking, hospitality, controlled access, and it's only about 30 minutes from San Juan." The property's hotel is currently closed amid a change of ownership, but there are on-site villas and timeshares, as well as places to stay nearby and in the city.
While the Open wasn't held in 2018, the TPC Dorado Beach held a charity pro-am (won by a team featuring McNeill and Cheyenne Woods), with proceeds going to hurricane relief efforts. This year's tournament has a philanthropic side as well, with sponsors on a mission to raise $750,000 to buy sports equipment for underserved Puerto Rican kids.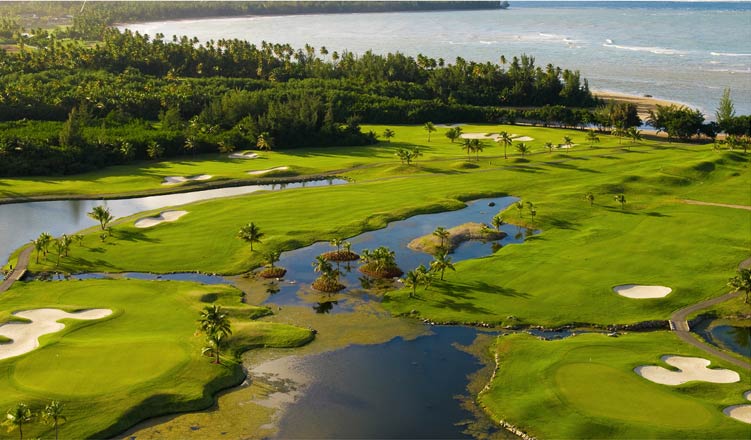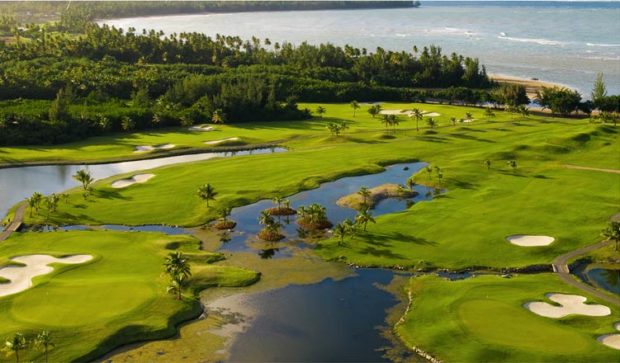 Workers were busy erecting scaffolding for bleachers on the 18th green on a recent afternoon and maintenance crews have been grooming the course for most of the year, according to tournament director Carlos Suarez. Those who attend should be sure to check out his favorite holes on the course: No. 12 for its views of the beach and ocean, and No. 14 for its difficulty (the par 4 hole is the #1 handicap on the course).
Tickets to the Puerto Rico Open are available at ticketpop.com, or are $20 at the gate. Details at puertoricoopen.golf. The tournament will be televised on the Golf Channel.