Pit Viper's vast range of sunglasses aimed at the young, and young-at-heart
By Tony Dear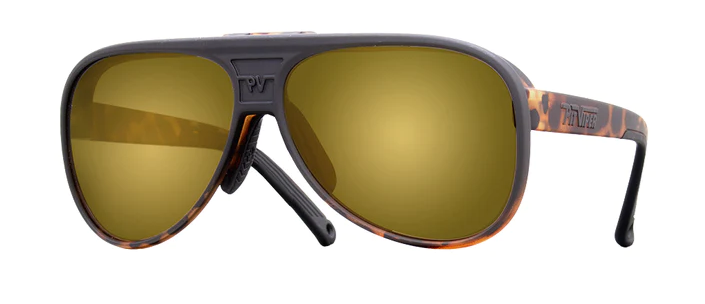 It doesn't happen very often (can't remember the last time it did, actually), but occasionally the golf equipment scene falls weirdly silent.
If it does happen, it's usually around this time of year when manufacturers are busy gearing up for Christmas and January's PGA Merchandise Show. We know a slew of new items featuring exciting tech are coming our way soon (Mizuno set the ball rolling two weeks ago with the announcement of its new '24 family of Mizuno Pro irons) but, for now, all is quiet. Subdued periods invariably precede an eventful end to the year-of-year and beginning of the new year, and give us the opportunity to feature products you might not otherwise hear about.
We were recently contacted by a Salt Lake City, UT-based company that makes sunglasses and whose opening gambit may not have been worded by a golfer but which suggested it did create legitimate golf products.
"Picture this," the email opened. "Cool, crisp weather, uncrowded fairways – the perfect time to get out on the green. But, it's hard to imagine nailing your golf swing without looking and feeling like a real golfer. Enter Pit Viper, the bold outdoor accessories brand known for its expressive and durable eyewear."
I, a non-young golf equipment writer, chose the most sober-looking pair I could find and surprised friends on the 1st tee one morning when taking the Peninsula Lift-offs out of their box. They didn't compliment my rather muted, staid threads or greying hair to be fair, and I'd be lying if I said they remained on the bridge of my nose for all 18 holes.
But comments like "They'd be really cool if you were 25 years younger," and the fact they were undeniably good – the polarized lens minimized glare but kept colors and features vivid – convinced us to feature them here.
A couple of other things appealed. First, the company, founded in 2012, has a long list of organizations and charities it supports – veteran and military families, environmental, and healthcare are just some of the causes Pit Viper is involved with. And second, Chuck Mumford, the company's co-founder, owner, and 'creative genius, is a 2008 graduate of the University of Colorado Boulder where he met Denver-area resident Chris Garcin with whom he developed the concept for Pit Viper.
We don't know if the Pit Viper's look and message will resonate with everyone, but if you dig the irreverence and the whole vibe of Gen-Z golf these glasses may be for you.
Price – $90 (free shipping)
100% UVA and UVB protection
Light transmission – 14%
Lens – 2.2mm polycarbonate
RX Insert compatible
Weight – 36 grams
---
Colorado AvidGolfer Magazine is the state's leading resource for golf and the lifestyle that surrounds it, publishing eight issues annually and proudly delivering daily content via coloradoavidgolfer.com.
Tony Dear is a former teaching professional and First Tee coach, now a freelance writer/author living in Bellingham, WA. He can be reached at [email protected]