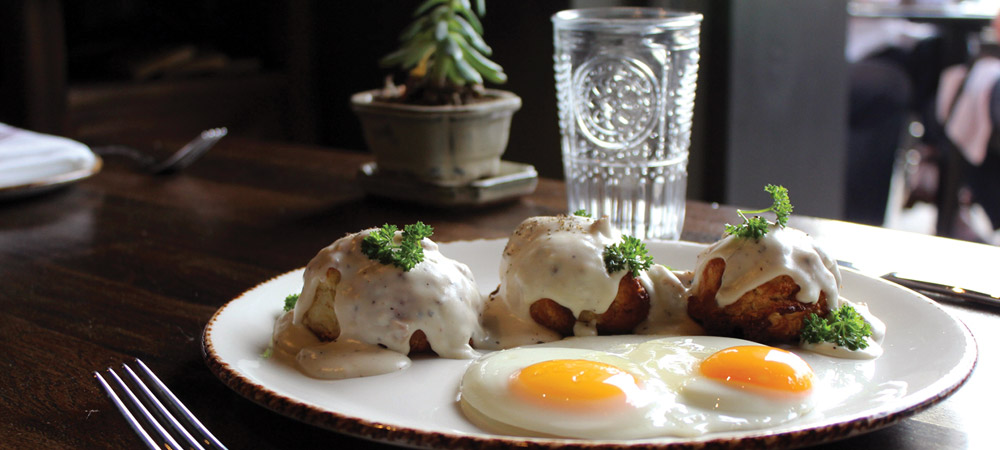 Destination spots dish more than Benedicts, bacon and Bloodies.
By John Lehndorff
Photography by Matt Nager & The Restaurants Featured
I love going to brunch. It's the rare dining occasion where you can kick back when the sun is out, catch up with family and friends and take a break from the weekday diet rules. In other words: Quality baked goods and relaxing adult beverages are often involved.
The best brunch places serve more than the usual breakfast suspects plus a couple of sandwiches and salads. They deliver a variety of sigh-worthy, "brunch-y" dishes that please everyone at the table.
Herewith a list of stellar destinations along the Front Range that not only have great fare and service, but are set in memorable locations. These gems are well worth the drive on a weekend morning, but reservations are recommended, if not obligatory, especially for Mother's Day on May 12.
JULEP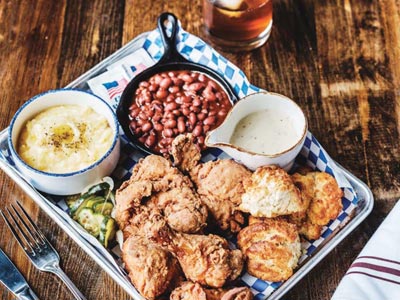 I experienced true fried chicken nirvana and appreciated the value of patience on a recent Sunday morning a few blocks from Coors Field. Julep looks like one of those new hipster bistros in downtown Denver with a sunny patio and a skillful bartender. It's actually a bona fide Southern eatery in disguise, and its weekend brunch hits all the right notes, starting with legit fried chicken— three pieces of high-quality bird fried long and slow enough to yield that quintessential crunchy crust, moist meat and fall-off-the-bone goodness. Add chewy waffles, honey and spicy slaw and I had to smile.
Such tastiness takes a long time to arrive, so settle in, turn off your phone, and sip a Pimm's Cup or a perfect Mint Julep. Kids can order the Kool-Aid "flavor of the day." Start with a fun house-made pimento cheese ball crusted with toasted pecans and Triscuits. Julep also rewards your patience with a board of baked-to-order crusty buttermilk biscuits. The warm middles are made to absorb butter, honey and house-made marmalade or be drenched in peppery white gravy dotted with sausage chunks.
The modest menu satisfies with savory dishes like eggs Sardou (with spinach and artichokes) and beef grillades over Anson Mills grits and Creole sauce. The sweet side also has a drawl: Rotating desserts include a banana raisin bread pudding soaked in bourbon butterscotch sauce.
3258 Larimer St., Denver
303-295-8977, juleprino.com
DAZZLE AT BAUR'S
As your eyes adjust from the bright sunny street to the soothing, coolness of Dazzle, you hear the music and conversation and smell the pancakes. It feels like you are at a celebration.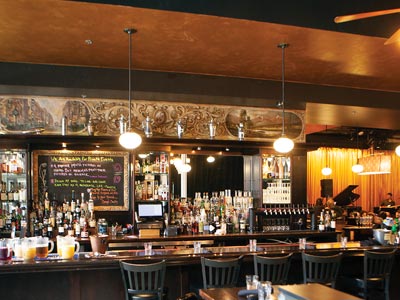 Musicians and fans know Dazzle as one of the premier jazz clubs in the U.S. Brunch lovers like me also revere it, especially since the 15-year-old Sunday morning tradition got a serious upgrade when the club relocated to downtown Denver a few years back. The historic Baur's Building, with its tiled floors and pressed tin ceiling, gives the space a classy, timeless charm. The combo playing onstage has fun with the American song book and provides a nice groove. It's not a concert, but it allows kids to experience live music, and the volume of the music and chatter means they can be themselves without getting shushed.
The big buffet in the adjoining room features breakfast favorites, stations for made-to-order omelets and waffles plus carved brisket or ham. Each week showcases a theme—from Texas barbecue to Mexican with appropriate entrees. Tables overflow with appetizers, salads and desserts, but the longest line always seems to be at the breakfast cereal station, where sheepish adults stop for Lucky Charms and Apple Jacks.
The build-your-own Bloody Mary area at the bar is stocked with an array of over-the-top garnishes. I always leave Dazzle feeling full, but with a bounce in my step.
1512 Curtis St., Denver
303-839-5100; dazzledenver.com
GINGER AND BAKER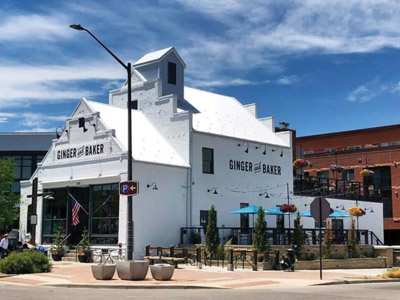 Red-haired Ginger Graham is a diehard baker who also loves the spice of the same name. It made sense to name her remarkable establishment "Ginger and Baker." Looking to open a pie shop, she rehabbed a marvelous old feed store in Old Town Fort Collins and constructed an adjoining building. Together they are home to a fine culinary attraction: two restaurants and a market/bakery with a couple of patios and a cooking school.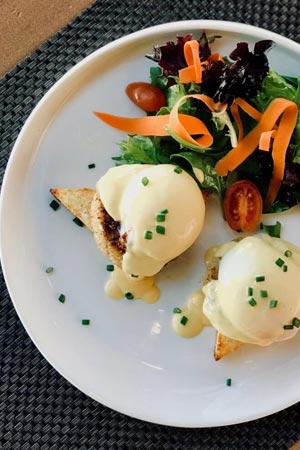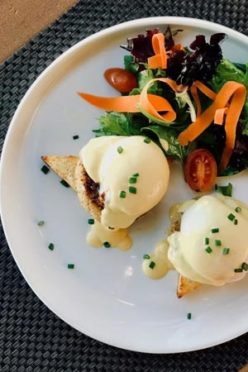 The kitchen is dedicated to old-school cooking and baking using high-quality ingredients which make for a memorable brunch. Plus, the eatery's oversized mugs hold enough good coffee that you don't have to flag down a server. I loved my biscuit Benedict with thick cut country ham and lemon-y hollandaise. The a.m. choices range from avocado toast and a towering pecan sticky roll to a carnitas burrito smothered in green chile and pico de gallo.
On the savory lunch side, the star is clearly the pastry-wrapped chicken pot pie jammed with meat, veggies and herbed gravy. Other attractions include a hanger steak topped iceberg wedge and a pastrami Reuben with Swiss on house-baked rye.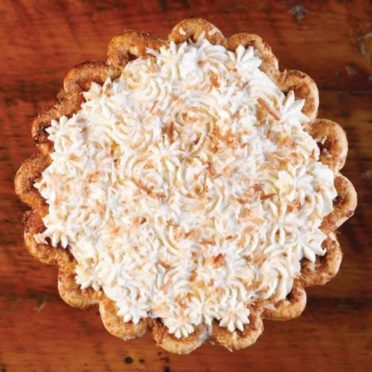 Do not leave without sharing a slab—no slim slices here—of pie encased in a truly flaky butter-drenched dough. I endorse the tart cherry, quadruple coconut and coffee cream pies.
Yes, the subject of Ginger Baker, petulant percussionist for the '60s rock band Cream, comes up fairly often. Graham said she hopes the former Colorado resident stops by one day for a slice of gingerbread, a pot of tea and a chat. This ginger has drummed up a better brunch.
359 Linden St., Fort Collins
970-223-7437, gingerandbaker.com
BOURBON BROTHERS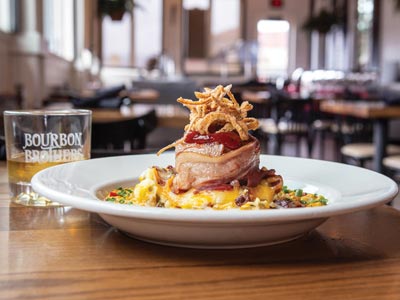 Open five years, Bourbon Brothers Smokehouse & Tavern near the Air Force Academy holds a special place in the state's brunch landscape. Literally. The aptly named Sun Room—site of its famous Sunday brunch buffet—boasts hard-to-beat views of Pike's Peak.
Monday through Saturday barbecue and the bar draw a steady crowd, but Sunday is something completely different. The big attraction is juicy smoked prime rib, carved to order, as much as you like. The kids can visit the waffle station (and the sweet toppings) while Mom gets her omelet made just the way she likes it. Everybody can load up at the extensive salad bar loaded with fresh berries or wander toward side dishes like mashers and green beans.
The real challenge is to restrain yourself so that you don't miss dessert—a farrago of fresh treats including beignets, blueberry popovers, cobblers and cakes. As you enjoy a bottomless peach Bellini and gaze at the hills, be assured that you aren't the first diner to start humming "God Bless America" and thinking about purple mountain majesties.
13021 Bass Pro Drive, Colorado Springs
719-219-1830, bourbonbrothers.com
John Lehndorff is the former dining critic of the Rocky Mountain News, food editor of the Boulder Daily Camera and chief judge at the National Pie Championships. He writes Nibbles for the Boulder Weekly. His "Radio Nibbles" podcasts on KGNU are available at news.kgnu.org/category/radio-nibbles.
---
This article appeared in the 2019 May Issue of Colorado AvidGolfer
Colorado AvidGolfer Magazine is the state's leading resource for golf and the lifestyle that surrounds it, publishing eight issues annually and proudly delivering daily content via coloradoavidgolfer.com.