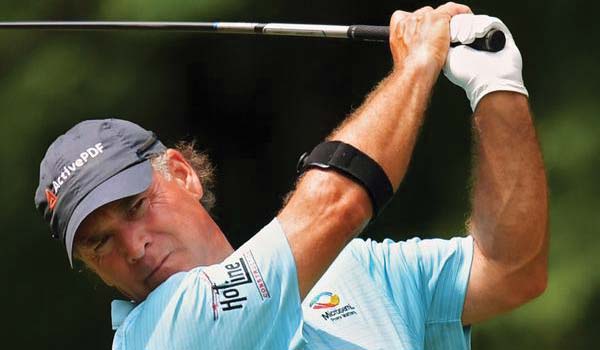 Can hemp oil and CBD products really help your game?
By Jon Rizzi
PGA TOUR CHAMPIONS player Scott McCarron, who has twice finished second in the Schwab Cup standings, this year became the first player to endorse a hemp-based product. With a reported 60 players on the Champions Tour and 24 on the main PGA TOUR currently using such substances to relieve pain and anxiety, McCarron's endorsement of FR Endo Sport—a full-spectrum hemp-oil extract from Boulder-based Functional Remedies—could signal a break in the stigma of cannabis-derived products.
Functional Remedies' hemp-oil extract comes in balms, capsules and tinctures. "It helps me sleep, it helps me with inflammation and it helps me with anxiety," McCarron told Golf Channel's Damon Hack at this year's PGA Merchandise Show. He joked that Steve "The Volcano" Pate, who stood alongside him, could benefit from the oil's calming effects: "You ran a little hot out on the tour."
Hemp itself is hot now that the 2018 Farm Bill made production legal again. The plant contains cannabidiol (CBD)—a dominant compound that works with receptors in the body's endocannabinoid system (ECS) to regulate homeostasis.
Hemp is a form of cannabis, but it is not marijuana. Members of the same plant family, they share certain similarities, including naturally occurring terpenes, flavonoids, essential oils and cannabinoids like CBD. The crucial difference is the concentration of Tetrahydrocannabinol (THC), the compound that induces the psychoactive high.
Whereas marijuana can have as much as a 40 percent THC concentration, hemp has a meager 0.3 percent—the U.S. legal limit for THC content in any hemp product. However, comparable amounts of THC in a person's blood can trigger the unfortunate consequences of a positive drug test.
Even though the World Doping Agency has removed CBD from its list of banned substances, THC remains prohibited. Many CBD supplements that claim not to have any THC actually do, as a result of the FDA's sketchy regulations on supplement labeling.
KNOW THE SPECTRUM
That 0.3 percent THC concentration—the maximum allowed by federal law—distinguishes "full-spectrum" hemp products from the "broad-spectrum" and "isolate" ones.
"Full-spectrum" products, such as EndoSport and others produced by Functional Remedies, extract all the compounds found naturally occurring in the plant, including cannabinoids like CBD and THC.
Why use a product with THC? It's the "entourage" effect: Since the dozens of cannabinoids in the hemp plant work synergistically, removing any—even those occurring in minuscule amounts, like THC— can diminish their therapeutic benefits. "We produce the full expression of the plant," says Steve Patterson, the 2016 Colorado PGA Teacher of the Year, who now directs EndoSport sales for Functional Remedies.
Functional Remedies benefits from the work of Chief Science Officer Tim Gordon. For more than 25 years he has cross-bred and improved hemp strains to produce the most nutrient-rich plants. Using a proprietary lipid-based process, FR extracts the phytonutrients to produce the oil. "We're vertically integrated, seed-to-bottle," Patterson says.
On the other end of the spectrum, "isolates" extract CBD to the exclusion of all other hemp compounds. That "purity" means the CBD lacks the "entourage" that delivers full effectiveness.
A blend of the first two, "broad spectrum" products extract all the terpenes, flavonoids and cannabinoids—except THC. This eliminates any risk of psychoactive effects and a positive drug test at work.
"It has zero-percent THC and a ten times better absorption in the stomach than CBD oil," Uncanny Wellness founder and CEO Alex Corren says of his water-soluble broad-spectrum Barista Blend powder that mixes with coffee and other liquids, even cake batter. Corren, a Boulderite with "a great respect for golf," understands the physical and mental toll the game takes. "Taking a product derived from organically grown hemp's natural compounds," he reasons, "has to be safer than popping ibuprofen like candy."
SHOULD YOU USE IT?
The FDA has already approved one cannabis-derived medicine, and research strongly suggests CBD aids in treating anxiety and insomnia. According to one medical study, topical application can reduce the pain and inflammation due to arthritis. Another study demonstrated the mechanism by which CBD inhibits chronic inflammatory and neuropathic pain.
"Anecdotally, golfers tell me all the time that they're experiencing less pain, soreness and inflammation, recovering faster and feeling calmer," says Patterson, clarifying that he "can't make medical claims because Functional Remedies is a supplement."
Since the PGA Champions doesn't drug test, McCarron and other senior players don't risk suspension over the presence of THC in their systems. The PGA TOUR, on the other hand, bans the substance.
Players use CBD "at their own risk," says Andy Levinson, the executive director of the PGA TOUR's Anti-Doping Program. At this year's Masters, a two-time champion was filmed furtively eye-dropping something under his tongue before slipping the vial back in his golf bag.
Patterson hints he's "pretty sure" he knows what was in the dropper. He believes it won't be long before the medicinal value of his and other hemp-based extracts will outweigh the perceived danger, and the prohibitions will fall.
---
Hemp-based products made by Functional Remedies (functionalremedies.com) and Uncanny Wellness (uncannywellness.com) are available online or in retail stores. Marijuana dispensaries do not carry them.
This article appeared in the 2019 May Issue of Colorado AvidGolfer
Colorado AvidGolfer Magazine is the state's leading resource for golf and the lifestyle that surrounds it, publishing eight issues annually and proudly delivering daily content via coloradoavidgolfer.com.