The updated GLC300 is improved in almost every way
By Isaac Bouchard
The Mercedes GLC300 is new for 2023, and the comprehensive changes make it more competitive in almost every area.
Styling changes are evolutionary and only become readily apparent when the new crossover is seen near its predecessor. The Benz's body lines are more refined and the front and rear appear wider; it's slightly wider and 2.4 inches longer. Base models on 18-inch wheels look a little downmarket, but opt for the AMG Line bodywork and 20-inch footwear and the GLC300 fully delivers on the sporty, sophisticated presentation one would expect of such a machine.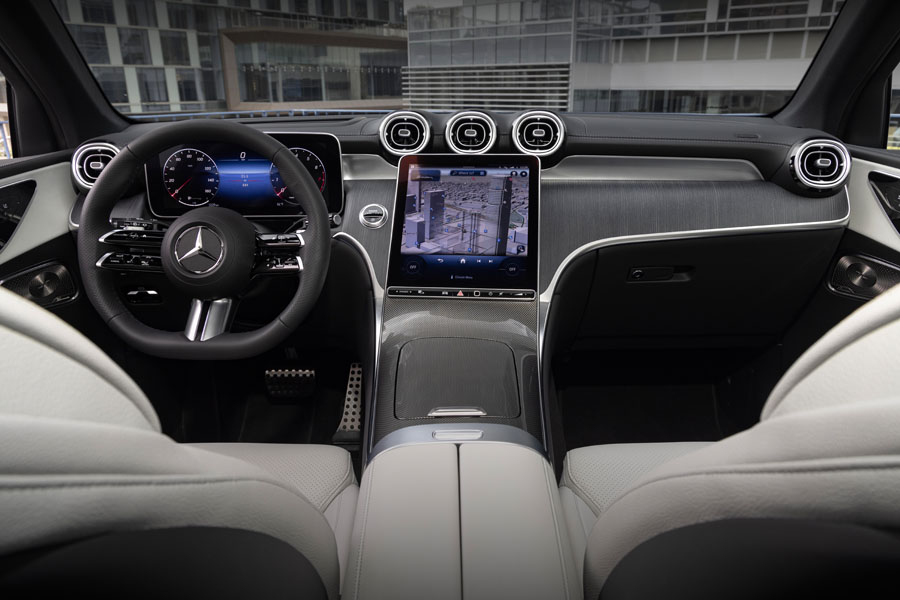 Inside, this Mercedes is much more dramatic, with a vertically oriented, 11.9-inch touch screen and 12.3-inch digital instruments prominently set out from the waterfall-esque dash. Graphics are beautifully rendered and the menu structure is per the latest MBUX operating system—comprehensive but complex. Voice commands work well, and the menus can be customized to make it easier to find commonly changed settings. That said, the lack of physical buttons still makes it difficult to navigate this OS on the move (and cars move, right?) and many of the capacitive touch interfaces Mercedes—and others—use are not as tactilely satisfying as traditional controls. Most every type of advanced tech is standard or available as an option and cargo room inside has increased from the previous generation, meaning the GLC300 is very practical for its footprint.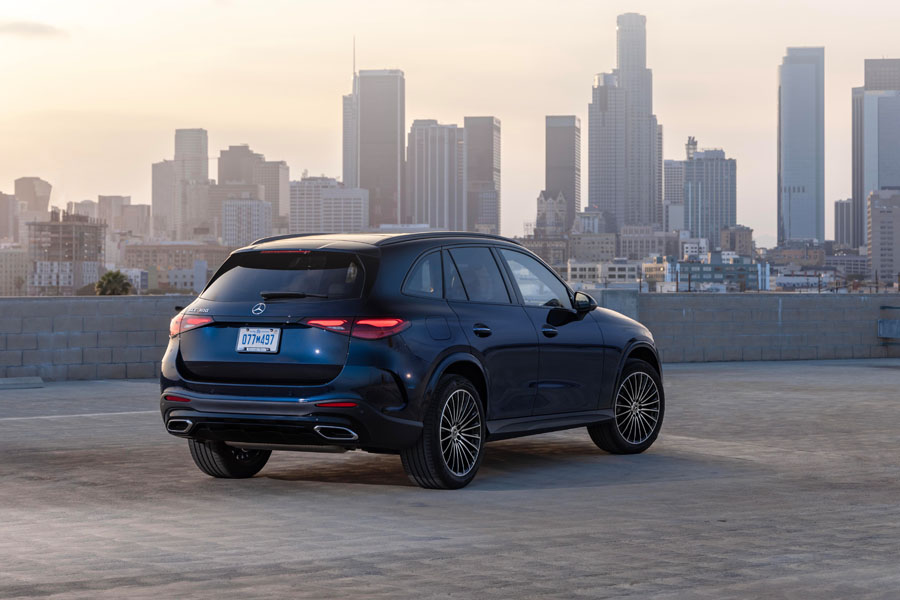 The GLC300 has a new powertrain; it's comprised of a 2-liter turbo with 48-volt mild hybrid assist, running through Mercedes' 9G nine-speed automatic and 4Matic AWD. Horsepower remains the same at 25, while maximum torque from the gas engine and electric motor goes up by 22 to 295lb-ft. There are slight increases in EPA ratings and the hybrid system seems to reduce off-boost lag.
This Benz, like most of the latest vehicles being built today, weighs more; in this case the increase is about 250 pounds over the outgoing model. Acceleration suffers a bit, with 0-60mph now taking 5.6 seconds in independent testing, and the quarter mile taking a nominal 0.2 seconds more. The GLC300 is still quicker than arch-rival BMW's X3 30i and on par with the Audi Q5 45 model. Hybridization increases fuel economy and makes the auto stop-start system, where the engine shuts off and restarts automatically to save fuel, much less intrusive.
By and large the GLC300 is more refined and polished; it rides better than the BMW, but is less athletic. The steering is accurate but lacks almost any semblance of feel. The GLC300 is competent in corners, but obviously prioritizes ride quality. Brake feel and progression are well matched to the other controls. It is clear Mercedes prioritized refinement and polished proceedings in the 300; the hotrod AMG GLC63S model is a much more aggressive beast.
Mercedes' focus on such luxurious aspects seems apropos; the tangible improvement in interior quality and style really help deliver as well. The GLC300 is a distinct entry in a very competitive market segment and wholly successful at being a modern Benz, and one that exemplifies the company's classic virtues.
EPA Ratings: 26/31/26mpg
0-60mph: 5.6sec
Price as tested: $66,240
Rating: 4 Stars
Here is what Mercedes has to say.
---
Colorado AvidGolfer Magazine is the state's leading resource for golf and the lifestyle that surrounds it, publishing eight issues annually and proudly delivering daily content via coloradoavidgolfer.com.
Follow us on Twitter, Facebook and Instagram