This Bronco is the real-deal when it comes to off-road
by Isaac Bouchard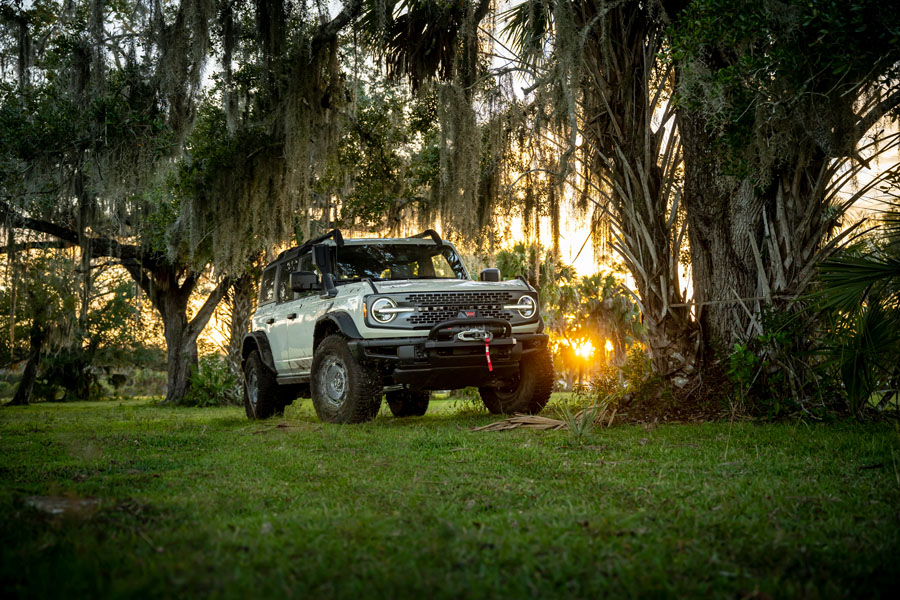 Admittedly, most buyers of the Bronco (and archrival Jeep Wrangler) will never push their off-pavement limits. But Ford intends that those who do not be disappointed.
This is readily apparent in the work that's gone into making the Everglades model. Most obvious are the factory-fitted, 10,000-pound Warn winch, and the snorkel rising from the air intake up the side of the driver's A-pillar. But it's things like the raising of the vent tubes from the axles, transfer case and transmission that allow the Everglades to ford water almost three inches deeper than the Bronco Sasquatch upon which it is based. Basically, if its up to three feet deep, the Everglades can handle it. The Sasquatch off-road hardware includes 35-inch mud-terrain tires in size 315/70R17, electronic-locking front and rear differentials, lifted suspension, Bilstein dampers and fender flares—squared off on the Everglades—that clear the massive rubber.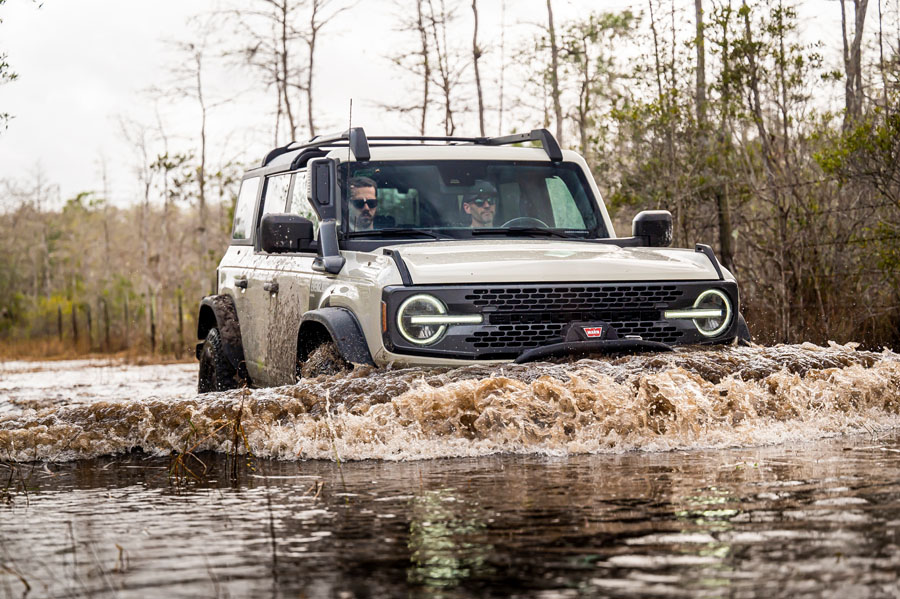 The only powertrain Everglades come with are the 2.3-liter four cylinder and 10-speed auto (a V6 and manual are optional on other models); the extra quarter ton of mass this model lugs about blunts acceleration. 0-60 is a still quick 7.1-second journey, thanks to outputs of 300 horses and a stout 325lb-ft of low-end torque. Fuel eco also suffers—like all these off-roaders riding on huge tires whose rolling resistance is higher, with 20mpg being a dream beyond reach.
Otherwise, the Everglades drives like other Broncos: better steering precision than the Wrangler, a quiet, smooth ride and copious wind noise due to the blunt shape and poor sealing of the frameless side glass. The interior is designed for hose-out practicality, with rubber floors and vinyl seats. The design and tech are great, though the Ford manages to feel cheaper than the Jeep in terms of fit and finish.
The Everglades was a limited-run model for 2022 (as was tested) and is now available in wider release for 2023. In the final reckoning, the Everglades is another example of Ford Performance's commitment to making the Bronco the real deal when it comes to off-road prowess, whether its crossing streams, muddin' or rock crawling. The equal of the venerable Jeep in those disciplines, and slightly better driving the rest of the time, it is a great addition to the pantheon of genuine SUVs.
EPA Ratings: 18/17/18 MPG
0-60mph: 7.1sec
Price as tested: $56,835 (2022 test model)
Rating: 4 Stars
Here is what Ford has to say.
---
Colorado AvidGolfer Magazine is the state's leading resource for golf and the lifestyle that surrounds it, publishing eight issues annually and proudly delivering daily content via coloradoavidgolfer.com.