Matt Kuchar Inspires Kids at The First Tee Green Valley Ranch CoBank Colorado Event
Story and Photography By Kim McHugh
---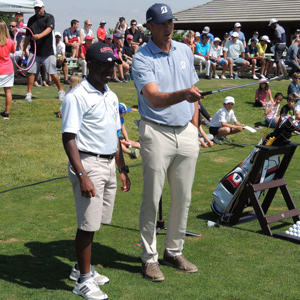 As evidenced by the trance kids were in, Matt Kuchar's star power is undeniable. Standing before a crowd of nearly 200 children and parents at The First Tee Green Valley Ranch CoBank Colorado event on June 30, he was introduced by Altitude Sports reporter and host Vic Lombardi.
After the applause and shouts of "Kuuuuch" died down the congenial winner of seven PGA TOUR events, second place finisher 10 times on the PGA TOUR and a bronze medal at the 2016 Olympics in Rio de Janeiro gave an exhibition where he fielded a dozen or so questions from the kids, including one about the importance of being truthful on and off the course.
"It's a really important thing in the game of golf and it is an everyday thing, too," says Kuchar. "When you see the way people mark their ball, the way they take drops from a hazard, everybody plays by the rules and you don't fudge. There are a thousand ways to try to cheat the game, but nobody wants to be known as a cheater because once you get that stigma, it sticks, and nobody wants to play with you."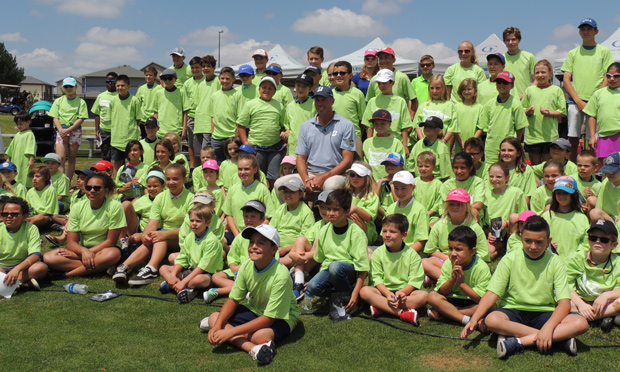 Prior to the exhibition, Kuchar walked up and down the driving range tee boxes, sharing tips with five kids on club selection, having the proper grip and ball striking. Once the event got going he spent the next 75-minutes speaking about how as a kid sports like ping-pong, basketball and tennis really helped develop his hand/eye coordination. He also shared how he got involved in golf.
"When I was young my first sport was tennis and I wanted to be Boris Becker, who won Wimbledon when he was 17," Kuchar explains. "Then I got introduced to basketball, so I wanted to be Magic Johnson when I grew up. Then one year my mom's Christmas gift to my dad was an upgrade to our country club membership from just tennis to include all privileges, which meant golf, too. At the time I thought golf was for my grandparents. I was 12 years old, so I went out and tried golf and was hooked immediately."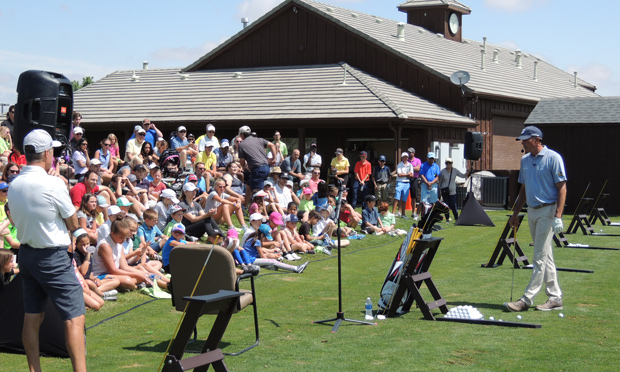 He quickly became proficient, so much so that, in 1997 playing collegiately for Georgia Tech, he was the ACC Rookie of the Year as well as the U.S. Amateur champion. In 1998, he was ACC Player of the Year, got 7th place in the NCAA Championship, and was Low Amateur at The Masters and at the U.S. Open. To date he has nearly $44 million in career earnings, has played on four Presidents Cup and Ryder Cup teams, and is known for his extraordinary philanthropy directed towards children with serious illnesses, disabilities and life challenges via his support of Camp Twin Lakes in Georgia and the Ronald McDonald House in Jacksonville, Florida.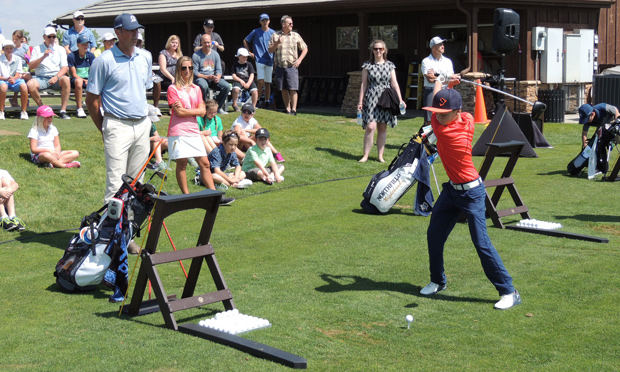 A dad to boys ages eight and 10, he told the crowd as he launched shots at a towering, inflatable T-Rex on the practice range, that he and his wife, Sybi, love to be in the outdoors. Asked by a youngster in the audience if he'd ever hit a hole-in-one, he said he'd hit nine, including one at the par-3 16th hole during the final round at The Masters in 2017 (https://youtu.be/pG7COkKbIaM).
Minutes before the exhibition ended, Kuuuuch surprised the crowd by reaching into his daypack and unveiling his Olympic bronze medal, which drew many oohs and ahhs. Once it made its way through the audience, Kuchar returned it to his pack, took a seat and signed event postcards, tee shirts, ball caps and golf balls, posing for photographs and inviting families to enjoy the free pizza and soft drinks.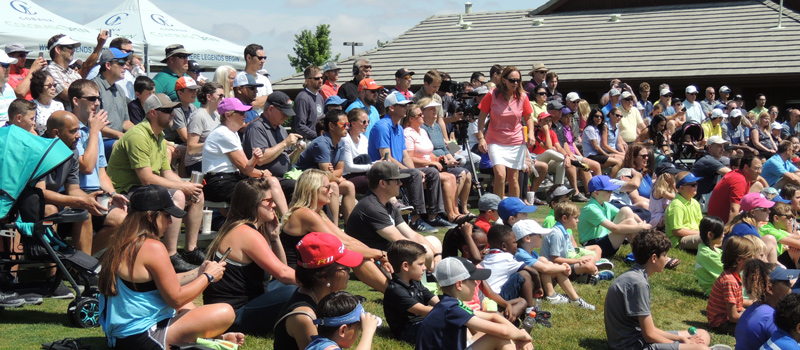 ---
Colorado AvidGolfer is the state's leading resource for golf and the lifestyle that surrounds it, publishing eight issues annually and proudly delivering daily content via coloradoavidgolfer.com.