Final Round Tenacity Earns Toms the Francis D. Ouimet Trophy at the U.S. Senior Open…
By Kim McHugh – Photography by EJ Carr
A single stroke. That's what gave David Toms the win as he triumphed over a strong group of contenders on Sunday jostling for the victory at the 39th U.S. Senior Open Championship at The Broadmoor. Toms, who only last year joined the Champions Tour, fought it out during the final round with Jerry Kelly, Tim Petrovic, Miguel Angel Jimenez, Paul Broadhurst, Paul Goydos and Brandt Jobe.
Heading into Sunday's round it looked like Kelly had an excellent chance to win wire-to-wire, given that he was atop the leaderboard in each of the first three rounds. But it wasn't to be for the Madison, Wisc. native, whose up and down round left him in a three-way tie for second with Jimenez and Petrovic.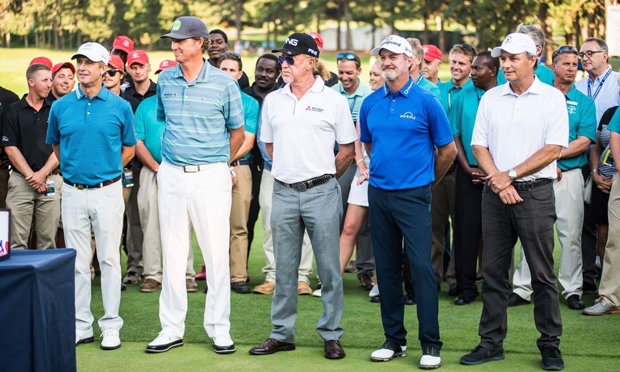 Instead, the day belonged to Toms, whose even-par 70 left him at three-under, one better than than Kelly, Jimenez and Petrovic, and at 277 for the tournament. One of seven players to card 70 on Sunday, his round had its lows, bogeys on 8 and 13, and highs birdies on 2 and 16.
"I looked at the leaderboard on 16 and I knew that there were quite a few of us (in red numbers)," said Toms. "Jimenez had just birdied the last and I knew there was a bunch of guys at 2. I had a straight uphill putt, a good look at it, I got it going on line. And it was probably the best rolling putt I've had all week — no bounces, no nothing; it went straight in the middle."
After hitting what looked to be a solid drive at 17, his ball clipped the fairway bunker.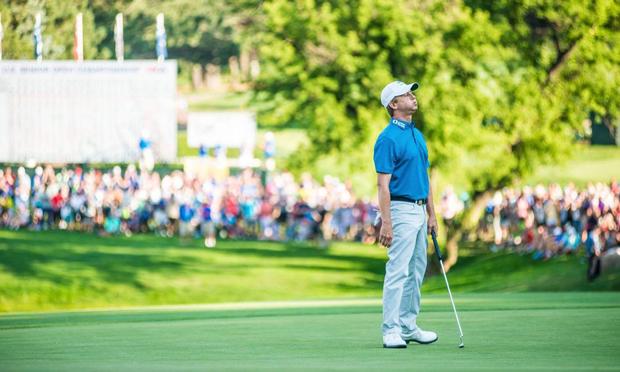 "I think it kicked a little left, went in a bad spot," added Toms. "But, I didn't hit a very good third shot at all. I was in the middle of the fairway. But, I just made an unbelievable putt for par. Certainly that was the key to victory."
Throughout the round the leaderboard changed quite often with Kelly at four under, Goydos and Toms at three under, and Jobe and Petrovic at two under through nine holes. Kelly, who only managed to make one birdie on Hole 4, was roughed up by the East Course with bogeys on 6, 11 and 12. Jimenez birdied 1, 3, 7, 15 and 18, but bogeys on 9 and 12 — and a triple on 8 — left him at 278 for the tournament.
Jobe, with birdies on 1 and 8, and bogeys on 6 and 15, shot an even par 70 to finish tied for fifth with Goydos and Englishman Paul Broadhurst, who, like Jimenez, shot a final round 69.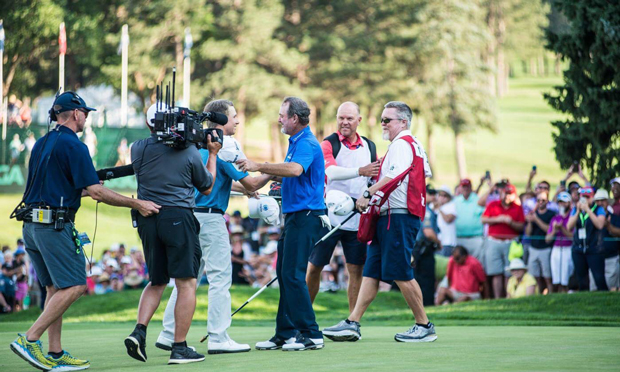 The tourney, played to coincide with The Broadmoor Resort's centennial, drew near record crowds with a total estimated by the USGA at 134,500. Saturday's estimated attendance was 28,700 and Sunday's was 31,000, the highest totals since 2013 when the event was hosted at Omaha Country Club in Nebraska. Thursday's and Friday's crowds were estimated at 19,700 and 23,200 respectively.
Toms, a Louisiana native that attended Louisiana State University (LSU), is the seventh U.S. Senior Open champion from Louisiana. A 13-time winner on the PGA Tour, he earned $720,000 and his name added to the Francis D. Ouimet Trophy.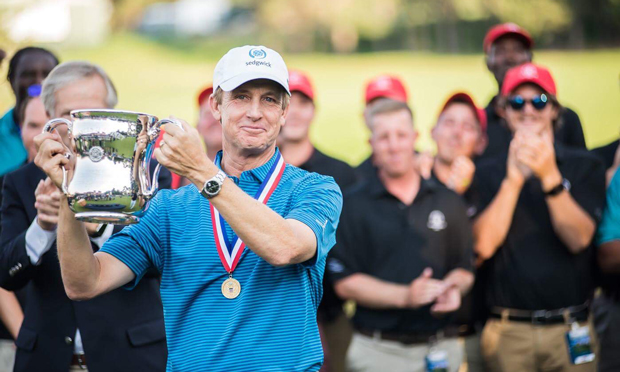 "My short game felt good and I just hung in there," Toms explained. "I just wanted to be there at the end to have a chance. I hadn't been able to get the job done on the Champions Tour…and I was close many times. The way it worked out with that putt on 17, then I played 18 really solid. To be able to win the tournament, it's very rewarding. It's a great place. It's a great venue. I enjoyed my week. And obviously to get a victory is even more special."
---
Colorado AvidGolfer is the state's leading resource for golf and the lifestyle that surrounds it, publishing eight issues annually and proudly delivering daily content via coloradoavidgolfer.com.