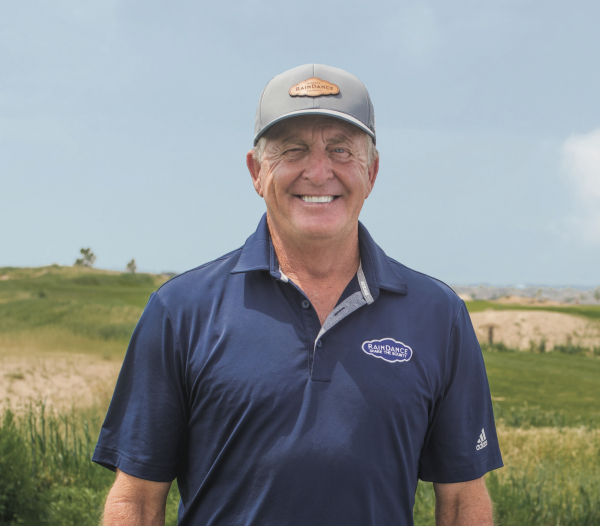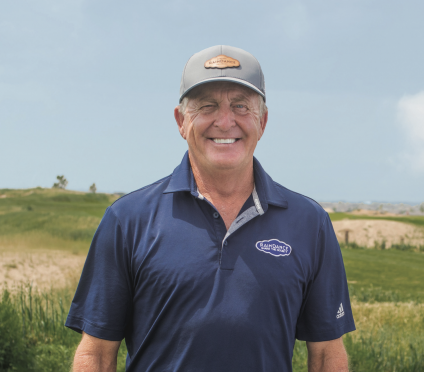 The forecast calls for heavy praise for Fred Funk, whose inaugural course design, RainDance National Golf Club, will open next year in Windsor.
By Kim D. McHugh
FRED FUNK WAS FLUMMOXED.
During a 2010 lunch meeting with land developer Martin Lind and the course architect Harrison Minchew, the recent winner of his third PGA TOUR Champions major was looking at a topographical map that outlined a parcel of farmland in Windsor, Colorado. Puzzled by the significant concentration of black lines and dramatically changing elevation indicators, Funk asked Lind to explain.
"These are big arroyos," Lind responded, "and that's where I'm going to take you."
After lunch, Funk and Minchew rode with Lind to the 325-acre tract to tour the property. Lind, a fourth-generation local farmer and the force behind the nearby Water Valley
master-planned community, hoped that Funk and Minchew would share his vision to create RainDance National Golf Club, the centerpiece now taking shape an hour northeast of Denver at the developer's second master-planned community of RainDance.
As the trio walked the rolling prairie, Lind knew the arroyos were imminently coming into view. Witnessing his guests marvel at the long, deep, craggy fissures that had carved their way through the landscape over a millennium, he reveled in the moment.
"This is just unbelievable," Minchew remembers saying. "The beauty of the site, the largeness of it, the arroyos, the long views; I've done some nice places, but the feel of this place is really special."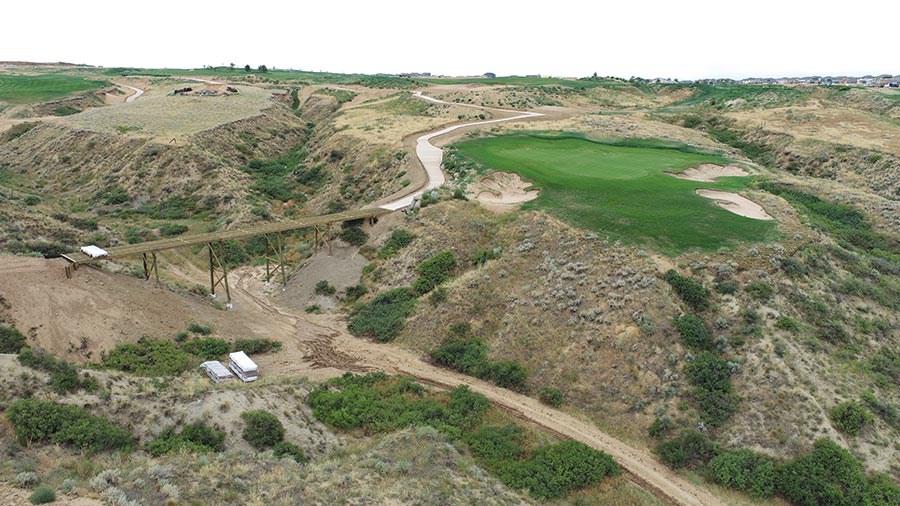 "This is just unbelievable. The beauty of the site, the largeness of it, the arroyos, the long views; I've done some nice places, but the feel of this place is really special." —Harrison Minchew
The walk cemented Funk's and Minchew's interest in the project, an 18-hole course whose construction began last year. No stranger to the appeal of golf as an amenity for homeowners and surrounding communities— Water Valley opened its 18-hole Pelican Lakes Golf Club in 1999 and the nine-hole Pelican Falls in 2006—Lind is excited to have Funk and Minchew on the team.
"I'd asked Fred if he'd ever done a course and he said 'No, but it's on my bucket list,' and that's where it started," Lind says. "He went back to Florida, and then he and Harrison came up, and from there it kind of took off. I'm going to be very honest with you, I wasn't picturing how making the arroyos taper into the natural areas would work until we started moving the dirt and then it just became magnificent."
CHARTING A NEW COURSE
In Minchew, Lind struck the motherlode of course designers. A member of the American Society of Golf Course Architects, he brings 37 years of golf design to RainDance National. As a vice president, director of design services and senior golf course architect during a storied career with the Arnold Palmer Design Company, he brought his skill to bear on more than 140 courses worldwide, personally designing 100 of them.
Funk—an eight-time winner on the PGA TOUR, trophy hoister nine times as a PGA TOUR Champions icon, two-time member of The Presidents Cup team and 2004 Ryder Cup player—has an intimate understanding of the game as well.
"When I first I walked the property, I didn't know whether it could actually be a golf course, or whether we could fit the holes in," Funk explains during an August course tour. "As you play, you'll see that the front nine designed itself, so we just had to figure out how to get there on the back. That's where Harrison's genius came in. What I absolutely knew is that we wanted Number One to be aiming straight at the Rocky Mountains and Longs Peak right out of the gate."
Walking the site no fewer than a dozen times, Funk and Minchew started penciling out how the course could stage, ultimately landing on a design comprised of four par 5s, nine par 4s and five par 3s. Measuring 7,845 yards from the back tees, the par-71 layout could be stretched to 8,478 yards, making it the longest course in the country. Such a designation won't become official until the Colorado Golf Association rates the course.
RainDance showcases lengthy par 4s in the 545-yard 4th, the 555-yard 5th, the 535- yard 10th and the 540-yard 16th.
Two par 5s in particular—the 645-yard 2nd and the 655-yard 13th—will nitro-charge the length. The par 3s won't be pushovers either, especially from the tips. As if the distance wasn't unnerving enough, both the 225-yard 8th and the 195-yard 12th require carries over arroyos.
A bit of relief comes for those choosing to play the forward tees, a move that shrinks the length of the course by nearly 2,870 yards. Most greens are visible from the teeing areas, but to keep things interesting, the designers added four blind tee shots. "Sure, this can be a difficult course in the right conditions," Funk says, "but we want people to play it and say, 'I can't wait to come back.'"
A ROUND TO REMEMBER
Taking shape as planned, the 455-yard par-4 opener with Longs Peak in the background will reward players with opportunities for selfies on the tee and birdies on the green. Of the layout's 18 holes, only three fairways play uphill—the par-4 ninth and 16th, and the par-5 18th that stretches 605 yards.
Bombers will relish teeing off on holes two and five whose downhill fairways can produce rollouts over 400 yards. A 28-acre lake on the right side of the par-4 15th and in close proximity to the Cache la Poudre River is the only threat of a ball taking the plunge.
At its highest point, the course reaches an elevation of 5,000 feet, dropping just 224 feet to its lowest point of 4,776 feet. But in the spirit of a David Copperfield magic trick, Funk's and Minchew's design creates the illusion throughout the routing that a hole plays longer than it appears or that the tee- to-green drop is visually more significant than it actually plays.
"If you look from the tee box on number eight it is 225 yards, but your actual carry isn't that long," said Minchew. "It plays about 100 yards from the forward tees over the arroyo, which is a forced carry of only about 60 or 70 yards."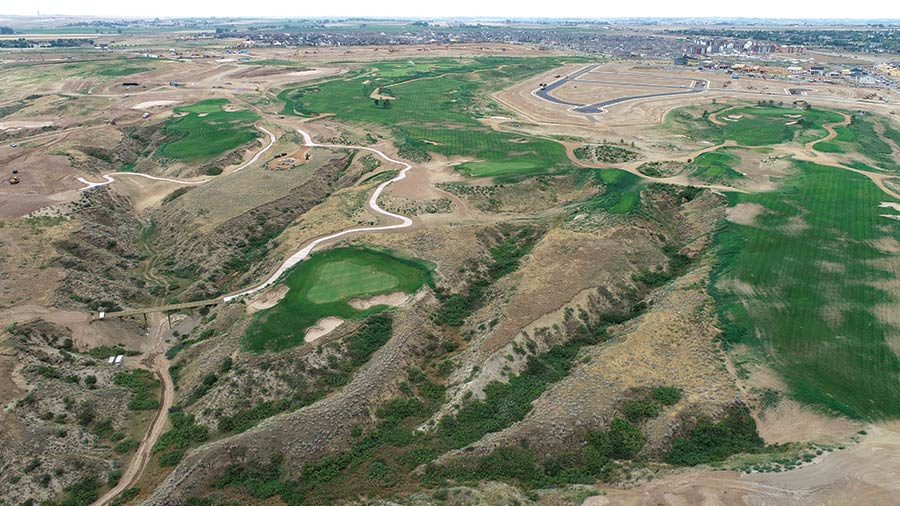 UP-AND-DOWN FUNK
Funk, who joined the PGA TOUR in 1989, brought his knowledge as a player to ensure RainDance National has plenty of swagger, but is simultaneously friendly to middle and high handicappers. He'd like golfers to be able to get up and down way more frequently than carding a double.
"I don't like bunkers in the fairways that are so deep that when you get in them you can't play out of them," Funk explained. "I don't want to see a decent golf shot turning out being a bad golf shot. So we'll have some magnificent fairway bunkers, but most of them will be pretty shallow. And I've never been a fan of greens that have a tremendous amount of movement, especially when they get into the speeds you see today at 12 and 13 on the Stimpmeter."
A contradiction to his feelings on green undulation manifests itself on 18. Here, depending on the pin placement, golfers get one final skill test on the extremely wavy surface before finishing their round. Though a smattering of deep greenside bunkers will occasionally confound golfers, they'll appreciate that the collars surrounding the greens won't be mowed so low that balls will roll off the green and into oblivion.
Golfers can also look forward to hitting onto fairways with an average width of 60 yards at their widest point.
Few homes will border those fairways. "Every single hole is separated from the housing," Lind explains. "There are only houses on the left side of the first three holes. Beyond that, you are in golf. There are no streets, no houses."
BIG PLANS
Lind's grand plans call for the RainDance community to have a 200-room lodge, a corporate-event center and on-course stay- and-play guest cabins.
"We originally thought about just building a clubhouse, which is being designed right now, but it's turned into something larger," Lind explains. "In fact, this will be the most significant corporate retreat resort in Northern Colorado. We'll have 45 holes of golf accessible through our sister company, Water Valley."
On the to-do list is a wedding chapel that will have a nearly 220-degree view that showcases the Front Range, plus a family fun area with a BMX biking track, a water park, a zip line, an ice skating rink and "SnowDance," a bunny hill complete with snowmaking. One of several "glamping" areas being sketched out is near the right side of the tee box on 16, where homeowners and resort guests can "rough it" in Abercrombie & Kent-style tents.
Shaping and seeding is also underway on "Goat Ranch," a 65,000-square-foot "pitch-and-putt" practice area that's a spin on the "Horse Course" at The Prairie Club in Nebraska and "The Punchbowl" at Bandon Dunes in Oregon.
With Funk and Minchew's stunning layout as the cornerstone of Lind's ambitious plan, RainDance National should begin wowing golfers as early as next July.
"If you just look around, look forward, then backwards, you see the expanse and the beauty of the natural land, which is so pretty," said Funk. "It's a course that is going to get your attention."
Kim McHugh is a contributor to Colorado Avidgolfer. Visit raindancecolorado.com.
---
This article was also featured in the Fall 2021 Issue of Colorado AvidGolfer.
Colorado AvidGolfer is the state's leading resource for golf and the lifestyle that surrounds it, publishing eight issues annually and proudly delivering daily content via coloradoavidgolfer.com.