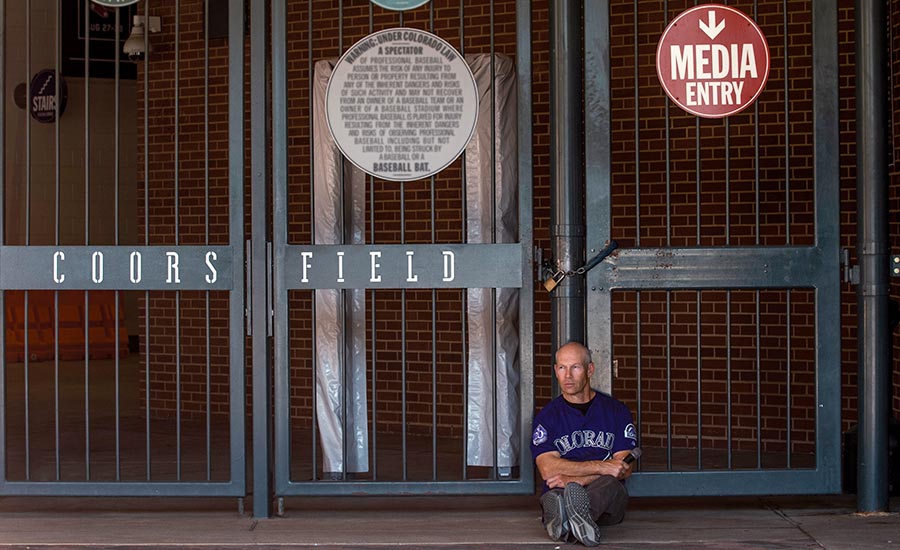 Coronavirus shut down baseball while infighting has kept it from returning. Broadcaster Drew Goodman just wants to get back on the air.
DREW GOODMAN is telling a story—a not-too-surprising occurrence, given the countless tales he's woven over his 18-plus years as the television play-by-play voice of the Colorado Rockies. This one is about the Bloom family of Loveland—in particular the three children of Larry and Charlene.
"How about those kids?" Goodman exclaims, before settling into the easy banter of a man chatting with the folks at home sitting in front of their wide-screen televisions and waiting for the starting pitcher to complete his warm-up tosses.
"Jeremy was an Olympian and played in the NFL—you know the first time he touched the ball he went 94 yards for a touchdown? And Molly, she was the subject of that movie; Molly's Game. And the third kid, [Jordan] went to Harvard and is a cardiothoracic surgeon in Boston…."
If only it were so—not the clearly incredibly impressive Blooms—but rather, the baseball part. On this particular day, Goodman was not talking with viewers on an AT&T Rocky Mountain Sportsnet telecast; instead he was speaking to one of his playing partners on the tee box at South Suburban Golf Course in Centennial.
Meanwhile, the other two members of the foursome…well, let's just say they were less than impressed by the constant patter. "Daaaaaaaaddddd… you don't have to tell the story right now—this is why it takes so long to play with you," says Goodman's middle son Zach, a rising junior at Webster University in Missouri. "You've got five minutes to walk to your next shot—talk about it then." Undaunted, or perhaps in a feeble attempt to show who's in charge, Goodman continues. "You know Molly graduated with a 3.89 from CU…."
"Well, we could have been a family like that too if you guys had kept up your end," snaps Jacob, Goodman's oldest, who indeed recently walked down the virtual aisle himself after completing his senior year at CU-Boulder.
Sufficiently chastened, Drew Goodman takes the hint and stalks towards his drive.
"It's like The Hunger Games in this family," he mutters under his breath.
While it's clear that playing the beleaguered Dad, blistering under the barrage of non-stop verbal abuse from his three sons (Gabe, the youngest, will be a senior at Arapahoe High School in the fall), is a way of life for Goodman, the truth is, were it not for the novel coronavirus, it really wouldn't be hard to imagine him waxing on about the Blooms. Chances are, he wouldn't have been on a golf course at all, but rather sitting in his booth at Coors Field, preparing for that night's game.
But as April turned to May, and May to June, and then July, baseball hadn't returned. Today, Tiger, Rory and the rest of the PGA TOUR are back in action, while both the NBA and NHL have announced their paths to return later this month. But Major League Baseball, with its pitched history of labor strife and mistrust between owners and players, seemed more interested in profits and losses rather than balls and strikes—to the point where there were legitimate questions whether an accord would be reached, allowing games to resume. Even the suggestion of not playing has caused resentment towards the sport—which has already seen declining interest (attendance has dropped for at least six straight seasons)—to spike even higher.
The apparent shortsightedness between the two sides was enough to make Goodman come this close to not only biting, but making an entire meal of the hand that feeds him.
"Given the national and global economic situation, with hundreds of thousands of people out of work and trying to put food on their tables, just the optics of it—the squabbling, the idea that they may not play in 2020—would just be horrendous for the game and truly potentially cause irreparable damage," he says. "I figured the negotiations would be contentious, but I thought they'd also find some middle ground, and that ultimately, the thinking would be, 'Let's get out there and play.'
"Because the alternatives…let's just say this hasn't been flattering for the game."
As close as he's been to the sport, both personally and professionally, in many ways these days, Goodman is no different from the guy walking his dog outside the padlocked gates of Coors Field. Like the countless people who have lost jobs or been furloughed, Goodman is technically out of work—contrary to what critics may think, he's not an employee of the Rockies—and while AT&T provided a month's salary at the start of spring training, there hasn't been anything since. As a result, apart from a couple of side hustles—a weekly program, The Drew Goodman Podcast (co-hosted by local broadcaster Julie Browman) and a gig as an assistant coach on a local youth travel ball team—like many others amid the pandemic, money is tight.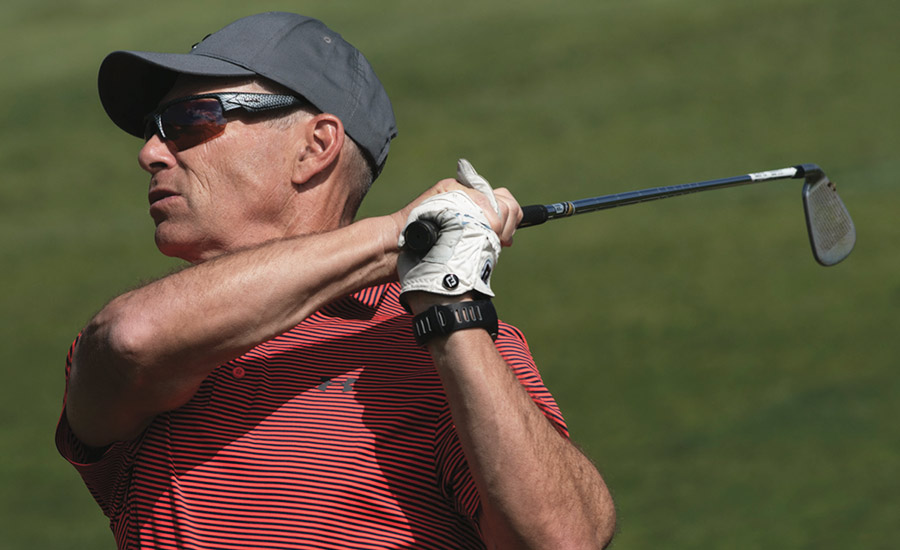 "I've always taken great pride in the fact that I work in the entertainment industry, a highly competitive industry, and I've been fortunate and privileged enough to never have been out of work," Goodman says. "At some point in time, baseball will come back, and knock on wood, [AT&T] will have me back…but it is a strange feeling, knowing where you've got to make a lot of adjustments—all of a sudden—in your life, where suddenly, you literally don't have money coming in.
"We're sitting here today, hoping that baseball will be played in 2020, but if it doesn't happen, all I can say is that it's not gonna be a fun nine months until it does come back."
CHANGING THE GAME
It's something of a cruel irony, where the absence of baseball actually provides more time to think about the game, creating an even greater longing to have it return. At one point, it was the sport played by the "Boys of Summer"—part of a mythology crafted in the '50s and '60s by writers like Roger Kahn and Roger Angell that somehow saw the hopes and dreams of America reflected on the diamond. In turn, that helped baseball become the national pastime, a place on the collective athletic hierarchy that has long been ceded to football and perhaps even basketball.
But the 57-year-old Goodman is of an era which retains hope baseball will someday return to that prominence, that despite the craven battle over finances that currently threatens to destroy it from the inside, somehow the focus will return to the simplicity of the contest played all across the country, from pockmarked dirt fields to glistening palaces—the dance between hitter and pitcher.
That's how it was for Goodman when he was growing up in a melting pot neighborhood in suburban New York City; a love of the game passed down from his father that nurtured him through his youth and playing career in high school and briefly in college and was shared with his sons, as well as the children of like-minded parents that he's coached through the years.
During a broadcast career that has spanned more than 30 years, Goodman has been behind the mic, making the call for a number of sports, but nothing has come close to capturing his head—and heart—like baseball.
"I can remember watching the [World champion] '69 Mets with my Dad when I was six years old," he says. "I played all the sports but it's just something about baseball—the rhythm of an at-bat; it's just a very cerebral game, you're constantly thinking it—'What will I do if the ball is hit here? The last time I batted, the pitcher threw me this pitch in a 2-1 count—what's he going to do this time?'
"I love being able to discuss those things as a broadcaster…I love being around the sport; I love playing catch—Jacob's career is over but we still play catch and take ground balls—a perfect day for me is getting up and going for a run but coming back and throwing some batting practice and maybe taking a few swings myself.
"I may be 57, but I wish I was 21 and still out there."
As is the case with most pro sports broadcasts these days, Goodman works with people who have played the game at the highest level, analysts who have also moved into the booth following their own major league careers. Ryan Spillborghs, an outfielder on the Rockies' 2007 World Series team, is part of the AT&T crew. He says that even though Goodman never wore an MLB uniform, his insight to the game is at an all-star level.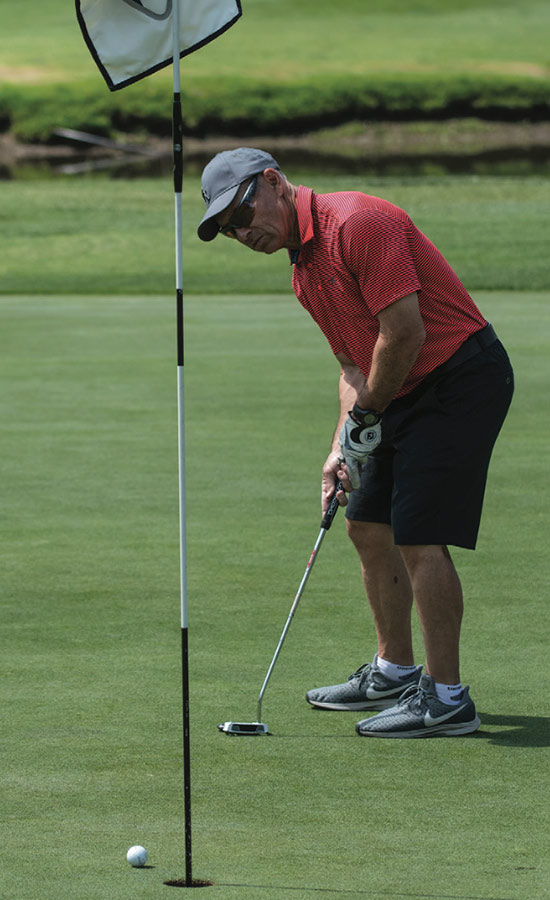 "I tell him; I tell Jenny [Cavnar, another member of the AT&T team who, in 2018 substituted for Goodman and became the first woman in a quarter-century to do the play-by-play call of an MLB game] that even though they didn't play, it doesn't mean they can't know the game. Jenny's Dad [Steve] was a high school baseball coach; Drew coached all three of his kids and all three either played or will play in college.
"Drew is a tremendous baseball guy; there are times when I may not share the same opinion that he has…and when that happens, I just tell him, 'No, that's not right.'"
One of the great pities of baseball's deferred season is viewers missing out on an ongoing disagreement between the two. For a while now, Goodman and Spillborghs have been engaged in a discussion on what baseball might do to draw back those fans, and perhaps attract younger people to the game. If 2020 is destined to be a season unlike any other, why not conduct a few experiments, come up with some unorthodox changes to goose things up?
Goodman's idea was something of a wild-card—literally.
"I used to be such a purist, thinking that you can't mess with any part of the game," he says, "but guess what? Times change and you have to evolve or you get left behind…I never would have said this 10 years ago, or even five years ago, but what if we did something to further promote the stars of the game, the Mike Trouts and Nolan Arenados?
"Typically, they get four at-bats in a game; maybe they make a nice play defensively—that's their body of work for the evening. But how 'bout this—what if, say in the seventh inning on, the team's manager can play a hitters' card. The Rockies are down 5-2, with the bases loaded with two outs in the eighth inning, and the No. 8 hitter is due up "[Rockies' manager] Bud Black walks out to home plate and says, 'Timeout—I'm playing my hitters' card.' So here comes Nolan Arenado, who's not due up for five spots. He gets to hit again there—one time. Would fans not hang in there? All of a sudden, here comes a superstar player with a chance to impact the game. There's drama to it and there's the intellectual angle of playing along with the manager, trying to figure out when he's going to use it."
A chuckling Spillborghs says Goodman's idea "is just stupid." Then again, this opinion is coming from a guy whose alternative to Goodman's take—allowing a hitter who makes an out in a crucial situation, like the one described above, a "do-over," as in taking the at-bat over again—may actually register a notch higher on the guffaw scale.
EVERYBODY'S A CRITIC
Chances are, even if Goodman came up with a resolution to the dispute between management and players, created a dozen great ideas to bring fans back to the ballpark and delivered the most stirring rendition of the national anthem from behind home plate at Coors Field before the first game was played, someone's voice would still cut through the night—or more likely on Twitter the following day:
"Goodman's a bum!"
"@DrewGoodman42 @RyanSpilborghs Been watching baseball for over 50 years. The call on Crawford's game-winner was pathetic. Go back and listen to some unbiased announcers like Scully and Greenwald to get some tips how to call good plays by the opposing team. Geez." —@JimCraib
"Drew pisses me off because he treats the audience like we're stupid. Better explain every joke! Better explain for the hundredth time that pitchers are athletes too! He's also a homer in the worst way. I don't think I've ever heard him genuinely give credit to an opposing player for a nice piece of hitting or a good at bat. His analysis is shallow and vapid. Also I hate his voice and his face." —Gastrox
Spillborghs says he loves Twitter, to the point where he'll go online to ask his followers for their thoughts about his on-air work, saying, "As an athlete that's a question I asked all the time—'How do I get better'— because I never want to stay the same.
"But it does hurt sometimes; who wants to hear that you stink? I'm all for constructive criticism, but if all I did was make every adjustment that someone on Twitter asked me to, I'd be making adjustments every day for a year."
When he played baseball, Goodman said he did so "with a football player's mentality"—as in more likely to use brute force rather than the cerebral approach that he so admires about the game. Because of that, there are times when he admits it's all he can do to not engage with the Twitterati, lest his competitive instincts lead him into a fight he knows he can never win.
"Social media has been maybe the single biggest change in how the whole world's evolved, right? Everybody has an opinion; everybody could do somebody's job better than they can," Goodman says. "It's all so subjective—Joe Buck, Bob Costas, Al Michaels [regarded as three of the best all-time announcers] all take a great deal of criticism…as amazing as it may be to me, there are some people who weren't fans of [iconic broadcaster] Vin Scully when he was doing the Dodgers—they're probably few and far between, but you could find those people.
"My natural inclination is to engage them—I'm a competitive SOB and I'll want to fight you—but that's really what the trolls want, so if you're going to allow that to affect you to that extent, then shame on you. You have to be strong and confident in who you are and how you prepare to do your job and truly doing the best that you can each day. I believe that I'm good at what I do, and I can put my head on the pillow every night knowing I'm not worried about what Billy Bob in Aurora thinks."
A DIFFERENT KIND OF SEASON
The question is, will Goodman get a chance to prove that in 2020? In early June, MLB Commissioner Rob Manfred said he was "100 percent certain" games would be played— before walking that quote back less than 48 hours later. At this point, you, me or the guy walking his dog past Coors Field probably knows as much as any baseball official about whether the season will be played.
But like pitchers throwing bullpen sessions to their wives in the backyard, or hitters slamming baseballs in makeshift batting cages in the basement, all Goodman can do right now is hope that the phone will ring and the voice on the other end of the line will bellow—"Play Ball!"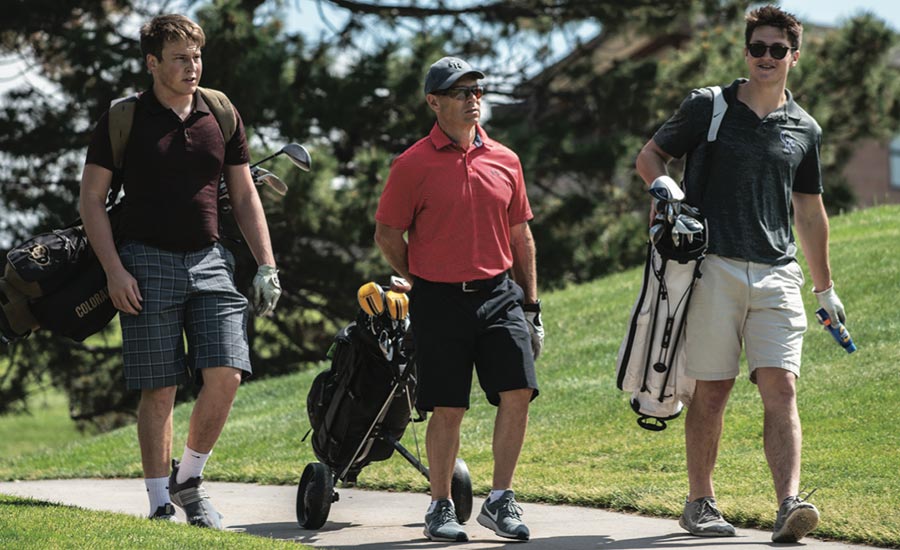 "It's going to be a challenge, calling games off of monitors when the team is on the road, or at Coors where there are no fans and the ambiance is entirely different, but you have to look at it like a chapter of your career that you have to embrace," he says. "It's still Major League Baseball; it's still Charlie Blackmon and Nolan Arenado and Trevor Story, the best players in the world.
"It's not ideal, but you know what? I can't wait for that day to happen."