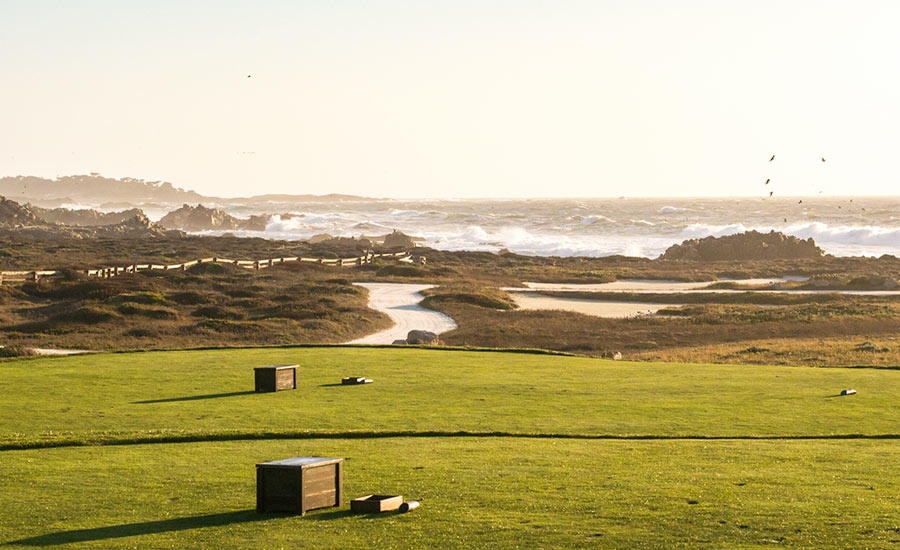 If you're an early-morning dew sweeper at Meadow Hills Golf Course, perhaps you've come upon Neil H. Devlin as he mowed greens and set pins as a groundskeeper at the classic old-school tract in Aurora. If you haven't seen him, more than likely—especially if you have a child who's played high school sports in Colorado—you've read his work. For 40 years Devlin has chronicled the achievements of young athletes across the state, mostly for The Denver Post—more recently as the Sports Information Director for Mullen High School.
But in his distinguished career, little has been said or written about Devlin's own feats of grandeur—until now. Recently he and his son Rory took the trip of a lifetime, playing three iconic courses in Northern California. To borrow a phrase, Yo…take a look and enjoy…
"Well, we're going to be out there …"
It was one of those moments when you can tell your kid is your kid.
I had kicked around the idea of playing Pebble Beach Golf Club after loving it on television multiple times (particularly a year ago as Phil Mickelson won Pebble's AT&T Pro-Am, the tournament that's evolved from the old Bing Crosby Clambake). So younger son Rory said he would work on it for our first golf trip and he did—in October 2019 I received an email that included three tee times. Silly me, somehow forgetting all of the incredible courses in the area … hence, the question to younger son (YS): "Am I reading this right … we're playing three days, three courses?"
"Well, we're going to be out there …"
Trust me, YS and I were out there. If a bucket list actually exists, I'm certain we kicked it. Hard. We had 54 holes at, in order, Spanish Bay (on a Friday), Spyglass Hill (Saturday) and Pebble Beach (of course, Sunday). Stunning Northern California coast views and conditions. Golf-course food that actually tastes like something. Honest-to-goodness service. No, really, honest-to-goodness service. Higher-end dining that includes fresh seafood, not the stuff that's frozen and flown to the Rocky Mountains. Access to an array of high-end souvenirs. Rooms comfortable and complete. And tremendous practice facilities.
Truth is, I downplayed the trip—never really talked about it and, of course, patiently waited through the first couple of months of the novel coronavirus pandemic. But we received the okay in early June and from there it was Game On.
It's probably why I proceeded to tell everyone within earshot we were headed to Pebble Beach.
After we flew into San Jose and rented a Dodge Challenger with the good engine—YS said: "Let's go live like rich people for three days!"—the drive south wasn't bogged down for long because of legendary California traffic and we ended up with a parking space next to a McLaren. Pebble's grounds are its own and include a putting green in the middle of a mini-mall containing the likes of a jewelry store and post office. And give the planners credit for foresight—you can have breakfast on a terrace and watch golfers tee off at No. 1, and later, dinner while viewing others finishing at No. 18. We did both. Multiple times.
Beginning at Spanish Bay, it was humbling. Embarrassing, really. I shot 103 (and you can't prove differently). YS (he said he can't remember his 100-plus number) lost more balls than I did, but it was close. Every par 4 and 5 had a significant carry off the tee and trouble abounds at a location where the wind offers round-the-clock course protection. Plenty of shore-area growth that seems to eat golf balls (but doesn't spit them out) somehow grows out of sand. And the bunkers I play in Aurora aren't anything like those at Pebble. Getting out isn't so easy. More than one was taller than we were and YS is 6-foot-4 on a hunched-over, back-achey day.
There was, I must proudly state, zero discouragement. What would be the point when opting for high-end golf and all that it offers, including acting like the rank amateurs so many of us are? And never mind we were told next-up Spyglass was the toughest of the three … attitudes were in check and it was obvious when we teed off successfully down the hill on the opening par 5. I posted a snappy 88 (no winks) and YS a solid 94. We competed. We parred holes early, eased right into it, saw some of the concepts of Meadow Hills, came across lots of deer as well as a Spaniel puppy obviously wanting to run around and act silly—and concurred about an impressive layout that was professional, highly appealing, certainly challenging and, well, fair.
Every course is the same. Play well and you're probably rewarded. Go the other way and you know how it gets.
Plus—appreciate the irony—we were paired at Spyglass with a couple from Cherry Hills Country Club, Mike and Emily Olson. Emily is a former University of Denver player (take my word for it, she's good) and Director of Caddie Development for the Colorado Golf Association.
I guess you can take the guys out of Colorado, but not the Colorado out of the guys.
However, Pebble Beach isn't every course. Not even close. And more than one person told us they like Spyglass better than Pebble. Not us. The great Jack Nicklaus, still my fave and as far as I'm concerned the best ever, indicated PB would be his top choice for one round of golf. Throw in the Crosby history with all of his Hollywood pals and novel ideas when the Tour was beginning to turn into something and the U.S. Amateur and Open championships hosted on the hollowed grounds, Clint Eastwood (the man was both Dirty Harry and Josey Wales), the fact that it's the last of the real pro-ams and the drop-dead, gorgeous scenery, and if argument isn't futile, it totally burns the edges.
And Pebble is a public course.
Tee troubles with the driver had been real for me, but not on this trip. I cruised. Happily. Even though I topped one to begin Pebble, it didn't faze me. So much fun was being had that I let the majestic Nos. 6-8 get on top of me almost too quickly. No. 6 has the identifiable cliffs on the right and the seven-story approach shot at the par 5. YS, who can rip it at times, crushed a 7-wood to the front of the green, a shot that had a pro look to it. The hole's monitor—and one is definitely needed—said it was the best shot he had seen in a couple of days.
And then…there it was—No. 7, the shortie that gets so much air time (it should), the little par-3 every great course has and one of the few par 3s held in such esteem that only the local likes of, say, Arrowhead G.C.'s No. 13 with the 300-foot drop for difficulty, aura and view can be in the conversation. I was the only one of the group to make the green and I was within 8 feet. I can still see my attempt at birdie lipping out on the left side. As I write this, I still wonder how I didn't snap my putter and impale myself twice. I wanted that birdie as much as I want to win the lottery. For what it's worth, the ball has been retired and a playing partner in the group, from Ireland (his wife liked our names and the shamrocks on my Titleists), said not to let it ruin the round. It didn't.
No. 8 was a great rebound opportunity of sorts and included yet another approach shot that was amazing in view, testing for accuracy, opposite a drop hundreds of feet to the Pacific Ocean, nearly all downhill and a reason for playing there. Hole after hole, what wasn't to like? As YS had muttered to me on the practice tee—"Think about it, Dad, Phil probably stood right here!"—simply being there was a thrill.
We made the turn and savored every stroke. And, of course, when I lipped out a 4-footer that would have parred 18 – I fired an 89, YS 111, but no complaints—it gave me a reminder that I wasn't in Aurora anymore and the greens were more challenging than the ones I've had the pleasure to play at elite country clubs at Castle Pines and Cherry Hills. They changed speeds and directions whenever they seemed to feel like it, the wind came into play and all of us swore there was intermittent cellophane over several holes. For us, it's what separates golfers. Getting from tee to green is one thing, but Lee Trevino was correct when he stated: "This game is played from 100 yards in."
And the putting obviously separates the players.
Along the way, we also saw the final lot for sale at Pebble. It faced the Pacific. List price was $12 million—then you build the mansion. We thought about putting a down payment on it, but, hey I'm still waiting on that first lottery installment …
Overall, we ran into zero attitude problems. Everyone was nice. The theme was golf and everything about golf. It cost us each $4,000 or so and was worth every penny. And an uninteresting fact—one of the shuttle drivers taking us around the shoreline said the water is 50-55 degrees year-round, so that's why it remains a golf resort and not one surrounded by beach houses.
And, yeah, I almost cried when we drove off the grounds.
So for our first golf trip, YS and I didn't pull 7-irons out of our bags to lay up; no, we grabbed 3-woods and went for it.
And we'll do it again.
---
For more of the latest Colorado golf news, visit our NEWS & PROFILES PAGE.
Colorado AvidGolfer Magazine is the state's leading resource for golf and the lifestyle that surrounds it. CAG publishes eight issues annually and delivers daily content via coloradoavidgolfer.com.