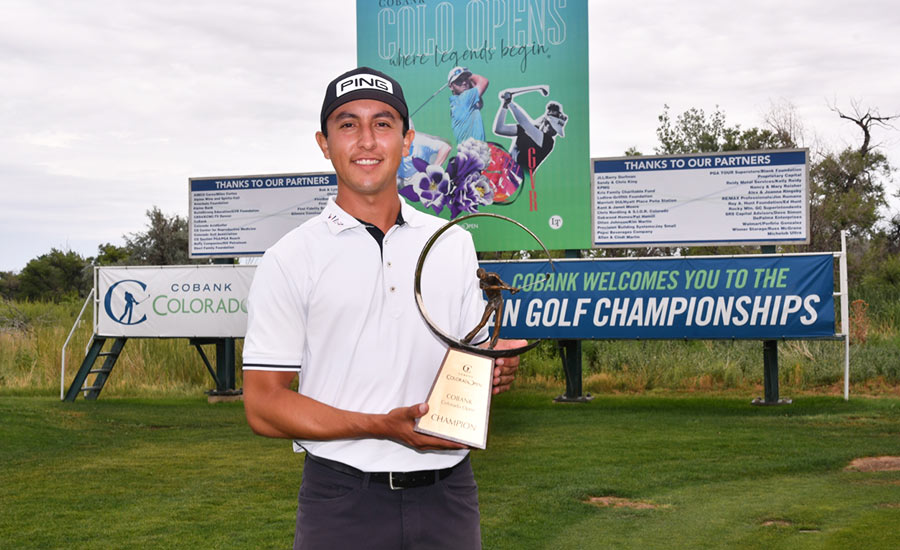 While they didn't figure in the championship mix, Shane Bertsch, Chris DiMarco and Jennifer Kupcho have a lot to look forward to in the coming weeks.
There were signs early on about how low the field would go at the 2020 CoBank Colorado Open—in the opening round, for example, 26 players shot 5-under-par 67 or better, a number that only dipped by five during the second 18 holes of play at Green Valley Ranch Golf Club. On both days, with perfect weather and immaculately rolling greens, one of the competitors managed to fire a 10-under 62.
Those figures seemed downright quaint on Saturday, when Mark Anguiano, a regular on the mini-tour circuit in his native California, shot a blistering 60 that featured 10 birdies and an eagle. After following up his record-setting round with a seven-under 65 on Sunday, Anguiano shattered the all-time tournament scoring record, his 29-under 259 five strokes better than the previous mark. The victory also brought the biggest payday of Anguiano's career—a check for $100,000.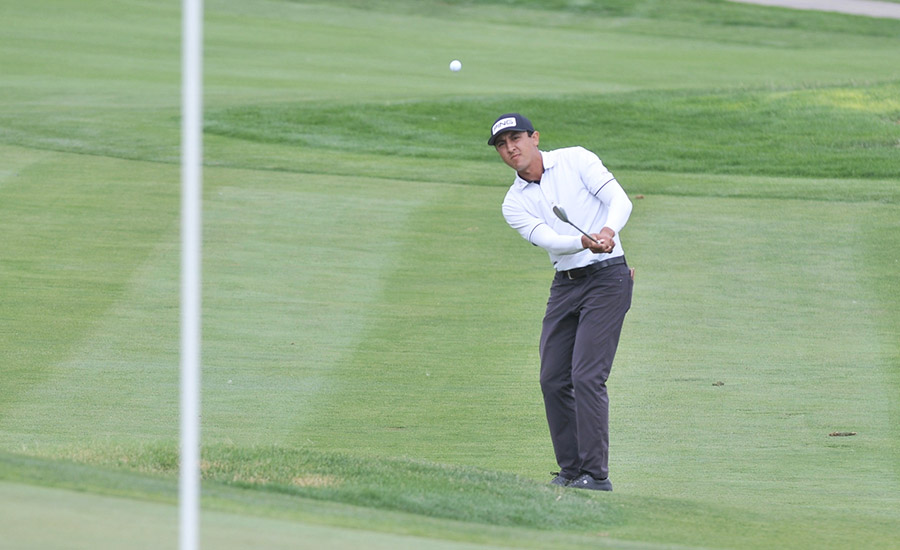 As Anguiano was putting the finishing touches on his masterpiece, a solitary figure stood on the driving range at GVR, a pyramid of golf balls at her feet. A short time later, Jennifer Kupcho retreated to the putting green, putting in more work in the area that ultimately failed her bid to play over the weekend.
Just the second woman to play int he men's event, Kupcho, the 2020 CoBank Women's Open champion, shot a more-than-respectable 3-under-par 141 over the opening two days of the tournament. The Westminster native missed the cut by a single stroke, betrayed first by a three putt bogey on her 17th hole, which was followed by a birdie attempt that barely missed on her final hole.
"I definitely need to work on my short game—but I knew that, coming off such a long break," Kupcho, who was more than a month removed from her win in the women's event. "It's tough to keep on top of all aspects of your game."
Kupcho said she's planning on returning to the LPGA Tour when it restarts later this week in Toledo, Ohio. Following that, she's planning on going across the pond to Scotland to play in the first major championship of the novel coronavirus-truncated season, the Women's British Open.
Kupcho said competing against the men will put her in good stead, particularly for the latter tournament.
"Honestly, I feel like it was pretty similar to a U.S. Women's Open," she said. "The conditions were pretty hard and it was long—it's hard to stop a ball on the green when I was hitting longer clubs in than the guys…it's just a different type of golf."
That last idea might apply to Brandon McManus. Normally as cold as ice when staring down game-winning field goals, the Denver Broncos' kicker entered the Colorado Open on a sponsor's exemption, hoping that his 2-handicap would carry him into weekend play. Ultimately though, that idea proved to be a shank-right—after rounds of 82 and 83, McManus found himself looking forward to the start of training camp and the 2020 NFL season.
As was the case in a less than stellar performance with his athletic peers from football, basketball, baseball, hockey and tennis in the recent American Century Celebrity tournament, McManus found his game wanting on the greens.
Meanwhile, after being paired together in the opening two rounds, longtime Parker resident Shane Bertsch and Chris DiMarco, the PGA TOUR veteran who recently moved to Denver, said their efforts at Green Valley Ranch will help them as they move into a full-time schedule on the Champions Tour. Bertsch, who won the qualifying tournament for the over-50 set, only to have the season halted by the pandemic, also missed the cut at the CoBank Colorado Open by a stroke.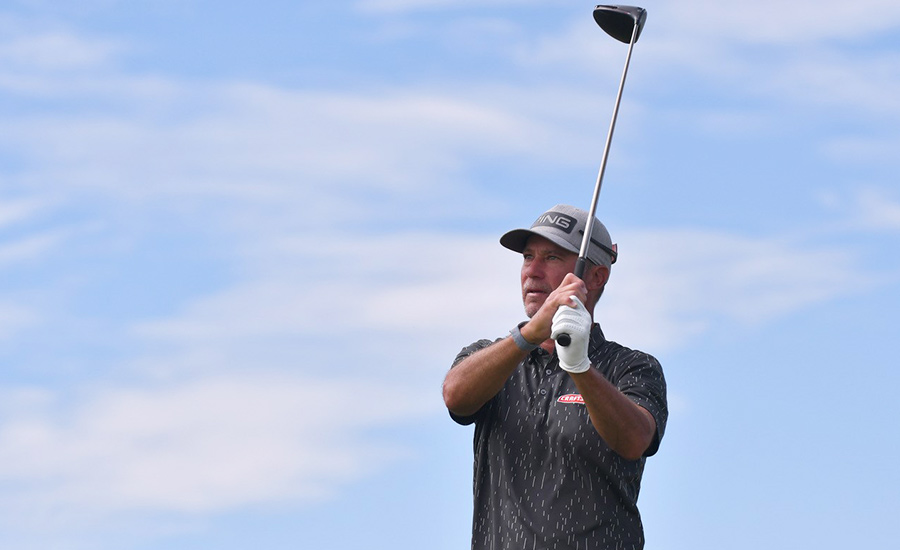 "My game's not bad," said Bertsch, who, as has been the case in recent years, was coming back from surgery, this time a partially-torn ligament in his left knee. "Missing the cut might be a blessing in disguise, because, being a rookie, I have to play in two Pro-Ams next week (at the Champions Tour Ally Challenge in Michigan).
"But it wasn't the long game that did me in here; I didn't make enough putts—I was all over the edges—and when that's happening, you get into the mode where you're trying to attack everything, and you're trying to hit it to within inches because anything more than that is making you work too hard."
While DiMarco did make the cut, he never really threatened to climb the leaderboard, his 9-under 279 good for  a tie for 48th place—as it turned out, not good enough to win family bragging rights for the week, his son Cristian coming in two strokes better.
Unlike Bertsch however, DiMarco had three starts on the Champions Tour, finishing fifth, 40th and 13th, before the shutdown. DiMarco ranks 21st on the tour's money list, and to say he was itching to get back in action might be an understatement.
"I've been playing a ton; I've been playing a lot at Cherry Hills Country Club (where he's a member)—maybe 55 rounds in the last 65 days," he said. "I'm ready—absolutely, 100 percent. I figured this would be a good little tuneup and I didn't want to miss the opportunity to play with my son."
---
For more of the latest Colorado golf news, visit our NEWS & PROFILES PAGE.
Colorado AvidGolfer Magazine is the state's leading resource for golf and the lifestyle that surrounds it. CAG publishes eight issues annually and delivers daily content via coloradoavidgolfer.com.