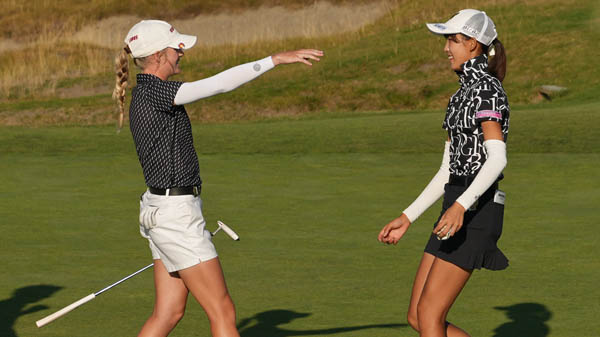 Lauren excels at USWA quarterfinals, while Katelyn wins two state titles.
By Jon Rizzi
Nelly and Jessica Korda may be the Venus and Serena of professional golf. But in Colorado, the sisters who have crushed it this year are Lauren and Katelyn Lehigh of Loveland.
Perhaps not since the heyday of Lauren and Dana Howe (1975-1986) have a pair of Colorado sisters accomplished as much on the golf course.
While at Loveland High School, the Lehigh sibs took four consecutive state high school championships. Lauren won the state 2018 4A and 2019 5A; and after the pandemic claimed the 2020 event, Katelyn took the 5A titles in '21 and '22.
Lauren Lifts Off
At last week's U.S. Women's Amateur at Chambers Bay in Washington, Lauren (who happens to be a student of Lauren Howe's and currently attends Dana Howe's alma mater, the University of New Mexico), carded scores of 77-70 in stroke play to advance to the match play portion—something she failed to do when she qualified for the event in 2019.
"I finally made it back here this year, and my only goal was to make match play," the rising University of New Mexico senior told the USGA. "To make it this far is pretty unbelievable."
She not only qualified for match play; she excelled in it.
Well-prepared, having played the Chambers Bay Invitational with her UNM teammates in April, Lehigh did not trail once in her first three matches. She was tied going into the sixth hole of the quarterfinals before her opponent, Saki Baba of Japan, went on a lights-out, seven-hole stretch highlighted by two chip-ins—one for a birdie, another for an eagle—that the rising senior at the University of New Mexico simply couldn't equal.
Then again, none of Baba's other opponents could beat her. The 17-year-old from Tokyo would ultimately win the championship match by the largest margin—11 and 9—since 1961.
By reaching the final eight, Lehigh earned an exemption for next year's U.S. Women's Am at Bel-Air. No stranger to big moments, she tied for individual medalist honors at the 2021 Mountain West Conference Championships but lost in a playoff, and the following year advanced to NCAA Regionals as an individual qualifier.
Katelyn Keeps Up
Meanwhile, earlier this year at her final 5A championship, Lauren's sister Katelyn found herself in third place heading into the final nine holes at the Olde Course at Loveland. She went on a birdie tear, carded a 69 and defended her title by one shot.
She carried that momentum this year's inaugural CGA State Junior Championship, a marathon stroke play-match play event whose format mirrors the that of USGA championships like the U.S. Women's Amateur.
In the final, Lehigh defeated Kaylee Chen of Parker, 4 and 3. Afterwards, she told the Colorado Golf Journal, "It kind of gives me the idea I'm ready for the next step. I'm ready for college."
She's headed to Fresno State, where she'll compete in the same conference as her older sister. Is there a rivalry?
The answer lies in Katelyn's comment to the Loveland Reporter-Herald after her most recent 5A victory.
"This was extra special because, well, it's gonna sound bad," she laughed. "But it's what my sister did. I'm super competitive. My entire life it's just, Lauren did this. So, I felt the need to do it too. And it's almost an exact repeat of what Lauren did, which is cool but also my competitive brain likes that she can't say she won more state titles."
---
Colorado AvidGolfer Magazine is the state's leading resource for golf and the lifestyle that surrounds it, publishing eight issues annually and proudly delivering daily content via coloradoavidgolfer.com.