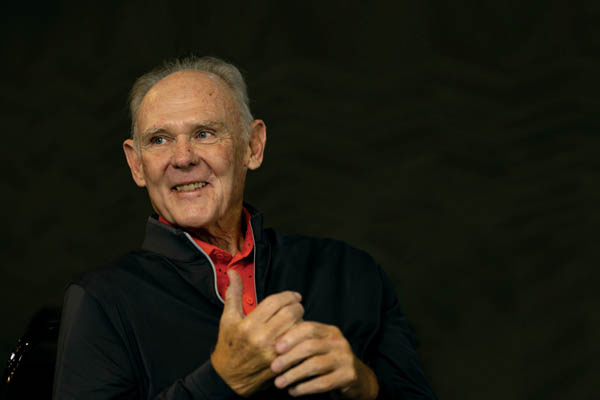 Age and illness may have changed his game, but the HALL OF FAME COACH remains a competitor.
By Jon Rizzi
As a light rain falls at Green Valley Ranch Golf Club, George Karl enters the golf shop and heads directly to a display of Bad Birdie shirts so bright they might have scared away the sun.
"Top of the pile," the former Nuggets coach says. "That's me."
Given his September induction into the Naismith Basketball Hall of Fame and a reputation for unguarded commentary, you might think one of the most successful coaches in NBA history was indulging in a moment of self-congratulatory reflection.
"Yeah, top of the pile," he laughs, picking up a particularly bold polo. "When I coached the Bucks, Ray Allen said I dressed like I just grabbed whatever was on top of my pile of clothes. He gave me the name, 'Top-of-the-Pile Guy,' and think I've been that guy most of my life."
Lion in Winter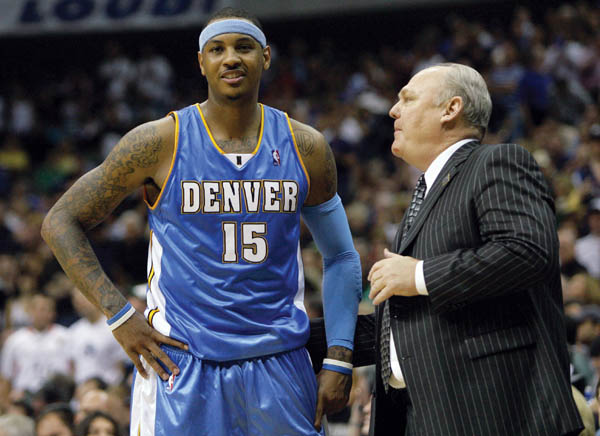 Now 71 and retired from coaching, Karl seems less like the bear who stormed the sidelines for six teams over 27 NBA seasons and more like a fit, self-deprecating Everyman who jokes that his employment history "sounds like I got fired a lot." Karl's dismissal from the Nuggets came a month after he won the 2012-13 NBA Coach of the Year. He'd led what he has said was his favorite of all the teams he's coached—including the Seattle team that went to the NBA Finals—to a 57-25 record. However, he got sacked after losing in the first round for the eighth time in nine playoff appearances.
A short, tumultuous gig with the Sacramento Kings ended similarly in 2016. Later that year, the controversy surrounding Furious George—an autobiography in which he criticized his own shortcomings and those of certain players, owners and general managers—likely ensured he'd never coach his 2,000th NBA game.
Of the 1,999 games Karl did coach, however, he won 1,175. That's more than all but five people in NBA history, including such legendary coaches as Phil Jackson, Larry Brown and Red Auerbach.
"I never got to the top of the mountain, winning a championship," Karl shares as we retreat to a quiet area. "I think the Hall of Fame might have helped me accept my failures a little bit more. The way I look at it, Hall of Famers have to take care of the game. We have to serve."
"That sounds like him," relates Jason Nygren, a former video coordinator for the Nuggets who has become a friend and golf partner with his ex-boss. "He would tell the players, 'Do not cheat the game.' To him, basketball teaches life—discipline, doing things the right way. I've never been around a coach more spiritual. He got that from Coach Smith at North Carolina. When he talks about Dean Smith, he turns into a kid."
Karl says Smith, who passed in 2015, was the first person he thought of when he learned he'd been voted into the Hall of Fame:
"He taught life better than he taught basketball, and I wanted him to be proud of me."
From the Hardwoods to the 3-Woods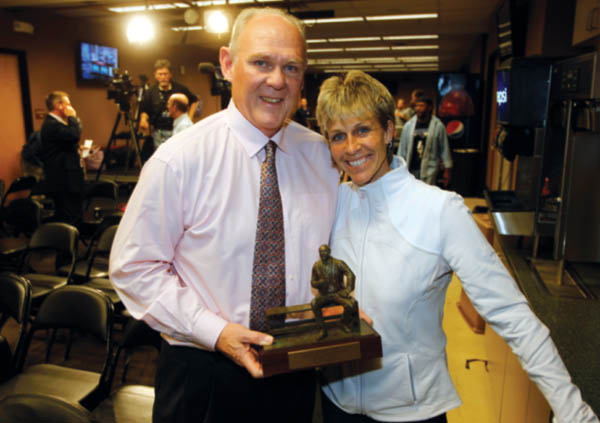 Originally from suburban Pittsburgh, Karl is a proud UNC Tar Heel, but Denver is home, despite the way his Nuggets tenure ended. He lives with his life partner Kim Van Deraa; this fall, their daughter, Kaci, leaves for Washington University in St. Louis.
During media appearances and on the podcast, "Truth & Basketball with George Karl," he often refers to the Nuggets as "we" and "us" and will praise the play of Nikola Jokić.
He is also a three-time cancer survivor who most recently battled ocular melanoma.
"I got hit with radiation and lost about 60 pounds," he says when asked how he's doing now. "I feel great. When Covid came, I exercised, ate right and decided to get down to my playing weight (of 185 pounds), but when I hit 195, the doctor said I was too skinny."
Listed as 6-foot-2, Karl now weighs in at 200-210 pounds.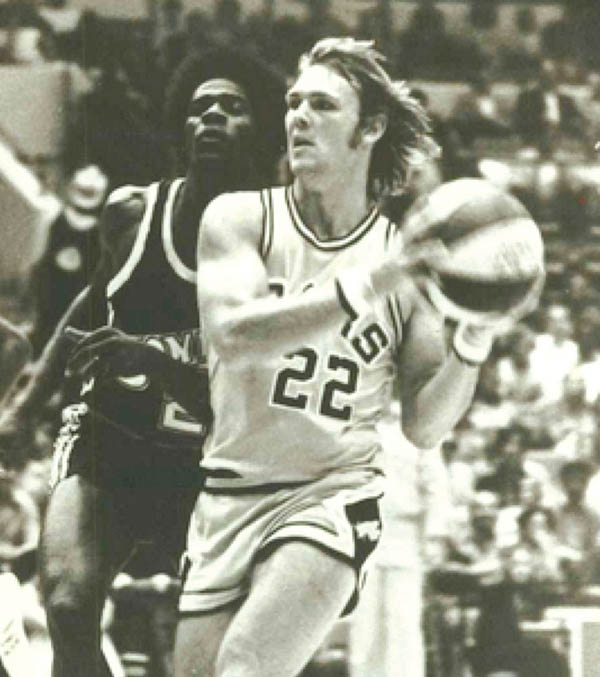 Golf, which he has played since his ABA days in the 1970s, has replaced hoops as his competitive outlet and his connection to community. But for a golfer who used to play a power game and once shot a 73 at San Antonio's now-extinct Pecan Valley Golf Club, the changes wrought by age and illness have forced him to rely "more on strategy than talent—I just get the ball in the fairway and try not to lose it and throw away strokes."
Karl says his handicap's been stuck between 15 and 17 for years. "For me to break 85 now, I've got to be smart. I've got to have a chip-and-one-putt game. I can't usually get home on 400-yard par 4s. I'm chipping and putting to a lot of 4s and 5s. Instead of being around the green, now I'm hitting 8-irons in par 5s. I just don't hit it very far."
That hasn't discouraged him from playing twice a week with Nygren and "a lot of good, fun people." He and Altitude's Vic Lombardi will tee it up at Rolling Hills on occasion, but since resigning his Colorado Golf Club membership in 2016 ("The course became too hard for me," he admits), he has mostly played public golf.
"Denver has a lot of quality courses," he says, citing City Park, Wellshire, Willis Case, CommonGround and Green Valley Ranch. He routinely arrives early so he gets to drive the cart.
"Worst golf-cart driver in the history of mankind!" Andy Mendelsberg, a frequent partner, says. "He never takes the shortest route and is only concerned with his own ball. I think he likes to be in control, but I also think he likes messing with me. He's very good at finding people's weaknesses, which makes him a great teammate and tough to play against."
"But if you're his partner, he'll tell you when you suck," Nygren says. "He'll ask, 'You plan to hit a fairway today?'"
"You could be putting for a win, and he might drop a ball on you," Mendelsberg adds. "Or he'll say something like, 'You're playing well today; that's not your game.'"
In other words, Karl likes some goodnatured gamesmanship, especially when there's money usually five bucks a hole—at stake. "It's always subtle, never mean," Mendelsberg says of the badinage. "I wouldn't have it any other way. Besides, George always makes putts when there's money on the line. He tries to beat people in the most enjoyable way."
"He's a legit 16, and I have to play my ass off to beat him," Nygren, a scratch, says. "We let him play from whatever tees he wants—few forced carries, no par 4s longer than 400 and no 5s longer than 500—and his short game is really dialed in. He never gets too down if he plays poorly. And he gets pure joy from making a par or birdie. It's great to see."
It's also great to see him talk hoops with people he meets on the course or in the clubhouse bar, Mendelsberg says. "He never badmouths any player, just that 'some are coachable, and some aren't.'"
As Nygren puts it, "At the course with George, it's basically Tuesdays with Morrie."
Getting Home
Back at the clubhouse, the coach opines on pro golfers' swings ("If Ben Hogan saw how much Scottie Schleffler's feet moved, he'd jump out of his grave!") and golf course architecture ("Was the guy drunk who designed the 16th hole here?").
He's also working on some documentary projects, but mostly George Karl is focused on staying healthy, preparing his induction speech and picking from the "top of the pile" of courses on his bucket list.
"This year it's Medinah and Merion," he says. "For a guy who doesn't have a job, I'm blessed to have a lot of opportunities to play golf with some fun people. Like basketball, golf is about strategy and skill, but it's mostly about the competition and the camaraderie."
---
This article can also be found in the August/September Issue of Colorado AvidGolfer.
Colorado AvidGolfer is the state's leading resource for golf and the lifestyle that surrounds it, publishing eight issues annually and proudly delivering daily content via coloradoavidgolfer.com.