Layton setting out to work on more design-build projects
By Tony Dear
Senior architects Thad Layton and Brandon Johnson kept the Arnold Palmer Design Company (APDC) going for nearly seven years following their boss's death in September, 2016, but it couldn't last forever.
Earlier this month Layton, who lives in Highlands Ranch near Denver, announced the creation of his own company – Thad Layton Design. He hopes it will give him the opportunity to use the lessons he learned during 26 years spent working alongside Palmer while also exploring different ways to build golf courses.
The two firms will operate very differently. Arnie's company had a dozen or so employees, did business for 50 years, and designed more than 300 courses around the world. Layton begins as the head of a one-man operation and hopes to complete two or three projects a year.
"It'll be like night and day," says Layton. "I've become a big fan of the smaller-scale design-build process (where the architect designs the course and is also a part of constructing it), like that which Bill Coore and Ben Crenshaw use, and see myself doing something very similar."
In recent years, Layton has become increasingly proficient on the sort of machines used to build golf courses and, though he may not have the skills of expert shapers like Jeff Bradley, Keith Rhebb or Riley Johns quite yet, he doesn't feel out of place on an excavator or bulldozer.
Layton's top priority is establishing the golf course design firm he's long dreamed of owning. He's currently consulting at Lakewood Country Club and drawing up a masterplan for the course originally designed by Tom Bendelow in 1908 and redesigned by Donald Ross in 1916. New-builds overseas are also being talked about.
"I loved working with Mr. Palmer," says Layton. "I learned so much about the business and will always be grateful for everything he taught me. But I'm ready for this now."
Online Layton's new initiative can be found at ThadLaytonDesign.com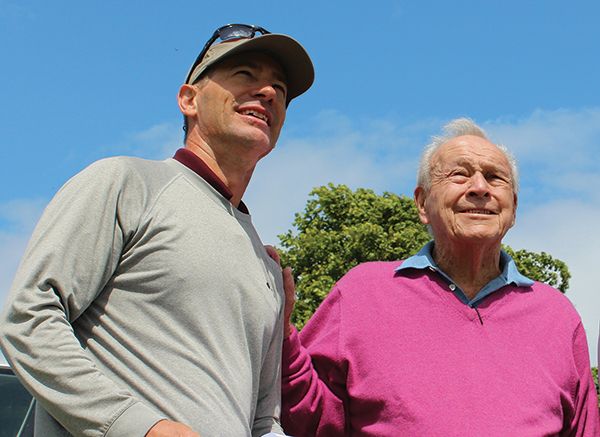 Tony Dear is a national golf writer and contributor to ColoradoAvidGolfer.Com
---
Colorado AvidGolfer Magazine is the state's leading resource for golf and the lifestyle that surrounds it, publishing eight issues annually and proudly delivering daily content via coloradoavidgolfer.com.