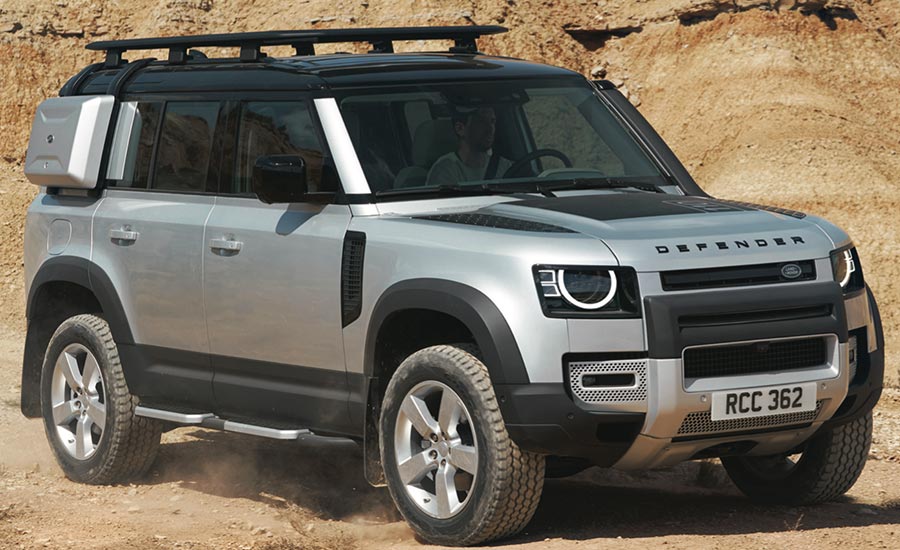 Its iconic Defender gets a welcome update; McLaren's Spider will snare you in its alluring web.
By Isaac Bouchard
2020 LAND ROVER DEFENDER 110
EPA ratings:17/22/19 0-60mph: 7.0sec (est)
Price as tested: $75,065
THE DEFENDER is an icon, in the same way as the Porsche 911 and the original Jeep. Unlike the 911 and Jeep though, it hasn't undergone continuous development. Its design was basically frozen in amber in the late '90s, and despite its popularity around the world, it wasn't until this year that a fully contemporary update happened. Expectations were certainly high, and not everyone is likely to be satisfied with the results—just like Porschephiles aren't by each change in their beloved sport car—but by and large, Land Rover has done a terrific job of imbuing the new Defender with the essence of its predecessors.
The new one comes in 2-and 4-door configurations, dubbed 90 and 110 after the wheelbases of the classic models. The design is thoughtful insofar as it melds many classic cues with the needs of 21st century crash legislation, aerodynamics and the overall Land Rover family. Cool details are notable everywhere: the faux step plates on the hood, the square LED taillights, the "alpine" roof windows—all help differentiate the Defender from most everything else on the road yet insure it is contemporary. The interior is even better, melding practical details with high-end design. A good example is the dash, with grab handles built into its ends, the use of a magnesium cross beam as a structural and design element, and an integral shelf for odds and ends. A fast response, 10-inch touch screen and slim but powerful HVAC vents integrate gracefully with vintage shout-outs like exposed hex headed bolts. The infotainment system is new; dubbed "Pivi Pro," it is Apple and Android compliant and more powerful and intuitive than other Rovers. It also allows for over-the-air updating, helping ensure the Defender's tech doesn't age out. The controls, like the twin "focus rings," are related to other Rovers, but modified for heavy duty usage.
There is a lovely simplicity and elegance to the detailing inside the Defender and it is also very practical. You can even get a "jump" seat in the front row for a third passenger in lieu of a tradition center console. The first two rows of seats are supportive and upright in that classic SUV way; the third row in the 110 is actually usable by humans of many statures as well. Folded flat, there is copious cargo room. And there is also the ability to fit all kinds of useful gadgets, like an electric compressor pump to raise tire pressures back up after they've been aired down for certain off-road conditions, like dune running.
The Defender 110 drives in a contemporary manner, with accurate, direct steering and decent body control. It rides smoothly and reminds one dynamically of the late, great Land Rover LR4. There are two available engines for now, both turbocharged: a 296hp 4-cylinder and a 395hp inline 6-cylinder with 48 volt mild hybrid boost. Both channel their output through the industry-standard ZF 8-speed automatic and all wheel drive. About the only weakness is their relative lack of refined running; mash the throttle pedal and they're quite vocal and have a gritty delivery. While this isn't enough to undermine the Defender's case—and they are certainly better than about any engine that ever came in the old model—they could use a bit more time in finishing school. Otherwise the 110 is a quiet cruiser, imparting a much more luxurious vibe than a Jeep Wrangler, one of the only vehicles that can match it off pavement.
And of course, this is what the Defender is really designed to excel at. With locking differentials and up to 11.5 inches of ground clearance from its independent, air-sprung suspension, there isn't anything it can't crush off-road. A plethora of electronic driver aids such as traction management systems and cameras that show under and around the Defender mean even neophyte adventurers will be able to go places beyond most anything imaginable, in comfort and style as well.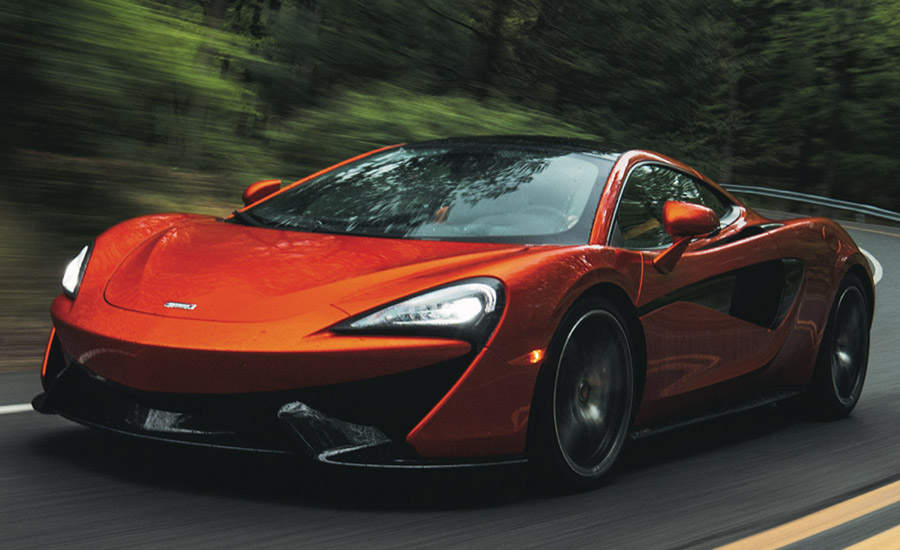 2020 MCLAREN 570S SPIDER
EPA ratings: 15/23/18mpg 0-60mph: 3.0sec (indep. test)
Price as tested: $233,780
BARELY MORE THAN a decade ago, the celebrated Formula 1 constructor McLaren decided to go all-in on supercars for street use. While their first effort, the MC4-12C, was a technological masterpiece, in some ways it drove in as coldly analytical a manner as its name. But such was the unrelenting improvements McLaren made to continually update their sexy, midengined machines that they quickly became some of the best drivers cars extant. The 570S Spider, part of their "entry level" Sports Series lineup, exemplifies this.
Its steering uses hydraulic power assist—not electric, like most all modern cars—to impart a level of detailed, granular feedback that almost nothing else now possesses. Combined with a nigh-on perfect driving position that places the pilot right behind the front wheels, behind a curved window and low fenders that impart a panoramic visual, it sucks one into proceedings like almost nothing else that can be licensed for street use. This unimpeded view is also very helpful when the 3.8-liter, twin turbo V8 hits full boost. All 562 horses, channeled through one of the fastest reacting transmissions ever, easily have their way with the McLaren's svelte "MonoCell II" carbon fiber structure and catapult it forward as if Han Solo had just engaged hyperdrive in the Millennium Falcon. 0-60mph takes a scant 3 seconds and the relentless shove doesn't abate, even well into three figures. Thankfully the huge carbon brakes are the equal of the power; they haul the 570S up as if it's an F-14 that's been snagged by the cable on an aircraft carrier.
While plenty of modern muscle cars can match it for straight line speed, the McLaren is multidimensional in a way few can equal. The aforementioned steering is part of this: it is linear, talkative and provides just the right amount of feedback, allowing the driver to place the 570S just where one wants on corner entry, and dial it down to a corner's apex with ease. Once the turn begins to open up, a deep flex of the right foot rolls on the boost, which is almost perfectly contained by the rear tires, thanks to the powertrain's mass being placed over them. While they might squirm or even spin up slightly, they do so in a predictable manner, inspiring huge confidence.
McLaren has also learned well how to use electronics to aid the driver; there are three modes for both the chassis and powertrain, each independently and easily accessible through aluminum selector switches barely a hand's-breadth away. In mild mode the McLaren rides like a luxury car, smoothing away all but the worst road imperfections, yet feeding back needed info to the driver. The dual clutch transmission automatically slurs shifts perfectly and the stability control keeps everything in check. Click through from comfort to full attack mode and things just get better. Fully lit, though, the 570S rips through its ratios almost faster than one can pull the lovely, one-piece shift paddle mechanism (which allows up-or down-shifts from both paddles, thanks to its center pivot design), while the suspension firms up, imbuing the Macca with stellar chassis control.
Most everything inside is bespoke and the design is gorgeous; only a few nits stand out. Fingers easily slip off the aluminum turn signal stalk, and the IRIS infotainment system's screen washes out when one wears polarized sunglasses (but the digital instrument screen doesn't). The cantilevered doors open up vertically and out slightly, making ingress and egress more graceful than it otherwise might be over the relatively high sills, but space is still tight for humans and their detritus. Also, the hydraulic lift mechanism that raises the nose a few inches takes a full six or seven seconds to work, unlike competitors that do so almost instantaneously. This means that gorgeous McLaren nose, chock-full of carbon fiber bits to channel airflow, can grind its underside on steep driveway entries and other obstacles. About the only other thing that might be criticized about the 570S is the relatively anodyne exhaust note, a result of an engine designed for maximum efficiency and potency, not sonorous serenading of those it blasts past, in the manner of a Ferrari.
Make no doubt though that these are minor items in an otherwise technological masterpiece. The 570S carbon and aluminum structure means it weighs almost a quarter ton less than a Porsche 911 4S cabrio, and the folding metal roof structure in no way compromises rigidity; one ends up with the combination of a flex-free sports car and convertible all in one. There is even a decent amount of luggage space up front, offering up the possibility of longer road trips, which the McLaren seems to love.
That all this excellence is part of their entry level line helps explain why the company is growing by leaps and bounds all around the world, and why Colorado is one of the company's top markets.
Automotive Editor Isaac Bouchard owns Denver-based Bespoke Autos (isaac@bespokeautos.com; 303-475-1462). Read more of his automotive writing, reviews and recommendations on our LIFESTYLE page and bespokeautos.com.
---
This article was also featured in the August/September 2020 issue of Colorado AvidGolfer.
Colorado AvidGolfer is the state's leading resource for golf and the lifestyle that surrounds it, publishing eight issues annually and proudly delivering daily content via coloradoavidgolfer.com.