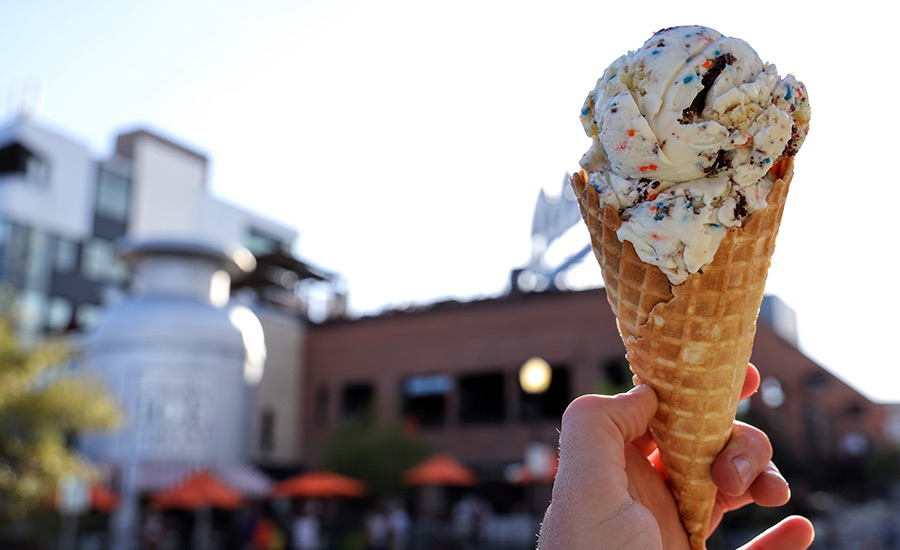 Find sweet summer relief at our favorite homegrown ice cream parlors.
By John Lehndorff
COLORADO HAS RECENTLY birthed a bumper crop of shops serving ice cream, frozen yogurt and chill variations to satisfy our cravings. However, only a few of these sweet spots qualify as true ice cream parlors. When your kid brother begged on a hot summer night: "Let's go out for ice cream!" the ice cream parlor
was the family destination as you piled in the car. "Wherever you grew up there almost always is a classic ice cream parlor on Main Street. For me it was the ice cream parlor in Breckenridge when I was a kid that was the center of everything— after school, after sports, on dates," says chef Ian Kleinman. He now pushes the ice cream envelope at Denver's Inventing Room Dessert Shop. Great ice cream parlors are full of sparkling stainless steel, the aroma of waffle cones and warm caramel, the whirring of shake mixers, off-the-wall sweet and savory flavor combinations and lots of sprinkles. A scoop of Rocky Road in a chocolate-dipped waffle cone is summer encapsulated in one cool, people-watching encounter.
"It's an escape that the generations can safely share, especially now. It's great to work surrounded by whipped cream and cherries in a place where you make people happy," says Lisa Paugh, co-owner of the pleasantly haunted Walrus Ice Cream in Fort Collins.
A new generation of artisan ice cream artists in Colorado have opened eye-catching venues (with multiple locations) scooping everything from high butterfat ice cream to silky frozen custard to intensely flavored gelato and numerous international variations. Researching the state's great ice cream palaces was a tasty privilege and it was stunning to discover how many different yummy ways "chocolate ice cream" can taste.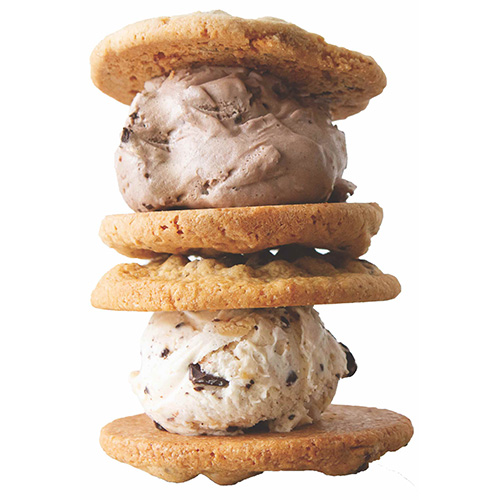 If you follow the Colorado ice cream parlor trail, you'll end up with a smile on your face (under your mask). Most spots offer vegan, gluten and dairy-free variations and sorbets, too. All are locations where you can safely enjoy a scoop or two sitting outside or at nearby parks.
LITTLE MAN ICE CREAM
There is no mistaking a Little Man Ice Cream location because you can see it in the distance. Little Man's original spot in Denver's LoHi neighborhood is dominated by a 28-foot-tall cream can. The Constellation Ice Cream parlor sits under a life-sized gleaming recreation of an airliner fuselage, while the Little Man Ice Cream Factory is a fantasy 6,000-square-foot tasting room and bakery experience. Luckily, the ice cream at Little Man is as captivating as the eye candy architecture. The staff churns high butterfat ice cream variations ranging from Mint Chocolate Chip and Butterscotch to Lemon Meringue Pie in cones, sundaes and shakes. Our Little Man favorites include Purple Cow—berry-rich black raspberry ice cream with dark and white chocolate bits, and the unforgettable Red Velvet Cookie Sandwich with Cream Cheese Ice Cream.
Locations in Denver and Fort Collins;
THE INVENTING ROOM DESSERT SHOP
This is not your normal scoop shop. Chefs Ian and Stacey Kleinman's steampunk-meets-Willie Wonka wonderland near Sloan's Lake is built around ice cream made with clouds of liquid nitrogen. During this unusual summer, the shop is offering a unique Golden Ticket. "The Science of Dessert" is a highly entertaining, 30-minute science demo and tasting for up to ten guests inside the shop. It's a show and a class with lessons and tastes built around liquid nitrogen, candy-making and crystals, and a glow-in-the-dark room featuring edible glowing cotton candy. The menu includes super-frozen Cheetos, sweet "space foam," and finishes with this totally Instagrammable sundae: nitro double chocolate ice cream rolled in Oreo crumbs with toasted marshmallow, whipped cream and nitro chocolate. The Kleinmans also cater socially-distanced nitro ice cream events and will deliver by drone (where allowed) for special occasions.
Denver; Reservations required (no walk-ins);
SHERRY'S SODA SHOPPE
The newest stop on the ice cream trail is also the one that is the most traditional. Opened by Joshua Pollack next to his Rosenberg's Bagels & Deli in Denver's Five Points neighborhood, Sherry's Soda Shoppe is like the coolest mini-museum you've ever visited, except you get to taste the exhibits. Sample history in the form of malteds, egg creams (with U-Bet Syrup), refreshing "phosphates" and 20 flavors of soda made to order using scratch-made syrups. Located literally yards from an RTD Light Rail station, the small shop scoops eggless, high butterfat ice cream in unmistakable flavors from true Pistachio to Caramelized Maple Bacon and Space Junkie—fudge and marshmallow swirled into red raspberry ice cream. A personal favorite, Sherry's Cherry, is like pie à la mode, and the Chocolate Hazelnut ice cream is better than Nutella. The vegan choices are outstanding, especially the Toasted Coconut in a pretzel cone. Don't miss the house-baked NY black & white cookie sandwich middled with Vanilla Bean ice cream.
Denver; sherryssodashoppe.com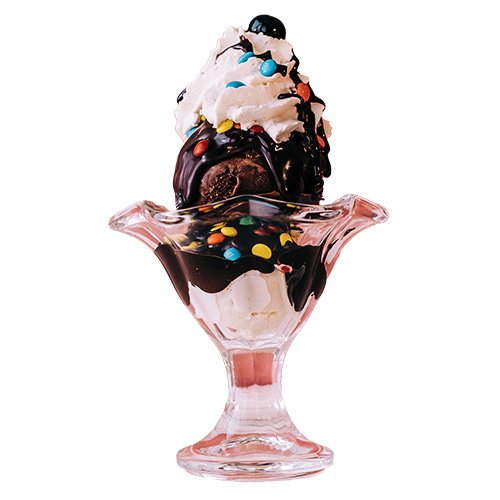 SWEET COW ICE CREAM
Sweet Cow Ice Cream doesn't mess around with fancy architecture or wacky concoctions, focusing
instead on some of the purest flavors in the local ice cream world. The 24 flavors available daily at the Sweet Cow scoop shop locations go the extra mile in terms of quality. For instance, locally roasted organic espresso beans are soaked in milk, cream and sugar for 18 hours before being strained and churned into Ozo Coffee Ice Cream, a true cone of java joy. The Orange Creamsicle is crafted simply with pure orange extract to taste like its nostalgic namesake and Oatmeal Cookie is an ice cream sandwich in every bite. Sweet Cow's Cookie Dough ice cream outshines its Ben & Jerry's equivalent. We highly recommend pairing the extra-dark Dutch Chocolate ice cream with the best dark chocolate hot fudge we've sampled. If you don't want to go out, Sweet Cow's cute ice cream truck will come to your family gathering.
Locations in Aurora, Boulder, Denver and Louisville; sweetcowicecream.com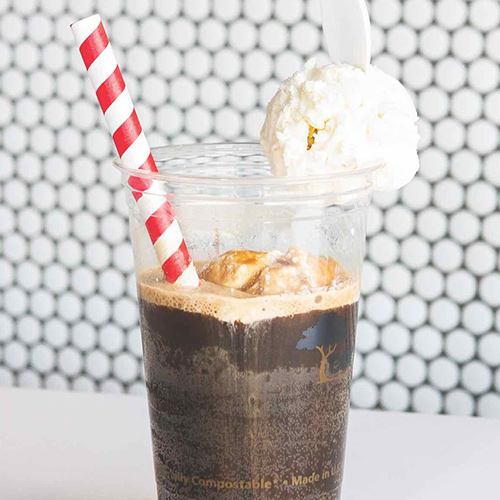 THE WALRUS ICE CREAM
The Walrus has it all as an old-school ice cream parlor: Tons of ice cream flavors, crepes, over-the-top sundaes, huge banana splits, milkshakes, malts and floats made with Coopersmith Brewery's spicy root beer. The Walrus also has Charlie Dinneback, a ghost who haunts the basement.
Fortunately, Dinneback—who owned a former business in the building, is more like Casper than Beetlejuice, a good thing since the Old Town Fort Collins institution is famously kid-friendly. Co-owner Lisa Paugh encountered the spirit as soon as she started working in the building. "Charlie is a friendly spirit who's into some shenanigans. He changes the music and moves things around. I say 'Hi' to him every day when I go down to the office in the basement," she says. Ghost hunters occasionally tour the basement to check out the spectral presence and order black Activated Charcoal ice cream.
The ghost is not responsible for the scary good flavors the staff comes up with. The Walrus boasts dozens of flavors available daily, among the largest selections at local ice cream shops, including ten chocolate ice cream variations daily like Mocha Almond Fudge. Adults can revel in edgier ice cream flavors like Licorice, Lemon Ricotta and Caramel Sea Salt while the kids turn their tongues blue with Blue Moon, which tastes precisely like Fruit Loops cereal milk.
Fort Collins; walrusicecream.com
SUNDAE ICE CREAM
There are few summer activities more dread-worthy than descending I-70 East from the mountains on a Sunday afternoon. That's why it was a relief recently to exit at the town of Edwards and discover Sundae, an oasis of super-premium ice cream. While the menu does include chai ice cream, grapefruit sorbet and modern flavors, the scoopers at Sundae brag that their classics—vanilla, chocolate and strawberry—are the best "ever." Honestly, after sampling all three perfect flavors in a cup, we tend to agree.
Given its name, Sundae is also the place to let loose and order something indulgent like very dark chocolate ice cream topped with peanut brittle, peanut sauce, roasted peanuts, real whipped cream and a cherry. If you need additional oomph before driving again, prescribe yourself two scoops of Sundae's edgy Ground Espresso Bean ice cream. Since Sundae has several outposts along I-70, you can do a serial tasting including another unlikely bestseller, the pretty-good-for-you Avocado Coconut churned with coconut cream, fresh avocado and sugar.
Locations in Edwards, Glenwood Springs and Vail; sundaeicecream.com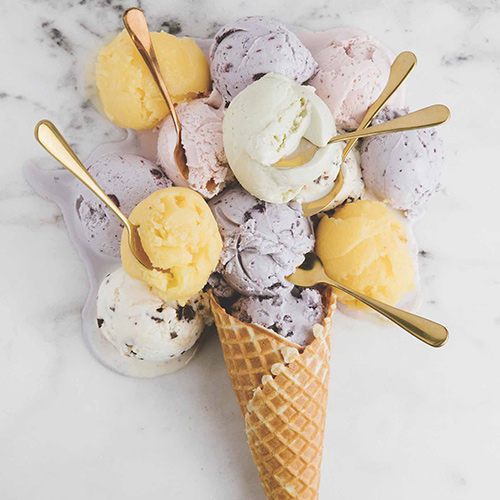 JOSH & JOHN'S ICE CREAM
Josh & John's first opened in 1986 and keeps scooping at four locations with a thoroughly local philosophy that includes focusing on natural ingredients and taking unusual flavor cues from the community. For instance, Josh & John's popular Malted Mazel Toff was created for a wedding featuring malted vanilla ice cream laced with Heath bar bits. While it looks and sounds odd, the violet-hued Purple Mountain Majesty—gluten-free taro root ice cream with raspberry truffles—is wildly popular. It was created for the 100th Pikes Peak Climb road race. Other favorites range from Almond Joy (chunked with chocolate-covered almonds, coconut and chocolate chips) to the kid-favorite Yellow Cake, pudding-flavored ice cream with tons of vanilla wafers.
Locations in Colorado Springs and Fort Collins; joshandjohns.com
DID YOU KNOW?
Denver owns a small piece of ice cream history. In about 1870, candymaker Otto Baur claims to have served the very first ice cream soda. He later featured it at Baur's Confectionary and soda fountain whose final location is now home to the Downtown Denver jazz club, Dazzle at Baur's.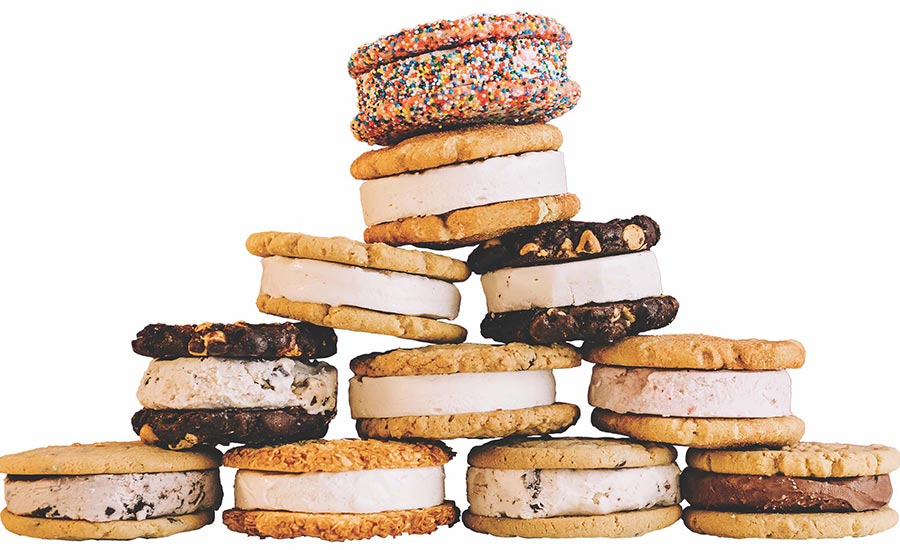 Other Destination Flavors Worth Screaming About
Gelato Boy Banana Split Gelato Boulder, gelatoboy.com
Kiwi International Delights Dulce de Leche Ice Cream Avon, kiwiinternationaldelights.com
Frozen Matter Butter Pecan Ice Cream Denver, frozenmatter.com
Glacier Coffee Toffee Gelato Boulder & Denver, glaciericecream.com
Smith & Cannon Dew Sabi Ice Cream Denver, smithcanon.com
High Point Cornbread Strawberry Jam Buttermilk Ice Cream Denver, highpointcreamery.com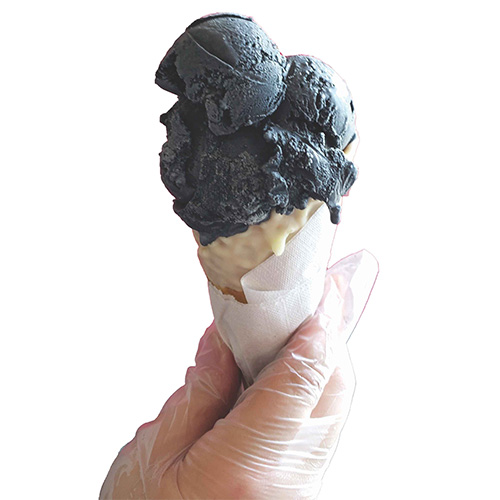 John Lehndorff is the former Dining Critic of the Rocky Mountain News and Chief Judge at the National Pie Championships. He hosts Radio Nibbles on KGNU. johnlehndorff.wordpress.com
---
This article was also featured in the August/September 2020 issue of Colorado AvidGolfer.
Colorado AvidGolfer is the state's leading resource for golf and the lifestyle that surrounds it, publishing eight issues annually and proudly delivering daily content via coloradoavidgolfer.com.