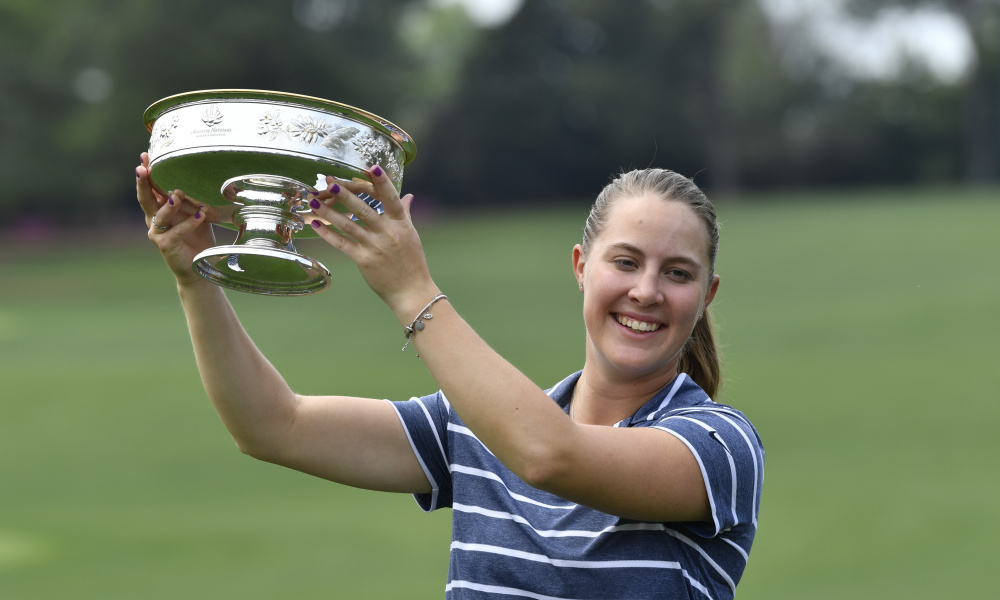 Westminster native rallies on back nine to win inaugural Augusta National Women's Amateur
In one of the most clutch and electrifying performances of her already storied career, Wake Forest University senior Jennifer Kupcho of Westminster triumphed in the inaugural Augusta National Women's Amateur—the final round of which was the highest-rated amateur golf telecast (for men or women) in 16 years, according to The Nielsen Company.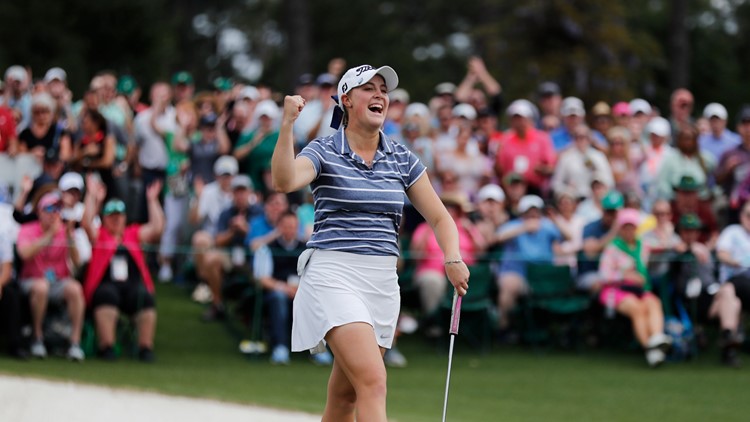 Seas of patrons also filled the galleries at Augusta National Golf Club, as Kupcho, who turns 22 this month, overcame a vision-blurring migraine and outdueled University of Arkansas senior Maria Fassi of Mexico over the final nine holes.
Shooting a 68 and 71 during the event's first two rounds at nearby Champions Retreat Golf Club, Kupcho entered the day leading Fassi by a stroke.
After the eighth hole, however, Kupcho found herself down by one. Worse, she had blurred vision on her left side, a migraine-induced phenomenon she hadn't experienced since high school. As the pain intensified over the next three holes, she relied mainly on Augusta National caddie Brian McKinley for yardages and putt reading, and a three-jack—her first in seven competitive rounds—on the par-4 10th cost her another shot to Fassi.
The Turning Point
Everything changed on the par-5 13th when Kupcho hit what she called "probably one of the best shots I've ever hit"—a gutsy 3-hybrid missile from 211 yards that led to a six-foot eagle putt to draw her even with Fassi. The two alternated birdies on the next two holes, leading to the pivotal par-3 16th.
With an eagle on No. 13 @jenniferkupcho is tied for the lead during the final round at #ANWAgolf pic.twitter.com/u7e3OK050r

— Augusta National Women's Amateur (@anwagolf) April 6, 2019
With the pin in its traditional Masters Sunday spot, Kupcho and Fassi both played shots towards the right side of the green in order to catch the ridge that has funneled so many balls into short birdie opportunities. Kupcho's shot trickled toward the hole, resulting in a six-foot birdie; Fassi's was right of it and remained atop the ledge, leading to a bogey and a two-shot lead that Kupcho would carry to 18.
As Fassi tried to make something happen, Kupcho hit two perfect shots—and when her third, a 20-foot birdie putt, dove into the hole, history was hers. "Best day of my life!" her brother Steven, a former Colorado Player of the Year, wrote on Facebook. "My sister is going to change the world."
"How golf is supposed to be."
Equally as impressive as Kupcho going 5-under on Augusta National's final six holes was the sportsmanship demonstrated between the two competitors. The only two players in the inaugural Augusta National Women's Amateur field to have deferred their LPGA Tour qualification until after their senior seasons in college, friends Kupcho and Fassi fist-bumped, smiled during the match and embraced on the green afterwards.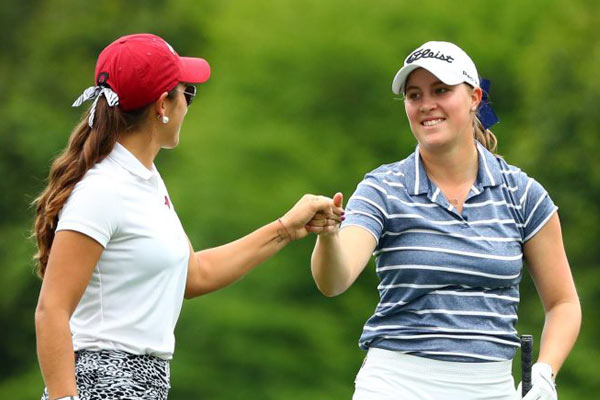 "I said, 'You need to get used to this because we're going to be doing it a lot in the future on the LPGA Tour,'" Fassi said in an interview following the event. "I think that is what women's golf should look like every Sunday in the last group. It's the players' responsibility for it to be like that."
"I think both of us kind of just wanted to send the message that golf is about having friends, and to be out there with her, we were cheering each other on, and that's kind of how golf is supposed to be," Kupcho said. "And to make it look fun; it is fun. So to make it look that way for everyone watching, I hope it encourages people to pick up a club and go play."
"That's one of the things I admire and respect most about her; she's not afraid of going for it," Fassi said. "She's not afraid to be great, and that's what makes her great. I'm extremely happy that she got that win…She deserves it so much."
The two appeared on the Today show Monday morning…
…and on The Tonight Show with Jimmy Fallon Monday night.
Colorado AvidGolfer Magazine is the state's leading resource for golf and the lifestyle that surrounds it, publishing eight issues annually and proudly delivering daily content via coloradoavidgolfer.com.
---