"I played 54 holes over two days, my goal being to find one weed and bring it home. I had heard how impeccably manicured Augusta was, but knew there had to be at least one weed growing on the course, which formerly had been a nursery. What happened? I found not one foreign blade of grass on the entire Augusta property."
Thus the late long-drive legend Mike Dunaway described his initial experience at Augusta National Golf Club, home of the Masters, in the 2007 book, Golf Heaven: Insiders Remember Their First Trip to Augusta. While few of us get to play one hole, let alone 54, on the celebrated course from which Rory McIlroy once felt uncomfortable even taking a divot, a number of fortunate Colorado AvidGolfer readers have had the privilege of attending the Masters as patrons.
Their experiences, shared in response to our solicitations, both online and in print, yielded not one weed—no overzealous marshaling, no arrogant members, no "plantation atmosphere" as one sportswriter once grumbled. Yes there are rules—no cell phones, no running or yelling after shots—but those prohibitions are as much a part of Masters lore as green jackets, Butler Cabin and pimento cheese sandwiches.
To a man (no women responded), the tournament and the exquisitely maintained shrine in which it takes place represent the apogee of American golf. Even those who complained about the traffic lauded the free parking spots on a 120-acre field the club purchased on Berckmans Road.
Asked where they stayed, respondents bedded down as far away as Greensboro, NC (254 miles from Augusta) and Atlanta (145), or drove the 76 miles from Columbia or the 20 from Aiken—both in South Carolina. The rest stayed at Augusta motels.
Whether they attended a Monday practice round or 16 tournaments, the home of the "tradition unlike any other" made an impression unlike any other….
What Was the Atmosphere Like?
Like going to the Vatican. It's a cathedral.
–Dan Steiner (16-time patron)
For the size of the crowd, the course felt more like a library or church.
–Charlie Wolf (patron, 1987)
The grounds are very peaceful and surreal, especially early in the morning…seriously feels like paradise. Then, as the patrons fill the stands and greens/tees, it's almost like everyone knows it's a special place and no one is taking it for granted. People's attentions are laser focused on golf. There is no tomfoolery. The exact opposite of an NFL game, yet twice the fun.
–David Bundy (patron, 2010, 2012-15)
It is greatest sporting event or any event for that matter. I have been to Super Bowl, World Series, NCAA national championships in basketball, football and baseball and nothing compares. You must go and pay whatever price you need to get in.
—John Walker (patron, 2016)
Everyone (patrons, workers, officials) has a smile. From the patron's perspective, everything is focused on the golf—no visible sponsors, reasonable prices, and the course is contoured to promote visibility and access to seeing the shots.
–Chris Souther (patron, 1984-2016)
They want you watching golf, not standing in line. They staff accordingly  and the low prices for food and beverages let you to keep watching the action. Simply put, Southern charm and accommodation in every aspect.
–Jordan McCormick
(patron, 2013 & 2016)
Augusta National treats everyone like royalty. There is no trash, no dead grass, and even the lines for concessions and restrooms never stop moving. It's the best-run major sporting event in the world.
–Chad Andrus (patron, 2016)
The atmosphere was electric…starting with the drive up Magnolia Lane and the buzz created by crowds knowing that we were all at a very special event.
–Craig Fowler (patron, 2008)
The large, relaxed crowds were very respectful of all the golfers and most wanted to see/walk with the past champions—particularly those would in all likelihood not make the cut and play the weekend.
–Clif Moore (patron, 2009)
Effervescent. More so than the BMW Championship at Cherry Hills and the Solheim Cup at Colorado Golf Club.
–K.D. McHugh (patron, 2016)
What Surprised You?
How hilly the course actually is! TV doesn't do the course justice. Even the climb up from the entrance to No. 1 tee was rather daunting. I was also surprised by how respectful everyone was. No yelling, swearing or mocking the golfers—even though everyone had an adult beverage in hand!
–Ryan Adams, PGA (patron, 2016)
The chute off the 18th tee  is maybe 20 yards wide….incredible!
–Craig Fowler
It's difficult to describe how it feels to be on a property you feel like you know, even if you have never set foot on it before.
–Jordan McCormick
How inexpensive the food and drink were.
–Colin Callahan (patron, 2013)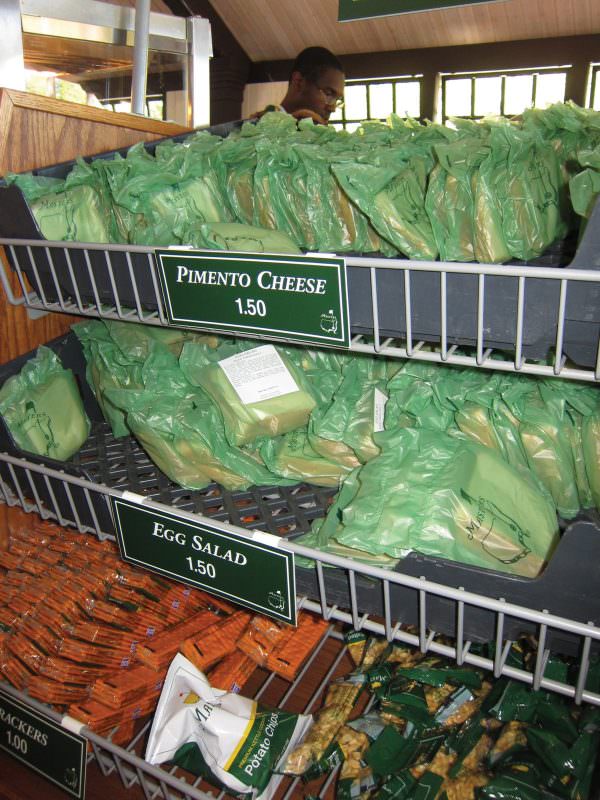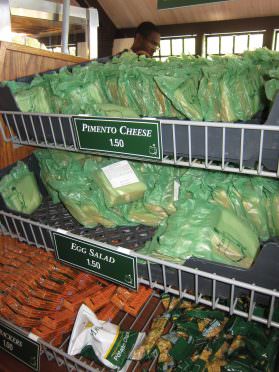 Since everyone is walking out with bags of merchandise for themselves and people back home, you walk out of the tent and there is a UPS station with UPS employees wearing Masters apparel. They box up your merchandise, and the next time you see it is at your destination address. You have to pay for shipping, but if you don't want to carry, you don't have to. That shows the dedication of taking care of the patrons. The Masters committee understands the "once-in-a-lifetime experience," and goes over the top with service. In the restroom, attendants wipe off every toilet after use and before the next person enters the stall.
—Nick Marino (Patron, 2016)
There are no corporate labels on anything, anywhere. They'll tell you what kind of beer or soda or sandwich you're buying but it only has MASTERS in it.
–Chad Andrus
It surprised me the level of dedication the Masters has to providing a good patron experience. Green Jacketed members stand outside and answer questions, give directions, tell stories. I even had one member open a bathroom door for me! This man was probably one of the more powerful and wealthy people on the planet and here he is helping me with a door…simply astonishing.
–David Bundy 
Is there a story you'd like to share about your experience?
My brother and I once walked holes 4, 5 and 6 with Sam Snead. He walked up behind us and actually asked us to join him. He introduced us to (former Arkansas football coach) Frank Broyles who was honorary Masters president that year. He was so nice to us. He died two months later.
–Dan Steiner
I sat in the bleachers last year at Amen Corner and watched Jordan Spieth almost hole his approach on 11. It rolled right past the cup. He missed the putt and bogeyed. As he walked to the 12th tee, the giant scoreboard posted another Danny Willett birdie and Spieth looked over his left shoulder to see it before teeing on 12. Instead of playing it safe he went for the pin in the back right corner and hit it in the water. Then he chunked an easy chip after his drop. He melted down right in front of me. It was painful to watch.    –Chad Andrus
There are no cell phones at Augusta National, but there are complimentary phones you can use to call people by the concession stands. I took that opportunity to call my dad—a fellow lifelong golfer. I told him, "Dad, I made it. I'm at The Masters!" and almost cried. It was something I'll never forget, and I hope to take him one day too.
–Ryan Adams
Being with my Dad on the grounds at Augusta National will be one of my lifetime memories. To see him tear up walking around Amen Corner and talking about all of the players and magnificent shots that have been hit on the course was so special.
–Craig Fowler
In 2012 I played in the Golf Channel AMTour National Championship at TPC Sawgrass. On Day Three I was paired with a nice guy from Atlanta, a redhead like me, and on the final day I was in the group just ahead of him. Coming down the stretch, our group was not threatening the leaderboard so when the beer cart rolled by, I bought two Coors Lights and told the girl that one was for the redhead in the group behind us. In the clubhouse after the round my new friend sat next to me. The first thing out of his mouth was: "Do you want to go to the Masters?" I somehow uttered something that sounded like a yes. The following spring, we flew to Atlanta on Thursday, played 36 holes on Friday and 36 on Saturday at different courses around Atlanta. On Sunday we drove to Augusta, where we purchased special Masters lawn chairs and set them up at Amen Corner. From there we wandered the grounds, knowing that come the afternoon we would have epic seats waiting for us. A friend even saw me on TV when Tiger was teeing off on 12 (I'm the double-fisted one under the rope in the photo above). The moral of the story: always buy someone a beer—you never know what might come of it.
–Colin Callahan
---
This article appears in the April 2017 issue of Colorado AvidGolfer. Subscribe today!
Colorado AvidGolfer is the state's leading resource for golf and the lifestyle that surrounds it, publishing eight issues annually and proudly delivering daily content via coloradoavidgolfer.com. Follow us on Twitter, Facebook and Instagram.