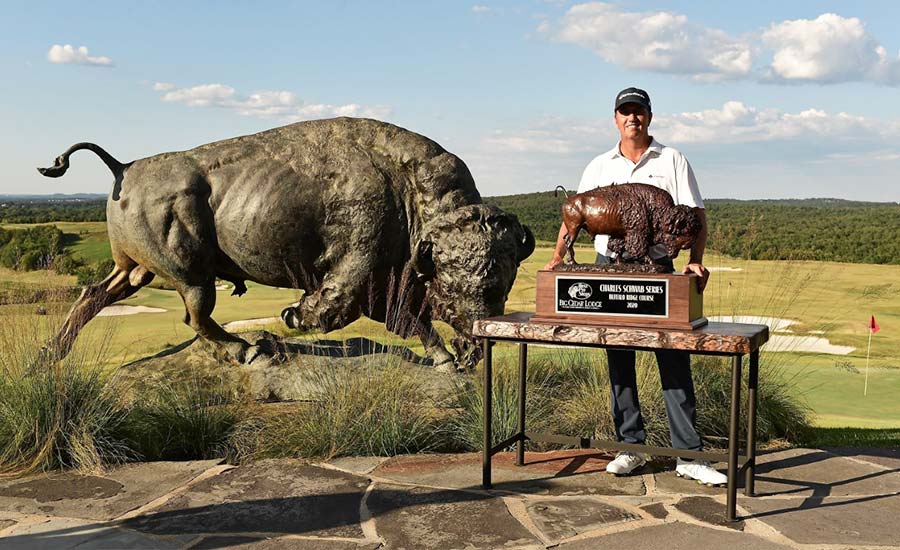 Keeping his emotions in check after losing a sizable lead, the Parker resident outlasts major champions for victory.
Even though Bernhard Langer has won multiple major championships, and Kenny Perry has just missed winning the Masters, U.S. Open and PGA Championships, Shane Bertsch said he wasn't completely uncomfortable playing with the duo in last week's final round of the Champions Tour's Charles Schwab Series at Bass Pro Shops Cedar Ledge.
"They're both real nice guys ad I have small relationships with them…I mean, at least we know who each other are," said Bertsch, the Parker resident who, 25 years after first appearing on the PGA TOUR, hadn't won of the game's biggest events—or any of its weekly run-of-the-mill East-West Big-Little Company sponsored tournaments either. Bertsch did win the 2019 Q-School competition, setting him up for his debut season on the over-50 circuit, but, kind of in keeping with some of the other bad breaks he's endured during his career, the novel coronavirus struck, pushing the schedule back from early spring until July.
Given all that, the bad luck and the lack of comparative pedigree, it almost seemed inevitable that Shane would falter over those final 18 holes in Missouri. Following a pair of 64s, he held a four-shot lead, but while he was holding relatively steady over the front nine, Perry, Langer and Glen Day were going low—soon the lead was gone.
That left Bertsch playing two sports—golf and mental gymnastics—in real time.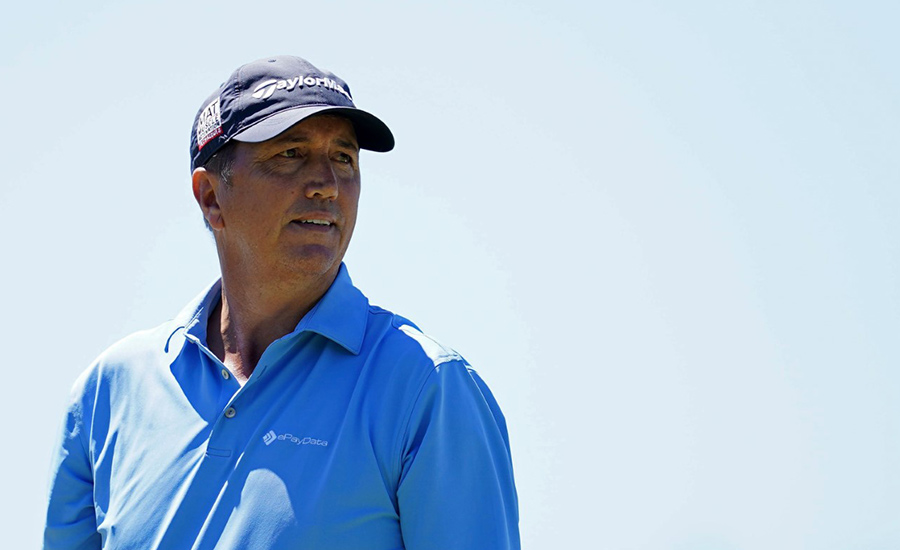 "I was one under through six holes, but I easily could have been three or four under, so I felt like I was leaving shots out there," he said. "And then I hit a bad shot on the eighth hole (which led to the second of back-to-back bogeys) and I was thinking that it was slipping away from me, and then it became a whole new battle of trying to stay composed."
There's a myriad of emotions that have to be navigated over the course of a tournament, with the pressure patched up exponentially during the final rounds. One reason why players who break through for a victory become multiple winners is because they learn the best ways to guide themselves across the finish line. Bertsch hasn't had that advantage; in part because he just hasn't been in position to experience it. He's missed sizable chunks of recent seasons because of injuries (as recently as last month he had knee surgery), depriving him of chances to even climb into the ring to compete—before his win at Q-School, his previous triumph came in an event on the Korn Ferry Tour in 2015.
"I don't think you have to learn how to win again; you've got to learn how to control your emotions, but when you get into certain situations, your body reacts how it reacts, you know?" Bertsch said. "I know how to do it all out there, you've just got to get into that position to let it happen."
One thing Bertsch had going for him was his caddie, Fred Sanders, a Denver resident who ironically worked for years on Perry's bag, guiding him to 17 wins—even so, those two bogeys were the major factors in a one-over-par 72, the single stroke seemingly leaving Bertsch a shot behind Perry at tournament's end.
"If it had all slipped away, it still would have been a great week, right?" he said. "I mean, if you had told me at the start of the week that I'd finish tied for second, I would have taken it and not his a shot. But at the same time, I know it would have been extremely disappointing I knew I was extremely close to winning."
As it turned out, Bertsch got another bite at the apple; Perry had his own issues closing, bogeying his final hole. With it came a four-way playoff, with Bertsch, who had been waylaid by missed putts throughout the round, holing a 20-footer for eagle and the win.
"This is a special one," Bertsch said afterwards. "I've always had a hard time saying what my most special moment in golf is, but without a doubt it was that putt on the first playoff hole."
Bertsch, frustrated by the direction of his career, says he took a job last summer. It's doubtful that the salary matched the $450,000 he earned last week—even more important though was the pride that came with the 85-pound victory trophy.
Indeed, while his first Champions Tour win may pale besides Perry's 11—or Langer's 41—it still unlocked a door and allowed entry into a relatively exclusive club. This week, all those "small relationships" that Bertsch has accumulated with his peers through the years—a nod while crossing paths, a brief chat on the driving range—have become something else entirely.
"People whom I've known just by playing in the same tournaments with them—I mean, I barely know them—but now…David Frost came up to me like we've been best friends forever. John Cook was the same way; Jeff Sluman…everybody's just been incredible and I've gotten so much support out here."
Unfortunately, Bertsch isn't much time to savor the win. Because of the pandemic-altered schedule, the Champions Tour's next event, the Charles Schwab Series at Ozark National, just about a mile or so from the previous tournament, began on Monday. And while he entered play as the previous week's champ, much of the spotlight was shining on another rookie on the tour—Phil Mickelson.
While Lefty was carving up the Ozarks National Golf Course, shooting an opening round 10-under-par 61, Bertsch had to make due with a 1-0ver 72. While the combination may curtail any chance at back-to-back wins, Bertsch is confident that it won't be another five years before he's back in the winner's circle, reaffirming—even at age 50—his place in golf.
"I feel like I, finally, after 30 years, I finally earned some respect in this game—that what this feels like," Bertsch said.
---
For more of the latest Colorado golf news, visit our NEWS & PROFILES PAGE.
Colorado AvidGolfer Magazine is the state's leading resource for golf and the lifestyle that surrounds it. CAG publishes eight issues annually and delivers daily content via coloradoavidgolfer.com.