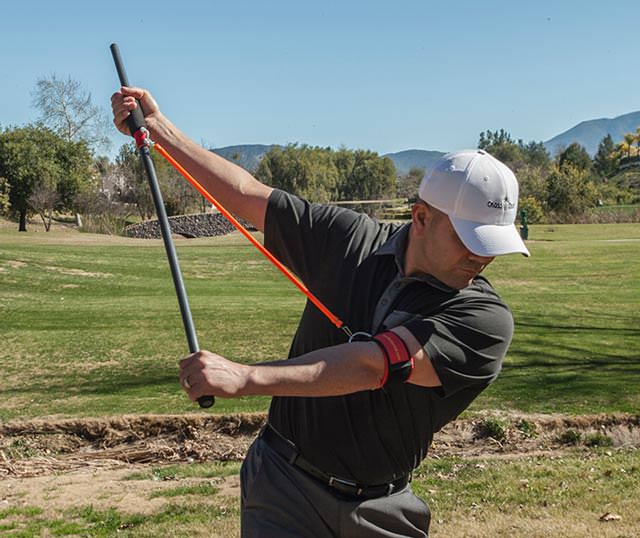 When he was 12 years old, Bernie Fay broke his left humerus, the bone that connects the shoulder to the elbow (or is it the other way round?) during a wrestling bout with a buddy. Decades on, the compound spiral dislocation caused significant arthritis, and the man who had become an avid golfer, getting in 100 or more rounds a year, was unable to complete his backswing without a good deal of pain.
Currently the building engineer at the Presence Resurrection Medical Center in Norwood Park, 15 miles northwest of downtown Chicago, Fay worked as a newspaper journalist, TV reporter, housebuilder, and business owner in previous lives. He is also an accomplished carpenter (his youtube video showing how to build a Celtic toy chest has almost 130,000 views), tinkering around in his garage whenever he's not at his day job or on the golf course.
About a year ago, Fay was in his garage stretching his left arm when he spotted a bungee cord on a work bench. Ever the inquisitive experimenter, he tied the cord to his elbow and started pulling it up and away from his body. "It was a fantastic stretch," he says. "And I soon began thinking about how to develop what I just discovered into a better functioning system of stretching and turning."

After a dozen trips to the hardware store and numerous purchases of stretch cords and other parts from the internet, Fay created a rather unsightly prototype. "It consisted of PVC pipe and surgical tubing with a load of awkward nuts and bolts," he says. "It was very ugly, but it worked!"
Just a few weeks later, Fay was swinging with minimal pain and had extended the length of his backswing considerably. He continued tweaking the design, and a few months after his eureka moment in his garage, he applied for a patent. Shortly after that, Fay began showing it around, and a local PGA professional told him it was a perfect tool for students looking to establish an in-to-in swingpath. Turns out Fay's invention could be used as a swing trainer as well as an exercise/stretching tool.
The rest, he says, is history.
Fay officially launched the product, which he called the 'Most Important Stretch in Golf', or MISIG, at the PGA Merchandise Show in January when the Golf Channel's Lauren Thompson named it her favorite product of the show. A number of teaching professionals have since added their testimonial including highly acclaimed instructor and author of the book 'The Final Missing Piece of Ben Hogan's Secret Puzzle' VJ Trolio who appears on three videos on the MISIG web site explaining how it benefits certain golfers. Fourteen-time PGA Tour winner Hal Sutton also speaks glowingly. "As we age, anything that helps us loosen up is a great benefit," he says. "The MISIG does it well. It really is a great device."
Sutton is just one of the 36 PGA, LPGA, and Champions Tour players Fay says is using the MISIG, which helps golfers maintain a relatively straight left arm (for right-handed golfers), hinge the wrists correctly, swing back on the inside, and improve their range of motion.
For all the positive feedback he has received, however, it is perhaps Fay himself who can attest to the product's efficacy the best. "I was a 25 handicap before I started using my own device, and now I am a 15," he says. "That's a pretty big improvement in just a few months."
More info: feelthestretch.com; $80
Colorado AvidGolfer is the state's leading resource for golf and the lifestyle that surrounds it. It publishes eight issues annually and proudly delivers daily content via coloradoavidgolfer.com.