Six significant upgrades give signature models new life.
By Isaac Bouchard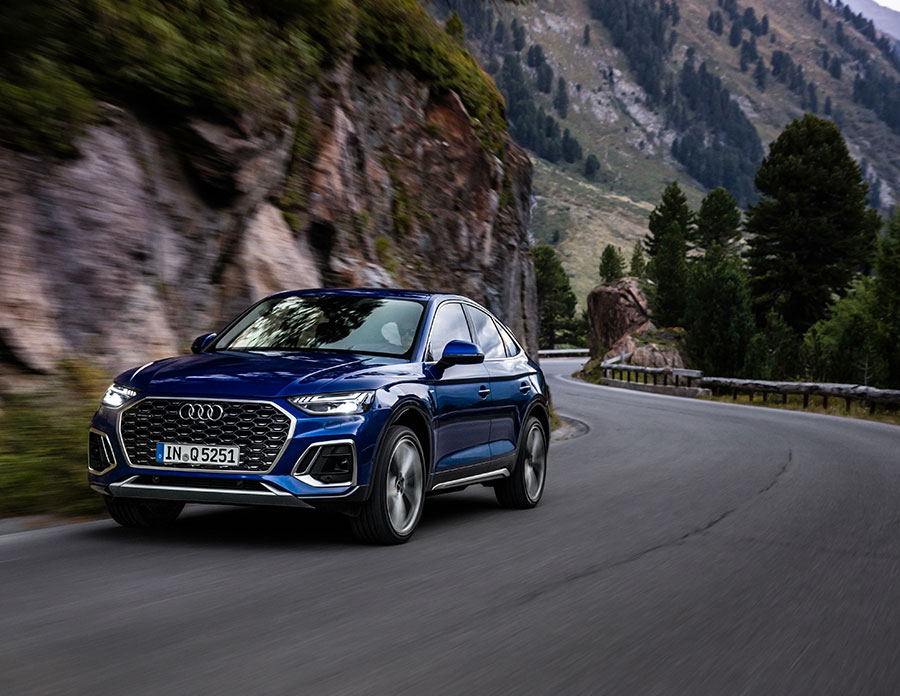 2021 AUDI SQ5 SPORTBACK
EPA RATINGS: 18/24/20 MPG 0-60MPH: 5.1 SEC
PRICE AS TESTED: $66,640
Audi has done a great job preserving most of the qualities that made the first gen SQ5 so wonderful. It was restrained yet expensive looking, had a beautiful interior and was fun to drive. The highlight was a sledgehammer V6 engine, which had to go, due to Euro emissions laws. It's been replaced by a turbocharged six with outputs of 354hp/369lb-ft, which now pairs with a conventional 8-speed automatic instead of the previous, twin-clutch gearbox.
While some character has been lost, this newer SQ5 rides significantly better, is slightly more refined and has tech that is much more contemporary, including Audi's slick VirtualCock- pit instrument display. The SQ5 is now available with a normal crossover body or in a coupe-like silhouette called Sportback, for those who wish to stand out a bit more.
Both offer high quality interiors in the traditional Audi fashion with comfortable, diamond-stitched seating and decent cargo capacity. The driving position and overall driving demeanor are more that of a tall wagon than an old-fashioned SUV.
This is not a bad thing, for it means less hobby-horse body motions and better reflexes. While not as ferociously fast as an BMW X3 M40i or Mercedes AMG GLC43, the Audi seems a bit more solid in construction quality, and its price point is reasonable considering its practicality and performance.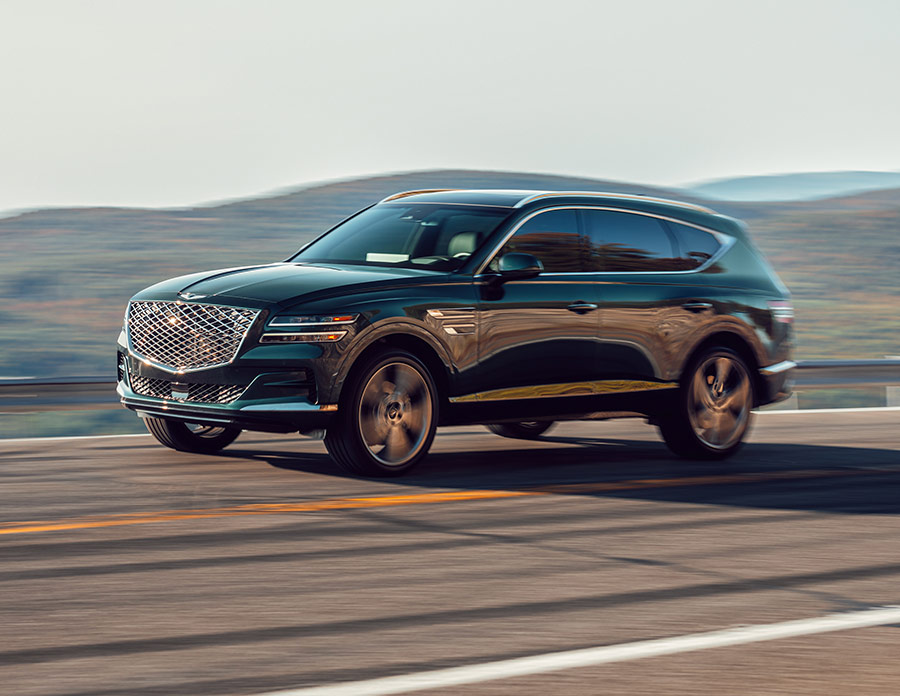 2021 GENESIS GV80
EPA Ratings: 18/23/20 mpg 0-60mph: 5.3sec
Price as tested: $66,475
A late arrival to a fancy ball needs to be able to make an entrance, and the GV80 certainly does. The Genesis looks like nothing else on the road; its giant, "shield" grill, Oreo Double Stuff lighting motif and sloping side profile are unique.
While that extrovert body may not be to everyone's taste, it is hard to imagine anyone finding fault with the stunning cockpit. There is a wonderful cohesiveness that pervades it. A great example is the knurled finish for the control like the temperature adjusters and light and wiper stalks, which is echoed right down to the "dead pedal" tread design, where you can rest your left foot. Especially when trimmed in what Genesis calls Ultra- marine and Dune (blue and tan), the GV80's interior is stunning, and shames anything near the price.
The GV80 third row is part-time only, the norm for this size of crossover. Genesis tech is generally intuitive and fast and the center 14.5in screen is impressive. The top model, Advanced+, has all the driver aids one expects, though they don't operate with quite the polish of the more established class leaders. That goes for the way the GV80 drives, too. While smooth and refined, the combo of 3.5-liter, 375hp V6 engine and in-house 8-speed auto never generate the performance numbers nor fuel economy of a BMW X5.
Overall, the GV80's adjustable suspension is quite good—albeit a little pattery over broken tarmac. It's as quiet as a Bentley at highway speeds, and the gentle massage the seats serve up goes well with the soothing sounds from the Lexicon audio system. The GV80 is more than a hell of a first effort at a larger SUV; it is a full-fledged competitor to the most established premium vehicles avail- able in its class as well as being a singular aesthetical statement.
2021 CADILLAC ESCALADE
EPA RATINGS: 14/19/16 MPG 0-60MPH: 5.9SEC
PRICE AS TESTED: $113,065
Each generation of Escalade has been defined to a large extent by the platform upon which it is built, one which also underpins the Chevrolet Tahoe and Suburban and various GMC SUVs. This latest Cadillac iteration is the most distinct yet from those relatives and is a worthy challenger to the best from Europe (and simply crushes those from Asia). Now that the Escalade's suspension is independent all around, it has second and third rows as commodious as its huge body would imply.
It is smoother overall than the Mercedes GLS, and about the only thing that can match its
ability to insulate occupants from the nastiness passing beneath its huge, 22-inch wheels is the BMW X7. In fact, over certain types of bumps the Cadillac's combination of magnetic damping and adaptive air springs does even better. Powertrain wise, the Escalade has more than enough thrust to hustle. But lacking turbos, the American never can pin occupants back into their supple chairs like the big Autobahn burners.
Best of all, the Escalade no longer embarrasses itself with inferior interior materials or lack of user-friendly, modern tech. Its commodious cockpit is swathed in the same level of hide and timber as those it jousts against, and it appears assembled to at least the same high standard. The CUE infotainment system now matches BMW's iDrive system for speed, ease of use and breadth of ability, and is much more intuitive than that in the Mercedes.
The Cadillac has the better-looking displays too, hosted in a stunning, curved sweep across the leather-covered dash. Comprised of three OLED screens, which combined have 38 inches of real estate, boasting gorgeous graphics and logical menus. The sound system comes in either 19- or 36-speaker flavors. While excellent, it is no better in terms of tonal accuracy than the ones in a BMW or Benz. Most driver aids are standard, and Cadillac's Super Cruise option is available. It is highly recommended, as it allows for true, hands-free driving on the highway, making long-distance travel significantly less taxing than the systems from the European companies. It is hard not to want Super Cruise or its equivalent in every vehicle.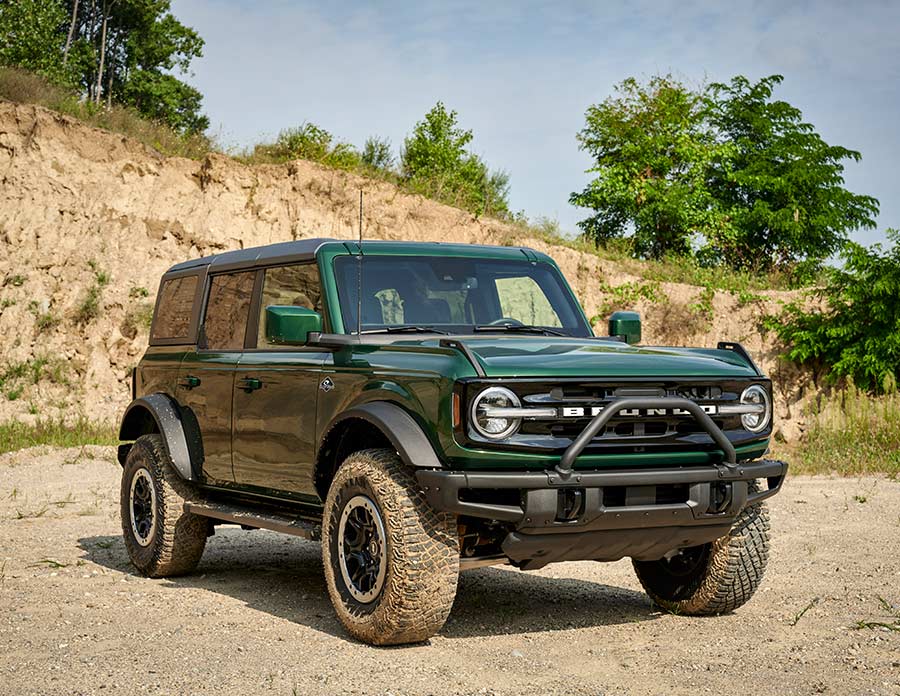 2021 FORD BRONCO
EPA RATINGS: 14/19/16 MPG 0-60MPH: 6.8SEC (EST) PRICE AS TESTED: $62,605
No recent vehicle has generated more excitement—or preorders—over the past year than the Bronco. The weight of expectations is huge, and by and large the Ford lives up to them. About the only missteps appear to be the kind of quality-related lapses that often affect the company's new releases. Those aside, we have a valid competitor to the Jeep Wrangler, which has become one of the best-selling vehicles in the US. The Bronco has the look down—at least when equipped with the 32- or 35-inch tires and off-road suspension that are available on all trim levels. Broncos can be had with either 300hp, 4-cylinder or 330hp, 6-cylinder, turbocharged engines; the one to have here is the six; hooked to a 10-speed auto, it scoots the "Big" Bronco along with aplomb. A 7-speed manual is optional with the four on lower trim levels.
The Ford has an independent front suspension, unlike the live-axle equipped Wrangler, and this pays off in greater steering precision and better on-pavement handling. In the dirt or mud, the Bronco is the real deal as well; available locking diffs, a front antisway bar that can be disconnected, beadlock wheels and other hardware insure it is the driver who will be responsible for getting stuck, not the SUV itself. And there are all kinds of slick electronic aids to help insure even first- time rock crawlers acquit themselves well.
The Bronco is available in 2- and 4-door trim, with soft or hard tops (though there is no power sliding roof option like the Jeep) and all doors can be removed. Unlike the Wrangler, the Ford's windows are frameless, and while this makes it possible to store them onboard, it creates extra wind noise when they are rolled up. They also tend to snag on their weather stripping—not a good sign for long-term durability. The interior can be spec'd to be almost completely weather-proof.
Although the top models have cheap plastic placed in highly visible places, real thought has gone into design and functionality. The smart- phone and camera holders are built into the dash top, slick graphics for an optional 12-inch infotainment screen and other details delight. Those who sit up front are well looked after; the 4-door has a wider back seat and 50 percent more cargo room, but even the 2-door has adequate space. It is truly wonderful to see a real rival to the Jeep (and Land Rover Defender) emerge into what we used to call the "recreational" vehicle market.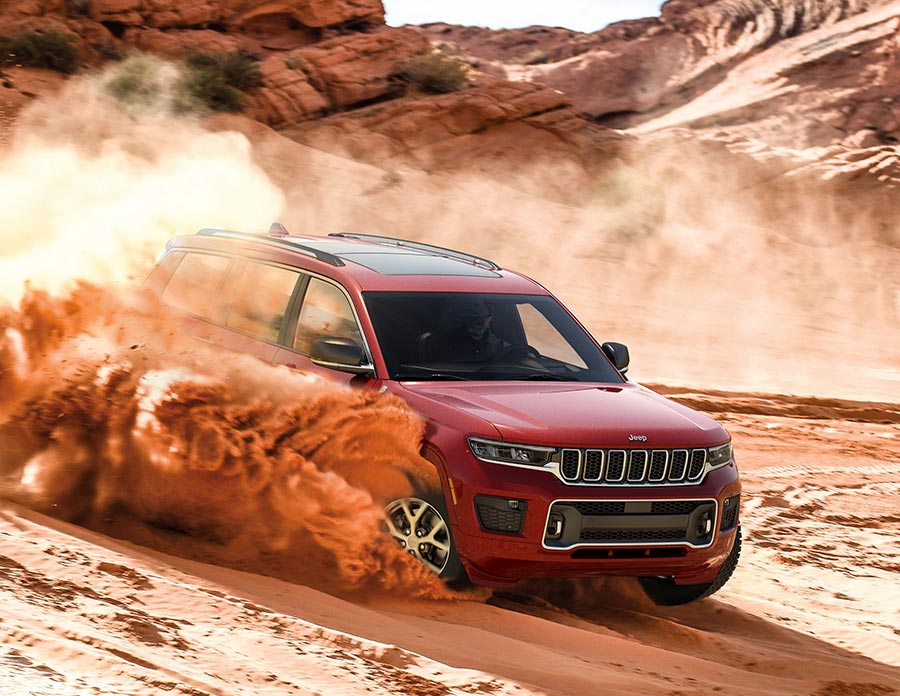 2021 JEEP GRAND CHEROKEE L
EPA RATINGS: 14/19/16 MPG 0-60MPH: 6.3SEC (EST) PRICE AS TESTED: $67,210
A decade has passed since there was an all- new Grand Cherokee. The outgoing model was respected for its interior quality, which was higher than any domestic competitor, and for the way it drove. Based on a Mercedes platform, it had excellent ride and handling. Jeep has doubled down with the new one, literally: a long-wheelbase, 3-row model, dubbed simply L, to go with the standard model.
This Grand Cherokee very clean stylistically, with a long, flat hood and bluff front that emphasize that it is 15 inches longer than the older model. It has real elegance and presence in person—at least in higher trims like Overland and Summit Reserve. Inside it's the same story: material quality is generally appropriate to the Jeep's mission to be a true premium SUV and the aesthetic is modern yet not too trendy. Instruments are configurable on a 10.1in screen and the center screen that runs UConnect5's excellent software is upgradable from 8.4 to 10 inches a well. The midlevel Alpine sound system is all most will ever need, but sound hounds can spring for the 19-speaker system from legendary audiophile company McIntosh.
Equipped with the correct options, the Grand Cherokee also has real off-road chops, a critical part of the brand's heritage and not just market- ing-speak. This is especially true if you go with the air suspension (Overland and above) or off-road package. In the normal cut n' thrust, the Grand Cherokee is quieter, more refined, rides better and handles better than its already good forebear. The V6 and V8 engines are basically carryovers, as is the 8-speed tranny. The GC can tow up to 7,200 pounds, which is rare in the class, though sadly there is no factory trailer brake controller. Jeep has carved out a great space for itself in consumer consciousness, being upscale but unpretentious, premium but capable. This Grand Cherokee looks perfectly calibrated to enhance those traits.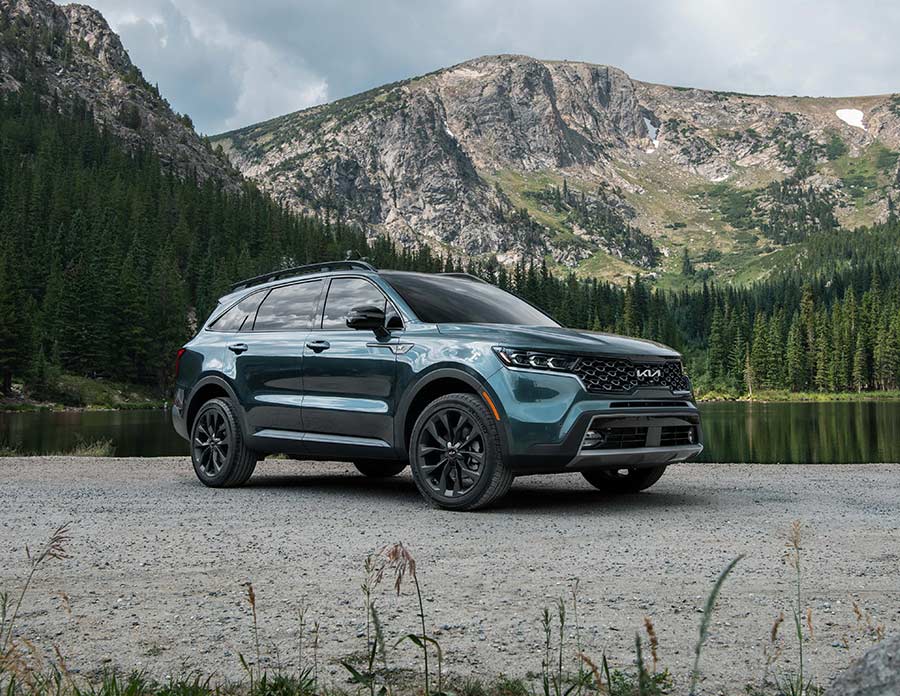 2021 KIA SORENTO X-LINE
EPA RATINGS: 21/28/24 MPG 0-60MPH: 7.6SEC
PRICE AS TESTED: $44,285
Kia has been on quite a run, gaining sales and growing market share. Its vehicles are reliable, well-built and generally loaded with standard equipment. With the Telluride, Kia reached a new audience and created a true, halo product. The Sorento, redone last year, slots in neatly below it, and offers some compelling attributes.
For one, it looks sharp, with contemporary lines, good proportions and clever detailing, especially in the X-Line trim, whose matte gray wheels and roof rack grant it an aggressive mien. The interior impresses the first time you open the doors, with boldly conceived forms and varied finishes. The big screens (10.25 and 12.3 inches) have bright, clear graphics and the intuitive UVO infotainment software outdoes Honda and Toyota. The Sorento is priced like a loaded Toyota RAV4, but has an available third row—good for kids only on short hops—and center-row bucket seats that promise more than they deliver. When not in use, these rows fold to reveal a capacious cargo area. No criticisms apply to the front seats, which cater well to driver and right- side passenger. While the Sorento X-Line looks sporty, it doesn't drive that way. Its 2.5-liter turbo generates an impressive 281hp/311lb-ft, which makes it much quicker than the non-turbo Toyota or Honda, whose engine is only 1.5 liters in size. But the tranny seems confused at times, making progress a bit less refined than it could be. The Sorento's ride quality is on par with RAV4. The handling just needs better damping, as it sometimes gives up control of the wheels' motions when pushed. Its closest competitor might be a superb Mazda CX-9.
Automotive Editor Isaac Bouchard owns Denver-based Bespoke Autos ([email protected]; 303-475-1462). Read more of his automotive writing, reviews and recommendations on coloradoavidgolfer.com and bespokeautos.com.
---
This article was also featured in the Fall 2021 Issue of Colorado AvidGolfer.
Colorado AvidGolfer is the state's leading resource for golf and the lifestyle that surrounds it, publishing eight issues annually and proudly delivering daily content via coloradoavidgolfer.com.