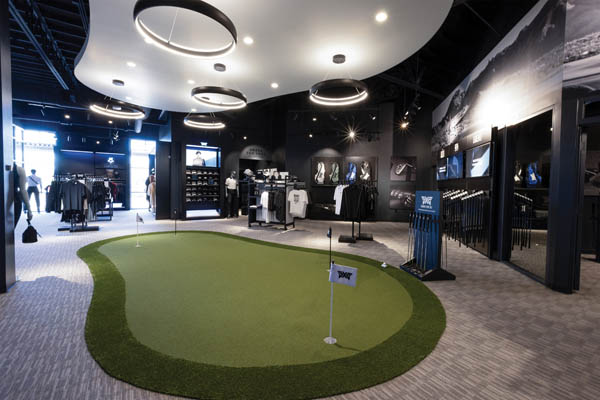 PXG founder BOB PARSONS, the ultimate change agent and the "barking baritone" behind that TV ad blitz, has staked a Colorado claim for his high-flying brand.
By Andy Bigford
PXG admits it might be the "most misunderstood" company in golf. After all, it launched in 2014 with a product line targeting the 1 percenters and now makes its cutting-edge technology affordable to most any golfer—all while maintaining that high-end mystique. Misunderstood or not, the result has been a meteoric ascent, with the company dramatically expanding market share and suddenly finding itself in the uppermost tier of clubmakers in North American sales. To quote the unforgettable "barking baritone" in its TV ads: "Kaboom baby."
Now PXG's spokesman, founder and resident baritone, Bob Parsons has brought his ever-evolving brand to Colorado. "Hello Denver," the serial entrepreneur croons, as he now rides herd on yet another explosive-growth startup.
PXG (Parsons Xtreme Golf) opened a state-of-the-art, 7,200-square-foot brickand- mortar store earlier this summer in Centennial, recognizing the Front Range's rapid growth and Colorado's position as a top 20 market by golf population. The establishment's layout echoes the clean lines of an Apple Store, but here the products aren't tethered by cables—they are meant to be swung at 100 mph in one of three spacious, state-of-the-art fitting bays. (Or, in the case of the smartly merchandised PXG Apparel, tried on in fitting rooms sans Trackman.)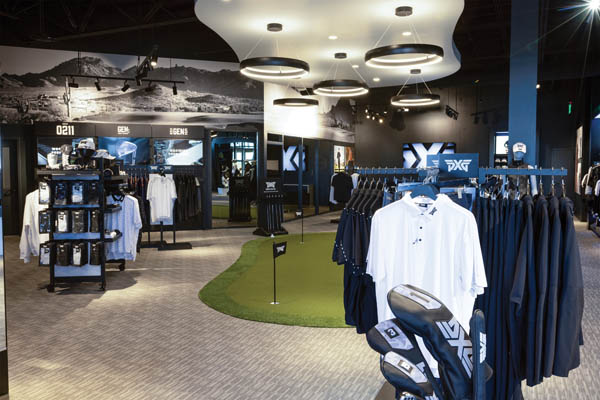 This is PXG's 16th such outlet in what is planned to be an ambitious, 100-store nationwide footprint in five years. Unlike the competition, PXG from inception has been Direct-to-Consumer (DTC), dealing one-on-one with its customers while eschewing the tried-and-true retail network (along with its middleman markups and pricing constraints).
PXG's robust sales start with research and development but are driven by that ubiquitous TV campaign starring the founder's deep, unforgettable voice; fed by club-fitting demos around the state and country; and then fulfilled mostly through the PXG website or by phone. The fluid website pricing can be chaotic and confusing, but now Colorado golfers can sort it all out at the PXG store—and get a uniquely personalized fitting experience where the staff focuses on just one brand, rather than eight or 10 at competing golf shops.
Since its opening, PXG's busy Centennial store has seen a roughly even split between those happy to fork over the big bucks for the latest Gen 5 technology and those seeking affordability. Released in the spring, Gen 5 is perhaps PXG's most significant iron advancement, with its five-times-forged models longer and more forgiving (both in design and data). Though you can still spend $5,599 on the Gen 5 crown jewel—the full-bag 0311 Black Label Elite—you also can buy an array of PXGs at prices that are comparable, or even less, than the competition. That ranges from clubs used on the professional tours down to an impressive starter kit, the 0211 Z ($795 for a six-iron set; still sleek and sexy, but cast rather than forged; $1,695 for the full bag). With the launch of Gen 5 clubs, prices on the previous generation hardware immediately fell, with Gen 4 initially going to $249 a club and Gen 3 selling for $129.
PLAYING THROUGH THE PANDEMIC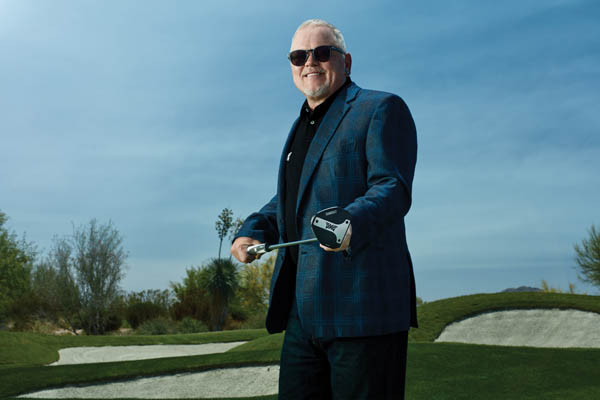 PXG was riding impressive growth even before Covid, which dramatically boosted most all outdoor gear companies but was absolute rocket fuel for PXG.
In the Covid spring of 2020, while the rest of the corporate world shut down, laid off workers, and stopped ordering supplies, PXG went the opposite way, stockpiling components for assembly in its Scottsdale factory ("Made in the USA"). Parsons smartly doubled down on the belief that outdoor activity would soon boom. If he wasn't the only CEO in the outdoor business who did this (think of all those toys you still can't readily find, from bikes to kayaks and from to skis to flyrods), he was certainly among the few who hit a power draw when everyone else faded. "I'm always an optimist," Parsons explains. Leela Brennan, PXG's vice president for brand communications and engagement, puts it another way: "Isn't that what warehouses are for?"
There's no one less patient than a golfer awaiting the arrival of new, game-changing clubs. That anticipation has been mind-numbingly painful during the pandemic, as delivery times often increased from what used to be 10 or 14 days to two, three or four months—or even longer. Meanwhile, there's this succinct message screaming from the top of PXG's web site: "WE SHIP IN A WEEK OR LESS. Other companies are experiencing massive shipping delays. Not us."
Boosting sales even further was PXG's escalating deployment of a multi-price strategy that seemingly overnight appealed to the entire spectrum of golfer demographics. "That was my intention all along," Parsons tells Colorado AvidGolfer (the pandemic just sped things up). When the brand launched, Parsons explains, PXG needed to recoup its massive R&D investment, and the lofty pricing also gave it status as golfdom's Lamborghini. With manufacturing volume and economies of scale increasing, prices go down, even in the face of record-setting inflation, fulfilling Parsons' ultimate goal.
"We wanted everyone to experience our technology," he says. This explains how that guy in your foursome—the one who hordes scuffed Top Flites, won't press a $2 Nassau and tips with loose change—suddenly showed up on the first tee with a gleaming set of PXGs.
PARADOXICAL PARSONS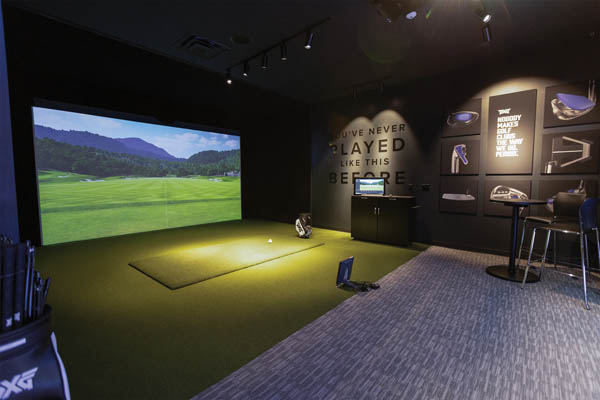 Billionaire founder Parsons is a Harley-riding ex-Marine and inspirational philanthropist with a brilliant knack for turning startups into big paydays; today his parent company Yam Worldwide Inc. oversees some 15 businesses. Parsons' spicy GoDaddy.com TV ads super-sized the domain name provider in the postdot.com bust of the late 1990s, and his Parsons Technology information services software firm first soared following the stock market crash of the late 1980s (sensing a trend here?). Always a golf gear geek as an ascending tech executive in Iowa, he would beg credentials from his club pro to attend the trade-only PGA Merchandise Show in Orlando each January, ogling the new-fangled goods and dreaming of his next move.
In 2014, he made it happen: Parsons gave his engineering team, led by ex-Ping design wizards Brad Schweigert and Mike Nicolette, a "blank check," instructing them to come back when they had something that was clearly better than the competition. The result was eye-catching for its looks and performance (sleek like a blade, forgiving like a cavity back), and coffee-spitting for its price.
Parsons is a complex leader, intensely patriotic (company Zoom meetings start with the singing of the national anthem) and staunchly conservative on many issues, yet socially progressive and decidedly inclusive. His PXG for Heroes program, offering substantial discounts for active military, veterans and first responders, has been strongly received. (The Purple Heart-wearing Vietnam vet bared his own raw emotions on his decades-long struggle with PTSD in a widely viewed video.) Parsons didn't mandate vaccines for his PXG employees, but encouraged them with $1,000 bonuses, and his brand relentlessly supports women's golf and LGBTQ causes.
He rules his 36-hole, national-membership Scottsdale National Golf Club, which doubles as the flagship fitting hub for PXG, as a benevolent dictator. After spending some $250 million on 200 adjacent acres to create the acclaimed "The Other" course (plus the incomparable Bad Little Nine par 3), and then building a second, sleek clubhouse, he raised the initiation to $500,000, with annual dues running $75,000. Parsons wants Scottsdale National to be the "Augusta of the Southwest," and members say the experience—including practice facilities and a level of service that are arguably unrivaled—is worth every penny.
While Parsons, a CPA by trade, employs dozens of accountants and analysts to track and forecast performance and trends, he loathes budgets. "Rather than work to achieve goals, we work to be better," he says. With PXG privately held, Parsons is usually mum on benchmarks like annual revenue, unit sales and market share. Because it's DTC, PXG's retail sales are not point-of-sale tracked or publicly reported like those of the competition.
But on an SI Podcast, "The 19th Hole with Michael Williams," Parsons recently let slip that in comparing PXG sales to the competitors' reported figures, PXG had moved up into the rarefied air of the top three, just below heavyweights Callaway and TaylorMade (Parsons will say no more on the numbers, and probably regrets the revelation: it could detract from the daily focus of "getting better").
Consider this. Despite being birthed by the world's most valuable sports brand and fronted by Tiger Woods and Rory McIlroy, Nike Golf never saw its now-defunct clubs even sniff the top five (the swoosh still sells tons of golf shoes and apparel). Meanwhile, PXG has zoomed past legendary brands like Ping, Titleist, Cobra, Cleveland, Mizuno and Srixon.
"Our whole take (at PXG) is absolutely different," explains Mike Sherman, the affable, Denver-based PXG territory leader who toiled for Nike Golf for 15 years before joining PXG in 2019. "We are in front of our customers. Now, people can come to us. That makes us better."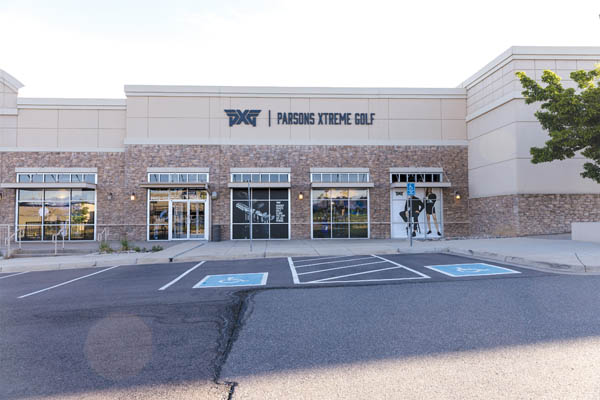 With its expanding retail network, PXG is now less reliant (and focused) on the custom club fitters who helped put it on the map. At the top of that list is Dan Sueltz, whose acclaimed D'Lance Golf in Englewood was an early, vocal supporter of PXG, promoting, fitting and selling thousands of the company's clubs. D'Lance still handles PXG, but the club fitter is far from a priority, which means it gets less fitting inventory and faces longer delivery windows. This has been heartbreaking and frustrating for Sueltz, who is a PXG true believer, but he thinks the clubs are "so darn good" that he plans to ride it out. Meanwhile, PXG is maintaining its robust relationship with the big fish in nationwide fitting, Club Champion.
Another ticklish PXG issue has been assuaging early customers who paid full price for a set, only to see the cost drop when the next generation technology launched. Many of those affected took it in stride, happily buying another, more affordable set for that vacation home. As for the others, PXG's Brennan says, "We always take care of our customers."
Just as Parsons foresaw the pandemic-driven golf boom, back in the spring he was already prepared for the inevitable post-Covid slowdown in outdoor activity.
The outlook has only darkened since, with generational inflation and mounting fear of recession.
Perhaps PXG's greatest asset is its ability to pivot quickly, particularly with the DTC model; to be agile and opportunistic. Golf industry veterans dismissed PXG as a flash-in-the-pan folly when it launched, and now they are agog at the enormous investment and risk Parsons is taking on with the five-year, 100-storefront retail expansion plan. But the founder has more than ample financial resources, and it's not really about the money, anyway. It's about "getting better." Which, if the scorecard-to-date is any indicator, tends to take care of the money, too.
CAG Contributor Andy Bigford previously wrote about PXG and Scottsdale National in the August/September 2017 issue. He says—only half-jokingly—his greatest accomplishment in golf is having a friend who was a member at Bob Parsons' Scottsdale National and invited him to play there every winter.
---
This article can also be found in the August/September Issue of Colorado AvidGolfer.
Colorado AvidGolfer is the state's leading resource for golf and the lifestyle that surrounds it, publishing eight issues annually and proudly delivering daily content via coloradoavidgolfer.com.