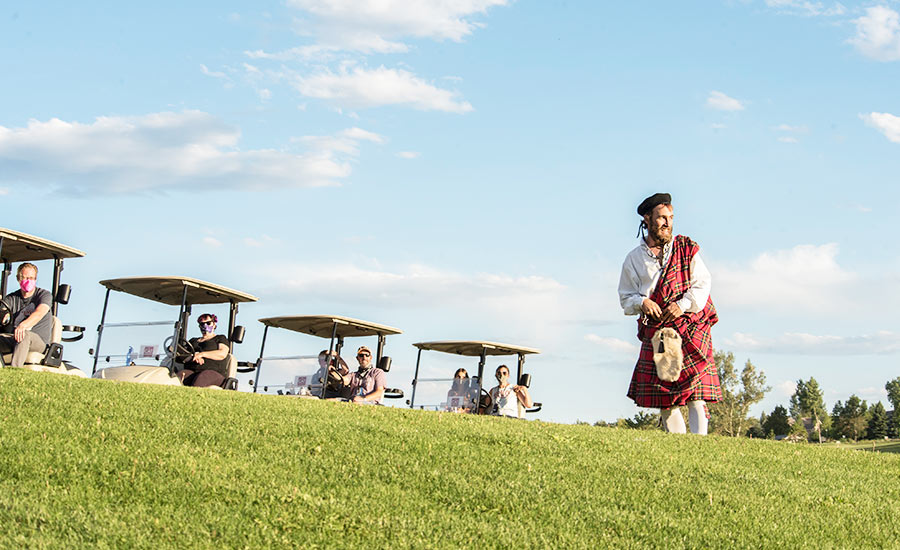 The latest collaboration between the City of Westminster and Boulder theater troupe The Catamounts takes place at Legacy Ridge Golf Course.
Golf has experienced something of a renaissance in 2020, in large part because the sport, with open air and natural social distancing, was—and is—one of the activities least affected by the novel coronavirus. Both nationally and in Colorado, courses are scrambling to keep up with the demand, with many venues setting daily, weekly and monthly records for rounds played.
The same can't be said for theater, where gathering large numbers of people in enclosed spaces was a non-starter from the onset of the pandemic.  The impact has been massive—and depressing, both for lovers of the arts as well as the bottom line. According to the state arts agency, Colorado Creative Industries, more than 31,000 jobs and $800 million in sales revenue has been lost.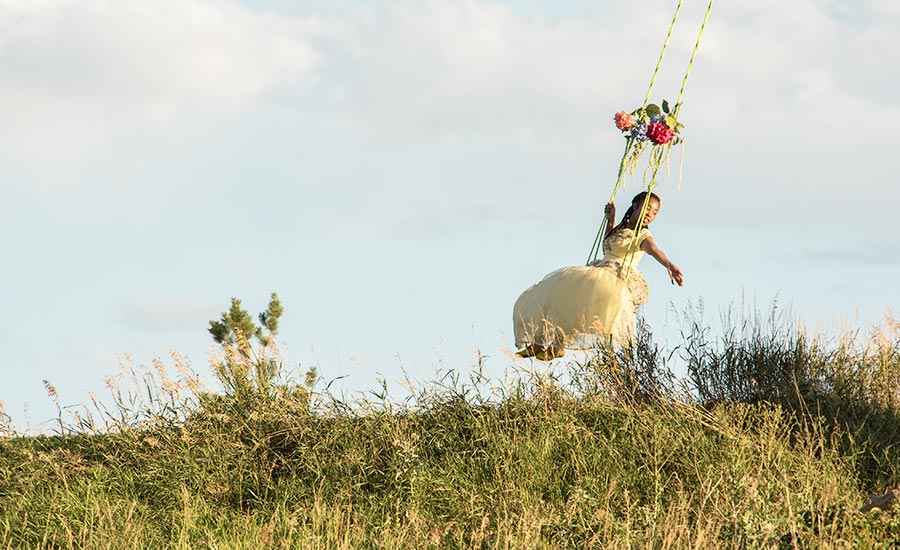 One of the few glimmers of theatrical success amid the gloom has come from a collaboration between performance art…and golf. "The Rough," presented by Boulder theatrical troupe The Catamounts, is described as an immersive comic romp, which explores " the journey of the old ball and stick." Presented in partnership with the city of Westminster, the play has been performed before sold-out crowds at Legacy Ridge Golf Course.
Of course, in the time of COVID-19, "sold out crowds" takes on a bit of a different meaning. In this case, the audience at each performance of The Rough is no more than 16 people, a maximum of two per golf cart. In addition, all audience members are required to wear masks for the duration of the show and must stay in their carts, which (along with all audio equipment) are sanitized between performances. The eight carts are socially-distanced from the performers, who are either acting solo or in scenes with a member of their household.
"The city came to us and asked if we maybe wanted to use a course as a spot to put on a play," said Amanda Berg Wilson, the Catamounts' Artistic Director and Co-Founder. "Golf courses have been one of the few open spaces where the public has been able to gather and continue interacting with each other…I think (city officials) get that Legacy Ridge, which is a beautiful course, is a public asset that could be shared with a group that maybe is a little broader than just folks who play golf."
Of course, along with the pandemic, America is also currently facing questions of inclusiveness. The Rough is no exception; dealing with issues much larger than whether or not a city-owned and operated golf course indeed only belongs to the people who play it. Golf, of course, has had its own long and troubling history with regards to gender and racial diversity and who gets to play and where. Berg Wilson said The Catamounts wanted to acknowledge that, as well as not be "tone deaf" to the current environment, so after agreeing to stage the production, they worked on how to best address those issues.
"We cooked this piece up really quickly, and we did so on the weekend that the protests were really spreading, very quickly, very urgently, across the country," she said. "We weren't addressing that explicitly, but we also want to address the fact that this ancient, wonderful game, that engages us with nature and should be available to all of us, does have history of excluding populations."
A little more than a year ago, Westminster and The Catamounts collaborated on another project, "The Last Apple Tree," another immersive experience that took place at the Semper Farm, which houses a community garden in the city. It was the success of that production—as well as frustration over losing so much of its arts to COVID-19—that led to city officials reaching out for another go.
"We wanted something that could keep people engaged, because you can only go through your Netflix catalogue so many times," said Rich Neumann, Westminster's Cultural Affairs Administrator. "There's no live music, or live theater—people have been starving for this. We've already extended the run twice and there's a waiting list of more than 70 people who want to come and see it."
Which kind of sounds like all those tee sheets filling up at Legacy Ridge and courses throughout Colorado. Despite the buzz around the play, The Rough will end it's run in mid-September, in part, Neumann says, because of the demand to use the land to, you know, actually play golf.
"The play begins at twilight and it's actually dark when it ends, so we're not really losing a lot of tee times," he said. "But that's why it would be difficult to continue beyond that date, because it's getting dark earlier and it would start eating into them. It's been a wonderful run, and it was very gracious of the course to open up and allow us to do this, but we also have to be mindful of the demands of our golfers."
Neumann says another aspect of the project is an attempt by Westminster to "demystify" golf; that by bringing non-golfers out to the city's courses for things like drive-in movies or adult Easter egg hunts, they'll perhaps decide to return to Legacy Ridge and the Walnut Creek Golf Preserve—this time as new players.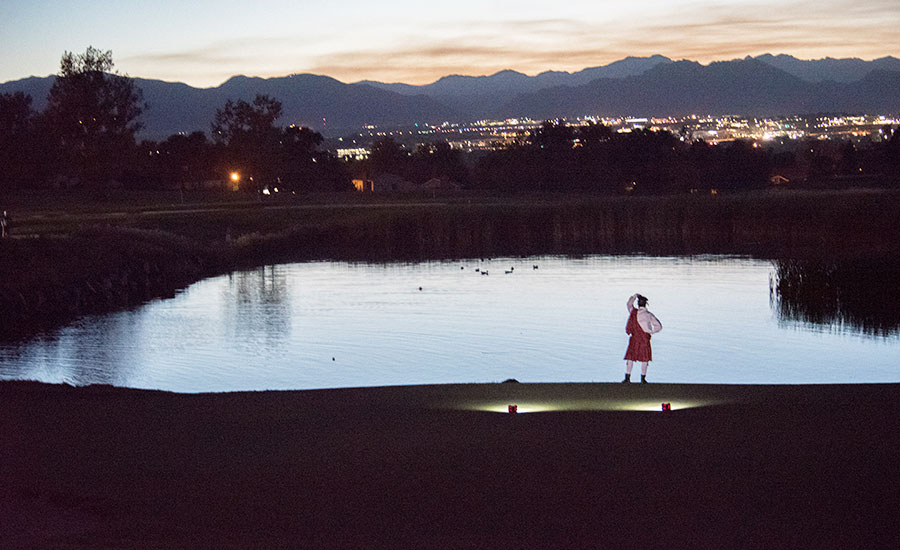 Along those lines, the city has already scheduled its next hands-on experience at the course—on October 3, Legacy Ridge will host a zombie golf apocalypse, which is a mashup of actors in makeup chasing golf balls that have been stenciled with "brains," along with contestants trying to win assorted prizes via their shotmaking skills.
---
For more of the latest Colorado golf news, visit our NEWS & PROFILES PAGE.
Colorado AvidGolfer Magazine is the state's leading resource for golf and the lifestyle that surrounds it. CAG publishes eight issues annually and delivers daily content via coloradoavidgolfer.com.