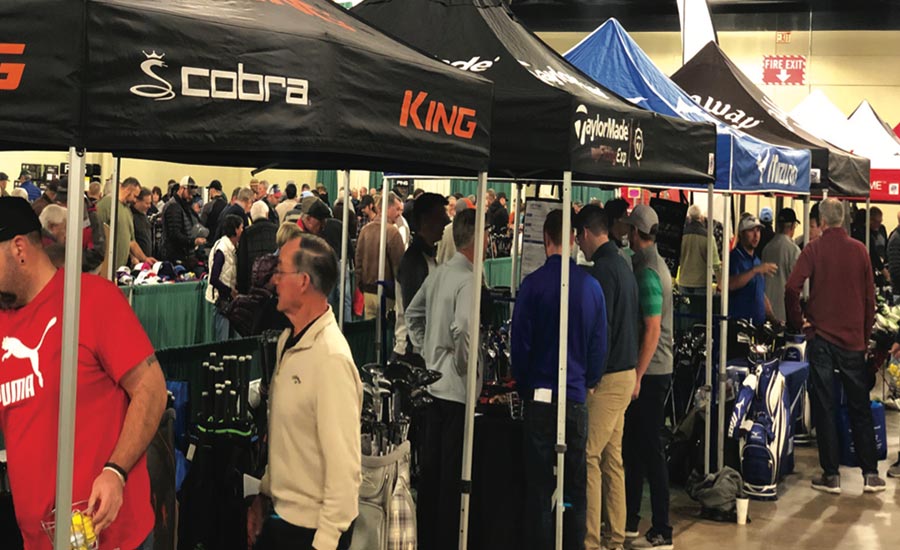 A COUPLE OF months ago, given the disruptions the novel coronavirus was causing to large gatherings, Mark Cramer said, "I think you can tell where I'm leaning with this," with regards to his pride-and-joy, the Denver Golf Expo. In November, that inkling crystallized—the annual show, considered by many as the unofficial start of the golf season in Colorado, will not be an in-person event.
Instead, said Cramer and his partner, his wife Lynn, the Expo will become virtual—kind of like a gigantic Zoom meeting. While the traditional Expo was scheduled for February, the online gath- ering will take place on March 12 and 13.
"We've been watching this locally and nationally; the health officials and state government, and we've looked at what other trade shows are doing across the country, and it's just the right decision—it would be selfish of us to go after a buck and put people at risk," Mark said.
The Cramers are hoping the event will be much more than making lemonade out of the sourness that has been the pandemic. Lynn Cramer looked at more than a dozen virtual platforms, eventually narrowing the list to two finalists. The winner was Showmetry, a Delaware company that she says will offer attendees just about everything they would get if they were standing in the Denver Mart.
"The platform is really geared to the market- place; it's going to drive people to the exhibitors' websites—people will be able to find show deals and specials, the golf courses and vendors will be there and people will be able to put together golf vacations," she said. "They can win contests and door prizes; they'll still be able to attend the instruction sessions…there will be networking possibilities for the exhibitors and vendors.
"They'll be able to set up their own online chats and educational sessions, as well as create their own giveaways. And we're also trying to fig- ure out some way of giving attendees some sort of points—we're making a game, something fun to try and keep everyone engaged."
Of course, one of the biggest attractions at the Expo has been the opportunity for cabin- fevered Coloradans to actually swing a golf club in the dead of winter, hitting balls into bays. That's not going to happen online, but Mark Cramer says sponsors of such sessions, like Lenny's Golf in Aurora, are still on board.
"They're one of the groups that have said they're going to keep us whole because they want us to be back physically in 2022," he said. "With this platform, Lenny's can put up pictures of the new clubs, and if people want to schedule an appointment to go to Lenny's and hit those new clubs, it will be right there."
Lynn Cramer says it's still a bit early to determine how companies are reacting to the move online. The Cramers have said they're offering re- funds to exhibitors and vendors who paid for 2021 Expo, expecting an in-person gathering.
"Initially there have been some exhibitors who are scared of the new technology and just said 'No way—put my money down towards next year,'" she said. "We're still early; at this point all the information and marketing isn't out there, but all our partners have been very supportive.
"We're just doing what we do; the best way we know how to do it."
---
This article was also featured in the Winter issue of Colorado AvidGolfer.
Colorado AvidGolfer is the state's leading resource for golf and the lifestyle that surrounds it, publishing eight issues annually and proudly delivering daily content via coloradoavidgolfer.com.