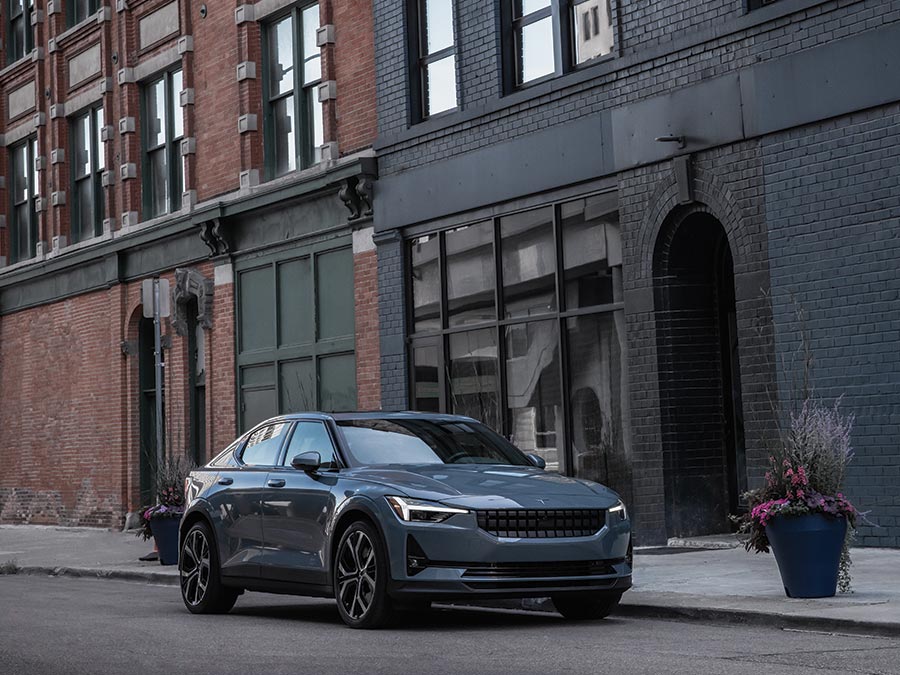 The mainstreaming of electric vehicles like Polestar puts a charge into a couple of gas-powered classics.
By Isaac Bouchard

2021 POLESTAR 2
EPA RATINGS: 96/88/92eMPG 0-60 MPH: 4.1sec
PRICE AS TESTED: $71,400
Polestar started as a race team sponsored by Volvo, which then bought it and turned it into the Swedish company's performance arm—just like Mercedes did with AMG. Polestar has since been transformed into the tip of Volvo's EV spear.
Following the division's first offering—the Polestar 1 plugin coupe—the Polestar 2 directly competes with the Tesla Model 3. The first models released have two motors producing a total horsepower of 408 and combined torque of 487 pound-feet, channeled through AWD.
The 2 certainly needs both axles driven—it's a rocket. Like all EVs, max torque is available from the moment you touch the throttle, and it blasts off like it was fired from launchpad 39A at Cape Kennedy. Anyone with time in one of Elon's ma- chines will be familiar with this sensation, and it's very addictive. 60mph arrives in 4.1 seconds, a tenth off a Model 3 Long Range.
What the Polestar does better is engage the driver; its chassis is superb and its steering incisive. The company's racing heritage is evident in the way the 2 handles and in the tuning of its optional Ohlins dampers. They are very stiff at low speed, but the ride rarely becomes harsh (unlike the Tesla on its bigger wheel options), and it smooths out at higher velocities, all while offering exemplary body control. Grip is impressive too, no surprise considering the 2's low center of gravity and ultra-sticky 20-inch Continental summer tires.
Those expensive shocks are only adjustable from outside the car, which is hard to imagine many owners doing. Hopefully in the future Pole- star will offer cockpit-adjustable stiffness. Mean- while one could skip the $5,000 Performance Pack option (which features the dampers andtires) and choose either 19- or 20-inch wheels with all-season tires.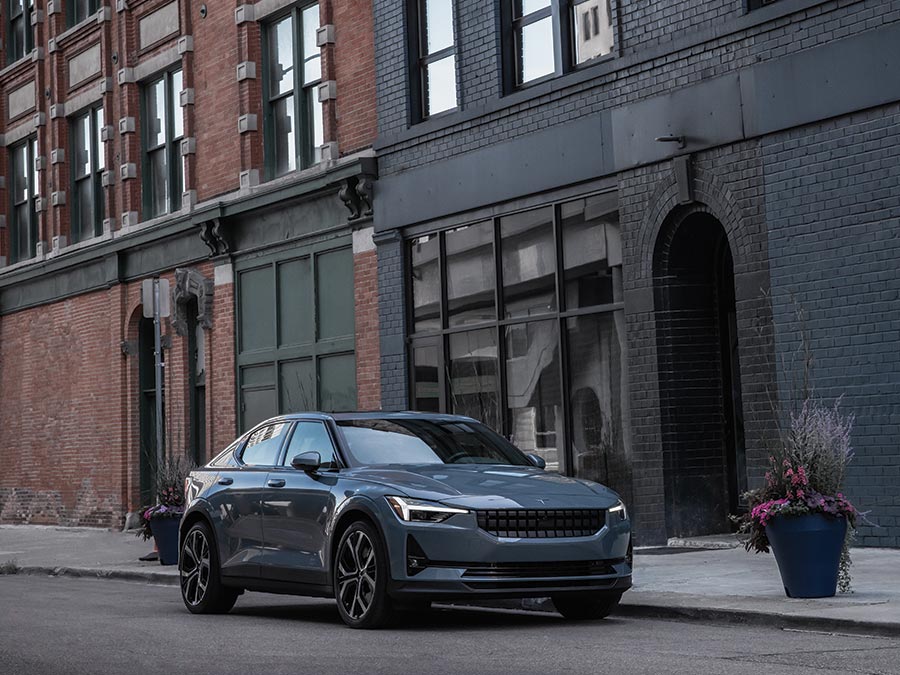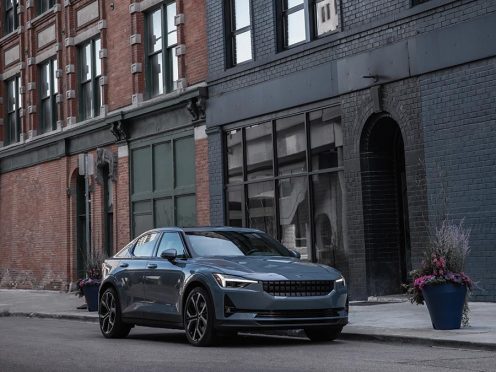 The 74kWh battery pack that currently powers a Polestar 2 can be recharged to 80 percent capacity in 40 minutes on a fast charger. While on the topic of range, independent testing suggests that, in real-world usage, the Tesla 3 Long Range will go about 40 miles farther than the Polestar 2. Yet the Polestar's range was sufficient in that it never needed charge during the review period, which suggests it will be adequate for most folks. Polestars are specced and ordered online (at a fixed price) and delivered to top Volvo dealers who also service them. That blend of the Tesla model and the legacy "franchise" automotive retail system has many advantages for consumers, since there are no state restrictions on the number of stores.
The Polestar is also superior in build and material quality. The 2 feels solid and has tight panel gaps and good paint quality. Its interior is gorgeous, with reclaimed wood, WeaveTech textile accents and a grosgrain-like material for the dash and door panels. This is a home run, considering how many car companies have tried at reinvent- ing the graining on these panels and failed. Vegan cloth is standard, while ventilated leather is an expensive option, as is a fixed glass roof.
With no blind to block the glass roof, things can get a little toasty on a hot day, especially because the center air conditioning vents of the Polestar 2 blow from behind the 12.3-inch cen- ter screen, creating some air-circulation issues on normal fan settings.
The Polestar 2 is the first vehicle to use Android's new automotive operating system; not to be confused with Android Auto, it is the em- bedded OS and allows for some intriguing options for web searches and content playback. It plays well with Apple products but seems optimized for those who use Google.
The Polestar 2 is one of only two EVs (the Ford Mach-E is the other) that really bring the fight to Tesla's mainstream models. It is com- petitive on price, pleasurable to drive and delivers real benefits over many Tesla offerings.

2021 DODGE CHARGER HELLCAT REDEYE WIDEBODY
EPA RATING: 12/21/15mpg 0-60: 3.5sec
PRICE AS TESTED: $90,060
There's no need to yearn for the glory days of muscle cars when a street-legal, 797-hp beast like the Hellcat Redeye is available, right off the lot. Dodge has certainly carved out a niche as the purveyor of hot-roddin' fantasies and it's hard not to succumb to this Charger's childish delights.
Its body is outrageous, with an enlarged hood scoop and heat- extracting vents marking out the changes from the "normal," 707-hp Hellcat. Its bolt-on, bubble flares draw attention to the 20-inch wheels and their 305-section width tires; this is one serious looking sedan.
You'll be replacing that rear rubber quite often if you indulge, but that's the whole point. This Dodge will roast 'em for a hundred yards with an injudicious stab of the loud pedal. Exercise a bit more restraint and 100mph will vanish behind you in 7.5 seconds; a few ticks later it's bye-bye quarter mile in 11.5, with a trap speed of 126mph.
Sure, there are faster hypercars—and even SUVs, thanks to AWD harnessing their output. But few are as indulgent as this classic, powerslidin' rear-driver. It's obvious how talented the SRT team is at developing cars like this; its middle, "Sport" electronic stability mode was perfect for feeling like you were Bo or Luke Duke without getting in over your head.
The Charger rides better than cars like an AMG E63 S or M5; only at ultra-high speeds was its more compliant suspension obvious. At high velocity the Hellcat's 4,650 pounds moved around a bit too much for (mental) comfort. It makes a great daily driver, with a commodious interior, large trunk, comfy seating and most all the gizmos one could want. Material quality is decent, the infotainment system easy to use and fast in response.
In the waning days of the internal combustion engine, the Redeye's classic hotrod techniques make it a winner: a bigger supercharger running more boost, beefed up connecting rods and pistons, stouter valve- train, an additional fuel pump and brawnier driveshaft and axles. Can the right electric car take it from the lights? Yes. But will that vehicle's driver have anywhere near as much fun? Not even close.
2021 Volvo XC90 T8 Recharge
EPA Ratings: 55MPGe (electric & gas); 27mpg 0-60: 4.9sec
PRICE AS TESTED: $81,690
The XC90 is the vehicle that began Volvo's renaissance, and its plugin version is the best. The 11.6kWh battery and electric motor smooth out power delivery— and there's a lot of power, with 400 horses and 472 lb-ft of torque. Continuous improvements to software and the electric architecture have increased the pure electric range of this Recharge model to over 20 miles. Perhaps more relevant
is that real world urban fuel economy goes from the low-to-mid teens of the gasoline-only T6 model into the low-to-mid 20s. The XC90 clearly still has one of the most beautifully trimmed interiors in its class; quality is first-rate, with rich textures, lovely colors and carefully crafted shapes. The infotainment system is faster thanks to new software and Volvo seating comfort probably best in class. Up to seven passengers can fit into its tidy, good-looking body, illustrating why the XC90 continues to sell so quickly.
2021 Jeep Wrangler 392
EPA RATINGS: 13/17/14mpg; 0-60 MPH: 4.5sec.;
PRICE AS TESTED: $78,740
The same glorious inclination to excess that created the Hellcat Redeye gives us this 470 horsepower Wrangler 392. Stuffing in a 6.4-liter Hemi was just the beginning; there's a burlier frame, 2-inch suspension lift, bespoke Fox dampers and bead-lock rims. These clamp the off-road rubber to prevent them spinning on the wheels under the assault of this Jeep's 470lb-ft of torque. Outside, there's a giant, functional hood scoop (that will also divert up to 15 gallons of water per minute away from the Hemi's gullet). While limited to 99mph, the 392 will hit 60 in 4.5 seconds, which is silly, absurd, inane and wonderful. As is its bellowing exhaust. Of course, you could get a 4xe plugin hybrid Wrangler with the same amount of torque, the ability to off-road in electric mode, and a $7,500 federal tax credit. But the 392 launch edition sold out in mere minutes, so there are obviously still quite a few of us nutcases out there.
---
This article was also featured in the July 2021 Issue of Colorado AvidGolfer.
Colorado AvidGolfer is the state's leading resource for golf and the lifestyle that surrounds it, publishing eight issues annually and proudly delivering daily content via coloradoavidgolfer.com.