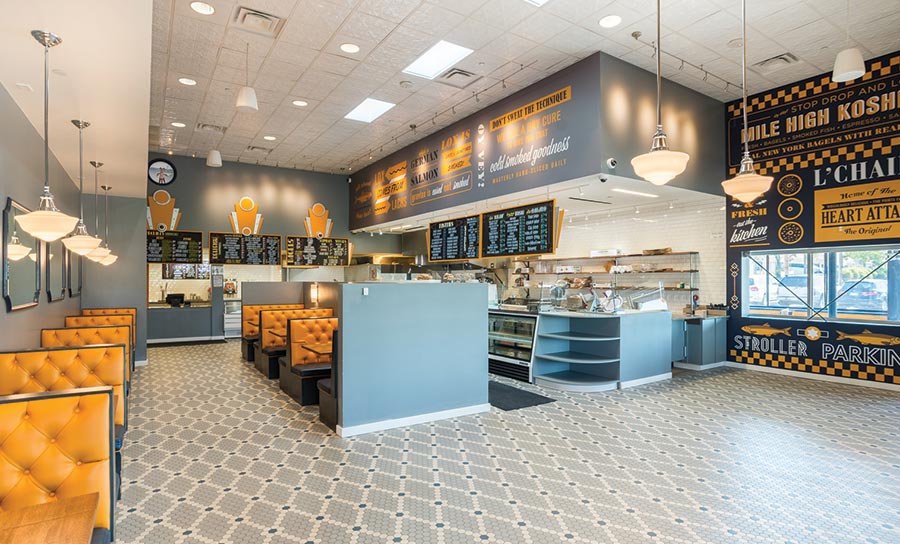 Colorado's tastiest and most famous meals between two slices…and where to try them.
By John Lehndorff
WHEN FOOD & WINE recently went looking for "The Best Sandwich in Every State," the publication sought those handheld meals "with an extreme sense of belonging, the sandwiches people would fight for, and possibly over." In Colorado, the editors chose the hot Italian sausage sub with provolone and peppers at Carmine Lonardo's Deli.
That sandwich, while exceptional, is not even my favorite at this Lakewood institution. It got me thinking about Colorado's best examples, and I ran into a messy question: What is—and isn't—a sandwich?
Although I dearly love them all, burgers, hot dogs, lobster rolls and barbecue on buns don't qualify.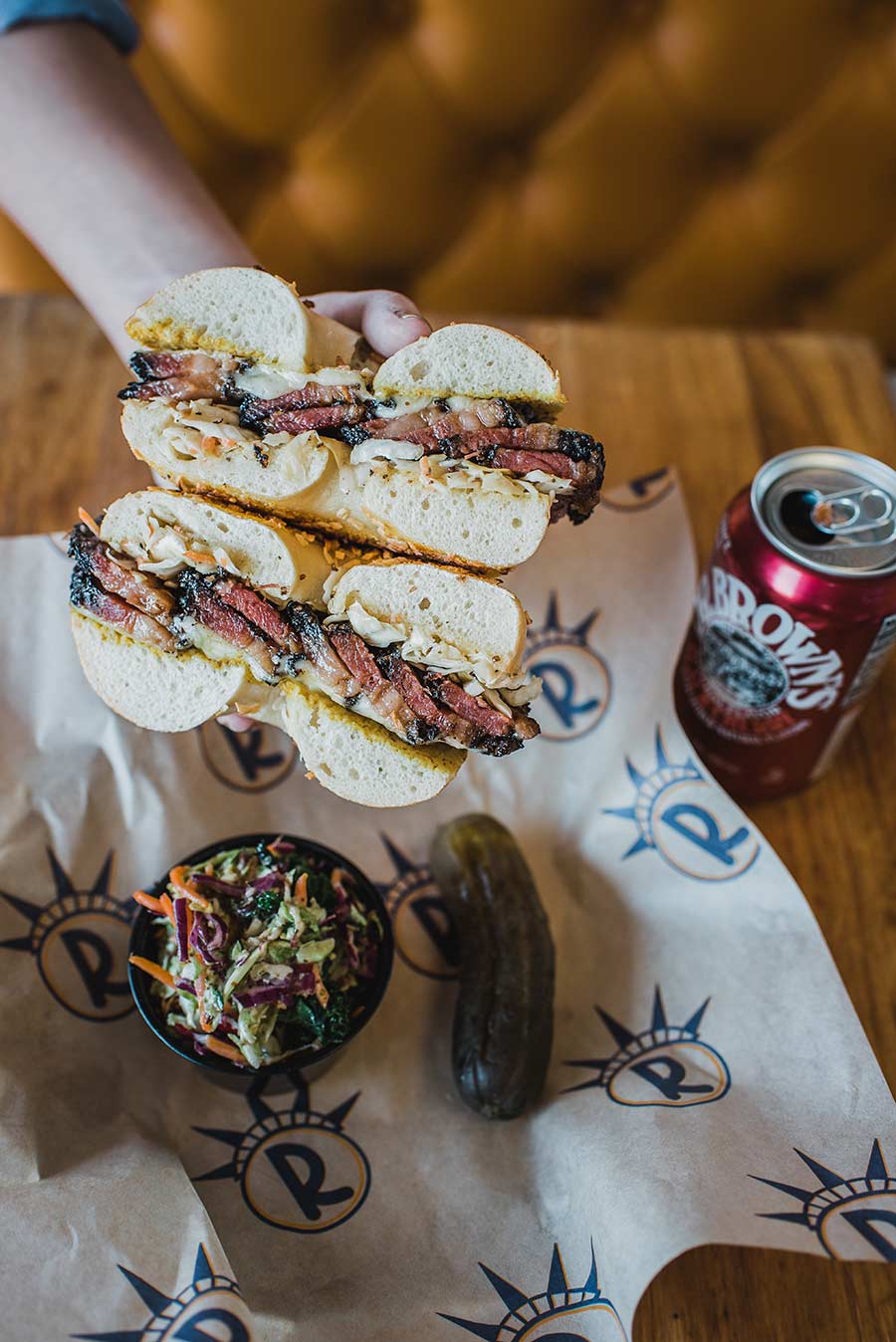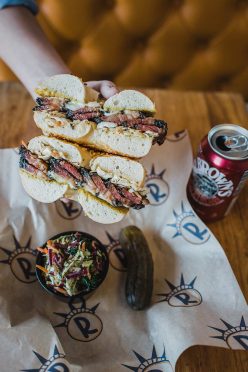 A truly great sandwich is composed like a song. Each ingredient is essential—the condiments and spreads, the meats and cheeses and veggies and how they are cut and layered so every bite is an experience.
These edible icons are so famous they often simply have "The" in front of a name. Think about The Reuben, The BLT, The French Dip and The Club, not to mention all the grinders, hoagies, heroes and subs.
The right sandwich loaf is critical whether it's a baguette, ciabatta slices or a seeded bun, because it provides structural integrity. A sand- wich that falls apart—that you can't eat without a knife and fork, doesn't fit the traditional definition.
The man the sandwich is named after, John Montagu, the 4th Earl of Sandwich (the English city that this month will host the Open Championship at Royal St. Georges), famously requested something he could eat with one hand while continuing to play cards and gamble.
Some notable sandwiches have strong connections to Colorado (see page 43) and the state has birthed well-regarded sandwich-shop chains including Etai's Bakery Café, Snarf's Sandwiches and Quiznos. After some seriously tasty research, here are my candidates for Colorado's most exceptional sandwiches.
THE L.E.S. at Rosenberg's Bagels
Rosenberg's bakes the best authentic bagels in Colorado. For the L.E.S., top-notch pastrami, melted Swiss cheese and tangy coleslaw fills a toasted bagel—my choice is their pumpernickel everything variety.
Also try: Sturgeon B.L.T. with house-smoked fish, bacon, lettuce, tomato and mayo.
Locations in Denver's Five Points, Stanley Marketplace and in Boulder; rosenbergsbagels.com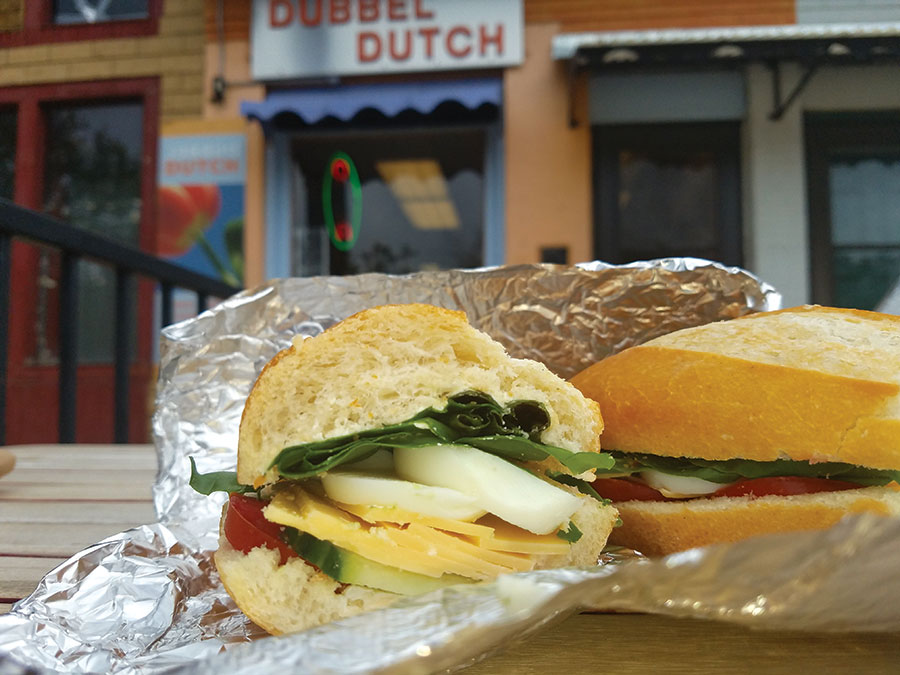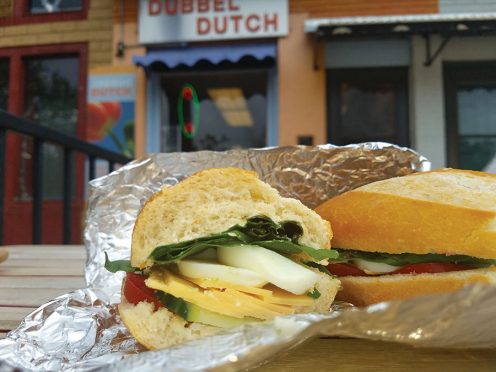 THE OLD AMSTERDAM at Dubbel Dutch Netherlands-born guitarist and singer Eef Tulp has a simple sandwich menu at her tiny North Den- ver shop crowned by an Old World masterpiece. The comfy Old Amsterdam takes a generously buttered Trompeau Bakery baguette and layers on aged Dutch cheese, hard-boiled egg, cucumber, tomato and lettuce.
Also try: Denver's best licorice assortment including Heksehyl: soft pieces that are salty in- side, sugary outside.
4974 Lowell Blvd., Denver; dubbeldutchdenver.com
BBQ PORK BANH MI at Vinh Xuong Bakery
I love everything about bánh mì (pronounced bun mee)—the crunch of the fresh veggies, the chew of the bread and the well-seasoned grilled meats. At Vinh Xuong, I go with the best-seller: A fresh house-baked bun, buttered and stuffed with grilled pork, crisp pickled carrots, daikon radish, cucumber, cilantro and jalapeño.
Also try: Creamy Vietnamese coffee and a sweet-bean stuffed fried sesame ball. 2370 W. Alameda Blvd., Denver; facebook.com/vinhxuongbakery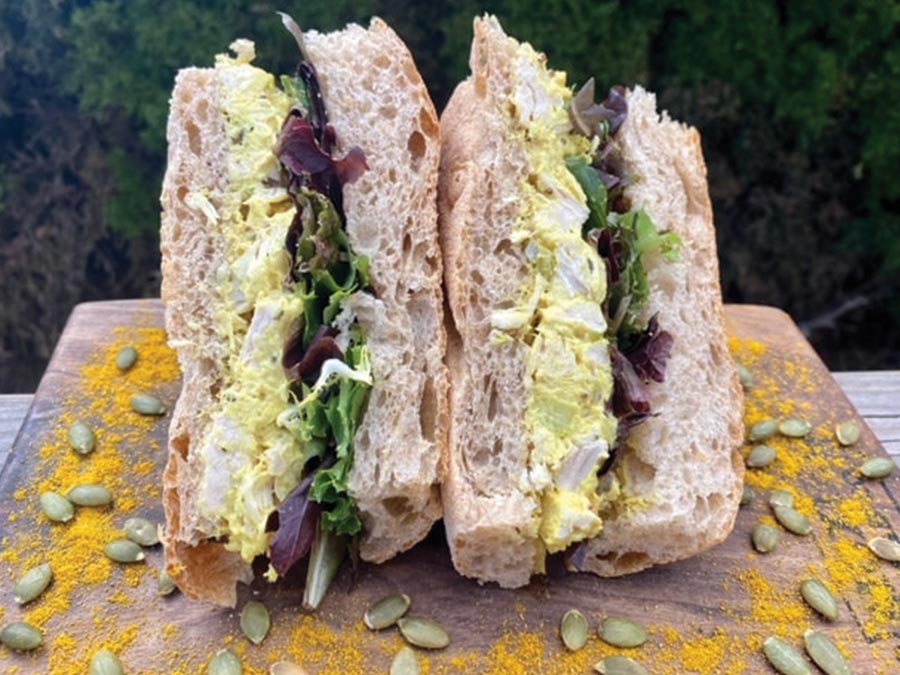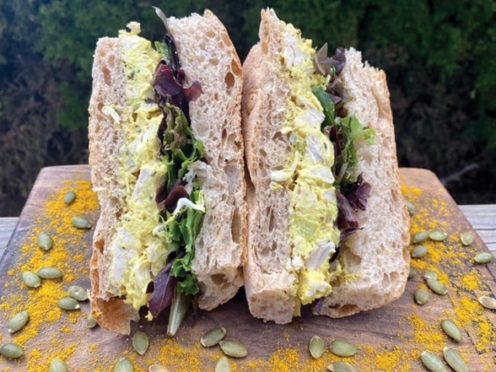 CURRY CHICKEN SALAD at Moxie Bread Co.
It figures that the state's most highly awarded artisan bread bakery would produce sandwiches worth celebrating. Humble chicken salad is elevated at the Louisville destination where chicken breasts, golden raisins, celery, curry mayo, red onion, toasted pepitas and greens are served on your choice of fresh bread. I love it on Moxie's
Millabrod, heirloom sourdough laced with pine nuts and sesame, pumpkin and sunflower seeds.
Also try: The family-size Via Moxie Sandwich with smoky speck, Manchego cheese, garlic olive oil, lemon and greens.
Locations in Louisville and Boulder; moxiebreadco.com
THE BACON at Il Porcellino Salumi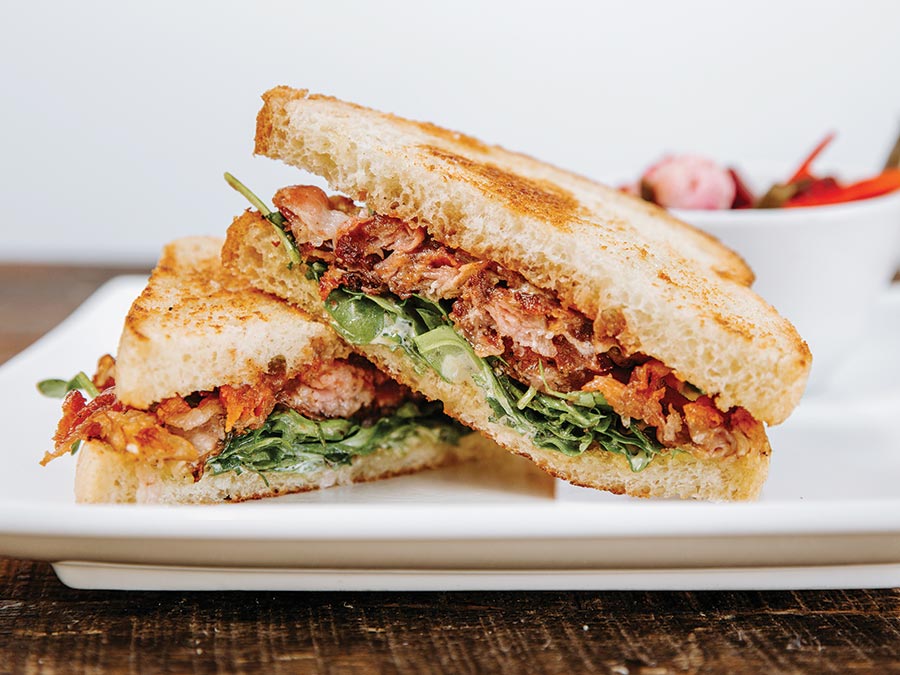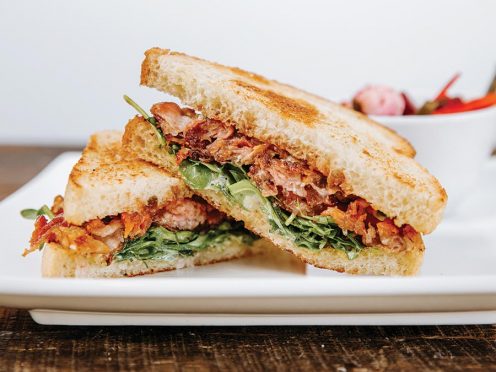 This Denver maker of fine cured meats and salumi also serves its wares at their Denver deli. The Bacon crowns a great sandwich menu.
Toasted sourdough slices are spread with apple butter and jalapeño aioli, piled with house- smoked shaved (not sliced) bacon with Pecorino cheese sauce, tomatoes and arugula. Ask for a side of hot, crunchy giardiniera.
Also try: The Hoggie with capicola, soppressata, ham, aioli and pickled peppers on ciabatta.
4324 West 41st Ave., Denver; ilporcellinodenver.com
PAN CON BISTEC at Cuba Cuba Sandwicheria
A hot press transforms simple ingredients into crave-able memories like Cuba Cuba's Miami- inspired steak sandwich. Pan con bistec is a Cuban loaf filled with garlic-y steak strips, lettuce, tomato, onions and herbed chimichurri dressing and the coup de grace: hot shoestring French fries!
Also try: The Cubano with roast pork, ham, Swiss, pickles and mustard on pressed bread.
Locations in Denver, Glendale, DTC and Northfield; cubacubasandwicheria.com
THE GODFATHER II at Carmine Lonardo's
Local East Coasters make pilgrimages to this family-owned Italian grocer, deli and butcher for the real deal wrapped in traditional white paper. Given my Sicilian bloodline, my go-to is The God- father II, a baguette filled with Carmine Lonardo's famous hot sausage plus Italian beef and giardiniera with marinara on the side.
Also try: The Italian Combo with capocollo, salami, pepperoni, ham, provolone and Italian dressing in three sizes including "The Italian Way"—a 24-inch submarine.
7585 W Florida Ave, Lakewood; carminelonardosmeatmarket.com
PACHUQUENA TORTA at Las Tortas
Tortas are over-the-top warm, full-bodied meals with combinations of barbacoa, sausage, ham, breaded chicken and steak and many toppings filling pointy end bolillo or round telera buns. My choice at Las Tortas is the Pachuquena. Each mouth-filling bite includes pork loin, Milanesa (breaded fried steak), cheese and "everything," meaning mayo, avocado, lettuce, tomato, onion, jalapeños and salsa.
Also try: Tortas are available "Ahogada- style"—smothered in various sauces.
Locations in Denver, Federal Heights, Greeley; lastortasdenver.com
HOLD THE MEET
PHILLY CHURRASCO SEITAN CHEESESTEAK (City, O' City): Shaved seitan, red bell peppers, chimichurri, chipotle aioli, green chile queso, gluten-free bun. 206 E 13th Ave., Denver; cityocitydenver.com
THE SHREWSBURY STREET (Rise Artisan Bread): Fresh mozzarella tomato, roasted red pepper, pesto mayo, toasted rosemary bread. 403 5th St., Berthoud; riseartisanbread.com
THE BEETNIK (Organic Sandwich Co.): Roasted red and gold beets, house made almond "feta," vinaigrette, arugula, pretzel bread. Locations in Boulder and Louisville; organicsandwichco.com
---
This article was also featured in the July 2021 Issue of Colorado AvidGolfer.
Colorado AvidGolfer is the state's leading resource for golf and the lifestyle that surrounds it, publishing eight issues annually and proudly delivering daily content via coloradoavidgolfer.com.