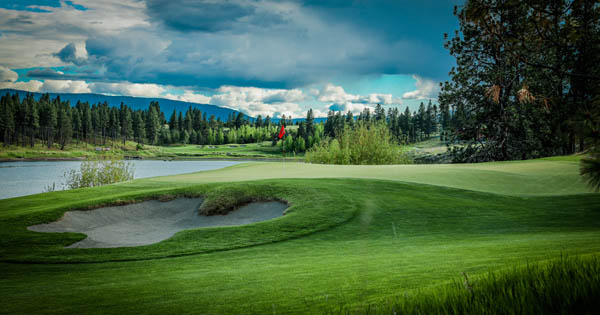 The stellar, secluded Wilderness Club continues to evolve.
By Tom Mackin
Is it truly possible to get off the grid these days? Probably not. But golfers do have a better chance than most thanks to remote destinations like Bandon Dunes in Oregon, Cabot Links in Nova Scotia and the Prairie Club in Nebraska. Still, those very worthy sites are primarily for golf diehards. What about a place with a stellar course, comfortable accommodations and stunning natural surroundings—plus amenities for the whole family? For all of that, it might be tough to beat the Wilderness Club in northwest Montana.
Home to an exhilarating course designed by Sir Nick Faldo and Brian Curley (it's currently ranked No. 1 in on Golfweek's Best Courses You Can Play in Montana), this resort destination certainly fits the remote bill. Direct flights from Denver—on United or Frontier—land at Glacier National Park Airport, and after a 90-minute drive north, through the small town of Eureka, you arrive at a 550-acre property that sits alongside a National Forest Reserve just 15 miles south of the U.S.-Canada border.
For owner Brian Ehlert, the secluded location is a strong selling point these days, especially after pandemic-induced lockdowns. "Before people used to say, 'Well, you're kind of remote, I don't know,'" Ehlert explains. "Now everybody's thing is, 'You're remote, right? Because that's where we want to be.' So that's changed things quite a bit over the past couple of years."
Ehlert, who bought out various partners in 2015 to assume leadership of the club, brings his own personal vision for a family resort catering to two different audiences. "One is owning your own place and it being a getaway," he shares. "Or you can come for a week, rent out a place, and play the course. When you rent through our program you get access to all of our amenities (golf course fees are extra). It's definitely not high-end private. That's not us. We'll always have a hospitality component to it. We book out in the summer when there's lots of demand. The fall starts to slow down and the winter is slow. That's why it's my desire to build a Village Center and host retreats where people can gather away from all the hustle and bustle year-round."
Another difference here? Ehlert, a Canadian who originally hails from Calgary, lives on the property. "I tell people I'm not like most developers. I don't think of this property as let's sell out, look for the next project, and how many of these developments can we do?" he says. "This is a lifelong pursuit for me. When I sell to people, I tell them I'm selling to my friends, neighbors and family because I'm here for the long haul. When we sell property, we just dump that money right back into the resort."
A ton of that money is going into various phases of new development, which includes a groundbreaking this summer for the Village Center. With an anticipated opening by mid- to late-2023, it will comprise an event center, new golf shop, general store, real estate sales center, golf cart barn and a welcome area, followed by a Phase II that will include a spa and other amenities. Dining is currently available at the Wilderness Grille in the clubhouse, where the local huckleberry fruit highlights items the menu.
In terms of real estate, which has attracted buyers primarily from the Midwest, West and South, 200 of 320 planned lots have been sold. Options include smaller luxury cottages (starting in the upper $400,000s) that range from studios to 2-bedrooms, that feature elegant yet rustic interiors, kitchens, a fireplace and an outdoor hot tub. There are also 2- to 5-bedroom estate homes available.
And there's the golf course, a fun, fair and thoughtful layout built in 2009. Starting off with three rather welcoming holes, it launches to a higher level on the fourth, a slight dogleg left par 4 with a green split in half by a sharply sloping ridge. If the hole is on the lower right half, good luck. The heavily bunkered sixth is a devilish, risk-reward par 4, while the dogleg right ninth features a fairway that bends right before tumbling dramatically down to the green.
The architects saved the best for last however, with a final trio that stands among the country's best, highlighted by a downhill tee shot decision on the 16th, a heavily contoured green on the par 3 17th, and a closing par 5 with water in play up the left side. Ponderosa pines line every fairway and you'd be hard pressed to find a more peaceful setting for such a frustrating sport!
The course, usually open April 1st to early October, is blessed with five great months of golf weather. Conditions in April and October can fluctuate, while cooler temps in May and September balance out the summer heat, which can reach 100 degrees at times.
"The golf course is a great amenity," noted Ehlert. "But not everybody in the world likes to golf, so we're trying to find things that everybody in the family loves to do." That's where a Water Park, with saltwater pools, a hot tub and a 250-foot-long water slide come in handy. As does a Sports Park with a basketball court, fire pit, picnic area and amphitheater for live music.
Not enough? There's also kayaking, swimming, fishing, hiking, cross country skiing in winter, and a growing menu of outdoor activities. The latter will expand exponentially thanks to plans that call for the addition of tennis courts, pickleball courts, and even a garden center. Perhaps the most mesmerizing thing to do at the Wilderness Club, however, is simply to enjoy the views of nearby mountains during the day or stare at the stars from a back porch or hot tub at night.
"There's lots of little things here that all add up to big things in my mind," Ehlert reflects. "Just the vastness of it I think is beautiful. We don't have any air-traffic noise, road noise, or city noise. We make our own noise with construction. Besides that, usually all you hear are the birds and the wind going through the trees. That's really attractive."
Wilderness Club
Eureka, Mont.
wildernessclubmontana.com; 406-889-6501
---
This article can also be found in the July Issue of Colorado AvidGolfer.
Colorado AvidGolfer is the state's leading resource for golf and the lifestyle that surrounds it, publishing eight issues annually and proudly delivering daily content via coloradoavidgolfer.com.