New Ownership Revitalizes Country Club at Woodmoor.
By Drew Kort
The Country Club at Woodmoor's past is as complex as the strategy required to navigate the slender and undulating fairways the membership prides itself on. Since the early 2000s the Monument-based club has endured a bankruptcy, multiple shifts in ownership and three name changes. Formerly referred to as Woodmoor Pines Golf and Country Club and Monument Hill Country Club, The Country Club at Woodmoor, like many of its doglegged, climbing par 4s, is reaching a turning point and is headed in a new, upward direction.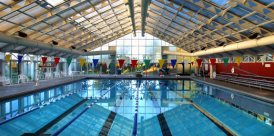 Now in the hands of Monument Investors, LLC, a Greenwood Village-based investment entity, improvements are abounding. The grounds crew repaired or replaced more than 100 sprinkler heads. New carts now cruise along fully restored paths. The clubhouse dining, grill and patio areas underwent a thorough refurbishment, and new equipment has enhanced the operation of the tennis facility and indoor pool. The club's membership is relishing these changes, especially because they did not involve a penny in assessments.
The semi-private club offers a variety of memberships that range from a full membership to a simple social membership. The membership base sits at around 900, and ownership is looking to grow this number to 1,000, which may allow the club to go fully private. The most expensive package, the full membership, is $3,000 at initiation. Monthly dues run $245 for a single person and only slightly higher for families. Currently, there are around 250 golf-only members, and the club's general manager and ownership partner Ken Limes hopes to reach 400 in the coming years. Preview memberships are available until May 2018. A golf membership costs $2,000 upfront and $165 per month for a single member and $210 for a family.
Many of those families could come from the surrounding community. Established in 1969, Woodmoor initially accommodated mostly retired military personnel from Colorado Springs. More recently non-military families have begun to move into the neighborhood, a trend ownership sees as the perfect match for its offerings. The explosive growth occurring north of Colorado Springs also positions the club for success.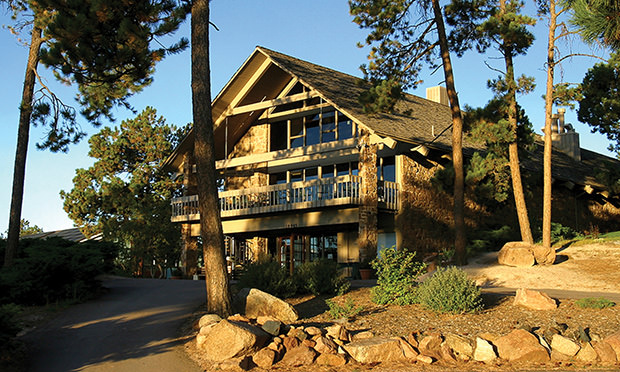 "What kind of club on the front range has this kind of amenity package?" asks Armen Suny, a long- time member of the club and a partner in Monument Investors, LLC. The clubhouse perches on one of the many rolling, ponderosa-pined hills that populate the area, delivering an unimpeded view of Pikes Peak. Alongside it sit the indoor and outdoor pools, indoor tennis courts, tness facility and family-friendly 18- hole golf course.
Carved out of the densely wooded Black Forest, the Press Maxwell-designed layout remains a key attraction.
"We've got some holes out here that are about as good as anything on the planet," explains Suny, who knows a thing or two about golf course architecture, having co-designed Sagebrush Golf and Sporting Club in British Columbia and held several high-level positions at clubs such as Cherry Hills and Castle Pines.
In addition to the changes made elsewhere, the new ownership group made many alterations to the golf course. They widened the fairways and tightly mowed the green surrounds to highlight the course's distinctive shaping and to encourage friendly bounces and lies. The greens are continuously rolled to minimize thatch and retain trueness. Credit goes to Superintendent Kollin Vandersluis for continuously improving the all-around course conditions.
"But, we haven't been without struggles," reminds David Flinn, a partner in the ownership group. Last year, the club's popular Olympic-sized outdoor swimming pool never opened because a lightning strike rendered its equipment structure inoperable. Having purchased all new equipment, ownership will reopen the pool this Memorial Day.
The Country Club at Woodmoor has certainly made a splash over the past two years, but "there's always something for us to do," Suny says. Limes agrees: "We've got a couple ideas up our sleeve."