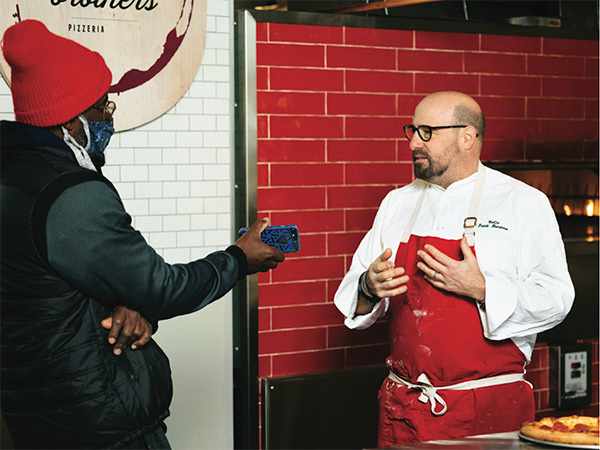 IT IS THE BANE of the Colorado avid golfer's winter existence—unbelievably hyped at the prospect of a playable day in January, you leap out of bed and rush to the course for that morning tee time, only to hear four spirit-crushing words when you check in at the Pro Shop: "There's a frost delay…"
Such was the case recently when an intrepid foursome, Colorado AvidGolfer Art Director Chelsea Oglesby, Photographer Ehren Joseph, Assistant Jeff Hawkins and yours truly made the trek to City Park Golf Course to work on some of the shots that accompany this issue's features on Colorado culinary icon Frank Bonanno as well as our annual CAGGY Awards, which honors the best in golf across the Centennial State.
Already expecting less than Saharan temperatures (we'd advised Bonanno that he might want to bring a heavy blanket along to keep warm in between takes), the group had just finished scouting possible locations on the 18th green when head pro Susie Helmerich approached, the bad news already etched across her face, that it might be as long as an hour before we would be allowed onto the course.
(A brief primer for those of you perhaps wondering what's the big deal about taking some pictures of a guy standing on a green on a cold day, courtesy of City Park superintendent Colin Murphy—as it turns out, the foot traffic, combined with the cold, could likely lead to breaking grass, and the damage could last well into the summer, when, as much as you love Bonanno's food, or our stellar photography, you would probably still be cursing the folks who made your right-in-the-jar five-footer unexplainably veer away from the hole.)
Eventually, things warmed up to the point where we were allowed to traverse where eagles dare. Not surprisingly, Bonanno, who almost is as crazy about golf as he is about fine dining, was a total pro throughout—he never brought out the blanket and even shed some layers when asked. Meanwhile, I was still frozen when the traveling party moved from City Park to Denver Milk Market, Bonanno's multi-stalled food bazaar, hence the Nanook of the North interviewing techniques pictured here.
If you've come this far, then you know that the efforts made by Bonanno and our crew were well worth it. And, if you're reading this, perhaps in June, on a beach with an umbrella-laden libation at your side, please know that I'm still cold. —ANTHONY COTTON
---
This article was also featured in the Spring Issue of Colorado AvidGolfer.
Colorado AvidGolfer is the state's leading resource for golf and the lifestyle that surrounds it, publishing eight issues annually and proudly delivering daily content via coloradoavidgolfer.com.