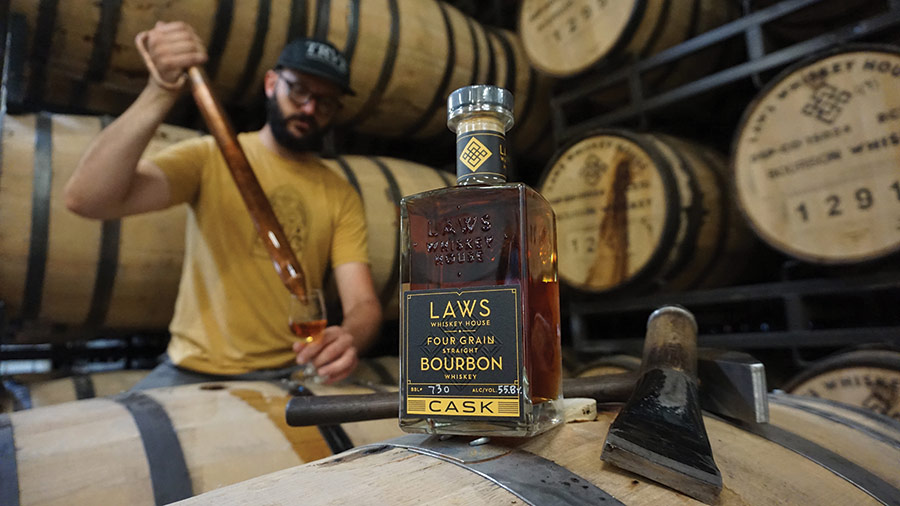 A food critic's favorite made-in-the-state wine, beer and spirits
By John Lehndorff
IF WE JUMPED in a time machine and headed back to Denver in 1976, you might be amused by the fashions, cars and music. The real shock would come when you ordered a beer.
If you asked for an adult beverage made in Colorado, all you might have been handed was a Coors. Folks back then drove from hundreds of miles away to buy the hard-to-find Coors Banquet beer that famously had to be kept cold. Imagine a Colorado where there were no wineries, no other breweries, zero distillers, mead makers or cider producers (at least since Prohibition).
Flash forward to 2021 and the state boasts at least a dozen whiskeys as spectacular as any distilled in the U.S. The same goes for award-winning vodkas, ciders and wine and IPAs too numerous to mention. By the way, have you sipped the first-class sake crafted in Denver?
Finding a Colorado rum, stout or Merlot to love can be a challenge right now, since the state's many tasting rooms and festivals have been on hiatus. While I haven't sampled everything brewed and distilled in Colorado, over time I've found some go-to favorites in almost every beverage category. I value drinkability, not snob appeal. I like beverages I can enjoy every day, generally paired with food. Affordability matters, too. The state's priciest bottles are not the only ones that are delicious.
The following thirst quenchers aren't good because they are made here. They're just good.
If you have a favorite Colorado-made fermented or distilled beverage, let me know at: [email protected].
SPIRITS

Whiskey
A.D. Laws Whiskey House Four Grain Straight Bourbon
My taste leans toward Scotch, but I love this beautiful, sippable whiskey bottled cask-strength after aging in Denver. Here, bourbon's corn-y edge is mellowed with Colorado-grown heirloom wheat, rye and barley, leaving a smooth taste, especially over rocks. lawswhiskeyhouse.com
Rum
Montanya Platino Rum
Crested Butte—not the Caribbean— produces a nearly perfect light rum with character and complexity. Aged for a year in former Laws Whiskey barrels, Platino is finished with a little Colorado honey. It's great that Platino won Best White Rum at the World Rum Awards, but even better that it tastes just right in a Mojito, Cable Car or Piña Colada. montanyarum.com
Vodka
Syntax Spirits Crystal Vodka
There are plenty of good Colorado- distilled vodkas to pour if you're a mix- ologist. When I want to actually taste the vodka, Syntax is the one I pour. Truly local, Syntax grinds, mashes, ferments and distills 100% Colorado wheat in Greeley. The crystal-clear result elixir rolls pleasingly over the palate without any harsh edges. syntaxspirits.com
Gin
State 38 Damn Good Gin
Good gin that's ideal for martinis—shaken or otherwise—comes in a bargain package. This aromatic Golden-distilled favorite is infused with mountain botanicals: juniper and pine plus citrus peel. state38.comstate38.com
Brandy
CapRock Organic 8 Year Barrel-Aged Rosa Peach Brandy
Everything CapRock crafts in Hotchkiss from eau de vie to grappa is exceptional, but the star is this blissful brandy distilled from peaches grown by Ela Family Farms. Appreciate it in a snifter—a sip at a time. jackrabbithill.com/peak-spirits-caprock
Cordials and Liqueurs
Richardo's Decaf Coffee Liqueur
Made in Lyons from locally roasted coffee, vanilla beans, sugar and grain spirits, the award- winning dessert treat is what Kahlua wants to be when it grows up. You get exceptional intense coffee flavor without that cloying sweetness. richardos.com
Leopold Bros. Rocky Mountain Peach
Denver's stellar distiller produces a range of spot-on fruit-infused beverages, including this liqueur which captures the essence of Western Slope peaches in August. Besides in Bellinis, I like this peachiness on vanilla gelato or mixed into minty iced tea. leopoldbros.com
WINES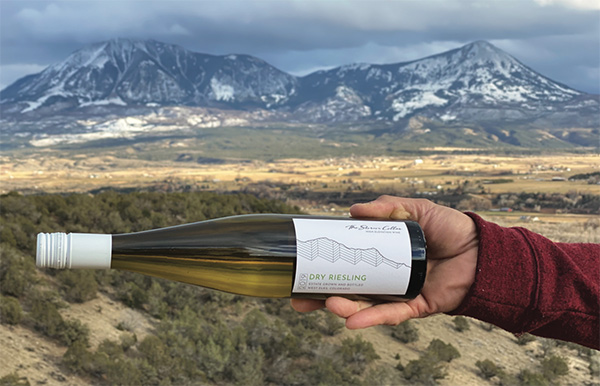 Red Wine
Bookcliff Vineyards Ensemble 2018
My go-to Colorado red brings Western Slope- grown Merlot, Cabernet Sauvignon, Malbec and Petit Verdot grapes into a glass. The Bordeaux- in-Boulder blend was born to accompany steaks, lamb, roasted vegetables and game. bookcliffvineyards.com
White Wine
The Storm Cellar 2019 Dry Riesling
Colorado does a more-than-reputable job with some reds, but the altitude, intense sun and scary freezes are heaven for white grapes. The Storm Cellar harvests from one of the highest elevation Riesling vineyards on the planet. The result is this crisp, citrusy, floral and altogether delicious white that pairs nicely with seafood, chicken and vegan dishes. stormcellarwine.com
Sparkling Wine
2019 PétNat Sparkling Rosé
You can't call it Champagne, but I'm happy to toast anybody with the Buckel Family's charm- ing sparkling rosé. Their Palisade-grown Syrah grape juice finishes fermenting in the bottle, producing a naturally carbonated bubbly worth celebrating. buckelfamilywine.com
Fruit Wine

Balistreri Colorado Cherry Wine
Made with the same tart Western slope fruit, this is like cherry pie in a glass. Unlike many overly sweet fruit wines, Balistreri's Italian-influenced approach yields a beverage that is dryer, tarter and fruitier with a hint of almond in the nose. Note: This is what you serve with roast pork. balistreriwine.com
Vermouth
Vino Salida Vino Vermouth di Salida – Extra Dry
Yes, Virginia, they really do make world-class Vermouth in Salida. This martini-ready, award- winning elixir melds spirits distilled from Grand Valley Black Moscato grapes, red wine and local honey with an infusion of organic botanicals ranging from nutmeg to wormwood. vinosalida.com
BEER & CIDER