At age 81, retired Metropolitan Opera soprano Kay Griffel's leading roles now come in the form of multiple club championships.
By Jo Ann Allen | Photographs by E.J. Carr
THE PARALLELS BETWEEN playing golf and singing opera are obvious to five-time Denver-area senior women's club champion and former Metropolitan Opera star Kay Griffel.
"Performances change, every night they're different," she says during a Saturday round at The Ridge at Castle Pines. "You try to maintain a level, but it depends on the orchestra you have to go along with—the conductor might be in a bad mood or might be in a great mood—and that affects you. Your colleagues. How you feel. You always have to negotiate with yourself and your voice. And that's what you have to do on the golf course."
Griffel negotiates golf shots with the same fluid deftness, adjusting her swing as she would her resonance or pitch according to the situation. Her most recent title came last year as the 18- Hole Ladies League champion at Lone Tree Golf Club when she was 80. She won the same title at South Suburban Golf Club in Centennial in 2013 and 2015 and at Meadows Golf Club in Littleton in 2009 and 2011.
In addition, she was the Colorado State Senior Women's Golf Association champion in 2010, 2013 and 2014. "This is quite an accomplishment for an individual golfer," says former CSSWGA president Phyllis Jensen.
FROM IOWA TO IDOMENEO
The dramatic soprano began playing golf among the cornfields and hog farms of central Iowa. Her parents, Ann and Ray Griffel, were both avid players at Pine Lake Country Club, the nine-hole course co-founded by her grandfather in her hometown of Eldora. An 11-time winner of the Iowa Women's Senior Amateur, Ann Griffel served as president of the Iowa Women's Golf Association for 23 years and was enshrined in the Iowa Golf Hall of Fame.
As Kay Griffel's love of music blossomed while singing in church with her three sisters, her passion for golf took root at Pine Lake, where the entire family would invariably find themselves. "It was a big part of our life," she recalls.
Opera would become a bigger part of it. As a budding singer, Griffel received a Fulbright Scholarship and a Rockefeller Foundation grant. Studying with world renowned teachers Lotte Lehmann and Nadia Boulanger prepared her for leading roles at the Frankfurt Opera, the Houston Grand Opera, the Royal Opera in London, the Teatro dell'Opera di Roma, the Welsh National Opera, the Glyndebourne Festival in England, the Los Angeles Opera, Staatsoper Stuttgart and many more.
Some favored roles include Tatiana in Eugene Onegin, Kate Pinkerton in Madama Butterfly, The Marschallin in Der Rosenkavalier, Mimi in La Bohème, Rosalinde in Die Fledermaus, Cleopatra in Giulio Cesare and Desdemona in Otello.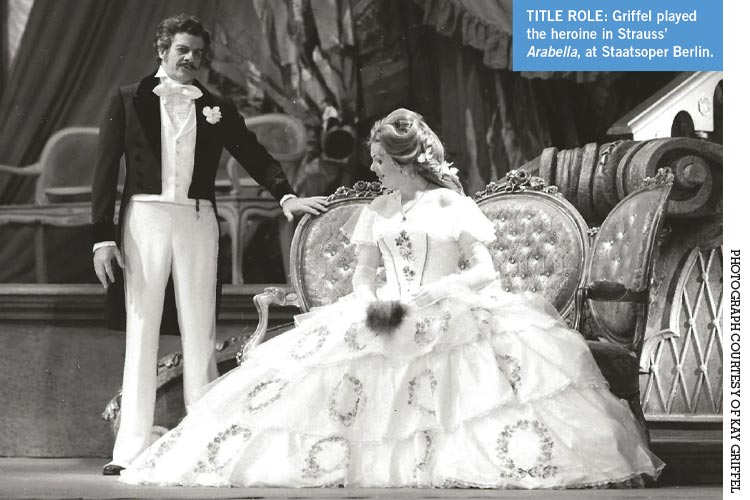 She debuted with the Metropolitan Opera in 1982 as Elettra in Idomeneo and concluded her Met career in the same role seven years later.
A favorite memory from her operatic life was singing the wonderfully lilting "Letter Duet" from Mozart's The Marriage of Figaro with superstar soprano Kathleen Battle at The Met.
She also fondly remembers her stage debut with the Lyric Opera of Chicago in 1962 as Mercedes in Bizet's Carmen with Jean Madeira, Renata Scotto, Giuseppe di Stefano and Robert Merrill rounding out the stellar cast.
As any performer will tell you, success is achieved through many hours of focused practice and a heaping helping of patience. Luckily for Griffel, she loved practicing.
SEGUE INTO GOLF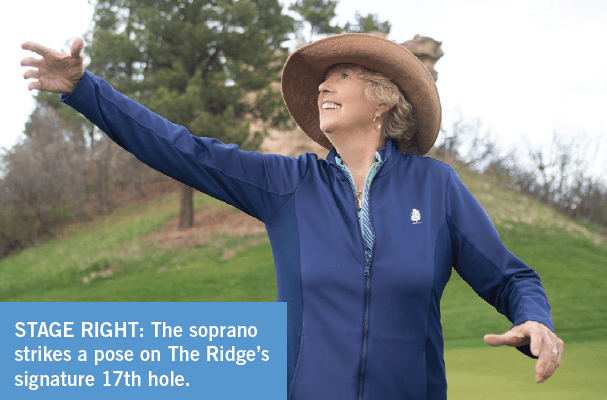 Although Eldora is the birthplace of her game, her championship form developed in the late 1980s, around the time she turned 50, with the help of her friend Sherry Graham, a former LPGA Tour pro and teaching professional.
By 1996, Griffel would find herself singing "America the Beautiful" at the 100-year celebration of Philadelphia's august Merion Golf Club. She was introduced by a nephew of Katharine Lee Bates, the poet who wrote the lyrics during a visit to Pikes Peak. "I get goosebumps just talking about that moment," Griffel says.
Griffel didn't just sing at the event. She was also one of eight women—including Betsy
Rawls, Judy Bell and Mary Budke—honored for their golf and professional achievements. Opera aficionada Pam Emory, a USGA executive and the second woman to be named to Merion's board of governors, saw to it that the golf-loving soprano received recognition.
Emory also saw to it that the eight women got to play Pine Valley Golf Club, the ultra-private redoubt just across the Delaware River in New Jersey that perennially vies with Augusta National atop the "best of" rankings. "Pam organized it; that was part of our gift, so to speak," Griffel remembers. "We were allowed to go into this little clubhouse, and the golf was unbelievable."
SENIOR STAR
In 1999, Griffel played in her first National Senior Games Association golf tournament. Of her seven starts, she placed first in her age group five times—the most recent coming in Albuquerque in June—and second twice.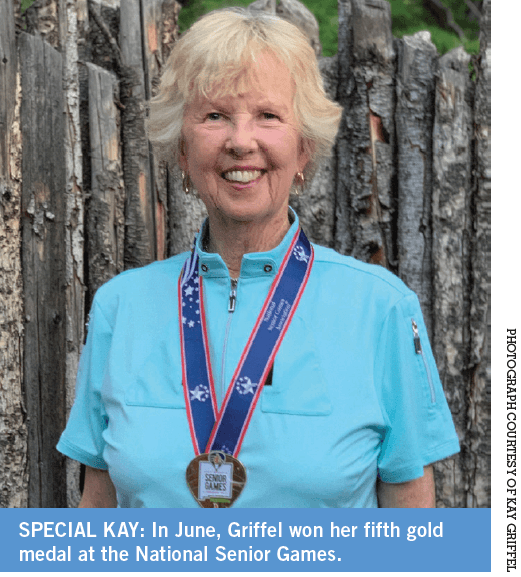 An important characteristic shared by Griffel's two lifelong passions is the need to adapt to the environment. She noted that just as each round of golf is different, from playing partners to the difficulty of the course to the weather, so is each foray onto the stage, from interchangeable casts to how the voice feels to audience reactions.
"You have to negotiate your spirit on a golf course so you don't get down on yourself," she says. "You have to enjoy and understand and learn what you're going to hit. Are you going to hit an 8 iron or a 7 iron? There's too much wind, there's not enough wind. The questions never stop."
Griffel doesn't usually sing on the golf course. But when pressed, she belts out the opening lines of Brünnhilde's "Ho jo to ho!"—the boisterous aria from Wagner's Die Walküre popularized by the helicopter flyover scene in Apocalypse Now.
"Just for fun," she says flashing a mischievous smile.
"I love playing with her because she's so inspiring and considerate," says Kelly McCormick, who plays in the women's league at Lone Tree. "She's very calm with no big ego involved. Kind. Pleasant. Welcoming. Great temperament on the course, not the reputation you think of when you think of divas." McCormick adds, "She's a very calm, gracious golfer with a great swing."
Unlike many senior golfers, the tall octogenarian's swing is not abbreviated; it is as vigorous as her singing. She can easily pass for 20 years younger given her powerful release and follow-through that usually produce 200-yard drives. And, her quiet confidence in the teeing area is impressive.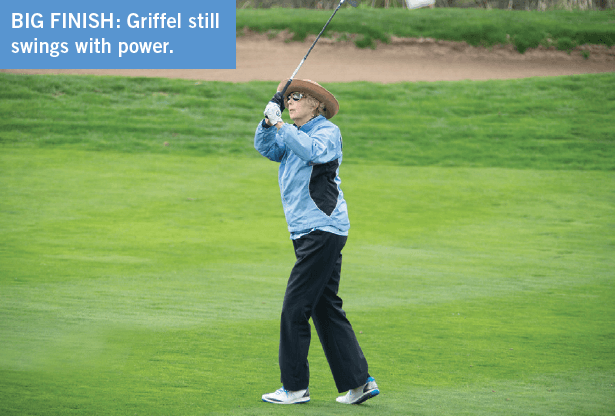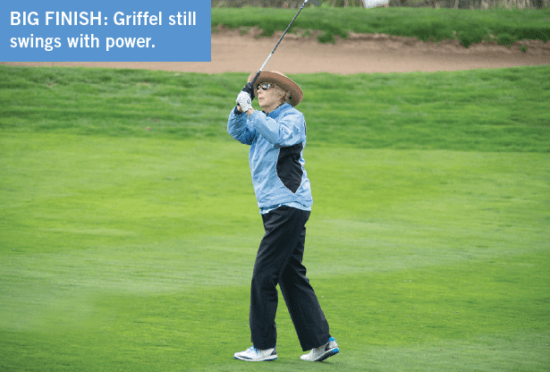 During our round, she's so helpful and encouraging that it feels as though I have a caddie by my side. "Don't judge yourself at the same time you're doing something," she advises.
Griffel has a special place in her heart for The Ridge, where she says she once went from being 4-over after the sixth hole to even par at the turn. She beamed in describing making an ace on No. 7, par on 8 and an eagle on 9.
And, while most golfers may never get a hole in one, Griffel has had four.
"A WONDERFUL BRIDGE"
Singing has taken Griffel around the world and to golf courses in Germany, Wales, England, Japan and New Zealand—where she first broke 80 at Royal Wellington Country Club.
Rehearsals and performances severely limited her playing time at the height of her career, but Griffel says she always packed her glove and shoes.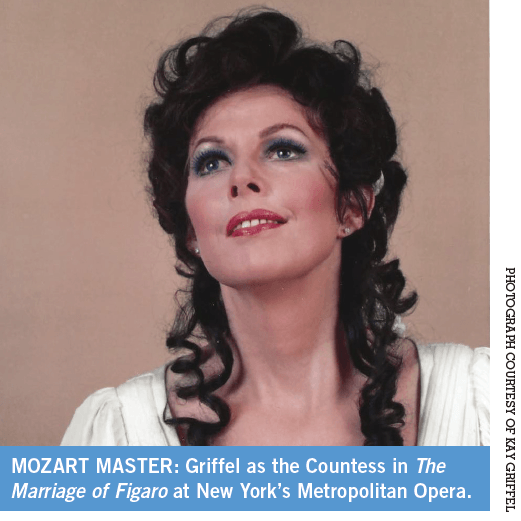 In addition to Merion and Pine Valley, her favorite stateside courses are Pebble Beach and NCR Country Club's South Course—the toughest she's ever played.
But, she says, there's no place like Colorado. Besides The Ridge and other Front Range courses, she is partial to The River Course at Keystone and The Broadmoor East Course in Colorado Springs.
"Being on these golf courses out here, with the views that we have, is just absolutely beautiful. That's what makes me so happy. They're just so peaceful," she says. "I really feel so lucky."
"Music and golf can reach down inside you," Griffel says, recalling the celebrated Swedish dramatic soprano Birgit Nilsson's formidable presence. "When she stood on the stage, she took the energy from the center of the Earth and it went up through her legs and her body. I incorporated that in my singing and in golf; being connected to the energy of the Earth."
Griffel says golf has been a wonderful bridge to leaving music as both a performer and a teacher. In golf, she believes, "You're trying to get the best you can out of all the things you've learned, and there is a rhythm in it. There's a sweetness in it, just like in singing."
Is there a course she'd like to play? "Anywhere I haven't played," she responds.
What's her favorite course? Without hesitation, the singer smiles broadly. "The nine-holer in Eldora."
A news host and reporter on Colorado Public Radio, Jo Ann Allen is also a playwright, pianist and opera lover.
---
This article appeared in the 2019 August/September Issue of Colorado AvidGolfer.
Colorado AvidGolfer Magazine is the state's leading resource for golf and the lifestyle that surrounds it, publishing eight issues annually and proudly delivering daily content via coloradoavidgolfer.com.