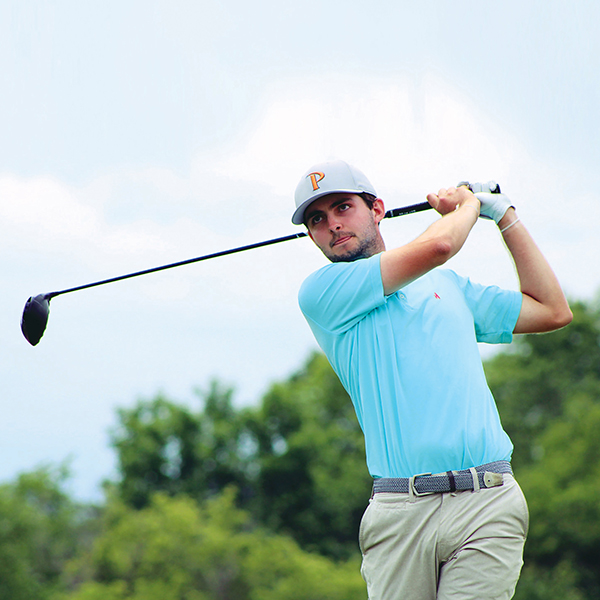 Playing for pride, not a purse, some of the world's best golfers convene this month at Denver Country Club for the 118th Trans-Miss, one of the foremost amateur competitions in the country.
By Jon Rizzi
As unapologetic avarice threatens to splinter men's professional golf, maybe it's time to show greater appreciation for players driven not by the root of all evil, but by the root of the word "amateur"—amare, Latin for "love." As in love of the game.
You probably already know that next September the U.S. Amateur will be played at Cherry Hills Country Club, marking the fifth time the oldest national championship in the United States will come to Colorado. The great Jack Nicklaus won it at the Broadmoor in 1959, as did LIV Golf pioneer Phil Mickelson in 1990 at Cherry Hills.
But had you heard that one of "the majors of amateur golf"—the Trans-Mississippi Amateur Championship—will take place July 5-9 at Denver Country Club? And did you know the average handicap of plus-5 makes it the most competitive field in the Trans-Miss's 118-event history?
Part of the Elite Amateur Golf Series (EAGS), the "Trans-Miss" (as it is informally called) has taken place in Colorado 15 times since the Trans-Mississippi Golf Association's 1901 founding. The 16th time will also mark DCC's sixth—the same number of times that The Broadmoor has hosted it and two more than Cherry Hills has.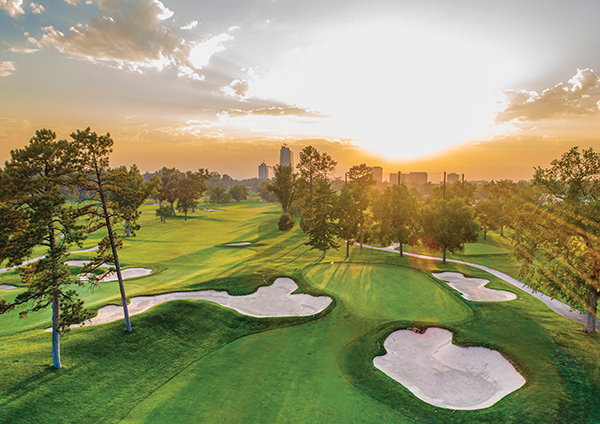 DCC was first, however. One of 15 charter clubs in an association now composed of more than 200, the club welcomed the Trans-Miss in 1910, two years before members heroically restored the course after a catastrophic flood to host another EAGS event, the Western Amateur, which was won by the progenitor of the Evans Scholars program, Chick Evans.
The Western never returned to DCC, but the Trans-Miss did. In 1921 and '46, future U.S. Amateur champions George Von Elm and Skee Riegel triumphed in their championship matches, and in 1980, University of Houston standout Ray Barr took out Gregg Jones of Colorado Springs, besting a field that included Fred Couples, Bob Tway, Mark O'Meara, Nathaniel Crosby and Jack Nicklaus, Jr.
At DCC in 2010, the first Trans-Miss championship conducted as stroke play saw Tway's son, Kevin, lose in a sudden-death playoff to Arizona State's Scott Pinckney. The field included future PGA TOUR players Max Homa, Brandon Hagy, Coloradan Wyndham Clark and Harry Higgs, who finished T-11, a shot behind Gunner Wiebe, the talented son of Colorado Golf Hall of Famer Mark Wiebe.
Prominent Trans-Miss champions crowned since then include Bryson DeChambeau (2013), Will Zalatoris ('14 and '16), Collin Morikawa ('15) and Cameron Champ ('17). They follow in a long line of notable winners such as Ben Crenshaw Gary Koch, Bob Tway, Brian Watts, Bob Estes, Deane Beman, Frank Stranahan, Colorado Golf Hall of Famer Jim English and multiple winners Jack Nicklaus (twice), Johnny Goodman and Charlie Coe (four times apiece) and Harry Legg, the Minnesotan whose victory in the 1910 Denver event was the second of his five Trans-Miss titles.
The most recent winner, Derek Hitchner of the 2021 NCAA Division I champion Pepperdine Waves, will attempt to defend his crown against a field that counts teammates William Mouw and incoming freshman Ian Maspat. Muow and Hitchner are among dozen or so competitors ranked in the top 100 among DI college players, according to Golfstat. Favorites include Oklahoma's Andrew Goodman, New Mexico's Sam Choi, Louisiana State's Cohen Trolio,
South Carolina's Jack Wall, USC's Jackson Rivera, BYU's Carson Lundell, Auburn's Alex Vogelson and Louisville's Jiri Zuska and Chris Francoeur.
Mason Nome will represent the current NCAA DI champion University of Texas Longhorns, although more people might notice 17-year-old Tommy Morrison, the UT verbal commit who stands 6-foot-9. They might also notice that Sean Lehman (Cal Poly) and Carson Herron (New Mexico) each resemble fathers who currently play on the PGA TOUR Champions, and that Boise State's Joe Neuheisel shares a surname with a former head football coach of the University of Colorado..
Among the Colorado contingent are Griffin Barela, Davis Bryant, Cal McCoy, Connor Jones, Carson Griggs, Dillon Stewart, Andrew McCormick, Justin Biwer and Dylan McDermott.
"My pick is one of our own, Jackson Klutznick," DCC's PGA Head Professional Steven David says, citing the D-III Emory University star's two DCC club championships, two Nickalus Award nominations and many junior titles.
Dozens of noncollegiate players have entered, as have competitors from 12 countries, with Australians—led by 20-year-old star Harrison Crowe and Kazuma Kobori—comprising most of the non-U.S. contingent. Aussie Lukas Michel, who won the 2019 U.S. Mid-Amateur at Colorado Golf Club will not compete.
The field will take on a course that differs from the course that Trans-Miss competitors played in 2010. As David shares, recent renovation by Gil Hanse has added bunkering and yardage via new tee box locations. "We also did restoration on Cherry Creek, which resulted in the relocation and expansion of several greens," he says, adding that the course removed a number of trees to improve sight lines, turf conditions and safety.
"Overall, the golf course should present a challenge not because of length but because of the importance placed on positioning," David says.
"DCC membership is excited to host the tournament and showcase the newly renovated Gil Hanse design," he continues. A DCC member must accompany all guests and spectators.
It's worth making that effort. You'll see elite golf, played with the mission of "cultivating fellowship, harmony, friendly competition and cooperation." It's not the mercenary, supercharged, team-oriented, shotgun-start carnival that threatens to diminish the PGA TOUR. And what's not to love about that?
---
This article can also be found in the July Issue of Colorado AvidGolfer.
Colorado AvidGolfer is the state's leading resource for golf and the lifestyle that surrounds it, publishing eight issues annually and proudly delivering daily content via coloradoavidgolfer.com.