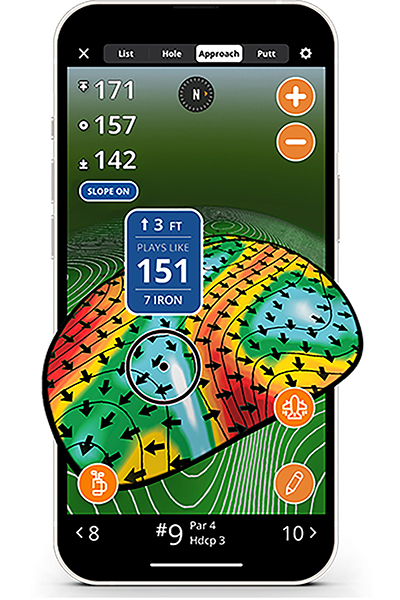 Golflogix Adds New Features to its Already Feature-Rich App
By Tony Dear
We all have our preferences and a favorite distance-measurement/game-tracking app. There are so many good options and though some might not offer quite as many features as others, might not be quite as accurate, or might be less user-friendly than your chosen app, we can't remember the last time we saw or tried a bad one.
Scottsdale, AZ-based GolfLogix has been around a while, since 1999 in fact. It made hand-held GPS-specific devices in its early days and produced the game's first free app in 2010. The company owns the largest and, it says, most "up-to-date" course database in the world, and the app has evolved considerably since it first appeared, of course (good luck to any golf app that isn't evolving rapidly) – enhancements that have seen its number of downloads crest the five million mark.
The look has improved immensely and, in recent years, it has focused with great effectiveness on its green-reading capability offering subscribers a range of features that will help them save shots on the green. In 2018, after spending a couple of years mapping tens of thousands of greens across the US, GolfLogix launched Putt Breaks at the PGA Merchandise Show in Orlando. Users could now get a great visual on green contours and how a putt might break. The following year, Approach View and Putt Line were added giving you a very useful tool for planning your approach shot and a top-tracer-style line showing the route to the hole. A quick look at Putt Line saved a few seconds over looking at the Putt Breaks arrows. So the app not only helped you make a few more putts, it also saved you a little time each round. In 2020, the ability to read greens better and quicker went a step further when users could purchase Green Books giving them the same information PGA Tour players use.
GolfLogix has now added two more features to GolfLogix Plus that will improve the experience and help you save a shot or two. Drone-like 3-D hole flyovers enable you to see the shape and elevation of the hole you're playing from tee to green. The app uses club-distance data you have stored in the app to give an accurate representation of your shot in flight…before you hit it. Now that is really cool and very likely to give you a shot of confidence before addressing the ball and help you avoid finding penalty areas, OB and other undesirable spots.
And by mapping innumerable elevation points, GolfLogix now has Slope capability giving the user a 'Plays like' measurement depending on a hole's inclines and declines. Both features can, of course, be muted for competitive rounds.
"With the new dynamic aerial perspectives and even greater detailed elevation and slope measurements we've added, GolfLogix users have access to the most advanced data available at over 38,000 courses around the world," says GolfLogix President and Co-Founder Pete Charleston.
If you use a golf app, it's more likely than not you're satisfied and are sticking to it. For new users or those who are, in fact, looking for an upgrade, GolfLogix is definitely in the conversation.
There is a free basic GPS mapping and shot-distance app but users can upgrade to GolfLogix Plus for Putt Breaks, Putt Line, Approach View, Set Pin Position, Target GPS Distances, Patented Club-Tracking, ad-free usage, 3D flyovers and Slope for $50/year or $10/month.
---
Colorado AvidGolfer Magazine is the state's leading resource for golf and the lifestyle that surrounds it, publishing eight issues annually and proudly delivering daily content via coloradoavidgolfer.com.