Having visited all 11 sites on Alabama's groundbreaking Robert Trent Jones Trail, a golfer inventories the experience.
By Tony Dear/Photographs by Michael Clemmer
It was late, and the shiny surfaces below indicated rain. Indeed, the TV in the arrival lounge showed several inches had fallen on Birmingham, Ala., over the last few days. It really didn't augur well, for the next morning's plan was to play Ross Bridge…from the tips.
Ross Bridge had opened the year before and was the last of the Robert Trent Jones Trail courses to come on board, meaning it was really Roger Rulewich and Bobby Vaughan who designed it (Old Man Jones had passed in 2000). The pictures were lovely, and I'd heard good things about the place from a handful of friends. But at 8,191 yards from the back tees, it was one of the longest courses in the world, and with such wet turf all those yards were going to stretch even further.
Still, I've always been of the view that if it's 95˚ out it may as well be 120˚. If I still have the light on reading or working at 1 a.m., why not go until 2? It's all the same to me. So, if I was going to play a course this long, what difference would another couple of hundred yards make?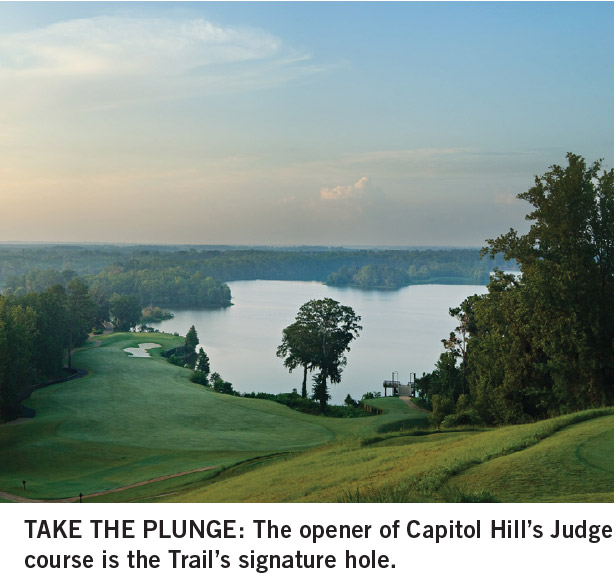 This was 2006, and I was working on an article for a British mag about what it was like to play over 8,000 yards of golf which, 14 years ago, was an awful lot further than it is today. I mean, my driverhead was made of metal and my ball had a urethane cover, but it wasn't all dialed in like it is today.
I'd face this behemoth with Director of Golf Chip Purser. Chip introduced himself and asked if this really was what I still wanted to do. He then said no one in the 18 months the course had been open had been stupid enough to play every hole from the tips. "People play a few from all the way back, sure" he added, "but certainly not all of them." Even the senior pros lopped nearly 700 yards off the full distance when they played Ross Bridge for the Regions Charity Classic from 2006 to 2010.
To cut a very, very long story short, I had a bit of a nightmare. Really, the one highlight of the round was watching Chip's 3-wood approach from 275 yards at the 571-yard 16th (the shortest Par 5 on the course by 48 yards) carry the front bunker and roll to within a few feet of the hole. It was one of the best shots I've ever seen.
"I remember that shot, and thanks for helping me relive it," Purser said in October after I reminded him of the round. "And do you remember how tired you were after playing the beast? I took a picture of you slumped over the cart like the ropes of a prize fight you barely survived." The photo is long gone sadly, but absolutely I recall collapsing onto the cart.
I bring up this ancient history because it remains my most vivid memory from the Robert Trent Jones Trail which I completed last Spring—which is to say, I have now visited all 11 sites, though certainly haven't played all 32 courses (standard, nine-hole, Par 3) and 468 holes.
We all know the story of this impressive project. In the late 1980s, Dr. David Bronner, CEO of the Retirement Systems of Alabama (RSA), sought to diversify the State pension fund's assets and, inspired by the movie Field of Dreams—and the line "Build it and he will come" in particular—hit upon the idea of creating a chain of affordable, public golf courses located close to the Interstate System. Not only would it boost tourism, Bronner also hoped it would stimulate commercial activity and attract retirees.

Bronner enlisted Bobby Vaughan, a former director of golf from North Carolina, to procure the necessary land and form alliances with municipalities, corporations and private developers. Together, they decided the course architect whose name would guarantee maximum exposure was Robert Trent Jones, who had designed or redesigned over 500 courses around the world.
Having reached his mid-80s, however, Jones was semi-retired. He did manage to visit the sites and draw up routings, but he left the detailed work to Rulewich, his senior associate, who had joined Jones's firm after graduating from Yale in 1958.
Besides doing myself harm on a long, humid day at Ross Bridge in 2006, what else do I remember from half a dozen trips over the last 13 years? Sweeping the dew shortly after dawn on the beautiful Backbreaker Nine at Silver Lakes in 2018 comes to mind, as does my first experience of Perry Maxwell holes at Lakewood, which the RSA purchased in 1999. Joe Lee added nine holes in 1967; Ron Garl nine more in '86; and Vaughan renovated it in 2004 (I never did quite work out who built what at Lakewood, but the Maxwell holes definitely stood out).
I remember playing perhaps the prettiest hole I ever saw–the 18th on Fighting Joe at the Shoals; battling a network TV segment-worthy downpour at Hampton Cove then walking through the steam as the hot sun emerged a few minutes later; the amazing opening hole on the Judge at Capitol Hill; some really firm, fast, and heavily contoured greens at Grand National; some major undulations at Oxmoor Valley; the superb Short Course at Magnolia Grove.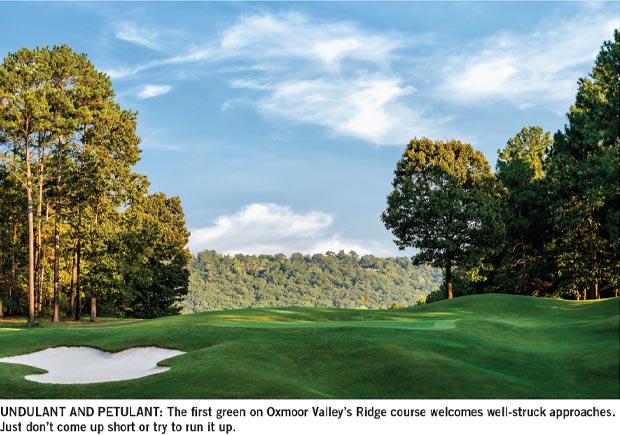 It's been fun. Despite all the courses being designed by the same guy (well, you know what I mean), and therefore having much in common, there are enough features peculiar to each site to distinguish them from each other. They are still affordable ($65-$130), can be as accommodating or taxing as you want (18-hole courses usually range from 4,500-7,500 yards, and while Ross Bridge might extend beyond most people's capabilities, you can play it from 5,312 yards if you wish), and if there isn't a top-quality hotel (Marriott/Renaissance) on-site, there are plenty of good options close by.
The Robert Trent Jones Trail is a very tightly run ship with an undeniable impact on the Alabama economy. More than 8,000 houses have sprouted around the properties, along with over five million square feet of commercial space generating hundreds of millions of tax dollars. The initial construction project generated 77,000 new jobs directly and indirectly, and today there are 54,000 more tourism jobs than there were before the Trail opened. It has been a major contributor to the State's soaring tourism income—$3 billion in 1990 compared with over $13 billion now.
That money is being spent by guys like Jim Ponciroli, John Kitzie and George Blatt—guys from out of state who have been coming to play the Trail with their buddies or significant others for a decade or more.
Ponciroli, from St. Louis, comes for eight or nine days every year with his wife Karen and enjoys the Lakes Course at Grand National best of all, though he also has a soft spot for Ross Bridge and the Senator at Capitol Hill. "We used to play the Judge there too," he says. "But it's too difficult for us now. Plenty of the other courses are easier to walk, though, so we always find somewhere we enjoy. We usually start in Florence and then loop through Birmingham, Prattville, Opelika, back to Birmingham, and then Huntsville before we drive back home."
Atlanta resident Kitzie has his system down too. "I've been coming every year since '99, and now come every April with four to eight buddies," he says. "It's ideal because we can play 36 holes a day and stay right on the course. We usually go for four days and play six rounds." After playing most of the Trail courses, Kitzie's group now rotates between Opelika, Oxmoor/Ross Bridge and Capitol Hill. "The logistics just work," he says.
Blatt, 72, now lives in Sarasota, Fla., and started visiting in 2006. He comes for a week every January and plays Magnolia Grove, Grand National, Capitol Hill and Cambrian Ridge, his favorite. He plays at least 36 every day, and oftentimes will get the first tee time in the morning and squeeze in 45. "Playing in January, we can have the courses to ourselves," he says. "You can't beat it."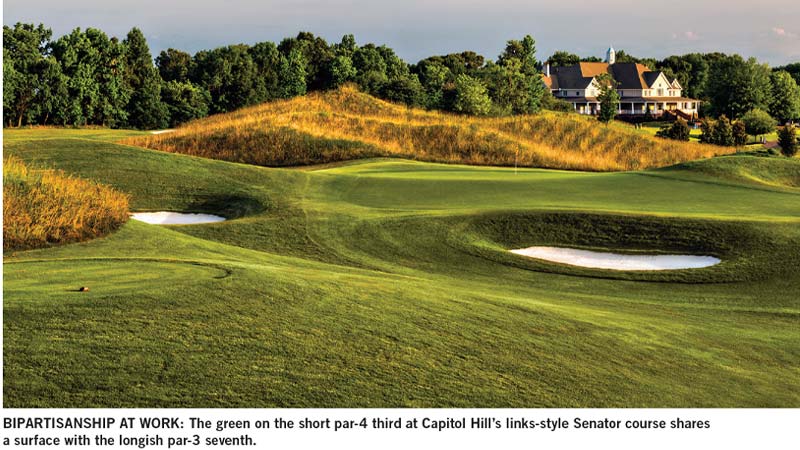 Though all three gentlemen are clearly fans of the RTJ Trail, it is Kitzie who emerges as its biggest cheerleader. "The service and conditioning are exceptional and consistent," he says. "It's a great value, and the starters couldn't be nicer."
"And Melissa in reservations is the best," he adds, emphasizing the professionalism and efficiency of the almost legendary Melissa Hawkins. "The RTJ Trail was a fabulous idea," he continues. "I had never been to Alabama before I played the Trail and now I've been more than 20 times. And it's been incredible to see the impact it has had on the state over the years."
He's not wrong. What the RTJ Trail has done for the state of Alabama is nothing short of phenomenal. Having seen all 11 facilities now, I've seen the effect it's had. It's staggering, mind-boggling, implausible, inconceivable.
No, not inconceivable. David Bronner had a hunch it might work and, boy, was he ever right.
---
Tony Dear, a CAG Contributor, regularly writes the gear column for coloradoavidgolfer.com. For more on the Robert Trent Jones Trail, visit rtjgolf.com or call 800-949-4444, option 2. Direct flights leave from Denver to Alabama airports in Huntsville (HSV), Birmingham (BHM) and Mobile (BFM), as well as Pensacola (PNS) in Florida.
---
This article was also featured in the Spring 2020 issue of Colorado AvidGolfer. For more information on the Robert Trent Jones Trail, check out the feature we did in our las issue on golf in Alabama.
Colorado AvidGolfer is the state's leading resource for golf and the lifestyle that surrounds it, publishing eight issues annually and proudly delivering daily content via coloradoavidgolfer.com. Follow us on Twitter, Facebook and Instagram.