Callaway has introduced three new irons (two sets and a utility model) that will definitely peak the interest of better players.
By Tony Dear
Yeesh, do you see that top-line? Yeah, we know it's hard to make out, but it's there. The sole is similarly inappreciable, and don't try looking for any offset. Clearly, Callaway's new Apex MB blade, the successor to the stunning 2018 model, has not been created for Joe Schmo and his scramble buddies but for golfers who really can golf their ball—specifically Tour pros, college golfers, elite amateurs, and perhaps a couple of guys at your club whose handicaps are on the less-populated side of scratch.
Whether or not you think the new version is quite as fetching as the club it replaces depends on how you feel about the weight screw in the muscle. Some might think it cool and sort of techy-looking, while others might consider it an unattractive addition. Whatever your position though, be assured it does actually serve a worthy purpose—namely to alter the swingweight of the club without moving the Center of Gravity (CG) which is a little higher than it would be on a game-improvement iron which seeks to facilitate getting the ball off the ground.
The standard weight is 8g, but 4g and 12g are also available. But it's not like you get all three in a handy, leather pouch at the pro shop and can chop and change whenever you like. These bad boys are available custom only which means you work with a fitter to identify the most effective swingweight and it's then locked in.
The short, compact blade is forged from 1025 Carbon-Steel and offers virtually nothing in terms of forgiveness past a barely-perceptible 'pre-wear' on the leading edge designed to move the clubhead through turf more efficiently, and the 20V groves which reduce fliers from the rough.
Besides those meager concessions, however you are on your own.
$185 per club (steel)/$200 (graphite)
Shafts—Custom
Right and left-hand
Available—10/22/20 (online), 10/29/20 (retail)
The Apex MB comes at the very pointy end of a three-set release announced last week. Also new are the X Forged CB and X Forged UT irons.
There are definitely similarities between the Apex MB and X Forged CB. The bodies of both are forged from 1025 Carbon-Steel, both have that pre-wear leading edge, and both possess back weights that a fitter can change out to satisfy the golfer's swingweight preference. Most significantly, both are shaped and intended for really good golfers—really really good golfers in the case of the Apex MB.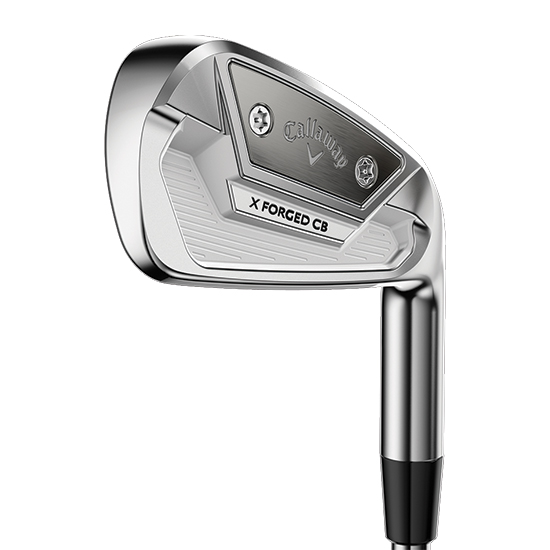 But the differences are fairly conspicuous too. The 'CB' stands for Cavity Back for starters, and the multi-material head is hollow (okay, you may not be able to see that but you'll certainly be able to feel it), allowing for a Metal Injection Molded (MIM) tungsten weight in the toe—the weight ranges from nine to 14g through the set – to draw the CG more into the center of the clubhead and slightly further down. That almost makes it sound game-improvement, but be assured it is nothing of the sort. The X Forged CB is a players distance model that Callaway expects to be popular among its Tour staff. Like it does in the Apex MB, the backweight is there to set the club's swingweight—12g, 17g, and 22g are available but again the factory fitter will build your club to your specifications. And while the body of the clubhead is 1025 Carbon-Steel the face is actually 17-4 Stainless Steel which, in concert with the hollow body, gives ball-speeds a little boost. The hollow is also filled with Callaway's urethane microspheres which dampen the vibration of impact, improving feel.
So, you see, there's a lot going on in the X Forged CB.
$200 per club
Shaft – Project X IO (steel)/Mitsubishi MMT (graphite)
Right and left-hand
Available – 10/22/20 (online), 10/29/20 (retail)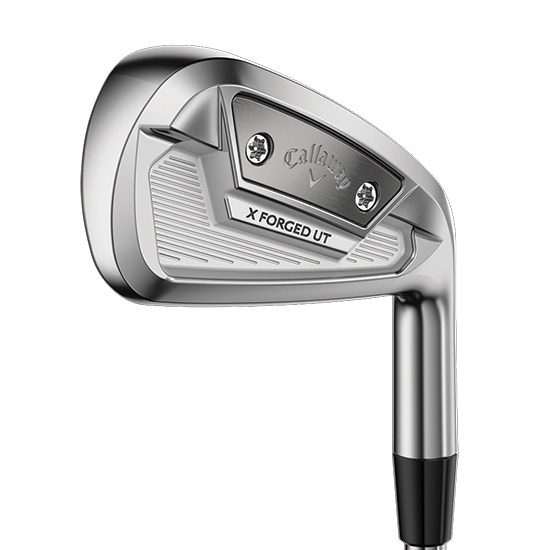 The tech in the X Forged UT (Utility) irons is much the same as that of the CB – hollow body with MIM'd tungsten toe weight/1025 Carbon-steel body and 17-4 Stainless Steel face/Cavity backweight/Urethane microspheres–all present and correct. The major difference, as you'd expect of a utility iron, is that it's bigger and has a higher Moment of Inertia (MoI) so is relatively easier to hit. An AI-designed Flash Face Cup launches the ball a little higher and helps increase ball-speed.
$250 per club
Lofts – 18˚, 21˚, 24˚
Shaft – Project X U( steel), HZRDUS Smoke Black (graphite)
Right and Left-hand
Available – 10/22/20 (online), 10/29/20 (retail)

---
For more on the latest and greatest gear in golf, visit our GEAR PAGE.
Colorado AvidGolfer Magazine is the state's leading resource for golf and the lifestyle that surrounds it, publishing eight issues annually and proudly delivering daily content via coloradoavidgolfer.com.