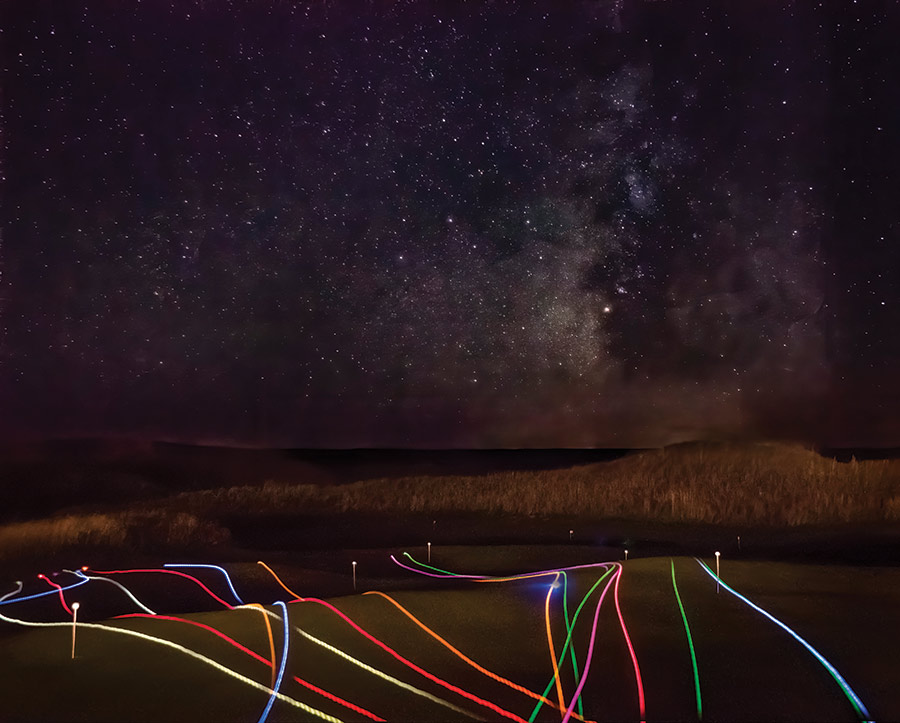 Ballyneal's inland-links golf inspires creativity around the green.
AS EVERY CADDYSHACK fan knows, night-putting can get you kicked out of college. At Holyoke's Ballyneal Golf and Hunt Club, however, members just get a kick out of the activity.
One of the three private clubs with a putting course—in addition to a traditional practice green—featured in this issue (page 62), Ballyneal sells glow balls in a variety of colors so members and their guests can fire at illuminated pins beneath a vast blanket of stars well into the night.
This spectacle inspired Ballyneal member, filmmaker and longtime National Geographic photographer Dewitt Jones. His long- exposure image captures the evening electricity of the course, with the putts forming a neon tangle of spaghetti or Silly String as they ride the contours of the slopes like alpine athletes in a Colorado torchlight ski parade.
The heaving chop hills that form those slopes complete the composition. They silhouette the background against the kind of magnificent celestial canopy you get to experience when you're 200 miles east of the closest light-polluting city.
It's an uncommon look from an area called "The Commons," as this 15-year-old club has aptly named the putting course at the center of its village. Designed by Tom Doak—who also created Ballyneal's stellar 7,147-yard 18-hole layout and its 12-hole, par-3 Mulligan Course—the undulant acre gathers members from all over, such as the Sonoma-based Jones, after they've finished their round on the celebrated main course.
These golf purists come to this corner of Colorado for the course and for the camaraderie, which joyfully expresses itself in night-putting—without the dean's daughter. —Jon Rizzi