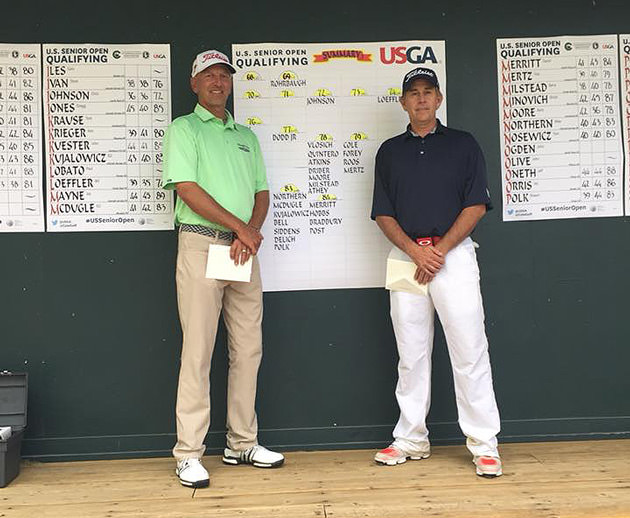 Carbondale resident and instructor at Snowmass Club Doug Rohrbaugh qualifies for his fourth U.S. Senior Open.
By Drew Kort
For the fourth time in his career, PGA pro Doug Rohrbaugh qualified for the U.S. Senior Open. But this time, it feels different.
"It's going to be awesome playing in front of the home crowd," the golf instructor at Snowmass Club and representative at Ord Apparel told Colorado AvidGolfer. "To pull it off after however many years I've been thinking about it, that's something special."
Rohrbaugh, who finished as the only player in red figures with a 1-under 69 in the single-day qualifier, plotted his way around the very course in which the event will be held-The Broadmoor Golf Club's East Course. Rohrbaugh, by his own admission, was rock solid all-day long.
"If there was a pin tucked right, I was playing 20 feet left. If the pin was on the left, I hit it 20 feet right. I did that all day. I kept hitting it in exactly the right place," he said. "I kept it below the hole and rarely had the downhill putt."
In addition to the advantage he gained from his consistent ball-striking and strategic approach, the 56-year-old had a secret weapon alongside him all day long. His son Tristan, a former 3A state high school champ, not only carried his father's bag during the round, but helped keep him focused as well.
"He managed me really well," the golfer joked. "He said all the right things, and we were on point together. It was a team effort all the way."
The 39th playing of the U.S. Senior Open in late June will mark the Carbondale resident's eighth senior major appearance. In his previous three U.S. Senior Opens, he missed the 36-hole cut. But, he could experience more success this time around as there are a few advantages the homer will enjoy.
As a shorter hitter of the golf ball, the East Course may just be the perfect venue for his distance.
"The design and set up of the golf course will equalize the long-ballers," he said. "Almost all of the holes have doglegs, and that makes it difficult for them to hit the driver. I think the long hitters will have to hit shorter clubs off the tee, and that brings everyone else in it."
Understandably, his expectations are higher this time around.
"I've been in a few of them now, and I have a goal to do something with this opportunity instead of just being happy to be there," he said.
If he can duplicate the strategic, methodical and consistent play that earned him a spot in the tournament field, we should see him tee it up on the weekend.
The tournament begins June 28th.
---