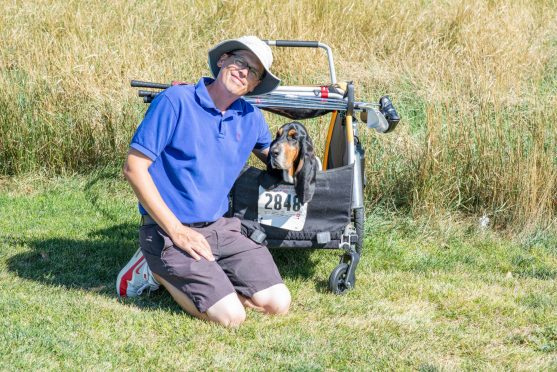 A flirt with death unites a man and dog in golf.
By Jon Rizzi | Photographs by E.J. Carr
It's easy to spot Preston Ketchum at CommonGround Golf Course. Just look for golfer pushing a stroller with clubs strapped on top and a basset hound riding inside.
Even in our dog-loving state, you don't see this every day. But every day is about as often as this scene has played out since April 23, 2019.
That Tuesday marked the one-year anniversary of the date "Andiamo"—Ketchum's third rescued basset hound—rescued him.
Incident at Cherry Creek
It happened when the two were taking one of their usual walks near their Cherry Creek North home. Ketchum, a 41-year-old AdTech executive, suddenly lost consciousness and fell into a planter at the corner of 1st and Clayton.
"They said they wouldn't have seen me if the hound wasn't sitting on my chest," Ketchum says of the people who called 911 and took care of Andiamo when the EMTs arrived.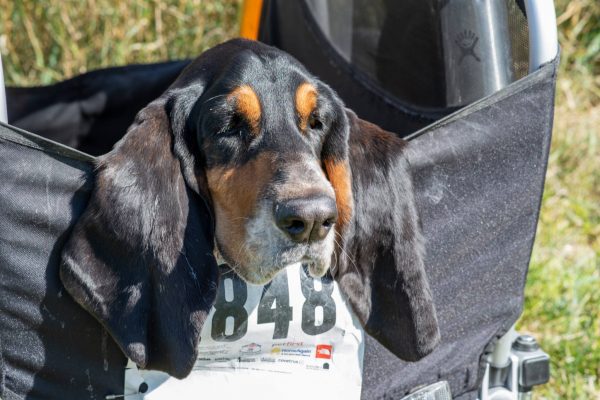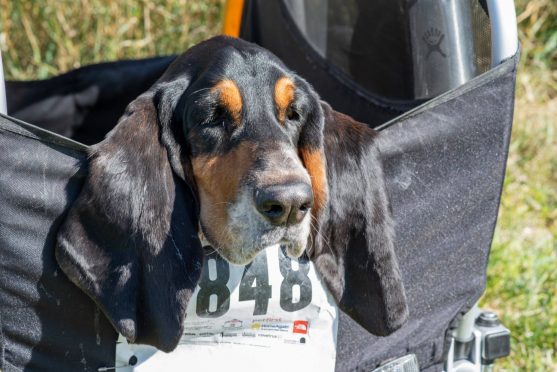 Ketchum woke up at the Ernest E. Moore Shock Trauma Center at Denver Health, where a neurosurgeon informed him that a tumor had cracked through his skull and he was lucky to be alive.
Surgery to repair the skull fissures followed. Removing the tumor was too risky, but thanks to treatment, rest and the stress-relieving company of a loyal companion, the tumor's size stabilized over the next 12 months.
"There was more to life"
During his convalescence, Ketchum reassessed his priorities. He decided to quit his hectic job, which took him to London and São Paulo three out of every four weeks, and return to playing golf, a game he loved but had given up when he moved to Denver five years earlier.
So, on April 23, right after his neurosurgeon green-lighted him to resume regular activities, Ketchum "went straight to CommonGround. I knew it was a dope course, and I became a member."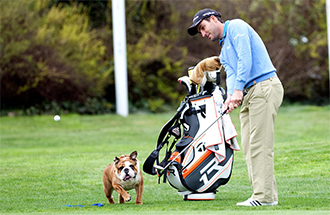 He dusted off his sticks and bought Andiamo a pet stroller so she could accompany him. The pair had experienced this custom in England, where his former UK-based company had a corporate membership to The Wisley Golf Club in Surrey, which allows members' dogs unfettered access.
"The Molinari brothers, Francesco and Edoardo, are also members, and say that they play better having the dogs around," Ketchum claims.
Andiamo means "let's go!"
At CommonGround, Andiamo's six-year-old paws never touch the turf. Her low, long, 45-pound frame rides comfortably in the pram as Ketchum plays. She speaks only on command and never accompanies him if the temperature exceeds 75 degrees.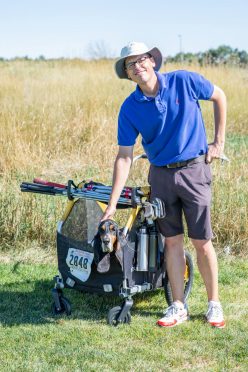 "I take precautions with her," he says, "I have a heat-reflective umbrella and always bring water."
He also ensures she takes care of "business" before they arrive. "I would never let her 'go' on the course," he says. "I have very high respect for the job the superintendents do and for the game."
A week after he joined, Andiamo witnessed Ketchum hole his 122-yard tee shot on the par-3 second—the sixth ace of the 9-handicap's career.
A special way to give back
In addition to playing golf again, Ketchum's self-described "tumor situation" also inspired him to share his passion for golf and his passion for dogs.
A volunteer position coaching the Unified Junior Golfers/Special Olympic team at CommonGround enabled him to do both.
He started shortly after joining CommonGround, and every Saturday afternoon at the far end of the driving range, he and Andiamo work with between nine and 14 junior athletes with intellectual disabilities on PGA (posture, grip and alignment) and progress to other concepts of the game so they can graduate to playing the par 3 course.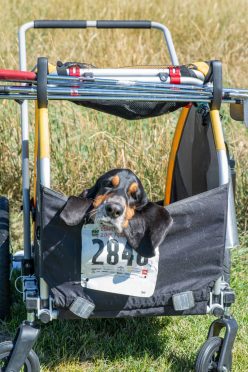 "Andiamo is definitely a part of how we work with these kids," he says. "Many of them don't make eye contact, and social graces don't come easily. She is a great icebreaker. She takes the pressure and seriousness out of the equation. She makes it a more accessible, feeling- and emotion-based situation with no intimidation."
The dog-and-player team has enjoyed great success, with three of the students advancing to the par 3 course during the summer.
The coach takes great pride in all his students, singling out one, Ari Hochman, as "an absolute inspiration" to him.
"These kids leave it out on the proverbial course every single day," marvels Ketchum, who envisions scaling the program on a national level.
"Golf is a challenge, and I love sharing my appreciation of that struggle with the kids. A bad shot is relative when you think about what these kids have been through."
And when Ketchum considers what he's been through the past 18 months, he knows he's lucky to be anywhere at all.
"Andiamo saved my life; that's what I believe," he says with obvious emotion. "She goes everywhere with me."
---
For more of the latest Colorado golf news, visit our NEWS & PROFILES PAGE.
Colorado AvidGolfer Magazine is the state's leading resource for golf and the lifestyle that surrounds it. CAG publishes eight issues annually and proudly delivers daily content via coloradoavidgolfer.com.