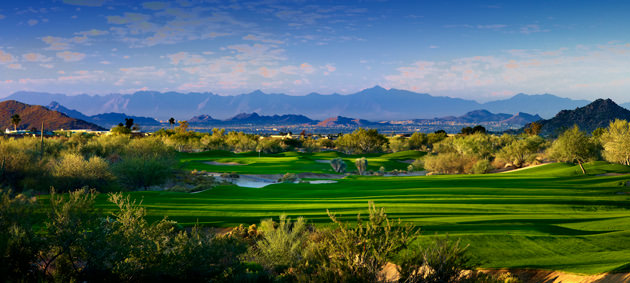 …and you must go—to Desert Mountain, Arizona's premier golf community.
By Jon Rizzi
---
Ever since opening its gates in 1986, Desert Mountain has defined the upscale Arizona snowbird lifestyle. Occupying 8,000 acres—an area twice the size of Cherry Hills Village—this luxury master-planned community comprises seven percent of the city of Scottsdale. It remains the only club in the world with six Jack Nicklaus Signature Courses.
In addition to enjoying distinguished architecture and 108 holes of championship golf, members can dine at one of the community's nine restaurants; serve and volley on their choice of clay, hard court or Wimbledon-quality grass; and rejuvenate in the 42,600-square-foot Sonoran Fitness, Tennis and Spa Center that recently underwent a $12 million renovation.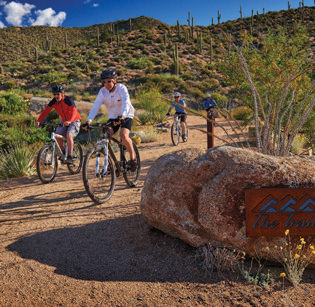 They can also hike, bike, run or walk on the property's 15-mile award-winning private trails system, which consists of seven segments, each varying in degree of difficulty, leading into the adjacent Tonto National Forest and up the scenic eastern slope of the Continental Mountains.
"Desert Mountain is built around golf in its heritage, but they've built a community that has something for everyone," says one Cherry Hills Country Club member whose family joined Desert Mountain seven years ago. "The more time I spend down there, the harder it is to leave." It's easy to see why.
---
COMMUNITY-MINDED
Desert Mountain may have "something for everyone," but the enormity of the development—1,850 equity golf members and 2,300 properties (1,800 homes, 500 sites) in 32 subdivisions—can intimidate some prospective members.
"With the size and scope of the offerings at Desert Mountain, there can be a perception that it can be a bit overwhelming," Director of Membership Sales Nicole Forbes says. "The people here are very welcoming. We make sure everybody finds their niche."
A member services team coordinates events and programming and serves as a personal concierge "to ensure that each and every member's needs are met no matter what the request may be," according to Director of Member Services Kathy Wyckoff.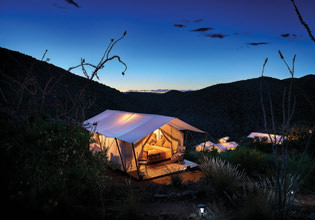 Wyckoff's group regularly arranges on-property glamping (tents with running water, queen beds and wood floors), four-wheeling, horseback rides and even grocery delivery and 50-minute rides to Phoenix Sky Harbor International Airport.
That team also manages the more than 30 social clubs to which Desert Mountain members belong. They range from bridge, poker and mahjong to hunting, running, biking, motorcycling, gardening and more. Authors, artists and experts in health and other topics regularly present to eager audiences.
The programming is extensive. Daily events pack the calendar. From October to May, the club hosts an 18-event Dinner Series highlighted by a Glenfiddich Single Malt Dinner, Tequila and Mescal Taco Dinner and wine dinners featuring Silver Oak/Twomey, Duckhorn, Mondavi, Darioush and other fine wineries. Desert Mountain also enjoys a tradition of ladies-only Bella Constantina dinners featuring foods and wines from specific parts of the world.
The food and wines prepared and served at Desert Mountain's nine restaurants rival those at any eatery in dining-rich Scottsdale. To ensure this, the club in April hired as its Director of Culinary Operations Bertrand Bouquin, who during his 12 years as executive chef at The Broadmoor in Colorado Springs opened the award-winning Summit and elevated Penrose Room to Mobil 5 Stars and AAA 5 Diamonds.
---
A MOUNTAIN OF HEART
In addition to kicking back, Desert Mountain members enjoy giving back. Desert Mountain boasts a number of grass-roots charities. The Desert Mountain Community Foundation raises funds to provide college scholarships for employees and their families. CARE has raised millions for cancer research over the past 15 years.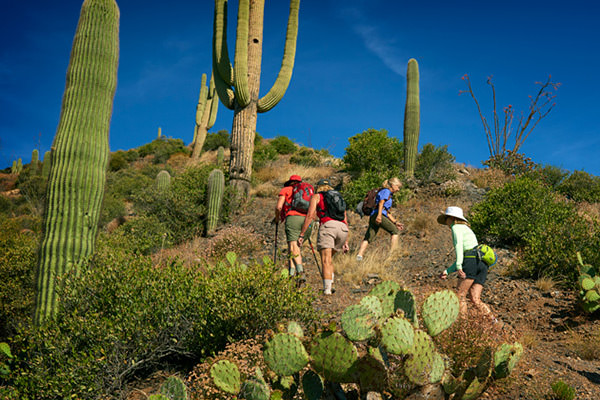 And that aforementioned 15-mile trail network? It was paid for and is immaculately maintained by the Desperados, a lime green-shirted brigade of members that raises funds to protect, promote and enhance Desert Mountain's outdoor recreation experience.
Further evidence of this altruistic spirit came this September when Desert Mountain CEO Damon DiOrio organized Clubs Helping Clubs, an initiative involving 12 private clubs whose staff and members collected more than 250 boxes of donated food, clothing, water, cleaning supplies, diapers and other necessities that Desert Mountain staff delivered to their club peers in the Houston area.
There's something for everyone, but no pressure to do any of it. "You can be as engaged or as secluded as you want," says another Colorado-based member. "It's the best of both worlds."
---
DISNEYLAND FOR GOLFERS
"I'd never seen a more beautiful place in my life," PGA Director of Golf Mike Scully remembers thinking when he interviewed for the job he got at Desert Mountain five years ago. For perspective, the club he left wasn't exactly Bushwood; it was the illustrious Medinah Country Club outside Chicago.
Scully now oversees what Membership Director Forbes calls "Disneyland for Golfers."

The description is apt. Each of the six courses—Cochise, Geronimo, Chiricahua, Outlaw, Apache and Renegade—is a unique and thrilling ride. The property's four dual-sided ranges let you practice every conceivable lie. The Jim Flick Performance Center features six bays: four for high-tech instruction; one for custom clubfitting with master clubfitter Chris Heasley; and one for a Titleist Performance Institute (TPI) Fitness assessment so the TPI trainers in the Sonoran center can customize a regimen.
---
THE COURSES
Each course has its own practice area, as well as a distinct layout and clubhouse—complete with restaurant and shopping—except for Cochise and Geronimo, which share a large Frank Lloyd Wright-inspired clubhouse.
Cochise, perhaps the best known of the bunch, hosted The Tradition, a PGA Tour Champions major, from 1989 to 2001, as well as four of the last five Charles Schwab Cup Championships.
Geronimo, a visually intimidating layout that rollercoasters around boulders and through ravines, rates as Desert Mountain's toughest test, according to Scully.
The northernmost of the courses, Chiricahua, features an Old World-inspired clubhouse that perches above 18 spectacular holes and houses Constantino's, arguably Desert Mountain's finest restaurant.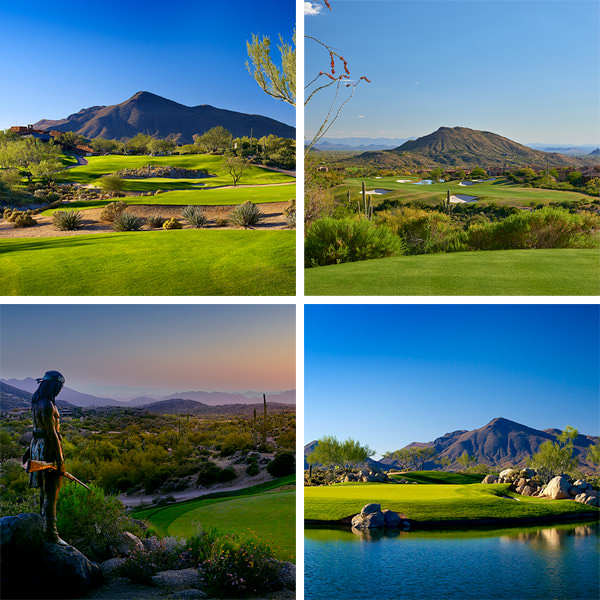 On the southeastern side of the property lies Apache, a popular course among women and late-afternoon couples because of its lack of forced carries. But it's no cupcake from the back tees, from which the club championship is decided every year.
The newest course, Outlaw, opened in 2003 beyond the gates on the property's eastern edge. Featuring views of Pinnacle Peak and the Tonto National Forest, this "desert links" is unencumbered by real estate and favors better players and creative shotmakers.
Nicklaus opened the oldest of the six, Renegade, in 1986, "right after he'd won the Masters," Scully notes, "and he shot an 83 here in his first round."
Renegade also earned notoriety because, in addition to the usual range of teeing areas, each hole has two sets of greens—the white greens eliminate a number of the forced carries over waste areas and bunkers. "It can play 4,000 to 8,000 yards," Scully says. "Everyone from the beginner to the most accomplished player can get around."
---
A SEVENTH COURSE
They should be able to get around even better once an upgrade of the course premieres on Super Bowl Sunday, 2019. Also on that day, a little southwest of Renegade, Desert Mountain will unveil an 18-hole par-3 course designed by Bill Brownlee and Wendell Pickett, the same team that designed the highly acclaimed 9-hole Li'l Wick Par 3 at Wickenburg Ranch and Social Club 70 miles to the west.
A par 3 from the back tees, the as-yet-unnamed course can double as a putting course from the front tees. Adjacent to the course will stand a new indoor-outdoor clubhouse, featuring bocce, cornhole, firepits, music and other elements conducive to what has come to be known as "the hang."
The par 3 will bring the total number of courses to seven—and the number of members potentially to 2,000, attracting new blood with a more relaxed, accessible approach to golf and the Desert Mountain lifestyle.
---
MEMBERSHIP DRIVE

Another huge attraction is a new 30-day Trial Preview Membership. For $3,000, you and your family can become Desert Mountain members for 30 days. Participants can rent a house on property and enjoy the same access and privileges as full golf members.
If, after the 30 days, you decide to join, the $3,000 applies to your initiation deposit. Should you opt not to join, you've had a month of amazing golf, dining, spin classes, hikes and stargazing beneath the ink-black desert sky.
Members have owned Desert Mountain since 2011, with the market-based initiation fee for an equity golf membership currently trending in the $40,000 range. Monthly dues run $1,510 and the annual food and beverage minimum is $2,000, which can be met at any of the restaurants, beverage carts, commissary or even the mobile chef who makes his rounds on the golf courses and new pickleball and croquet facilities.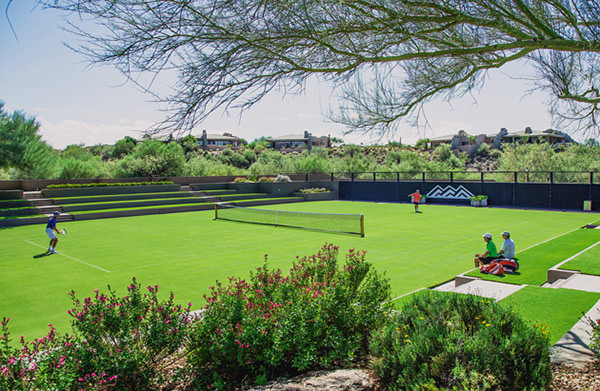 Members are no longer required to own property in Desert Mountain, although home purchases occasionally come with a membership folded into the price. Properties range from 2,500-square foot lock-and-leave adjoining townhomes in the mid-$600s to $10 million estate homes.
The average lot size for a single-family home ranges from one to 10 acres. There are roughly 500 vacant homesites and 150 homes being built, remodeled or on the market.
Desert Mountain itself is going through a slight remodel. The place that once boasted the hardest courses in Arizona now promotes the USGA/PGA's Play It Forward initiative and its soon-to-open Par 3 course will feature piped-in music.
Spinning, Zumba, yoga and Pilates classes fill the new Sonoran studio spaces. And a triathlete, Mirinda "Rinny" Carfrae, not a golfer, has become its resident touring professional.
Yet the club still logs 145,000 rounds a year and remains a golfer's dream. "My wife and I looked at numerous, more traditional clubs in the area, and there was just no comparison," one Denver-based member explains. "From the variety of golf courses and restaurants to the facilities and community, Desert Mountain really is world-class and all-inclusive. Plus, you can't beat the convenience from Denver."
---
For more information, visit desertmountain.com or call 480-595-4110
---
This article appears in the Fall Issue 2017 of Colorado AvidGolfer, the state's leading resource for golf and the lifestyle that surrounds it, publishing eight issues annually and proudly delivering daily content via coloradoavidgolfer.com.