It's not a haul to say these crossovers have come a long way.
By Isaac Bouchard
AS CROSSOVERS HAVE taken the place of sedans as normal family transportation, they have become more and more like their four door forefathers. Noticeable trends are smaller wheel-to-fender gaps, more aerodynamically friendly shapes, lower step-in heights and more and more car-like interior styling. If one were plopped blindfolded into many current models, it would be hard to tell you were in a vehicle once focused on off-roading or dirty work and hauling. These three clearly illustrate that trend; while they all have more ground clearance than a traditional four door and AWD, none look nor drive like SUVs of yore.
2020 BMW X3 30
EEPA ratings: 60 MPGe; 24 combined 0-60mph: 5.3 sec
Price as tested: $65,020
Europe has pushed ahead with strict guidelines for fuel economy in new vehicles; though they measure it in grams of CO2 per kilometer driven, instead of miles per gallon like we do. This has led most car companies to bring plugin hybrids to market as fast as possible, as they score well in testing regimens. Now we are getting a taste of what these gas-electric hybrids can do as well. It is interesting to see if their complex and heavy drivetrains pay real world benefits, either economically or in economy. In the case of the BMWs, the case seems strong fo the latter. Whether it is the 6 cylinder X5 45e or the X3 30e tested here, these "sport activity vehicles" better the fuel economy of their gasoline-only versions, and have the ability to cover short distances (about 20 miles) on electric power only—as long as you charge them every day or so. But even when you can't top up their lithium ion batteries, the extra torque provided by their electric motors makes them smooth, fast and refined. The downsides are the slight loss of cargo capacity—since the X3's 12kWh batteries are under the floor of the cargo area—and the feeling of extra weight. This certainly doesn't hurt ride quality, which is excellent; the X3 is less bothered by bumpy roads than most any other crossover in its class, and is one of the quietest as well. This latter quality is enhanced by the PHEV (plugin Hybrid Electric Vehicle) powertrain.
The BMW's enthusiast-focused heritage is apparent when you select one of the sportier drive modes; in Eco the X3 is somewhat slothful and unresponsive, all so as to generate the longest EV range possible and excellent fuel economy, which it readily achieves. The 30e routinely re- turned 3-5mpg better than a gas-only X3—and is possible to actually get over 40mpg if one is disciplined and used the Max eDrive setting— yet is very fast when Sport is selected, with instant electric thrust that seamlessly blends with the turbocharged gasoline engine. Independent testing shows it will hit 60mph in 5.3 seconds. Total system power is rated at 288hp/310lb-ft, placing it right between the 248hp X3 30i and 355hp X3 M40i models, just like its acceleration. Likewise, the transition from EV-regeneration to friction braking was nigh on undetectable, some- thing hard to achieve in a plugin. When spec'd with the M Sport package and big wheels, the X3 30e looks every part the performance crossover— and it drives like it too, with skidpad and braking numbers that match the hotrod M40i. As long as you're willing to pay the premium for the PHEV drivetrain, and aren't overly concerned with recovering all its cost through reduced fuel usage, it seems a great way to go green.
2020 BUICK ENCORE GX ESSENCE*
EPA ratings: 30/32/31 MPG 0-60mph: 9.3 sec
Price as tested: $33,465
*Front wheel drive model tested
Buick has made a major comeback over the past decade; they're one of the most popular brands in China and they're once again aspirational for many folk here. The Encore is a solid entry in the compact class. Its styling is mature and attractive, its size seems well suited to empty-nesters or those who don't have a big family yet, and its mix of tech and refinement is well-balanced and satisfying. Optional is a 155hp/174lb-ft turbocharged engine; despite only having 3 cylinders it is smooth, and there is enough low-end torque channeled through 9 transmission ratios to let the Buick keep up with urban traffic. The Encore's ride is polished and refined, befitting the upscale image the company wants to project. Gone is most of the hobby- horse motions of its smaller sibling, the Encore. There's nothing especially rewarding about the way the Buick handles curves, but it's nice to see a company not chasing useless lateral-g numbers at the expense of real world competence. Inside, this might be Buick's most successful interior yet; the design is attractive and material quality a step above the average Ford, Chevy or basic Asian offering. But it is not good enough to compete with a Mazda CX-5, never mind most Acura, Audi or BMW models Buick would like to consider as the Encore's competitors. There's loads of standard and optional tech including a high def 360-degree surround view camera and head up display, and though its infotainment screen isn't particularly large, the image is bright and responsive. If things like that matter more than punchy acceleration the Buick is a strong contender.
2021 KIA SELTOS SX TURBO
EPA ratings: 25/30/27 MPG 0-60mph: 6.6 sec
Price as tested: $29,485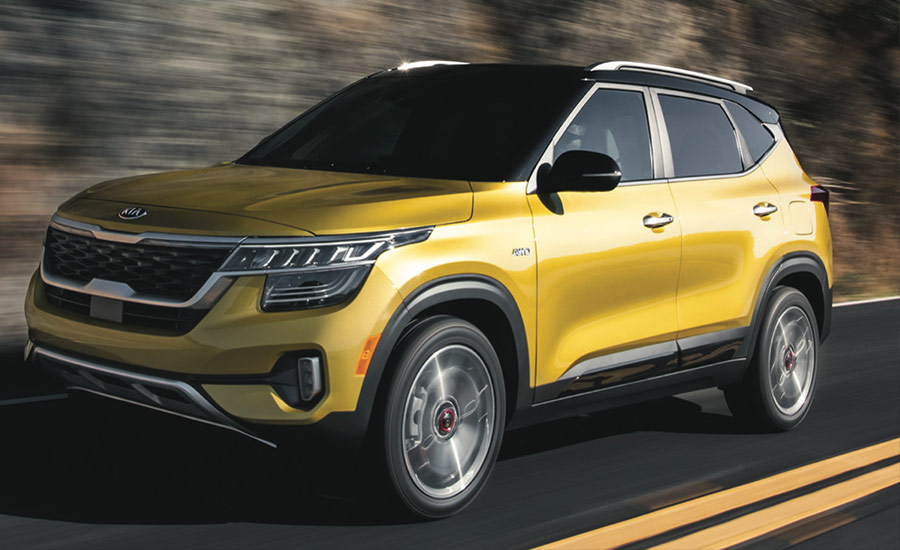 Slotting into the Kia lineup between the Soul (front drive only) and the Sportage, the Seltos is similar in size to the Buick, yet different enough in execution and pricing to make an interesting alternative—especially now that Kia has entered that vaguely defined market arena above mainstream, but below premium, thanks to such excellent products as the Stinger and Telluride. In the top SX trim, its chiseled exterior, available two-tone paint schemes and big polished wheels really come into their own. Inside the design is fine but plastics are generally hard and shiny; likewise the seat coverings are faux leather, not real hide like that which covers the nicely sculptured steering wheel. Making such material choices less objectionable are an optional, 10.25in infotainment screen for the excellent UVO software, digital instrument cluster and all the modern driver aids, all for under $30,000. Based on the platform of the superbly executed subcompact Kona, top Seltos models come with the great 1.6-liter, turbocharged engine and 7-speed dual clutch tranny that make the smaller machine so much fun. 175 horses and 195lb-ft of torque make the bigger Kia quick too, with 0-60mph taking only 6.6 seconds. Its helm is responsive and handling decent; likewise ride quality and refinement are fine, though the engine is quite loud at full throttle. All in, this version of the Seltos is quite a bargain and the compromises Kia has made to keep its price down are smartly judged.