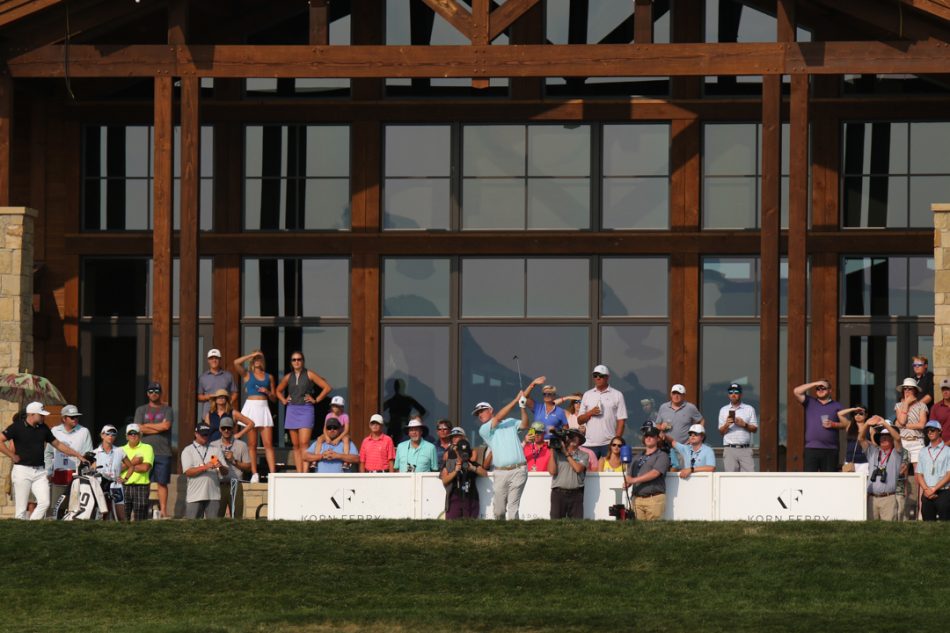 Catch the Rising Stars June 28-July 3 at the KFT's Ascendant presented by Blue
If you'd crystal-balled the field in the Korn Ferry Tour's inaugural TPC Colorado Championship, you would have followed Scottie Scheffler, who won this year's Masters and has vaulted to the top of the world rankings.
In 2019, however, Scheffler finished 29th in Berthoud.
You never know who the next star is going to be. In addition to Scheffler and 2020 TPC Colorado winner Will Zalatoris, current PGA TOUR standouts Maverick McNealy and Davis Riley also played here before they graduated to the PGA TOUR. But so did hundreds of other players who continue to chase the dream on mini-tours and Monday qualifiers.
One thing's certain: Scheffler's and Zalatoris' ascendancies have coincided with that of the TPC Colorado Championship, which, as of this year, is officially known as The Ascendant presented by Blue (Ascendant National Title is the title sponsor; Blue Federal Credit Union, the presenting). Ascendant is arguably the most appropriate name ever for a title-sponsored tournament for aspiring PGA TOUR golfers.
With defending champion Tag Ridings not in this year's field, the players to watch include former University of Washington player Carl Yuan; multiple KFT runner-up finisher Ben Griffin; 2020 and 2021 Colorado Open champions Mark Anguiano and Alex Weiss; Charlie Saxon and top 10 KFT players Taylor Montgomery and Tyson Alexander. (For a full list of competitors, click here.)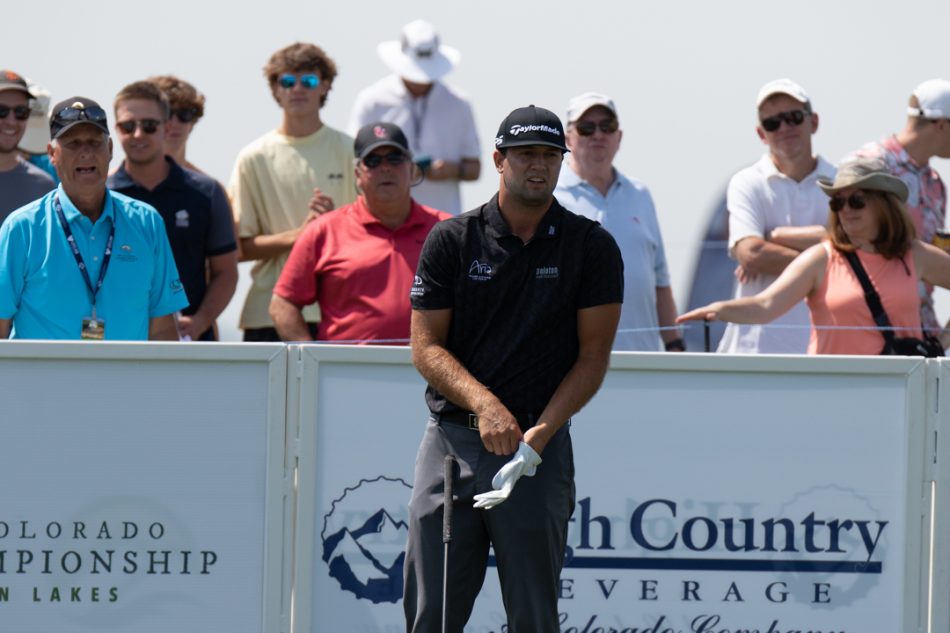 THE BEST SHOW
The fourth edition of the event tees off tomorrow, June 30, at TPC Colorado in Berthoud, and when it does, it will be defending its title as the Korn Ferry Tour's 2021 Tournament of the Year—an honor it received two years after earning the Product of the Year Award and unofficial title of "best first-year tournament in 30 years."
The TPC Colorado course also received the highest score of any course on the pandemic-induced 46-event wraparound schedule of 2020-2021.
"I do like the fact that the holes are longer—it's not just driver and a wedge like just about everywhere else," says Tyson Alexander, who finished one shot shy of being the fourth man in a playoff last year. He's not enamored of the 773-yard 13th but loves the decision-making involved in the risk-reward third, the beauty of the par-3 eighth and the strength of the three-hole closing stretch.
As far as strategy, "There's some space off the tee and room to drive it," he says, "which gives the longer hitters an advantage."
Former Air Force Academy player Tom Whitney concurs, although missing fairways is very penalizing. "They pride themselves on growing the rough out," he says. "If you hit every fairway, you're going to contend."
THE FAN EXPERIENCE
The 20,000 and 25,000 fans who attended the two TPC Colorado Championships that allowed spectators got to experience most, but not all, of the bells and whistles—viewing areas, hospitality tents, merchandise sales, kid areas—that make a top-flight tournament.
That was before the event became The Ascendant presented by Blue. "This gets us over the hill and allows us to throw a better tournament," course owner and developer Jon Turner said at the announcement. "The event is now poised to grow stronger."
And that is has. Go this year and you'll experience it. "Our slogan is bigger, better, back," Blass says. Look for more interactive activities with BirdieBall and other partners, like Citywide Banks; improved parking and operational logistics; a heroes' pavilion to honor military and first responders; and bigger hospitality areas on holes 15 and 18.
Shuttles will now take patrons from the clubhouse to holes 8-11—"the furthest from the clubhouse and some of the prettiest on the course," Blass says—and a new caterer means there'll be more food stations around the course, including by the eighth tee.
Construction is nearly done on additional viewing areas at the magnificent 16th—the par-3 known as "Center Stage," where Kevin Yu, David Skinns and eventual champion Tag Ridings contested last year's three-person playoff.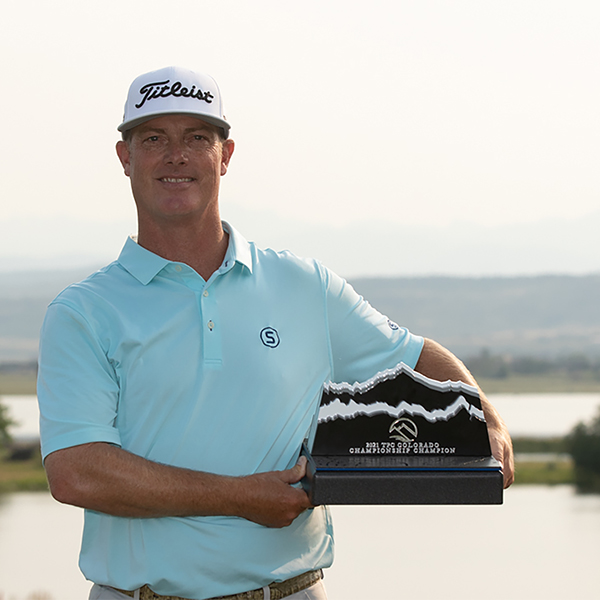 Like Nelson Ledesma and Will Zalatoris before him, Ridings received a distinctive trophy suggesting the peaks visible across the water from the 16th green. This year's winner will get one too, plus a gift: a pair of Adirondack chairs made from skis—"one is painted with the Colorado flag, the other with the Wyoming flag," Blass says, explaining that Blue Federal Credit Union is a Wyoming-based company.
"It's a unique gift with a local flavor, and after the tournament, we'll ship the chairs to the winner—even if he lives in Australia," Blass laughs.
So which of the 156 players will you follow—and which future PGA TOUR star will you say you saw play here?
You'll never know unless you go.
HOMETOWN PRIDE
Among notable locals in this year's field are Rocky Mountain Open champion Jake Staiano and Lyons resident Tyler McCumber.
Qualifying at Highland Meadows Golf Club in Windsor was medalist Geoff Keffer, the seven-time Colorado PGA Player of the Year, who shot a 9-under 62 at Highland Meadows Golf Club on Monday. He was followed by 2013 Inspirato Colorado Open Champion Zahkai Brown (7-under) and one-time Colorado School of Mines golfer George Markham of Phoenix (6-under). Keep an eye on Arizona State University sophomore Preston Summerhays, the nephew of former PGA TOUR player Daniel Summerhays, who fired a 5-under.
Don't get your tickets at the gate – save money today and click here to receive a 10% discount on admission when using the code AVID10!
---
Colorado AvidGolfer Magazine is the state's leading resource for golf and the lifestyle that surrounds it, publishing eight issues annually and proudly delivering daily content via coloradoavidgolfer.com.